Global equities were lower across the board last week. US indices saw their biggest falls since January 2016. It was a similar story in Asia and in Europe, where all indices ended the week lower, with all sectors in the red.
The Digest
The Return of Volatility Spurs on a Technical Correction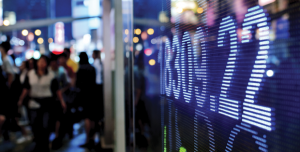 The selloff in equities dominated headlines throughout last week. Crucially, in our view, the pullback has now widely been considered as a technical correction rather than a fundamental one.
One of the aspects of this we'd like to point out is that the correction does not appear to reflect worsening economic or corporate fundamentals.
Macroeconomic data in both Europe and the United States, has been largely positive recently and that trend continued last week as eurozone purchasing manager index (PMI) data showed output hitting a 12-year high. We are also in the middle of one of the best corporate earnings season in years. Well over half of the companies on both sides of the Atlantic that have reported results so far have beaten earnings estimates.
With macro fundamentals looking solid, the selloff seems instead to have been driven by technical factors, including the unwinding of the "short-volatility" trades.
Heightened inflation expectations following the US January employment report release the previous week had led to a spike in volatility that we haven't seen since 2015. This in turn led those who had been betting against volatility (of which there had been many in recent times) to sell underlying equities.
No Classic "Risk-Off" Reaction
The reaction across asset classes was not your classic "risk-off" move. Despite the aggressive response in equities, we didn't see evidence of the usual flight to safety.
Moves in government bonds (the traditional safe-haven) were somewhat muted, and yields remained elevated.
The UK 10-year Gilt lost just seven basis points (bps), and the 10-year Bund lost 2.4bps on the week. The US 10-year Treasury was actually up by 1bps on the week.
There was also little sign of risk-off action in other traditional safe havens: the Swiss franc had its worst week in two months versus the US dollar and gold was lower for a second consecutive week.
To us this suggests, once again, that the pullback was driven by technical selling and quant fund deleveraging rather than a fundamental shift in sentiment.
Because the correction doesn't appear to be routed in fundamental issues, there is an argument that investors are finding it perhaps more unsettling.
The inability to point towards clear geopolitical, economic or corporate reasons may have left some market participants suspicious and lacking confidence in what will happen next.
This week investors will see whether the rising inflation fears that (at least in part) fuelled the market turmoil last week are justified when the latest data on US retail sales and inflation are released on Wednesday.
Bank of England Takes a Hawkish Tone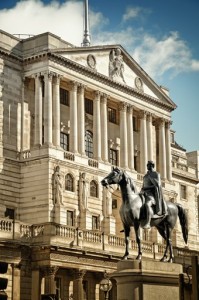 A more hawkish tone from the Bank of England Monetary Policy Committee (MPC) on Wednesday (February 7) did little to abate the inflationary concerns feeding into the moves.
The MPC voted unanimously to keep UK interest rates on hold, but commentary released immediately after the meeting noted that rates may need to rise earlier and faster than the committee members had previously thought as they lifted growth forecasts.
Expectations of a rate hike in May rose sharply and sterling spiked in response. That did not help the selloff in the exporter-heavy FTSE 100 Index.1
Consumer price index (CPI) data due out on Tuesday (February 13) will be watched closely following that BoE commentary.
Last Week
Europe
In German politics, Angela Merkel's Christian Democratic Union (CDU) party reached a coalition agreement with the Social Democrats (SPD), although this comes with some significant concessions.
Under the terms of the agreement, the SPD will take control of three major areas – finance, foreign affairs and labour. As a result an appointee from the SPD , which has a more left-wing stance on spending, will take over the role of finance minister from the CDU's pro-austerity Wolfgang Schäuble.
The new setup is likely to see an increase in public financing on infrastructure and services.
With Merkel handing over responsibility of these key governmental areas, it has raised questions of the longevity over her reign, with a number of commentators suggesting the agreement has been a "political mistake". The final deal will be voted on by SPD members on February 20. Markets showed little reaction to this news given the focus on the correction.
Uncertainty still surrounds the Brexit process with UK Prime Minister Theresa May coming under increased pressure to be clearer in negotiating a trade deal.
In response, May claimed that her government would be looking for a clean break from the EU post-Brexit. This response triggered negative reactions and questioning from pro-Europe MPs who pointed to predictions of a significant gap in UK public finances if the government fail to secure an EU trade deal.
Americas
A number of US Federal Reserve speakers last week commented on the equity market volatility.
Federal Open Market Committee voter William Dudley claimed the Fed's base case for three rate hikes continues to look reasonable. However, he highlighted the possibility of four moves if the economy continued to gain momentum.
Chicago Fed Bank President Charles Evans (an FOMC non-voter) said that he could still support three or four hikes this year if warranted by the data, while San Francisco Fed chair John Williams (voter) said that the Fed would be steady and gradual with rate increases. He said, however, that he did not see signs of over-heating.
Asia
In Asia, Japanese equities ended the week down.  The yen continued to rally despite Bank of Japan Governor Haruhiko Kuroda's attempts to talk down the currency. He said that it would be inappropriate to raise the 10-year Japanese government bond yield target now, "even by a small margin".
In China, trade balance figures came in much smaller than expected due to a surge in imports. Inflation data later in the week showed a large drop month-on-month in both the CPI and producer price index (PPI). That's generally not considered a great sign for the Chinese economy.
Week Ahead
The White House has indicated it intends to publish details of a new US infrastructure bill this week. We would be watching the construction names on the back off this.
Earnings season continues and we'll be watching to see if the current pace can be maintained, while also keeping an eye out for any comments on foreign exchange impacts.
Economic Data
In Europe, UK CPI is scheduled for release on Tuesday; German and eurozone fourth-quarter GDP on Wednesday; and UK retail sales on Friday.
In the United States, CPI data is due on Wednesday. This will be closely watched in the context of last week's moves). Housing starts figures are scheduled for release on Friday.
In Asia and Pacific, Japan's fourth-quarter GDP should be out on Tuesday. Australian employment data is due out on Thursday.
 Monetary Policy
A Swedish Riksbank policy decision is expected on Wednesday.
A number of European Central Bank governing council members are scheduled to speak this week. We'll be keen to hear their commentary on inflation and on the recent market moves.
Views You Can Use
Insight from Our Investment Professionals
Earnings Growth Underpins Our Solid Outlook for European Equities
Some investors seem to be questioning whether there's still room for additional growth in European equities, particularly if interest rates start to rise. The reaction of global equity markets in recent days suggests that the transition from a period of economic growth without inflation to one of growth with inflation is likely to cause market volatility. Still, Templeton Global Equity Group's Dylan Ball suggests labour reforms across Europe should give many firms the operating leverage they need to drive further earnings growth during 2018. Read More.
Seeing the Big Picture in Market Corrections
While we don't know when the equity market's recent volatility will settle down, it's important to consider the big-picture, fundamental backdrop for the market, and not get caught up in short-term sentiment swings, according to Franklin Templeton's head of equities, Stephen Dover. And, he believes the fundamental backdrop still looks solid. Read More.
Keeping Calm When Volatility Strikes
The recent declines in the global stock markets can lead to a lot of questions and concerns about what investors should do. Considering the market has been on a historic run to continuous record highs and double-digit gains over the past year, it's not entirely unexpected to experience a pullback.
At Franklin Templeton, we've been investing in global markets for more than 65 years, across bull and bear markets alike. We know that while volatility can be unnerving and confusing, it can also be a time of great opportunity for investors. Read More.
The Underappreciated Story: How Brexit Threatens to Shift the Balance of Power in the EU
For fixed income investors eyeing opportunities in Europe, 2018 should be the year economic fundamentals reassert their worth, according to David Zahn, Franklin Templeton's head of European Fixed Income. Nonetheless, he believes many investors are underappreciating the long-term implications for Europe of the biggest political uncertainty for the region—Brexit. Read More.
For timely investing tidbits, follow us on Twitter @FTI_Global and on LinkedIn.
Important Legal Information
This article reflects the analysis and opinions of Franklin Templeton's European Trading Desk as of February 12, 2018, and may vary from the analysis and opinions of other investment teams, platforms, portfolio managers or strategies at Franklin Templeton Investments. Because market and economic conditions are often subject to rapid change, the analysis and opinions provided may change without notice. An assessment of a particular country, market, region, security, investment or strategy is not intended as an investment recommendation, nor does it constitute investment advice. Statements of fact are from sources considered reliable, but no representation or warranty is made as to their completeness or accuracy. This article does not provide a complete analysis of every material fact regarding any country, region, market, industry or security.
Nothing in this document may be relied upon as investment advice or an investment recommendation.
Data from third-party sources may have been used in the preparation of this material and Franklin Templeton Investments ("FTI") has not independently verified, validated or audited such data. FTI accepts no liability whatsoever for any loss arising from use of this information and reliance upon the comments, opinions and analyses in the material is at the sole discretion of the user. Products, services and information may not be available in all jurisdictions and are offered by FTI affiliates and/or their distributors as local laws and regulations permit. Please consult your own professional adviser for further information on availability of products and services in your jurisdiction.
What Are the Risks?
All investments involve risk, including possible loss of principal. The value of investments can go down as well as up, and investors may not get back the full amount invested. Stock prices fluctuate, sometimes rapidly and dramatically, due to factors affecting individual companies, particular industries or sectors, or general market conditions. Bond prices generally move in the opposite direction of interest rates. Thus, as prices of bonds in an investment portfolio adjust to a rise in interest rates, the value of the portfolio may decline. Investments in foreign securities involve special risks including currency fluctuations, economic instability and political developments. Investments in developing markets involve heightened risks related to the same factors, in addition to those associated with their relatively small size and lesser liquidity.
Past performance is not an indicator or guarantee of future performance.
Links to External Sites
Franklin Templeton Investments is not responsible for the content of external websites.
The inclusion of a link to an external website should not be understood to be an endorsement of that website or the site's owners (or their products/services).
Links can take you to third-party sites/media with information and services not reviewed or endorsed by us. We urge you to review the privacy, security, terms of use, and other policies of each site you visit as we have no control over, and assume no responsibility or liability for them.
_________________________________
1. The FTSE 100 Index is a capitalisation-weighted index of the 100 most highly capitalised companies traded on the London Stock Exchange. Indexes are unmanaged, and one cannot directly invest in an index. They do not include fees, expenses or sales charges. Past performance is not an indicator or a guarantee of future performance.