This post is also available in: Italian
Back in 2001 when it became part of an elite group dubbed the "BRICs," along with Russia, India and China, Brazil seemed to have cemented its standing as an emerging economic powerhouse. But in the past couple years, a sharp slowdown in growth left many investors wondering if Brazil has lost its stride. Weighing in from his perch in Sao Paolo where he serves as the fixed income CIO for Franklin Templeton Investments Brazil, Marco Freire says Brazil's promise hasn't crumbled, and that building infrastructure is the key to rebuilding growth in Brazil.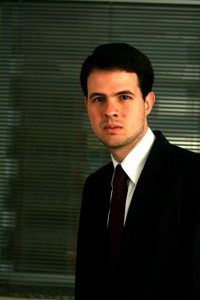 After growing at 7.5% in 2010, Brazil's GDP growth fell below 3% in 2011 and to a mere 0.9% in 2012. With disappointing economic numbers like these, it's not hard to see why many investors soured on Brazil. But Freire says it's not as clear exactly why growth retrenched as much as it did.
"Two things make this puzzling. First, Brazil is a closed economy, so the slowing in growth was not related to what happened outside of Brazil. It's not because, for example, the economy in Europe or China was weak. As a closed economy, exports are not very important for Brazil. I think the reason for the sluggishness had to do with local dynamics. That's also somewhat puzzling because income in Brazil was growing at about 5% (inflation-adjusted) over the last two years. So I think the explanation as to what happened in Brazil was basically because we needed time for the credit cycle to work itself through."
From August 2011 to April 2013, Brazil's central bank cut its benchmark interest rate (the Selic) 525 basis points, a rather dramatic downward adjustment that needed time to be absorbed, says Freire.
"Consumers were leveraged and they needed time to work through the credit. I think that was the main reason why growth was lower in Brazil, why consumption and investment slowed. With lower rates, usually after a lag we would get consumers starting to consume more and production coming back. That's what we are starting to see right now in Brazil; we are starting to see the economy improving."
Let the Games Begin!
The spotlight will shine brightly on Brazil as host of the 2014 FIFA World Cup Brazil™ and 2016 Olympic Games, highlighting the need to shore up Brazil's infrastructure. Ranking toward the bottom of global surveys, infrastructure hasn't been one of the Brazil's star attractions, but these upcoming events have been acting as catalysts to inspire a greater government focus on infrastructure in the country.
"Brazil needs infrastructure investment. It doesn't matter if you look at investment in ports, roads or airports; Brazil needs to build. The World Cup and the Olympics were triggers for the government to realize they needed to bring international expertise and international capital to start investing in Brazil in these areas."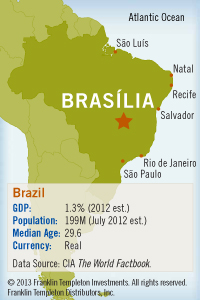 Freire notes the importance of modernizing the country's ports, which could facilitate more efficient trade. This month, Brazil's Congress approved legislation that allows private sector investment in state-owned ports, and lifts restrictions that hindered the building of private terminals. The government is also auctioning off rights to develop and operate other vital areas, says Freire.
"Auctions are scheduled for construction of oil and exploration of oil fields in Brazil, and auctions for roads and airports are also planned, which are important beyond just sporting events. The main thing that we need to keep in mind is that Brazil needs infrastructure. Infrastructure has been weak in Brazil, and the government cannot lead all the development. What's good about the World Cup and Olympics is that these events triggered the government to come back to auctions and come back to international partners, so that going forward, we can improve infrastructure investment in the country, and with that, improve potential GDP growth rates in Brazil."
Protectionist Threat?
Some investors have also soured on Brazil due to market-unfriendly policies. Concerns about protectionism dampened international capital from flowing there, and currency interventions last year led to cries of "currency wars." Freire doesn't think protectionist policies will escalate, and explains how he views the dynamic.
"I think there were two trends in Brazil that have been generating some noise with investors. The first one was the government's increasing intervention in the currency. We had expansionary policies in the US and other developed countries, and the Brazilian government was worried that all this capital flowing into Brazil could generate a distortion in the markets, that it could lead to bubbles. That's why Brazil started to do some interventions in the currency and some capital controls, to control the inflow of money into the country.
The second trend that we had in Brazil was related to the adoption of more microeconomic policies instead of macroeconomic policies. We started to see the government get more involved in industrial policy and investing, and increasing their participation in specific sectors in the Brazilian economy. The government now is actually decreasing these policies, so this is not generating as much noise as before. The government knows it needs to attract capital for infrastructure investments, so it is now becoming more market-oriented, more friendly to foreign capital."[php function=1]
Opportunities in Brazil
For the astute investor, Brazil offers plenty of potential opportunities. Freire says after the decline in rates over the past couple of years, the market now is starting to anticipate a return to higher levels to keep runaway inflation—historically a problem in Brazil—in check. In April, Brazil's central bank raised interest rates 25 basis points to 7.5%. He said the market seems to be pricing in more hikes to come this year, but doesn't agree with the market's view of just how high rates will go up and how fast, namely because he doesn't see inflation becoming as big a threat as feared.
"I think the Brazilian economy has improved, but it's a gradual improvement. And, a lot of the inflation worries in Brazil have been because of two factors. The first was food prices, but I think food prices are going to be coming down because international commodity prices are coming down. Second was currency appreciation, which was affecting inflation. Now the currency has become more stable, and as such, we should see inflation moderating going forward. So an opportunity that we are seeing is in local bonds positioned for the decline in local yields in Brazil, because we don't think rates are going to go as high as expected by the markets.
The second opportunity that we see in Brazil is in equities related to domestic sectors. So we are seeing opportunity in stocks in the financial services, retail and real estate sectors. We think the economy is improving, and growth is going to be better going forward, so we think there are opportunities in Brazil for big trends like retail penetration and credit penetration and increasing penetration for financials, education and health care; these are the types of sectors we have been investing in and we like. We are positioned in macro-linked stocks to benefit from long-term trends of consumption and financial penetration in Brazil. "
Get more insights from Franklin Templeton delivered to your inbox. Subscribe to the Beyond Bulls & Bears blog. 
Get more timely insights. Follow us on Twitter at @FTI_Global.
What are the Risks?
All investments involve risk, including possible loss of principal. The value of investments can go down as well as up, and investors may not get back the full amount invested. Stock prices fluctuate, sometimes rapidly and dramatically, due to factors affecting individual companies, particular industries or sectors, or general market conditions. Bond prices generally move in the opposite direction of interest rates. This means when interest rates rise, bond prices tend to fall, and conversely, when interest rates decline, bond prices tend to rise. Special risks are associated with foreign investing, including currency fluctuations, economic instability, and political developments. Investments in developing markets involve heightened risks related to these same factors. To the extent a fund focuses on companies in a specific region, it is subject to greater risks of adverse developments in that region than a more broadly diversified fund.