This post is also available in: French Italian
The "easy money" party central banks around the world have been promoting for several years now has to end eventually, and the fear of that happening sooner rather than later has spooked some fixed-income investors of late. David Zahn, Head of European Fixed Income, still sees potential opportunities to be had, although not in traditional "risk-free" assets such as developed market government bonds, which he says are "overvalued at current levels." And, Zahn believes that even with rhetoric from the US Federal Reserve preparing the markets for an eventual end to its longstanding quantitative easing program, investors shouldn't count on a dramatic rise in interest rates in the US—or on a global scale—any time soon.

Europe Still "Not so Great"
Speaking at a Franklin Templeton investment conference in London this week, Zahn said his overall view of Europe is that "it's not great, it's not terrible, it's moving along and reforming." He says investors need to be patient—and selective.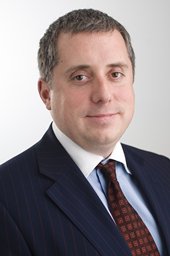 "My overall take on Europe is that it's not doing badly. There is still a lot of rebalancing that needs to be done between the periphery and the core countries. This will take time. There are still measures that need to put through. There are a number of structural problems in Europe that still need to be dealt with, and they are being dealt with at a reasonable speed. If Europe doesn't contract in the next year or two, we think that could be considered as doing quite well.
Zahn points to employment and wages as particular problems that need to be addressed.
"Since the beginning of the euro, Germany effectively had a decade of no wage growth, whereas other countries, now considered the 'periphery,' grew considerably until about 2008. Then, some of those countries started to address wage growth and it started to come down. It's going to take time for labor costs in Germany and the periphery to converge, which is what we need to see happen. Places like Ireland and Greece have seen an adjustment already, often quite aggressively, but we are going to need to see wages grow a bit in Germany, and retract in other countries.
"Employment is a country-specific issue. Employment in Germany is doing well, but in the periphery there is a problem. The big issue is concerning those under the age of 25, where there are severe problems. In Spain, there is 50 – 60% unemployment in the under 25 [age group].  I do think we'll see some policies to address this."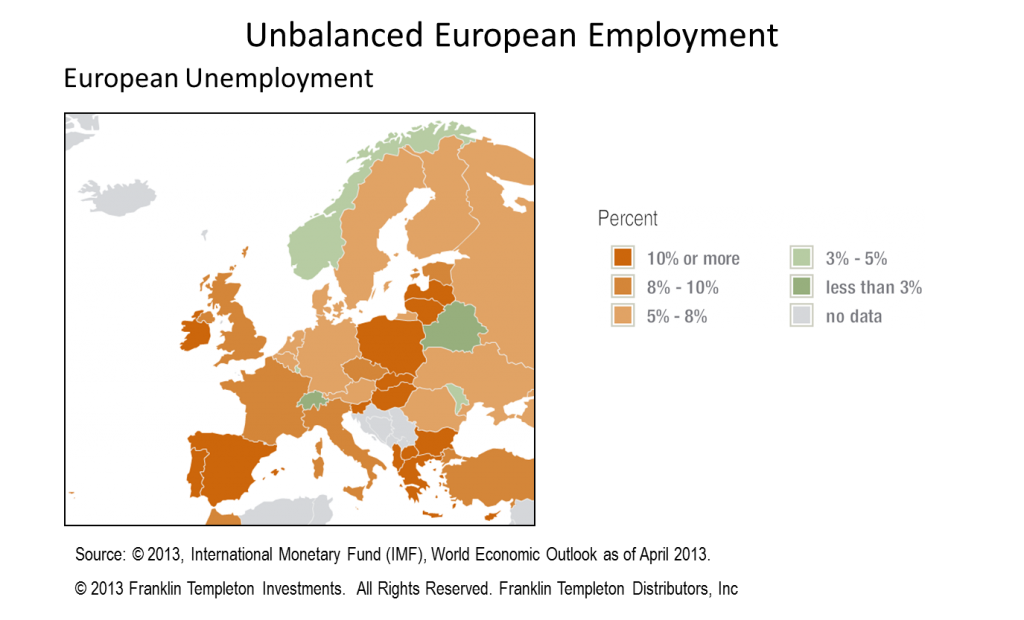 Of course, Europe is not a homogenous market, and like disparity in employment, wages and other macroeconomic factors, there is also disparity in investment opportunities among countries. Zahn also points to the importance of active management.
"Having an allocation between markets is important, and making sure you own the correct market is important. You can potentially add alpha by overweighting or underweighting a [particular] country.
"One of the countries we think is doing well is Italy. It is doing the right things and I think there is still scope there for performance, despite wobbles.  Italy looks like it's going to be in surplus, and although they have a high debt-to GDP [ratio] their rates have come down. They are now able to issue debt at sub 5%, and that's pretty good compared to where they were able to issue in the past. That's positive for Italy, and for Europe."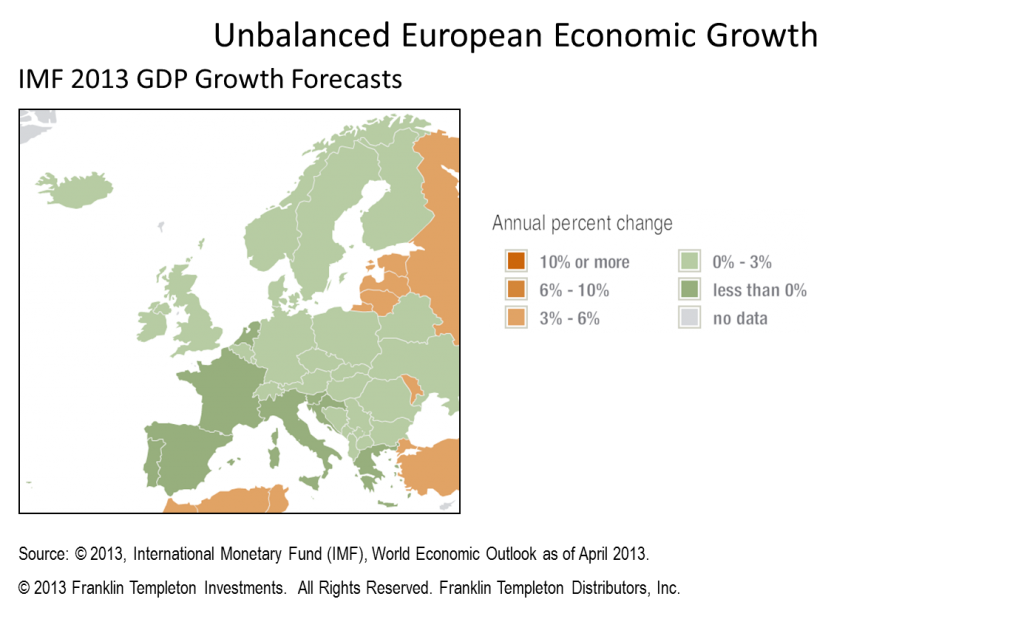 States of Emergence
Growth projections in Europe could be described as anemic at best, and US growth is not expected to be particularly robust either this year. According to the latest IMF forecast, 2013 GDP growth in emerging markets is expected to come in at 5.3%, versus 1.2% in developed markets.1 Zahn expects that trend of growth outperformance to continue in emerging markets, which should present brighter potential opportunities for investors.
"Emerging markets need to be looked at country by country, but the asset class in general looks supportive to us. Most currencies are generally stable, and current account deficits are about 1 -2% or are in surplus. Their debt-to-GDP ratios are declining, and we think local currency as well as hard currency debt offer value. We think it makes sense to have exposure to emerging markets as an asset class.
"We know the US, Europe, UK and Japan have high debt and really the only way out is to have high growth, or to reduce the debt. We really don't see incredibly high growth in the near future [in those markets] and we really don't see high surpluses. Emerging markets have better growth fundamentals and better debt fundamentals. We really think in this type of arena, you need to have a good chunk in emerging markets, perhaps a third of your exposure, as well as corporate credit, which we also think is important."
Fed "Tapering" May Take A While
There has been a lot of talk of Federal Reserve "tapering" its quantitative easing program, which has rattled the global markets in the past month. Zahn says fixed income investors shouldn't panic – at least not yet.
"The Fed has made it clear they are focused on unemployment as a key factor, and at the moment the unemployment rate hasn't gone down to the place where they would likely be doing something. So I think we will still have easy policy coming out of the US for some time. It may be QE or it may be low rates for a while. But I don't see tight policy coming out of the Fed. But hopefully if they do that, that means growth is getting better. " [php function = 1]
Zahn's core message to investors right now?
"We believe there are still plenty of opportunities in fixed income."
Get more perspectives from Franklin Templeton Investments delivered to your inbox. Subscribe to the Beyond Bulls & Bears blog.
For timely investing tidbits, follow us on Twitter @FTI_Global and on LinkedIn.
What Are the Risks?
All investments involve risk, including possible loss of principal. The value of investments can go down as well as up, and investors may not get back the full amount invested. Bond prices generally move in the opposite direction from interest rates.  In general, an investor is paid a higher yield to assume a greater degree of credit risk. High yield bonds involve a greater risk of default and price volatility than other high quality bonds and US government bonds.  High-yield bonds can experience sudden and sharp price swings which will affect the value of your investment. Current political uncertainty surrounding the European Union (EU) and its membership may increase market volatility. The financial instability of some countries in the EU, including Greece, Italy and Spain, together with the risk of that impacting other more stable countries may increase the economic risk of investing in companies in Europe.
---
1.  Source: © 2013 International Monetary Fund. "Policy Actions Improve Prospects for Global Economy," April 2013.