This post is also available in: Dutch French Italian
Investors around the world are breathing a sigh of relief that US Congressional lawmakers managed to come together for an 11th hour deal to avert a potentially crippling debt default. The debt ceiling was raised, even if temporarily, and the US government will reopen after being shuttered for more than two weeks. However, US politicians still haven't found a permanent solution to the nation's debt problems, possibly setting up another round of fiscal battles in the future. While Mutual Series® Executive Vice President Philippe Brugere-Trelat is relieved the US has avoided a sovereign default, he wonders whether global investors might be starting to lose a little faith in the US.
"The US ordeal reminds me of the famous quote from German philosopher Karl Marx: 'history repeats itself, first as tragedy, second as farce.' Avoiding a sovereign default is paramount, and I think reasonable minds have prevailed. In my view, a US sovereign default would have made Lehman Bros. [collapse] look like a birthday party and could have possibly plunged the whole world into a deep recession, not unlike what we saw in the 1930s. The current resolution won't be long-term; it's basically kicking the can down the road."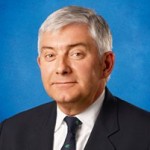 Brugere-Trelat said the US political impasse likely could have future consequences for the US, even though the markets, by and large, didn't reflect a sense of panic while the US government was shuttered and a debt default still loomed large.  
"What happened on Capitol Hill likely has somewhat put a damper on an acceleration of economic growth in the US, which was real and is still real. But it also had the unexpected and I think positive consequence of getting investors to look outside the US for new investments, not only in Asia but also in Europe.
"I am more than comfortable in Europe: actually, I'm pretty bullish. I think Europe's equity markets offer attractive investment opportunities for a number of reasons. First, equity valuations are generally much lower than in the US. Second, a lot of austerity measures that have been implemented over the past two years are starting to bear fruit. Spain has a current account surplus. Italy has a primary budget surplus, and by the way, it has also passed a balanced budget amendment. Slowly but surely, the southern part of Europe is coming out of crisis. Third, European companies are, by and large, in pretty good shape from a balance sheet point of view. They have spent the past decade deleveraging. They have a lot of liquidity and the larger companies do not need the banks to finance them, they have access to the capital markets. To me, that makes for a pretty attractive environment as an investor."
Brugere-Trelat said the US' issues haven't impacted and aren't likely to impact his stock selection process, in so much that he and his team are always looking for values across the globe.
"We are still value-oriented stock pickers. We like good companies unjustifiably valued by the markets. We still like the US very much, but there is no doubt we have increased our exposure in Europe1 due to the opportunities we have seen there."
To get insights from Franklin Templeton Investments delivered to your inbox, subscribe to the Beyond Bulls & Bears blog.
For timely investing tidbits, follow us on Twitter @FTI_Global. 
What Are the Risks?
All investments involve risks, including possible loss of principal. The value of investments can go down as well as up, and investors may not get back the full amount invested. Stock prices fluctuate, sometimes rapidly and dramatically, due to factors affecting individual companies, particular industries or sectors, or general market conditions. Value securities may not increase in price as anticipated or may decline further in value.  Investments in companies engaged in mergers, reorganizations or liquidations also involve special risks as pending deals may not be completed on time or on favorable terms. Investments in foreign securities involve certain risks including currency fluctuations, and economic and political uncertainties; investments in emerging markets involve heightened risks related to the same factors.  Current political uncertainty surrounding the European Union (EU) and its membership may increase market volatility. The financial instability of some countries in the EU, including Greece, Italy and Spain, together with the risk of that impacting other more stable countries may increase the economic risk of investing in companies in Europe. A portfolio which invests primarily in companies in a specific region may be subject to greater risks of adverse developments in that region and/or the surrounding regions than a portfolio that is more broadly diversified geographically. Political, social or economic disruptions in the region, even in countries in which a portfolio is not invested, may adversely affect the value of securities held in a portfolio.