This post is also available in: Chinese (Simplified) Dutch French Italian
Expectations for many emerging markets have changed significantly over the past two years. India represents a country in transition in many ways, and has also seen dramatic swings in sentiment. Many economic commentators initially praised India as a global economic power, then dismissed it as almost a basket case. Sukumar Rajah, managing director and chief investment officer, Local Asset Management, Asian Equity, presents a more balanced view and sets out the investment case for Indian equities.
Sukumar Rajah,
Managing Director, Chief Investment Officer
Local Asset Management, Asian Equity
Templeton Asset Management Ltd (Singapore)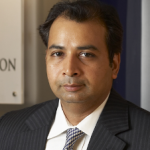 Investor confidence in India has been shaken over the past year, as growth rates and its currency have declined.  A year or two ago, India's GDP was expected to grow at about 7% or 8%1, and the Indian rupee was seen likely to hold steady. Since then, estimates for long-term growth have plunged. Some expect GDP growth to fall below 5%2 this year, and there are some who say the rupee will keep depreciating. We think the reality is somewhere in between.
It is essential to separate the structural and cyclical factors to get a realistic view of India. Our analysis suggests the current slowdown is more due to cyclical factors, and that there is no meaningful dilution of the long-term fundamentals underpinning the India story.
The moderation in growth can be traced back to the policy response of the government to the global financial crisis in 2008. The large fiscal stimulus in the years that followed resulted in consumption-led growth, while various policy issues affected investment activity. The withdrawal of the fiscal largesse thereafter was quite gradual but, combined with the infrastructural bottlenecks in the country, it led to supply-side pressures and high inflation. Inevitably, higher interest rates followed, which depressed consumption.
The pessimists point toward a policy paralysis that has slowed down investments structurally. Our view is that only part of the slowdown is due to policy issues. An equally important reason for the slowdown is that excess capacity was created in many sectors during the economic boom. While capacity increased, capacity utilization and margins shrank, forcing many companies to cut back on capital expenditure in the post-2008 world.
We see this trend as cyclical and believe companies should start investing again as their margins recover. Within infrastructure, there have been delays in some sectors such as power, but there has also been progress in other areas, such as railway freight and industrial infrastructure.
Realistic Prospects
Given India's sustainable savings rate of at least 25%3, a recovery in the growth rate is realistic. Simple math would suggest that with a long-term capital output ratio of around four, India should be able to grow by at least 6% to 7%4 without a meaningful pick up in foreign investment. We are heartened to see the policy debates shift from subsidies and freebies to growth and development. In recent speeches by major politicians, growth and development have taken centre stage.
Recent corporate results indicate that companies with sustainable business models remain on a firm footing and are coping well with macro-economic challenges, and the earnings downgrade cycle seems to have stabilized. Corporate sector margins have taken a hit, due to lower capacity utilization, higher interest costs and wage inflation.
While interest rates might not come down in the near term, wage inflation has started to come down in some sectors due to the slowdown. The over-capacity created out of boom-time expectations is increasingly being put to use and productivity has started to improve.
We are also seeing the impact of the business cycle on various sectors. For example, the telecom sector used to account for a large chunk of corporate India's earnings five years ago, and the top companies were earnings leaders.
However, a combination of factors, including the entry of new players and anti-corruption measures, has weighed heavily on the sector. Telecom has been through a phase of margin pressure and earnings slowdown, but now we expect a phase of consolidation.
Turn of the Cycle
As is the nature of economic cycles, we believe there will be an upturn in India. We have started to see a number of supportive policy measures from the government, alongside a new phase of consolidation. We expect margins to expand once interest rates normalize and positive operating leverage kicks in. Capacity addition has been quite low and could improve quite fast.
From a medium- to long-term perspective, consumption and investment remain the core themes. A strong middle class along with the need to boost infrastructure should be key drivers, and companies that are positioned to take advantage of them could likely be wealth creators over the coming decades.
While we are not betting big on exports, there are some positives emerging there as well. Service sector exports continue to thrive, and growth should pick up with improving prospects for the developed economies. Also, we are clearly seeing an uptick in manufactured exports due to improved competitiveness resulting from the currency depreciation.
Global events and liquidity direction should continue to weigh on Indian markets, but we believe the economic cycle is bottoming out. Whilst there is lot of focus on next year's elections, we also believe that there is a broad-based consensus on most of the necessary reforms. Hence, irrespective of the nature of the new government, we expect to see an improved policy environment.
We believe that a cyclical improvement will gradually restore investors' confidence in the long-term prospects of investing in India.
[php function=1]
Get more perspectives from Franklin Templeton Investments delivered to your inbox. Subscribe to the Beyond Bulls & Bears blog.
For timely investing tidbits, follow us on Twitter @FTI_Global and on LinkedIn.
What Are the Risks?
All investments involve risk, including possible loss of principal. The value of investments can go down as well as up, and investors may not get back the full amount invested. Stock prices fluctuate, sometimes rapidly and dramatically, due to factors affecting individual companies, particular industries or sectors, or general market conditions. Special risks are associated with foreign investing, including currency fluctuations, economic instability, and political developments. Investments in developing markets involve heightened risks related to the same factors, in addition to those associated with their relatively small size and lesser liquidity.
---
1. Source: IMF World Economic Outlook, April 2012. India 2013 GDP growth estimated at 7.3%. Copyright © 2013 International Monetary Fund. All Rights Reserved.   
2. Source: IMF World Economic Outlook, October 2013. India 2013 GDP growth estimated at 3.0%. Copyright © 2013 International Monetary Fund. All Rights Reserved.
3. Source: The World Bank. Gross Savings (% of GDP), 2011. World Development Indicators.
4. Source: Franklin Templeton Investments.