This post is also available in: Chinese (Simplified) Dutch French Italian Polish
The time is coming when the European equity market will no longer be thought of as a contrarian play, according to Michael Clements, vice president and portfolio manager, Franklin Equity Group®. This may come as a surprise to some investors who still think of Europe and its industries as very much mired in crisis. However, the reality is that Europe is home to many businesses that have prospered despite a recession—many doing so thanks to their exposure to high-growth developing markets. What is more, says Clements, these companies are competitively priced in global terms and well positioned to capture any upswing in the markets next year. Read on for his perspective on Europe—and European equities—for the year ahead.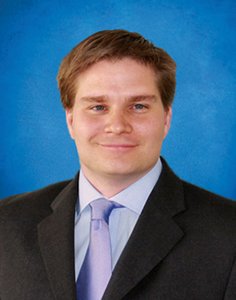 Michael Clements
Vice President and Portfolio Manager
Franklin Equity Group®
As far as we can see, the outlook for Europe in the coming year looks positive. In the short term, we expect continued volatility, but we are confident that Europe is on the right path for continued recovery.
Overall, we believe the fundamentals are in place for equity markets in Europe to continue on an upward trajectory, although different sectors will likely move in or out of favour. We would regard periods of weakness as potential buying opportunities where we see specific long-term values. In this vein, currently our team sees oil services companies and mining-related investments as good potential opportunities.
A number of factors support this positive outlook for European equities, in our view. The macroeconomic situation has stabilised and appears to be improving. We believe most European economies have at least bottomed out, and some are growing quite well, perhaps the most notable case being the UK. In the third quarter, GDP growth in the UK came in at 0.8%, the fastest pace since 2010.1 Accordingly, the Organisation for Economic Co-Operation and Development (OECD) has upped its UK growth forecast to 1.4% for this year and 2.4% in 2014.2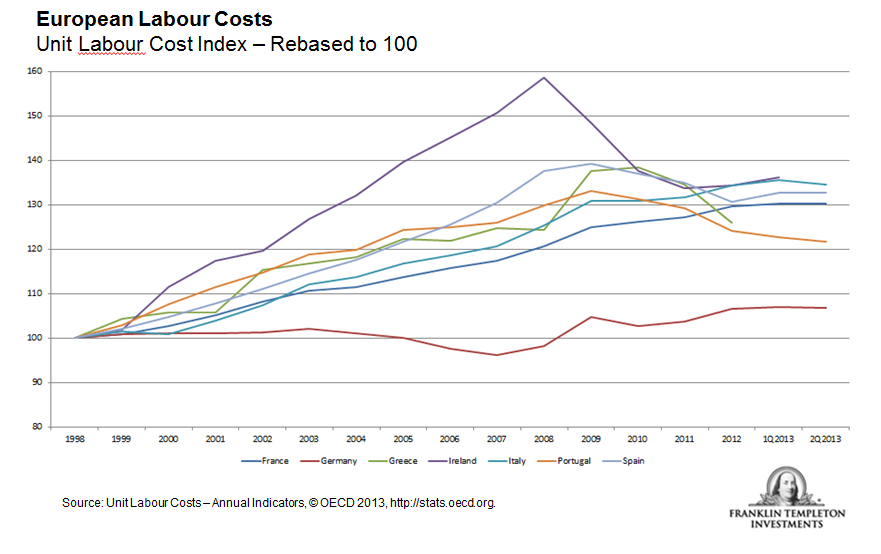 The structural reforms undertaken in Europe in the past three or four years, while painful, are starting to bear fruit. You can see progress reflected in a number of metrics, such as consumer confidence indicators and labour productivity. Labour costs in some countries in Europe are coming down to levels that are making the continent once again more competitive globally. For example, the trade deficit in Spain has been turned around and it is running a trade export surplus, which is exactly what troubled economies need to improve in the long term.
Valuations and Intrinsic Value
European equities have been on the rise generally this year, but on an historical basis market valuations still look pretty attractive to us. If you compare European stock valuations with other asset classes, such as bonds, or with US or Asian stock valuations, Europe is trading at a discount. In part, the discount is still justified because of the problems Europe continues to face, for example structural problems such as poor labour mobility, restrictive employment practices and low productivity.
But other regions have their problems, too. What makes European equities attractive to us is good long-term recovery potential at pretty attractive valuations.
In our view, one of the attractions of European equities is their exposure to global growth markets outside the region. Many investors are attracted to emerging markets because generally, their growth rates have been higher than in developed markets, and there is potential for stronger future growth.
However, some investors might not realize that many European companies have the ability to capitalize on emerging market growth because they are very global in nature. While they may be headquartered in Europe, select European companies derive quite a substantial portion of their profits and revenues from high growth emerging market economies.
[perfect_quotes id="2666″]
Investing in such companies is a cheap way to gain access to some of the faster growing parts of the world because some European stocks, trading at their current discounted level, may compare favourably on a cost basis with equivalent emerging market stocks.
For these reasons, as we look ahead to 2014, we believe that, generally speaking, investing in European equities will no longer be considered a contrarian strategy. The turning point, as far as I can see, was the speech given by European Central Bank President Mario Draghi back in July 2012, when he said he would "do whatever it takes to preserve the euro". Ever since then, we have seen increasing inflows to European equities and anticipate more investors will recognize Europe's potential in the coming year.
Conviction Investing
Our investment team approaches European equities with a bottom-up investment style based on our convictions and largely unconstrained by benchmarks. For us, conviction investing is about doing in-depth, detailed analysis on individual companies – in other words, fundamental bottom-up stock picking with a five-year investment horizon.
What that means in practice is that often we are going against the crowd – as we have been doing in Europe when others have been more fearful to invest. We are looking at investment ideas or companies that we think hold good future potential, but that other investors may be nervous about in the short term for some reason.
Conviction investing is the ability to create value for clients by taking strong views based on good fundamental research that is different from the consensus opinion of the market. This allows us, if we are correct about our research, to create substantial value for our clients.
For example, in the fourth quarter of 2012, we purchased shares of a Spanish media company for our portfolio that was a pure play on the Spanish domestic consumer. At the time the Spanish economy was not in very good shape, and with unemployment high and rising, the Spanish consumer would see reductions in their discretionary spending.
In turn, this meant that any companies reliant on the Spanish domestic economy such as a domestic retailer or, as in our case, a domestic media company, must surely be struggling. Nevertheless, we found a company that met our criteria; we saw the company as a high-quality business with a strong balance sheet that dominated its sector. And, with the sector and country out of favour, we found it to be very attractively valued, too.
Whenever we consider an investment, we are always looking at what's already been priced into the market and what could happen longer term. In the example of the Spanish company, we found that, based on the price we paid, the market seemed to be assuming that nothing was going to get better. If we see a company that we believe is likely to survive despite weakness in the overall economy, that generates good profitability and cash flow, and is severely beaten down in price and unloved by investors, to us that is the sign of a good investment. [php function=1]
To get insights from Franklin Templeton delivered to your inbox, subscribe to the Beyond Bulls & Bears blog.
For timely investing tidbits, follow us on Twitter @FTI_Global and on LinkedIn.
What Are the Risks?
All investments involve risk, including possible loss of principal. The value of investments can go down as well as up, and investors may not get back the full amount invested. Stock prices fluctuate, sometimes rapidly and dramatically, due to factors affecting individual companies, particular industries or sectors, or general market conditions. Special risks are associated with foreign investing, including currency fluctuations, economic instability, and political developments. Investments in developing markets involve heightened risks related to the same factors, in addition to those associated with their relatively small size and lesser liquidity. Current political uncertainty surrounding the European Union (EU) and its membership may increase market volatility. The financial instability of some countries in the EU, including Greece, Italy and Spain, together with the risk of that impacting other more stable countries may increase the economic risk of investing in companies in Europe.
---
1. Source: Office for National Statistics licensed under the Open Government Licence v.1.0.
2. Source:  Organisation for Economic Co-Operation and Development, "OECD Economic Outlook" November 2013, p. 120. © OECD.