This post is also available in: Italian
All good things must come to an end, or so they say. The Australian stock market has had a good run in the past two years, so it's only natural to wonder as the calendar turns if the bull run will continue in 2014. Andrew Sisson, Managing Director of Franklin Templeton's Balanced Equity Management team based in Melbourne, is taking a cautious approach. Here he analyzes some of the biggest challenges and opportunities he sees for the Australian market in the year ahead.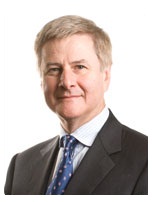 Andrew Sisson
Managing Director, Balanced Equity Management
Lead Analyst/Investment Manager
The Australian equity market overall had a solid year of performance in 2013, with the benchmark S&P/ASX 200 index returning more than 20% for 2013, which followed a return of more than 20% in 2012.1 After a couple good years, I'm not sure that I would say that I am overly bullish, but nor am I bearish. I think the market's current overall valuation generally represents a reasonable entry point for a longer-term investor. We take a bottom-up, long-term approach, so we focus on finding what we think are the best individual opportunities, regardless of the market cycle or macroeconomic factors.
There are some reasons for near-term caution in the year ahead. There is always uncertainty about growth in China, and that will remain at the forefront of investors' minds. If China's economy were to slow from its expected GDP growth range of 7 – 8% for 2013-2014,2 or (unlikely in our view) go backwards, it could have a significantly negative effect on Australia. Why? Australia is one of the world's largest producers of commodities, and natural resource demand, particularly from China, has helped drive its economy. Iron ore is Australia's largest commodity export, and China is Australia's top export destination.3 Commodity prices have been largely supportive for Australia for a number of years, but we can't count on prices remaining at such a high level going forward. Iron ore is one case in point. Australia's Bureau of Resources and Energy Economics recently forecast a potential record of 709 million metric tons in iron ore supply in 2014, but saw spot prices averaging US$119 a ton in 2014, down from US$126 a ton in 2013.4 We think there might be a bigger fall than that.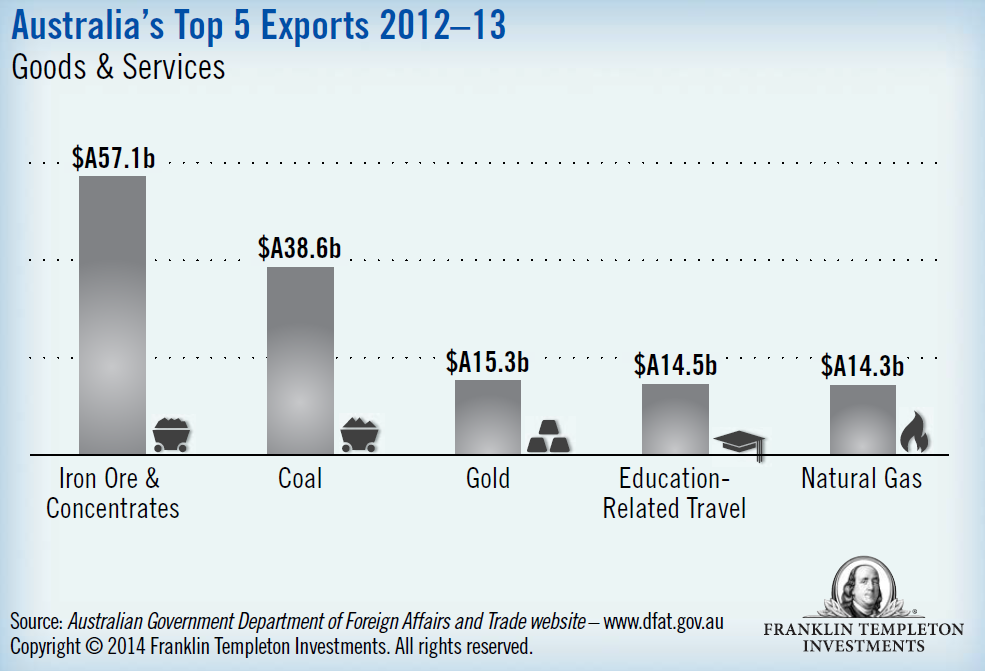 It's very difficult to determine the impact of a potential pullback in key commodity prices on individual companies. Would that in fact mean that shares of resource companies were necessarily going to fall in price? We believe these companies have already built in the assumption of future lower commodity prices, and so they may be a reasonably good risk/reward situation; if a pullback happens, that is already factored in, and if prices do stay up higher for longer, it would be positive.
The commodity price cycle we have seen over the last decade has been very important to the Australian economy's "terms of trade": in other words, the price at which Australia sells things compared to the price at which it buys them from overseas has been good for a long period of time. And, of course, that's had a positive impact on the Australian economy. For example, when mining companies are profitable, it's easier for the government to raise revenue due to increased corporate tax flows. So the benefits from strong commodity prices over the past decade have been material. Despite efforts to diversify the economy away from its dependence on natural resources, the fact remains that natural resources are very important in giving freedom and flexibility to the rest of the economy. The sector has been a source of steady work, helping to keep the Australian unemployment rate low compared to most of the rest of the developed world—at 5.8% as of November 2013. 5
If commodity prices deteriorate too much, it would be likely to have a negative impact on the government budget and a negative impact on employment. So these second-order effects are really quite important in terms of the impact on Australia's overall economic outlook, and, therefore, on all of the other sectors of the economy, even if they aren't directly related to natural resources and mining. As mentioned, we factor in these risks, taking a long-term view of the individual companies in which we invest, and basing our assumptions not on best-case price forecasts, but on the possibility of lower prices.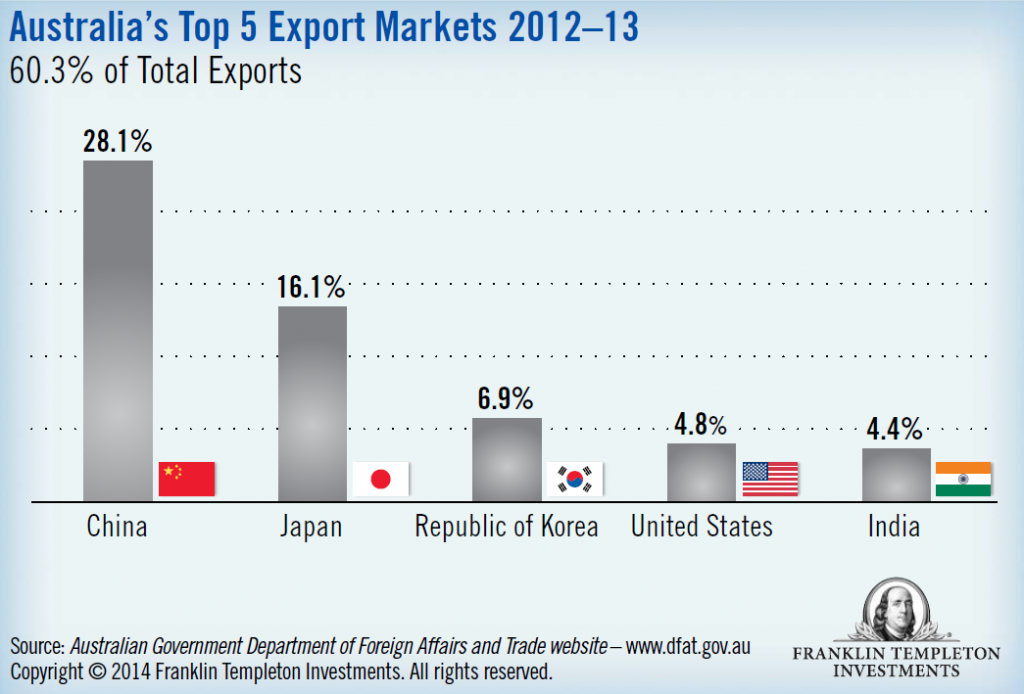 Outside the natural resources sector, another theme we favour is banking. Banks in Australia have done well over the past few years. Australia's banks largely escaped the financial crisis experienced elsewhere in the world in 2008 – 2009, despite many overseas investors expecting to see similar problems with mortgage lending as experienced in the US and Europe. Currently, bank yields remain attractive, and it has become evident that bad debts aren't a problem in Australia. If anything, bad debts are actually lower than they were in 2009, helping shares of bank companies to perform very well.
Monetary Policy and Inflation
Looking a little further out, another important factor that provides general market uncertainty is how the economic stimulus of the past several years is scaled back. We think the risks of tapering not playing out quite the way people anticipate could be significant.
When you have the kind of global liquidity central banks have been providing for a prolonged period, inflation is something you always need to watch. Australian interest rates are at record lows (2.5% on the short-term rate) but compared to the level of interest rates elsewhere in the developed world, they are not all that low. As an investor, we think it's important to keep an eye on whether inflation is potentially a problem or not, and not just in your home country; inflation in one country can flow from inflation in the rest of the world.
Whether the global economic stimulus provided over the last five years has within it the seeds of higher inflation or not has economists divided. The real threat to the market would be if inflation globally became more of an issue than it has been for the last 20 years. That could cause significant issues for the capital markets and for the Australian share market in particular. But for the year ahead, by and large, we don't see a significant inflationary threat.
Get more perspectives from Franklin Templeton Investments delivered to your inbox. Subscribe to the Beyond Bulls & Bears blog.
For timely investing tidbits, follow us on Twitter @FTI_Global and on LinkedIn.
What Are the Risks?
All investments involve risk, including possible loss of principal. The value of investments can go down as well as up, and investors may not get back the full amount invested. Stock prices fluctuate, sometimes rapidly and dramatically, due to factors affecting individual companies, particular industries or sectors, or general market conditions. Special risks are associated with foreign investing, including currency fluctuations, economic instability, and political developments. Investments in developing markets involve heightened risks related to the same factors, in addition to those associated with their relatively small size and lesser liquidity. Investments in the natural resources sector involve special risks, including increased susceptibility to adverse economic and regulatory developments affecting the sector.
---
1. In Australian dollars. Includes dividends.
2. China GDP growth est. 2013: 7.6%; 2014: 7.3%.   Source: IMF World Economic Outlook, October 2013. Copyright (c) 2013. By International Monetary Fund. All Rights Reserved.
3. Source: Department of Foreign Affairs and Trade website, Australia. www.dfat.gov.au.
4. Source: BREE 2013, Resources and Energy Quarterly, December Quarter 2013, BREE, Canberra, December 2013.
5. Source: Australian Bureau of Statistics.