This post is also available in: Dutch French Italian
Interest rates in many parts of the world are starting to rise after a long period when, due to the depth and severity of the financial crisis in 2008–2009, many central banks kept benchmark lending rates at record lows. David Zahn, head of European Fixed Income, Franklin Templeton Fixed Income Group®, believes that with rate rises in European markets still some way off and with yield spreads continuing to tighten, Europe could potentially offer some of the more attractive fixed income investments over the medium term, especially when countries are judged on their individual merits.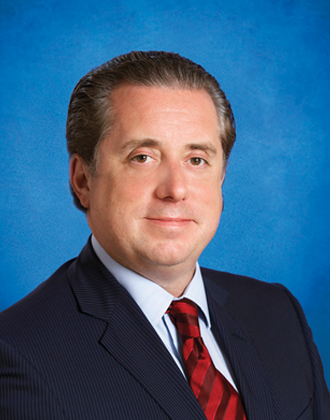 David Zahn, CFA®, FRM
Head of European Fixed Income
Senior Vice President, Portfolio Manager
Franklin Templeton Fixed Income Group®
Historically, in rising interest-rate environments, fixed income investments with shorter durations have outperformed with less risk when compared to longer-duration bonds. This is because while yields on both short- and long-dated bonds tend to rise in response to interest-rate increases, the effect on price is more prolonged on longer-term debt because their yield becomes relatively less attractive than the yield on new, similarly dated securities that are issued.
In Europe, with its wide range of sovereign credits, we think there are additional possibilities for capturing performance. For instance, the yield differential between Italian and German sovereign bonds still appears attractive, in our view, despite the significant narrowing of spreads that has occurred since mid-2012.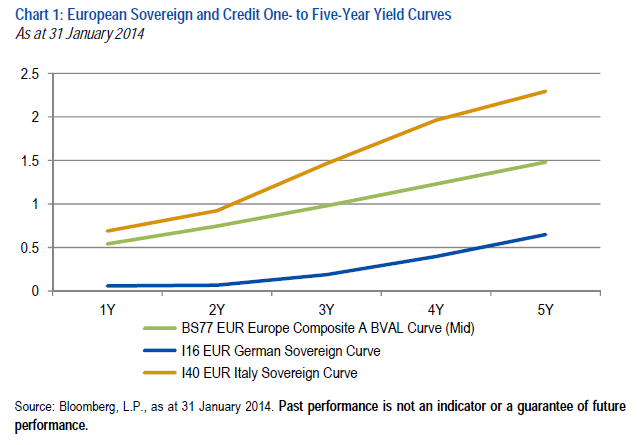 More to Play for in Sovereign Spreads
Though the yields on Italy's bonds have come down a long way since mid-2012, in our view they do not yet seem to have fully discounted the potential benefits from structural changes that are occurring (albeit haltingly) in the country's economy, while yields on German Bunds continue to build in what one might call a "safe haven" premium that seems unmerited to us.
We draw two conclusions from the wide variation in returns. First, an active approach to managing country allocations appears crucial to improving return potential. The second is that, regardless of how the fundamentals of the eurozone, the EU or Europe are presented, we believe investors should avoid viewing these units as homogenous or as a combination of groupings, such as "core" and "peripheral" eurozone, and instead focus on pinpointing the sovereign bonds that potentially offer what appear to be the most attractive risk/return profiles.
Assessing each country's credit fundamentals over the medium term is a key part of our approach to European sovereign bond markets. For example, we believe the case for Italian sovereign debt remains broadly positive. Our initial investment view was taken as the deepening of the eurozone crisis from late 2011 onward underlined to the region's policymakers how difficult it would be for the monetary union to function without Italy.
We believe the volatility seen during the eurozone crisis caused sovereign yields to become detached from underlying credit fundamentals, presenting plenty of potential investment opportunities. It seems likely to us that periods of such volatility could recur as European policymakers attempt to balance progress on reforms, austerity and a return to growth. In our view, investors would do well to develop their views of countries' distinct credit fundamentals, and how they compare, to prepare for such eventualities.
Corporate Credit Still Attractive
We see another area for potential opportunity through the use of tactical allocations to corporate credit. High-quality corporate credit, which includes debt from well-established European companies that typically carry a credit rating of AAA, can help to diversify a portfolio of bonds. Short-dated investment-grade debt, particularly secured debt, can offer a range of investment possibilities that, in our view, may provide an acceptable risk/return profile, along with reduced sensitivity to changes to interest-rate policies.
Though this area of fixed income (corporate credit) has rallied significantly in the last 18 months across all maturities, we believe that some issues remain potentially attractive relative to the comparable-maturity sovereign debt of several European countries. As Europe's prolonged financial crisis begins to recede, we find that companies generally have more solid balance sheets and lower interest costs. What this means is that some corporate bonds are likely to demonstrate the potentially improving credit metrics necessary for making their debt securities an attractive investment.
Corporate credit, particularly with limited duration, also benefits from a low correlation of its investment universe with other major asset classes, thereby adding diversification to a portfolio. In this way, we believe credit can represent an attractive source of capital preservation and liquidity, while still offering the potential for investment return.
David Zahn's comments, opinions and analyses are for informational purposes only and should not be considered individual investment advice or recommendations to invest in any security or to adopt any investment strategy. Because market and economic conditions are subject to rapid change, comments, opinions and analyses are rendered as of the date of the posting and may change without notice. The material is not intended as a complete analysis of every material fact regarding any country, region, market, industry, investment or strategy.
To get insights from Franklin Templeton Investments delivered to your inbox, subscribe to the Beyond Bulls & Bears blog.
For timely investing tidbits, follow us on Twitter @FTI_Global and on LinkedIn.
CFA® and Chartered Financial Analyst® are trademarks owned by CFA Institute.
What Are the Risks?
All investments involve risks, including possible loss of principal. The value of investments can go down as well as up, and investors may not get back the full amount invested. Bond prices generally move in the opposite direction of interest rates. Changes in the financial strength of a bond issuer or in a bond's credit rating may affect its value. Investments in lower-rated, higher-yielding instruments include higher risk of default and loss of principal. These securities carry a greater degree of credit risk relative to investment-grade securities. Focusing on particular countries, regions, industries, sectors or types of investment from time to time may subject one to a greater risk of adverse developments in such areas of focus than investing in a wider variety of countries, regions, industries, sectors or investments.