This post is also available in: Chinese (Simplified) Dutch French Polish
Backed by attractive corporate and sovereign fundamentals and ambitious long-term development plans, the fixed income markets of Gulf Cooperation Council (GCC) countries have been  growing quickly, according to Mohieddine Kronfol, chief investment officer, Franklin Templeton Global Sukuk and MENA Fixed Income Strategies. He believes GCC bonds present an attractive investment proposition for many regional investors looking to optimize regional portfolios or global fixed income investors looking to diversify their fixed income allocations. More from Kronfol on why he sees growing potential in GCC bonds, which have benefitted from strong debt and credit metrics.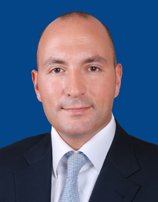 Mohieddine (Dino) Kronfol
Chief Investment Officer, Franklin Templeton Global Sukuk and MENA Fixed Income Strategies
Over the past decade, countries throughout the GCC have become keen to diversify their economies away from dependency on hydrocarbons. Supported by high oil prices, GCC governments have been able to fund large investment programs that have served to stimulate non-oil growth and at the same time accumulate significant currency reserves and pay down their debt to very low levels. Along with investing heavily in education and infrastructure, they have been introducing wide-ranging and generally investor-friendly regulatory reforms.
The GCC countries' success in diversifying their economies is plain to see in recent and anticipated growth figures for the region. According to the International Monetary Fund (IMF), while oil-related growth in GCC countries was only 0.9% in 2013 and is expected to decline to 0.4% in 2014, growth in GCC economies excluding oil-related sectors is forecast to climb to 5.7% this year from 5.4% in 2013.1
We expect GCC states to continue to invest heavily in education, housing, and large-scale infrastructure projects in order to ensure the continued growth of sectors other than oil and gas. Indeed, Dubai's winning of the bid to stage the 2020 World Expo and the Qatar's right to stage the 2022 FIFA World Cup (currently embroiled in controversy) could help sustain the drive to build important infrastructure that is already well underway in the region. By some estimates, infrastructure projects worth well over US$2 trillion were underway in the region by late 2013. While the GCC has the finances to fund these projects from internal resources, governments in the region also see the benefit of increasing their policy options by encouraging the continued development of their bond markets.
Geopolitical risk may be a factor for some investors when considering the GCC. But the turmoil of the past two years has overwhelmingly enveloped Middle East North Africa (MENA) countries that are not part of the GCC, such as Egypt, Libya, Syria, Tunisia and Lebanon. Most of these countries, with the exception of Libya, do not have the large hydrocarbon resources available to GCC members. Most importantly, instability in the wider Middle East region has not prevented GCC bonds and other financial assets from posting strong returns in recent years. For example, the Dubai stock market index, the DFM General Index, rose by more than 107% in 2013.2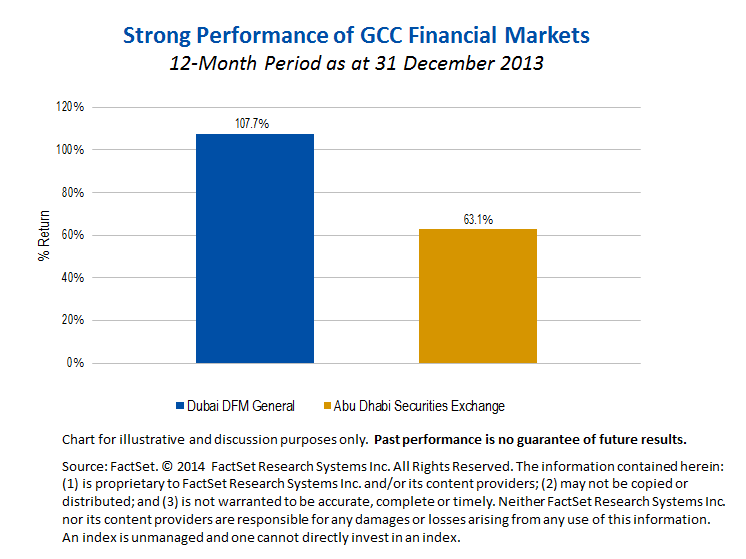 GCC countries have actually benefited from the rise in oil prices that has accompanied periodic increases in political tensions in the region. Financial markets in GCC-member countries have also been helped because of the assurance investors derive from the knowledge that GCC currencies are pegged to the US dollar and, most importantly, because of a sharp improvement in credit fundamentals in individual countries since Dubai faced a major credit crisis in 2009. Indeed, Dubai has been taking advantage of the rebounding economy to relieve its debt burden, and in mid-November 2013, rating agency Moody's changed the outlook of the United Arab Emirates (UAE) banking system from negative to stable, saying economic growth and real estate recovery would reduce problem loans during the next 12–18 months.
Given the region's strengthened fiscal and economic characteristics, in our view, most investment-grade corporate and sovereign bonds issued by GCC member states are stable, show excellent credit metrics and, for a number of reasons, could represent an opportunity to diversify or optimize investors' portfolios.3
Strong Growth, Low Debt
As already highlighted, the economies of the six GCC countries—the UAE, Qatar, Kuwait, Bahrain, Saudi Arabia, and Oman—have experienced strong growth and improved finances. GCC countries account for just 11% of the population of the MENA region, but account for half of its gross domestic product (GDP).4
The GCC includes the richest country in the world per head of population—Qatar—as well as one of the world's largest oil producers, Saudi Arabia. The group as a whole produces almost 24% of the world's oil and accounts for about 30% of proven oil reserves, according to the BP Statistical Review of World Energy.5
In spite of strong government spending in the GCC, IMF figures show that the total gross government debt-to-GDP ratio for these countries stood at just 9.2% at end-2013,6 in stark contrast with many of the world's largest economies, where debt-to-GDP ratios are approaching or well above 100%. Oman had a gross government debt-to-GDP ratio of 7.0% at the end of 2013, while both Saudi Arabia and Kuwait had a ratio of under 3%.7 IMF figures also show that current-account balances are in surplus in the GCC region.8 Cumulative current account balances are projected to remain strong,9 as are currency reserves.Solid financial profiles have led ratings agency Moody's to raise the sovereign debt ratings of five of the six GCC member states to "A1" or higher in the past decade (the exception is Bahrain).10
In addition, since their currencies are pegged to the US dollar, GCC countries have been relatively unaffected by the currency turmoil that has recently afflicted many emerging-market countries.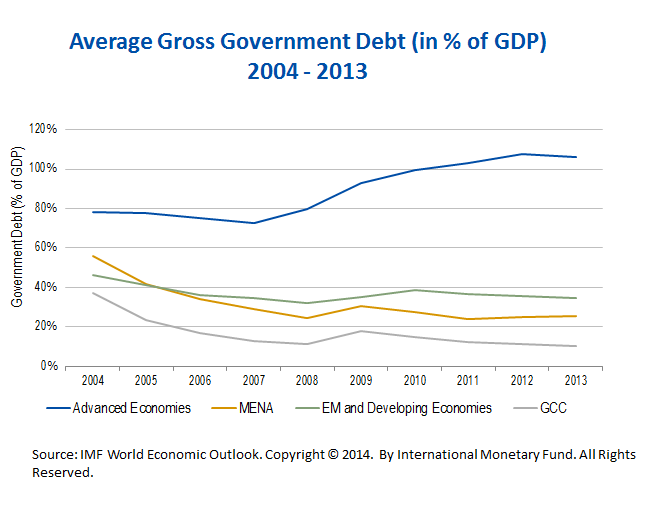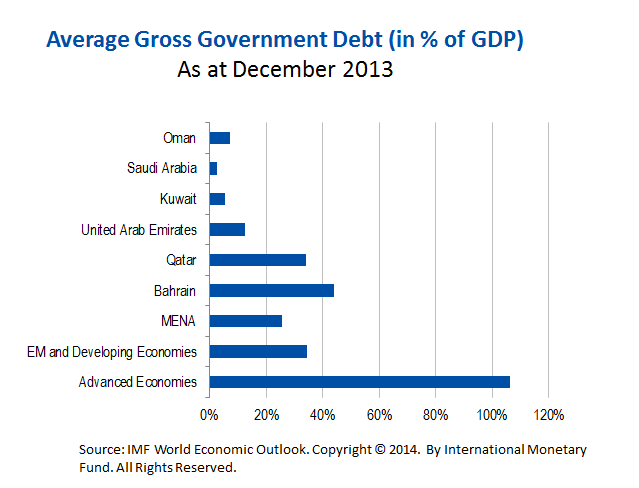 Growing Liquidity and Low Correlations
Another reason for investors to consider GCC bonds, in our view, is the increasing depth and liquidity of the market for these instruments, in tandem with its exponential growth since the turn of the century. The issuance of conventional bonds and Sukuk (instruments that conform with Islamic law) in GCC countries has been rising at rates of about 25% per annum for the past decade, reaching US$42.8 billion in 2012 before falling back slightly in 2013.11
The growth in Sukuk issuance—which accounted for over half of total GCC debt issuance in 2013—is particularly noteworthy. Sukuk are structured to pay a profit rate rather than interest payments and are commonly backed by or based on real estate or other tangible assets. Their growth is testimony to the scale of development taking place throughout the GCC. In addition, GCC bonds have low correlations to major equity and fixed-income indexes. Analysis of Morningstar data shows these bonds have low to moderate correlation with emerging-market bonds, global equities, commodities, and MENA equities alike.12
Thus, in our view, GCC bonds offer exposure to an attractive combination of high  levels of growth combined with a high level of security.
Highly Capitalized Banks
GCC banks have been fast developing in size and sophistication, helped by strong loan and deposit growth, large-scale development plans being rolled out, and moves to modernize the regulatory framework and make it more effective. We believe such trends will likely support quality ratings over the medium term.
More specifically, GCC banking systems generally exhibit high capitalization and manageable non-performing asset levels, and they benefit from strong state support, with state shareholders already having shown their willingness to intervene in times of stress through multiple channels (equity injections, fresh liquidity lines, Tier 1 and 2 central bank loans). We believe that GCC banking systems overall compare well with those in emerging markets, have added margin resilience, and key capitalization metrics are generally well above upcoming regulatory levels.
Rapid Market Development
Recent bond issuance numbers mask the substantial debt levels issued annually in the form of syndicated loans. At well above US$200 billion per annum, regional debt markets have reached critical mass, and we expect the drivers supporting this disintermediation process (Basel III regulatory requirements, and a drive by corporates to diversify sources of funding) to persist in the medium-term and support further growth in the primary market and depth in the secondary market.
Non-financial corporate issuers, which are mainly government-influenced companies with generally profitable businesses and strong fundamentals, have increasingly ambitious development and capital expenditure plans that are inconsistent with the current stage of development of capital markets in the GCC, which is another reason for our belief that GCC capital markets in general, and bond markets in particular, are poised for rapid, secular growth.  Already, private GCC companies are coming to market in increasing numbers, spurring the development of a market in higher-yielding corporate debt.
Conclusion
When considering the scale of development underway in the GCC and contrasting that against the range of issues facing many developed and emerging markets, we feel enthusiastic about the future of the region's bond markets, which we believe to be bright. We believe investors in GCC bonds could well continue to look forward to a macroeconomic backdrop that remains strong, with relatively lower volatility and low correlation to major fixed-income sectors, and continued bond market development and growth.
Mohieddine Kronfol's comments, opinions and analyses are for informational purposes only and should not be considered individual investment advice or recommendations to invest in any security or to adopt any investment strategy. Because market and economic conditions are subject to rapid change, comments, opinions and analyses are rendered as of the date of the posting and may change without notice. The material is not intended as a complete analysis of every material fact regarding any country, region, market, industry, investment or strategy.
Get more perspectives from Franklin Templeton Investments delivered to your inbox. Subscribe to the Beyond Bulls & Bears blog.
For timely investing tidbits, follow us on Twitter @FTI_France et sur LinkedIn.
Important Legal Information
All investments involve risk, including possible loss of principal. The value of investments can go down as well as up, and investors may not get back the full amount invested.
Bond prices generally move in the opposite direction of interest rates. Thus, as the prices of bonds in an investment portfolio adjust to a rise in interest rates, the value of the portfolio may decline. Special risks are associated with foreign investing, including currency fluctuations, economic instability and political developments. Investments in developing markets involve heightened risks related to the same factors, in addition to those associated with their relatively small size, lesser liquidity and lack of established legal, political, business and social frameworks to support securities markets. Such investments could experience significant price volatility in any given year.