This post is also available in: Dutch French Polish
July 2014 brought a summer swoon to the US high-yield sector, as selling pressure hit despite what many analysts by and large dubbed a respectable second-quarter corporate earnings season. Whatever the reason, many investors became suddenly spooked. Eric Takaha, director of the Corporate & High Yield Group and senior vice president, Franklin Templeton Fixed Income Group®, is not terribly concerned by what he views as short-term market volatility. He sees the recent selloff as not necessarily unhealthy, and he still sees supportive long-term fundamentals for corporate credit. He takes an unconstrained view, looking for opportunities across the global fixed income spectrum for his portfolios.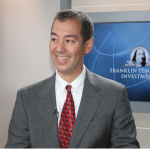 Eric Takaha
Director of the Corporate & High Yield Group
Senior Vice President, Franklin Templeton Fixed Income Group
Portfolio Manager
During times of volatility like we've seen recently in the corporate credit market, I think it's important to separate out the technical from the fundamental trends. In terms of the former, we have seen some outflows from some high-yield bond funds recently as well as from bank-loan funds. However, I think the longer-term fundamentals largely remain in place, and it is encouraging to us that the US second-quarter corporate earnings season has been very good, in our view. US economic growth in the second quarter posted a relatively strong rebound after a soft first quarter, and default rates remain near historical lows. I think a little volatility like we've seen in the bond market recently is not necessarily a bad thing; people seem to be reassessing whether market valuations make sense. A bit of a pullback is not necessarily unhealthy.
In the corporate credit space, there are a few companies out there that are distressed and might experience default over the next six to 13 months, but in general there aren't a large number that seem to be close to the edge either in terms of violating covenants or not being able to meet their cash flow obligations. So we think the outlook for defaults remains fairly benign at least for the near term, given the fact there are not a lot of companies that are in trouble with covenants or have other interest burdens. Actually, we are seeing leverage start to tick up a little bit, so management teams are getting a little more aggressive with their balance sheets because interest costs have been so low. In general, free cash flow for a lot of companies remains fairly robust and that helps to support the corporate credit outlook at least over the balance of the year, in our view.
The Interest-Rate Debate
Many observers had thought US interest rates were going to go up in 2014, but they've actually gone down year-to-date. I think there are some good reasons why. US first-quarter economic growth was weak, and that helped dampen rate expectations. In addition, even though inflation has ticked up, it remains relatively benign within the Fed's target of about 2%. And, although US interest rates have come down this year, compared with German, Japanese and Canadian interest rates, the United States actually still has a premium yield versus those countries, in our view. With all the so-called quantitative easing that's going on even outside the United States, there's a lot of demand for yield and the United States still seems to be an attractive place. While we understand the drivers for the lower rates year-to-date, longer term, we would still look for an upward bias in US rates.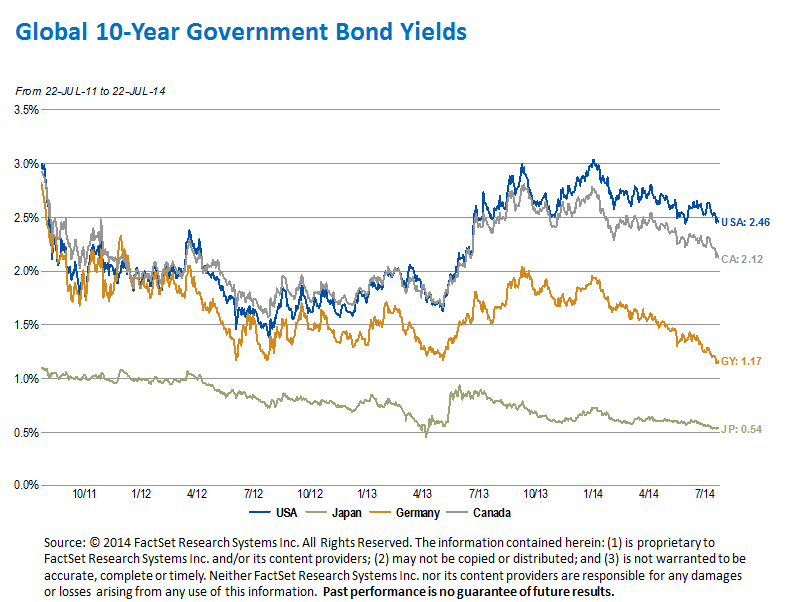 That being said, on a long-term basis, we don't find as much value in the US interest-rate markets. That's primarily because on a long-term basis, even with inflation at 2%, which is well below the long-term historical averages, when you look at five- and 10-year Treasuries, you don't get much yield on top of that. We frankly find better value outside the US interest rate markets, and we have very little direct US exposure to Treasuries, agencies or agency mortgage-backed securities in our portfolio. We have a greater focus on the credit markets, primarily floating rate bank loans and high-yield corporate bonds. We also have some exposure to global markets outside the United States where there are different currency dynamics, different yield curve dynamics, and where we believe there are currently better opportunities.
There have been a lot of headlines recently in terms of the outflows from bank loans (also called leveraged loans) as well as high-yield corporate funds. I think it's been a fairly manageable and actually a good test to say that although outflows can cause some volatility—and they do cause some pressure on prices at least in the short term—frankly, there have been buyers for these securities during selloffs. And, there have been more non-traditional buyers ready in the marketplace who have been able to step in. Even though we have seen an impact on liquidity at times, I think it is good news that the market seems to have been able to weather some of the larger outflows we saw in high yield over the later part of July 2014 in a pretty orderly fashion. [perfect_quotes id="5326″]
A Global View of Corporate Credit
In terms of the European credit markets versus the US markets, in general we had found better values in Europe a couple of years ago than we are finding right now. During Europe's debt crisis in 2011 and 2012, we saw those markets trading rather cheaply relative to the US market, and we did find some good opportunities both in euro-denominated and Yankee bonds issued by European companies. Since that time, we've seen valuations tighten and those markets are actually trading a bit rich to the US markets right now, so we don't find as much value in those areas as we had before. And, in our view, economic fundamentals look a bit more favorable in the United States versus Europe right now.
The issues with Banco Espirito Santo (which required a bailout) in Portugal and some peripheral banks in Europe, we think, are somewhat idiosyncratic in nature. If you look at the European marketplace, it has been a little behind the United States in terms of recapitalizing banks, but we see it starting to come around. We are starting to see capital ratios rise up again generally. While I think we may see more of these one-off situations with some individual financial institutions that are having difficulties, I don't think the problems with Espirito Santo are representative of a broader systematic problem.
Looking outside the US and Europe, we've been looking for potential opportunities in emerging markets. There are some pockets of countries with issues, so we've been cautious there. But as we see volatility in some countries, we are looking closer at individual opportunities that make long-term sense for us. Really, that's what it's about for us, going where we see opportunity.
We are unconstrained in the sense that we can invest in non-investment grade or investment grade, in US or global securities, in fixed or floating-rate debt in our portfolio. We really have a full opportunity set across the global fixed income markets to look for our best investment ideas.                              
For timely investing tidbits, follow us on Twitter @FTI_Global and on LinkedIn.
What Are the Risks?
All investments involve risks, including possible loss of principal. The value of investments can go down as well as up, and investors may not get back the full amount invested. Bond prices generally move in the opposite direction of interest rates. Thus, as prices of bonds in an investment portfolio adjust to a rise in interest rates, the value of the portfolio may decline.  High yields reflect the higher credit risks associated with certain lower-rated securities held in a portfolio. Floating-rate loans and high-yield corporate bonds are rated below investment grade and are subject to greater risk of default, which could result in loss of principal—a risk that may be heightened in a slowing economy. The risks of foreign securities include currency fluctuations and political uncertainty. Investments in developing markets involve heightened risks related to the same factors, in addition to those associated with their relatively small size and lesser liquidity. Investing in derivative securities and the use of foreign currency techniques involve special risks as such may not achieve the anticipated benefits and/or may result in losses to the fund. Changes in the financial strength of a bond issuer or in a bond's credit rating may affect its value.