This post is also available in: French
Islamic finance, once of interest only to a niche market of Muslim investors, has been going mainstream. Fixed income investments within the space known as Sukuk have attracted the attention of investors across the globe who see the potential this unique asset class can offer. Mohieddine Kronfol, chief investment officer, Franklin Templeton Global Sukuk and MENA Fixed Income Strategies, explains how Islamic finance has been growing over the past decade, and why a growing number of investors are crossing the borders—and boundaries—of traditional fixed income to add Sukuk to their portfolios.
Islamic finance, particularly fixed income instruments known as Sukuk, has come of age and is now an integral component of the mainstream global financial system. A decade ago, the Sukuk market was valued at US$9.6 billion, issues were generally small in nature, and the market was concentrated amongst a handful of issuers; in 2013, the market topped US$269.4 billion, with an exponential growth in the number of large deals and increasing diversification of issuers.1 The Islamic finance industry is expected to continue growing at nearly 20% per year, and the pool of investors interested in Shariah-compliant securities is expected to rise along with it. And while Islamic investors are the natural buyers of Sukuk, the appeal of Sukuk now extends far beyond the Islamic world. Some estimates suggest that conventional investors may account for as much as 40% to 60% of any individual Sukuk offering.2,3
In our view, Sukuk may be attractive options for both Islamic and non-Islamic investors seeking to diversify their investment portfolios. Not only are the returns attractive relative to traditional fixed income assets, the volatility of Sukuk has historically been more subdued—something that could prove important in a rising interest-rate environment. Moreover, Sukuk provide exposure to some of the fast-growing and most financially sound economies in the Gulf Cooperation Council (GCC) and Southeast Asia, countries that are often underrepresented in many traditional bond indexes and funds. Due to their unique structure and market dynamics, Sukuk returns also tend to be less correlated with other parts of the global fixed income market. All of these factors, we believe, may make Sukuk an appropriate complement to investors' existing equity or global bond allocations.
Innovation and Growth
In essence, Sukuk combine religious law dating back some 1,500 years with the latest developments in modern structured finance. Sukuk are fixed income securities that comply with Islamic law's prohibition of paying or charging interest. Instead of basing payments on interest, payments are based on either profit sharing or rental or lease income—and they are typically backed by a tangible asset. The Sukuk market has surged from just US$121.5 billion outstanding in 2010 to US$247.6 billion in 2013, according to data from KFH Research. Impressive as that increase has been, it still pales in comparison to the demand for these investments.
New Sukuk issues are often many times oversubscribed, and given the growing acceptance of Sukuk outside of traditional Islamic markets and issuers, the asset class is reaching critical mass. Global consultants Ernst & Young predict that global demand for Sukuk will reach US$900 billion by 2017.4 The strong demand stems partly from the massive expansion in the assets of Islamic investors, and the relatively limited supply of Shariah-compliant investment alternatives. Islamic financial assets currently total more than US$1.8 trillion, and continue to grow at an annualised rate of nearly 20%.5 Furthermore, the strength of the asset class during the global financial crisis and eurozone sovereign debt crisis, as well as the growth of the asset class beyond the Islamic world, is fueling demand.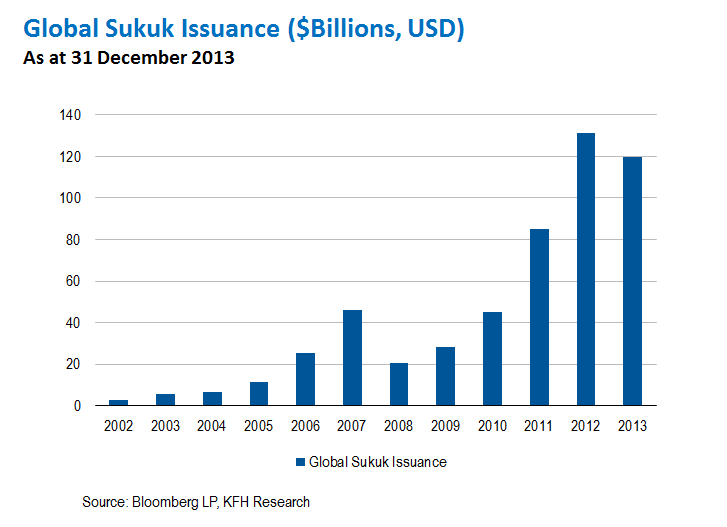 Sukuk Market Goes Global
The bulk of Sukuk issuance still comes from Malaysia and the oil-rich Gulf States, but an increasingly wide array of countries and companies in other parts of Asia, Africa and Europe are seizing the opportunity to tap the Islamic debt markets to take advantage of the vigorous demand. Indeed, in June 2014, the United Kingdom (UK) became the first Western government to issue Islamic bonds.6 The yield offered was comparable to what the UK government pays on its conventional Gilts, with investors receiving rental income based on three government-owned properties.
We expect this trend to continue as a range of issuers looks to tap the large pools of Muslim wealth and liquidity around the world and policymakers see the benefits of complementing their financial architecture with Shariah-compliant securities and services.
Tangible progress is being made across the globe to support Islamic finance and further Sukuk issuance. Sixteen governments around the world have issued Sukuk since 2001, and more are likely to follow suit in the next few years. These deals, we believe, will further help to diversify primary market activity and improve secondary market liquidity.
A Potential Portfolio Diversifier
While a vibrant market for Sukuk issuance is leading more issuers to tap the Islamic financial markets, there may be a number of clear benefits to owning Sukuk—not only for Shariah-compliant investors and financial institutions, but also sophisticated mainstream investors around the world. This growing diversification 7 is a key advantage. For Shariah-compliant investors, we believe Sukuk could potentially be a basic building block for portfolio asset allocation, complementing already-prevalent equity and real-estate holdings.
Sukuk offer non Shariah-compliant investors an opportunity to further broaden existing core global fixed income allocations. Because some of these fixed income instruments are backed by a real asset such as real estate or infrastructure projects and the payments are derived from profit sharing or rental income, they also tend to be more insulated from market events and have lower correlations to other asset classes, including global bonds, global equity and commodities.
From a geographical perspective, Sukuk offer exposure to areas of the market that may not be captured in more traditional fixed income indexes, such as the GCC and Southeast Asia—two areas where credit ratings are currently relatively strong and economies have been expanding at a rapid clip. In the GCC, for instance, issuers backing these bonds have tended to be of high credit quality with strong balance sheets. As a result, the credit risk profile has tended to be lower than high-yield debt, for example. As the market continues to grow and more companies and sovereigns begin to tap the Islamic finance markets, we anticipate these global and sector diversification benefits should likely increase.
While we see interest in Sukuk broadening out globally as the instruments become more mainstream, the fact remains that Islamic financial institutions and wealthy Muslims are still the biggest buyers of Sukuk because they have few other investment alternatives. As such, they view Sukuk as sound long-term investments that, in many cases, they fully intend to hold to maturity. Furthermore, Islamic financial institutions' generally strong capital positions also reduce any need to sell these instruments in times of market tumult. Western bond investors, in contrast, can hold a broad range of fixed income securities and can shift out of different asset classes as the perceived market environment changes. With a large base of natural investors who have few investment alternatives and are unlikely to sell their holdings before maturity, Sukuk offer conventional investors some downside protection in times of market volatility, in our view.
Other Factors to Consider
Sukuk may also gain further traction among investors in a rising interest-rate environment. While the major central banks have been pumping liquidity into the global economy in order to boost economic growth following the global financial crisis, the US Federal Reserve (Fed) and the Bank of England may be getting closer to actually raising rates. When interest rates rise, bond prices tend to fall. However, the impact depends on what is known as a bond's duration, or its sensitivity to interest-rate risk. The higher the duration, the more a change in interest rates will impact a bond's price. Here, we believe Sukuk offer a potential advantage. Typically, Sukuk portfolios offer a lower duration (and thus less interest-rate sensitivity) than major fixed income indexes.
Indeed, when talk of an end to the Fed's quantitative easing programme first surfaced in early 2013, Sukuk held up better than both US Treasuries and emerging-market debt.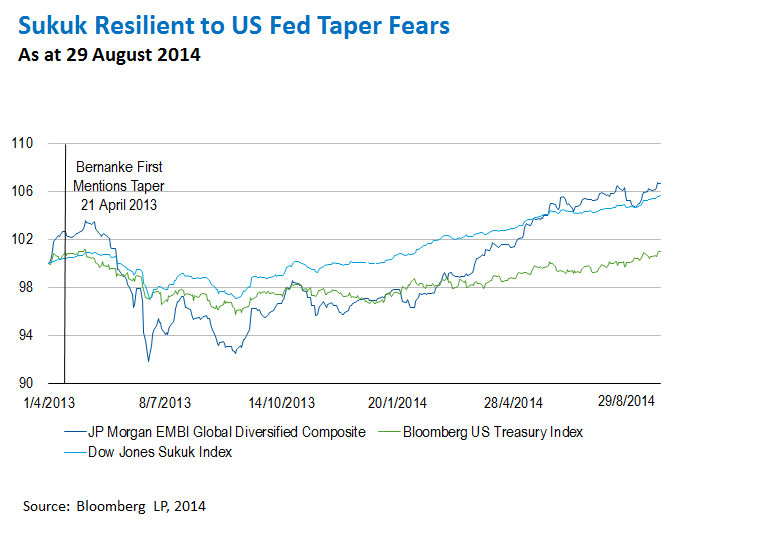 Liquidity is also continually deepening. While the perception remains that the market is relatively illiquid, the market has gained such momentum that secondary market liquidity has improved significantly and price discovery is becoming somewhat easier. Today, bid/offer spreads are comparable to those seen in the market for conventional fixed income securities. Furthermore, as more companies and countries look to issue Sukuk securities, deal sizes have been increasing and the number of issues over US$1 billion was up sharply in 2013 from just three years earlier, according to data from Bloomberg LP. However, like conventional bonds, the liquidity profile of Sukuk will vary over time and is determined by its size, the issuer's credit quality and other security-specific risks.
Geopolitical tensions, which have been roiling parts of the Middle East in recent years, may raise concerns among investors. Again, Sukuk look to be relatively insulated from the regional turmoil. Given its relative stability, massive hydrocarbon reserves and accumulated current account and budget surpluses, the GCC has been considered a "safe haven" in the region. That said, of course, unforeseen events could have a short-term effect on GCC-related financial assets.
The Importance of Local Expertise and Research
We believe the burgeoning Sukuk asset class offers investors a unique opportunity to invest in a market that is just now beginning to enter the mainstream of global investing. While deal sizes are increasing, and pricing for listed Sukuk have become easier to discern, Sukuk are still largely over-the-counter instruments. And despite increasing interest in Sukuk investments inside and outside of the Islamic world, access to information in some cases can remain asymmetrical.
This lingering pricing inefficiency certainly creates opportunities for investors, but we believe it also makes local expertise critical in finding suitable Sukuk investment opportunities. Since Sukuk largely have been a niche market for global investors up to now, there is limited research on the space in general. That has made the market a bit more opaque than the traditional developed conventional fixed income asset classes, where research, credit ratings and financial information on the underlying issuers are much more readily available. Instead of keeping conventional investors out of the Sukuk market, we see an opportunity. We believe that through thorough independent credit research, global investors can uncover attractive opportunities in this exciting and rapidly expanding, but still relatively unfollowed, asset class.
Franklin Templeton's Global Sukuk investment team operates from multiple locations, such as the United Arab Emirates (Dubai) and Malaysia (Kuala Lumpur), which are in close proximity to the majority of Sukuk issuers. This structure allows us to combine local understanding and insight with the resources of a global leader in asset management. The team has the additional support of the Franklin Templeton Local Asset Management Group, which is fully integrated with our wider Global Fixed Income platform. This support is integral in providing the locally based teams with the resources and diversified expertise of Franklin Templeton's Global Fixed Income group, including global macroeconomic and sector research from analysts covering every major segment of the global fixed income market.
 Mohieddine Kronfol's comments, opinions and analyses are for informational purposes only and should not be considered individual investment advice or recommendations to invest in any security or to adopt any investment strategy. Because market and economic conditions are subject to rapid change, comments, opinions and analyses are rendered as of the date of the posting and may change without notice. The material is not intended as a complete analysis of every material fact regarding any country, region, market, industry, investment or strategy.
To get insights from Franklin Templeton delivered to your inbox, subscribe to the Beyond Bulls & Bears blog.
For timely investing tidbits, follow us on Twitter @FTI_Global and on LinkedIn.
What Are the Risks?
All investments involve risks, including possible loss of principal. The value of investments can go down as well as up, and investors may not get back the full amount invested. Bond prices generally move in the opposite direction of interest rates. Thus, as the prices of bonds in an investment portfolio adjust to a rise in interest rates, the value of the portfolio may decline. Special risks are associated with foreign investing, including currency fluctuations, economic instability and political developments. Investments in developing markets involve heightened risks related to the same factors, in addition to those associated with their relatively small size, lesser liquidity and lack of established legal, political, business and social frameworks to support securities markets. Such investments could experience significant price volatility in any given year.