This post is also available in: Dutch French Polish
Growth in much of Europe is slow—some observers even say the economy is moving sideways. Lately, the eurozone seems to have more in common with Japan, whose economy has been idling for years, than it does with the UK or the United States. The European Central Bank (ECB) has recently launched programmes to inject capital into the economy, and David Zahn, head of European fixed income and portfolio manager, says they're a good start. He urges a long-term approach driven by both the ECB and the governments of individual countries, which all have to do their part to get the European economic engine running on all cylinders.
David Zahn, CFA®, FRM
Head of European Fixed Income
Senior Vice President, Portfolio Manager
Franklin Templeton Fixed Income Group®
We at the Franklin Templeton Fixed Income Group believe Europe in general will be in a slow-growth, low-inflationary environment for a considerable time. With that backdrop, we think a long-term, accommodative approach is needed to help spur the economy.
While the European Central Bank (ECB) has a role to play in the eurozone's economic recovery, we think the core economies should do a bit more to achieve necessary reform. We don't think the authorities are doing nearly enough in France, for example. Their deficit is quite high, and, in the latest draft budget, the French government has effectively said it can't meet the deficit target and will try to meet it at a later date. The country needs economic reform, in our view, and it doesn't appear to be working hard enough on it.
Germany, we believe, is meeting its fiscal requirements very well. Still, when most other countries in Europe are in fiscal austerity, maybe Germany can afford not to be so austere.
I think some of the eurozone's core countries could take a lesson from the so-called periphery economies. In many of the periphery countries, the authorities have enacted necessary reforms. They have put plans into place that successfully reduced their budget deficits. I'm not saying some of the periphery countries shouldn't do more, but many reforms have been passed, and we're starting to see them implemented.
Still in Europe, but outside the eurozone, the UK economy is moving in a positive direction, in my opinion. Growth is good, inflation appears to be under control, and the country's central bank is in a very different place than the eurozone's. The central bank—the Bank of England—is considering raising interest rates, and we believe it's not a matter of if, but when it will raise rates. I think that's a good sign for the UK economy and, as a result, we don't believe UK Gilts offer a lot of value. For UK investors, there may be a case for looking at opportunities elsewhere in Europe because the economies appear to be moving in different directions.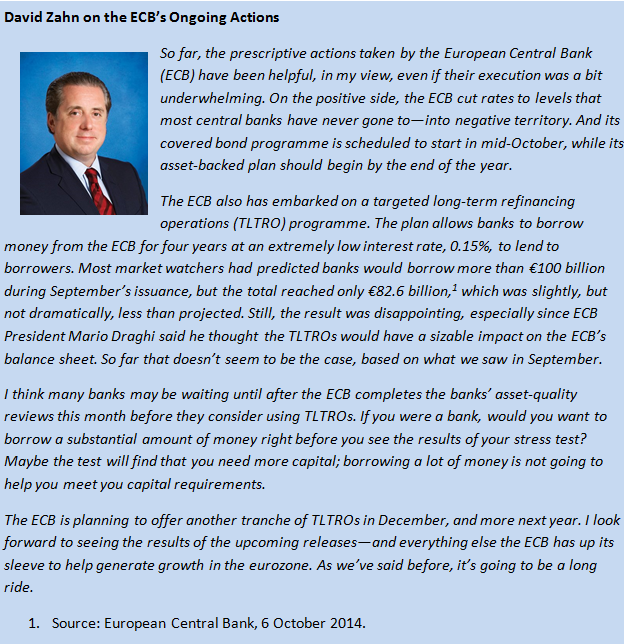 Common Bonds
Looking globally, I believe the eurozone has more in common with Japan than with the United States or the UK at this point, and I think that trend will likely continue. Inflation in the eurozone is running at 0.4%, which is a far cry from the ECB's 2% target. My team and I expect inflation will likely rise a little next year, but it's likely not going anywhere near 2%. I think that's what ECB President Mario Draghi is primarily concerned about. He has said the ECB is fully behind undertaking whatever measures are necessary to combat low inflation.
I expect the Bank of Japan (BOJ) and the ECB should likely continue to be accommodative to combat deflation and low inflation in their respective countries. Much has been made about the amount of liquidity the US Federal Reserve Bank (Fed) has pumped into the US economy during its quantitative easing (QE) programme. But, when you take into account what Japan and Europe combined are currently contributing to their QE programmes, it probably more than matches what the United States was doing. So, on a global scale, we have probably just as much or more liquidity being created now than when the Fed was acting alone.
Divergent Paths
Meanwhile, the US economy has been performing relatively well. In the United States, the Fed has indicated it is going to stop its QE programme this month, and its next focus will be on when to raise interest rates.
That's a strong differential to make, and it has ramifications for the currencies. I think the euro should probably weaken against the US dollar and, to a lesser extent, the British pound—it has already weakened quite a bit against the pound—because the economies are on different trajectories.
That might suggest to investors that European bonds may be a good place to look for potential opportunities. In our portfolio, we have taken a long-duration posture in Europe.1
CFA® and Chartered Financial Analyst® are trademarks owned by CFA Institute.
To get insights from Franklin Templeton delivered to your inbox, subscribe to the Beyond Bulls & Bears blog.
For timely investing tidbits, follow us on Twitter @FTI_Global and on LinkedIn.
The comments, opinions and analyses are the personal views expressed by the investment manager and are intended to be for informational purposes and general interest only and should not be construed as individual investment advice or a recommendation or solicitation to buy, sell or hold any security or to adopt any investment strategy. It does not constitute legal or tax advice. The information provided in this material is rendered as at publication date and may change without notice and it is not intended as a complete analysis of every material fact regarding any country, region, market or investment.
Data from third-party sources may have been used in the preparation of this material and Franklin Templeton Investments ("FTI") has not independently verified, validated or audited such data. FTI accepts no liability whatsoever for any loss arising from use of this information and reliance upon the comments, opinions and analyses in the material is at the sole discretion of the user. Products, services and information may not be available in all jurisdictions and are offered by FTI affiliates and/or their distributors as local laws and regulation permits. Please consult your own professional adviser for further information on availability of products and services in your jurisdiction.
What Are the Risks?
All investments involve risks, including possible loss of principal. The value of investments can go down as well as up, and investors may not get back the full amount invested. Changes in interest rates will affect the value of a portfolio and its yield. Bond prices generally move in the opposite direction of interest rates. Thus, as the prices of bonds in a portfolio adjust to a rise in interest rates, the portfolio's yield may decline. Special risks are associated with foreign investing, including currency fluctuations, economic instability and political developments. Investments in developing markets involve heightened risks related to the same factors, in addition to those associated with their relatively small size and lesser liquidity.