This post is also available in: Chinese (Simplified) French Polish
After years in the doldrums, the US dollar may be ready for a durably strong rally. Programs enacted by the Federal Reserve Bank (Fed) in the wake of the financial crisis from 2007 to 2009 that kept interest rates—and the dollar—low have just about run their course, and the US economy appears to be strengthening. John Beck, director of Fixed Income, London, and portfolio manager, says the stage appears set for the dollar's comeback. He shares his insights on the sometimes unexpected currency consequences of a rising US dollar.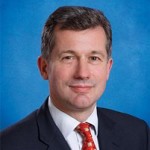 John Beck
Director of Fixed Income, London
Senior Vice President, Portfolio Manager
Franklin Templeton Fixed Income Group®
I think we're on the cusp of a durably strong US dollar environment. I believe we're in that position as a result of a massive quantitative easing (QE) program and improvements in the US economic climate in general.
The QE program that we've seen in the United States has been truly extraordinary. The size of the country's balance sheet grew from $880 billion in 2008 to $4.5 trillion in 2014,1 mainly through the Federal Reserve Bank's (Fed's) purchases of long-term securities. The Fed purchased the debt to bring down long-term interest rates and, in turn, stimulate borrowing. The Fed had been buying $85 billion a month in long-term debt, but has tapered its purchases to $35 billion a month in July and is expected to end the purchase program in October.
On top of that, the US economy is growing at 4.6%, US unemployment fell below 6% in September, and the current account balance is a pretty manageable 2.3% of gross domestic product (GDP).
But if the QE program was extraordinary, I think you now have to reconsider the definition of ordinary. When you revert to the status quo ante you should expect to see some change.
As the US economy shows improvement and shakes off its QE crutches, we think it's perfectly reasonable to assume that the currencies of regions that are inflating their balance sheets with QE stimulus, such as the eurozone, would be negatively affected. But we really haven't seen that happen yet. Even earlier this year, the euro was at $1.40, and it's been in the $1.20 to $1.40 range for the last three years.2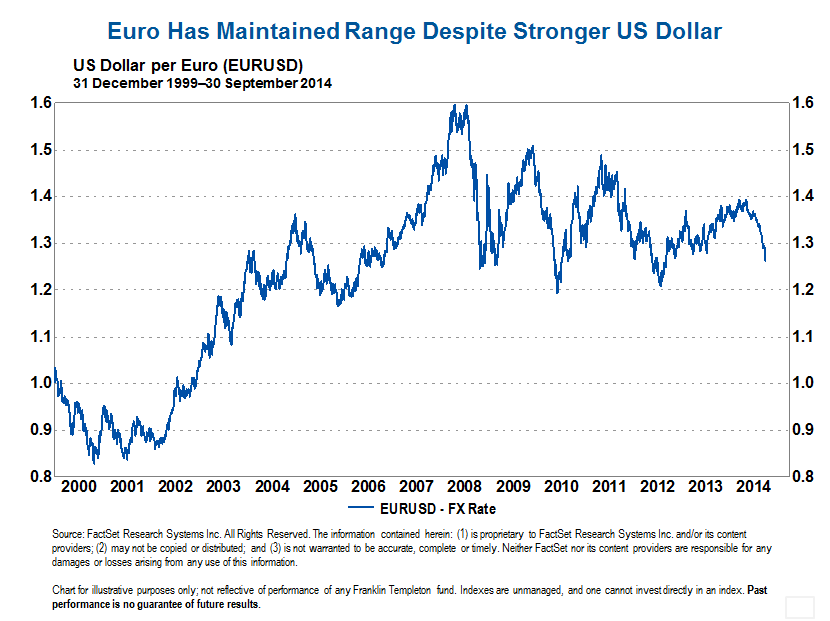 Instead, we're seeing the dollar strengthen against currencies of countries with relatively solid balance sheets. We at the Franklin Templeton Fixed Income Group have been monitoring the effects of the strong US dollar on countries we view as having relatively decent fundamentals, such as South Korea, where the government is working to improve corporate governance. It is running large account surpluses and is a capital exporter to the rest of the world. You could argue the South Korean won should be immune to the broad dollar strengthening trend, but it hasn't been, to date.
The Mexican peso also has weakened, and we're asking ourselves if that is part of the broad dollar move. Mexico is working to reform its education and labor sectors, and it recently advanced legislation that would open up its energy sector to private investors after 76 years of a state monopoly. We can understand why the Brazilian real would weaken because Brazil has seen its GDP contract and its manufacturing and construction sectors decline, but should the Mexican peso sink too? We'll be monitoring this situation closely going forward.
I don't think the British pound will be quite as badly impacted by the dollar strengthening because the United Kingdom, like the United States, is in a better economic state than some other countries. It wouldn't surprise me to see the pound hold up better than the euro against the dollar. The Bank of England (BOE), like the Fed in the United States, has said that it plans to raise interest rates in 2015 because the United Kingdom's economic recovery has exceeded the BOE's expectations.
Commodity Conundrum
A stronger US dollar—and slow growth in China—also has caused commodity prices to sink. Soft commodity prices are exerting downward pressures on inflation at the same time the European Central Bank (ECB) is trying to implement measures to exert upward pressure on inflation. Therefore, I think there's a real risk that Europe will print deflation across the whole of the eurozone. Overall, I don't think the ECB is doing enough to prevent deflation. It's doing what it can, but it's doing it with its hands tied behind its back, politically. I don't get the sense that there is a common view within the euro countries that they all agree what the common vision is, let alone how they're going to get there.
Bound for Bonds?
On the other hand, we think eurozone bonds may represent a reasonable value because economic growth there is terrible. The eurozone bond market doesn't face the same quandary about a rising-rate environment that investors in, for instance, the United States or the United Kingdom, have to deal with. When you have a lousy economy that's not functioning properly, why would anybody think rates are going to rise any time soon? I think the ECB could likely be on hold, maybe even as long as for a full decade.
To get insights from Franklin Templeton delivered to your inbox, subscribe to the Beyond Bulls & Bears blog.
For timely investing tidbits, follow us on Twitter @FTI_US and on LinkedIn.
The comments, opinions and analyses are the personal views expressed by the investment manager and are intended to be for informational purposes and general interest only and should not be construed as individual investment advice or a recommendation or solicitation to buy, sell or hold any security or to adopt any investment strategy. It does not constitute legal or tax advice. The information provided in this material is rendered as at publication date and may change without notice and it is not intended as a complete analysis of every material fact regarding any country, region market or investment.
Data from third party sources may have been used in the preparation of this material and Franklin Templeton Investments ("FTI") has not independently verified, validates or audited such data. FTI accepts no liability whatsoever for any loss arising from use of this information and reliance upon the comments, opinions and analyses in the material is at the sole discretion of the user. Products, services and information may not be available in all jurisdictions and are offered by FTI affiliates and/or their distributors as local laws and regulation permits. Please consult your own professional adviser for further information on availability of products and services in your jurisdiction.
All investment involve risks, including possible loss of principal. The value of investments can go down as well as up, and investors may not get back the full amount invested. Changes in interest rates will affect the value of a portfolio and its yield. Bond prices generally move in the opposite direction of interest rates. Thus, as the prices of bonds in portfolio adjust to a rise in interest rates, the portfolio's yield may decline. Special risks are associated with foreign investing, including currency fluctuations, economic instability and political developments. Investments in developing markets involve heightened risks related to the same factors, in addition to those associated with their relatively small size and lesser liquidity.
---
1. Source: "Recent balance sheet trends," Board of Governors of the Federal Reserve System, 10/01/2014.
2. Source: © 2014 FactSet Research Systems Inc. All Rights Reserved. The information contained herein: (1) is proprietary to FactSet Research Systems Inc. and/or its content providers; (2) may not be copied or distributed; and (3) is not warranted to be accurate, complete or timely. Neither FactSet nor its content providers are responsible for any damages or losses arising from any use of this information.