This post is also available in: Dutch French Italian German Spanish Polish
Worries over stagnation and deflation merged to create the mélange of misery that has enveloped the eurozone in 2014. While some market watchers remain dubious that the region will pull itself from the economic mire, Uwe Zoellner, head of Pan-European Equity and portfolio manager, Franklin Local Asset Management in Frankfurt, Germany, says a weaker euro and structural reforms, if implemented properly, may help brighten the eurozone's future financial picture. He weighs in on the lowlights of 2014 and the potential highlights of 2015.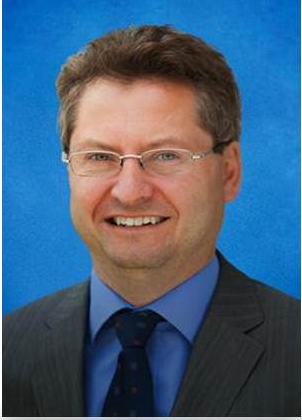 Uwe Zoellner, CFA®
Head of Pan-European Equity
Portfolio Manager
Franklin Local Asset Management
The eurozone has struggled this year amid a combination of lagging structural reforms, weaker developing economies, and what has, until recently, been a relatively strong euro. That said, I still see reasons to be optimistic longer term. As the euro seems likely to continue to weaken, the region's major exporters can become more competitive. Additionally, individual countries are embarking on plans to reform their economies, and I believe corporate earnings have room to grow.
The euro's persistent strength has been a major reason for recent weakness in the eurozone. When the sovereign debt crisis hit Europe in 2009, the euro was generally viewed as a rotten currency, one that did not work and was poorly designed. Despite these concerns, however, the euro remained fairly strong over the past two years. And, since the eurozone is so heavily dependent on exports, its strong currency has been a drag on growth. The euro, however, is finally starting to weaken against other major currencies, and we think this weakness should provide an important boost for the eurozone's exporters, which include not only Germany, but Belgium, the Netherlands, Luxembourg and Italy as well.
I believe the euro's recent weakening can be attributed largely to the European Central Bank's (ECB's) actions and rhetoric. In fact, I think the euro's weakening may ultimately prove to be the most important outcome of the ECB's recent actions. While I believe the ECB has done a number of things right in its efforts to foster a eurozone recovery, the effects of those actions will likely be limited if regional governments do not undertake structural reforms. I think expansionary monetary policy is helpful, but on its own it cannot resolve the region's current economic problems.
It is probable that the ECB may ultimately undertake full-blown quantitative easing (QE) next year, despite resistance from the German central bank, Bundesbank. I believe Bundesbank will probably oppose any QE, but it has only one vote on the ECB's Governing Council. QE may not ultimately be of much help, given the greater need for structural reforms, but I don't think it could hurt either.
What I think the eurozone needs is not lower interest rates, as was the case when the US Federal Reserve started its QE programme in 2008. I believe the eurozone needs real money going into the real economy, ideally to small- and medium-sized companies that have had difficulties getting access to loans. That is what the ECB seems to be trying to achieve at the moment. A side effect of any additional money creation could be an even weaker euro, which might further bolster exports and corporate profits.
Ready for Reform
Eurozone governments also have been struggling to enact what I believe are much-needed structural reforms to increase competitiveness and reduce labour costs; in general, the governments' efforts have had mixed success this year. A country doesn't necessarily have to enact one large sweeping reform; it is often many little things that need to be changed in an economy, but key themes have emerged. For example, European labour markets often are fairly rigid. It's difficult for companies to lay off employees, and companies often don't have much flexibility in terms of adjusting wages during tough economic times. Countries also could determine whether their processes for issuing work permits or licensing requirements are unduly onerous. Pushing past the procrastination and addressing these issues, in my view, has been one of the strongest drivers of recovery in countries that have done so.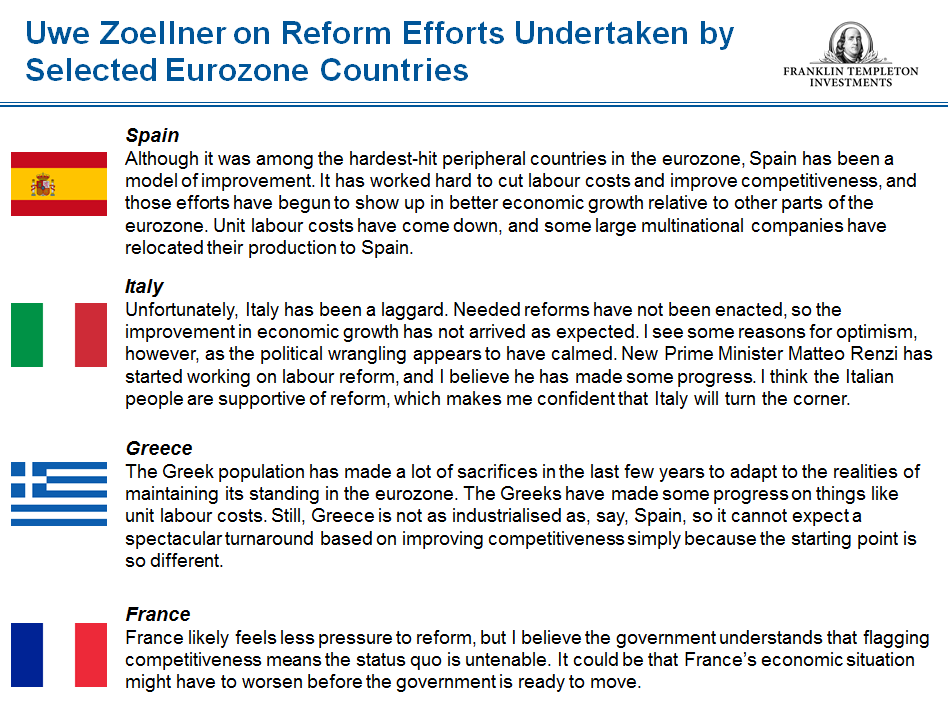 Furthermore, a slowdown in emerging markets has hurt the eurozone because these markets are typically important ones for European exports, particularly those from northern Europe. Countries like Germany were able to escape the worst of the region's most recent economic and financial crises because they could continue to export goods into China and other developing economies. With some of these emerging economies now slowing, exports have stalled and economic growth and corporate profits have suffered as a result. Nonetheless, I believe this recent slowdown might actually be a blessing in disguise. Germany has become, in my view, a bit too complacent. Certainly, Germany, which has been an engine of growth in Europe, has done a number of things to keep its economy on track, but it has also been lucky in that it could sell its cars and machinery equipment to emerging market customers. The recent slowdown may provide Germany with the incentive it needs to address some of its own lingering issues.
Taking Stock
European equities, as measured by the MSCI Europe Index, are up about 54% over the past three years,1 but earnings per share have actually fallen during the same period.2 The gap between share price performance and corporate profitability is one reason why we believe there is more uncertainty around the outlook for European stocks.
A good deal of this recent anxiety may be misplaced, in my opinion. At the bottom of the last valuation cycle in 2011, markets seemed to have priced in Armageddon, with European stocks trading at 8 times earnings,3 which is extremely cheap considering stocks had been trading at an average of about 12 times earnings for the past 10 years.4 Part of the jump in share prices over the past three years was a move away from this overly pessimistic view of Europe's future prospects to a more reasonable outlook.
Compared with other regions, particularly the United States, European markets still look relatively cheap to me, however, I believe once earnings start to improve, European equities should likely perform better. While near-term earnings may prove uninspiring, over the next 24 months, with European corporate profits still sitting so far below their previous peaks, I anticipate the catch-up potential could be significant.
With renewed economic uncertainty, defensive sectors like health care and utilities have performed well this year. While health care is a classically defensive sector, utilities is a bit of a surprise to me. Traditionally, the sector has been viewed as a safer haven, but given all of the regulatory pressures and the overcapacity we see in large parts of Europe for electricity generation, I do not think the sector is as defensive as it once was. Conversely, cyclical areas of the market, such as consumer discretionary, industrials and materials, have been among this year's more disappointing sectors.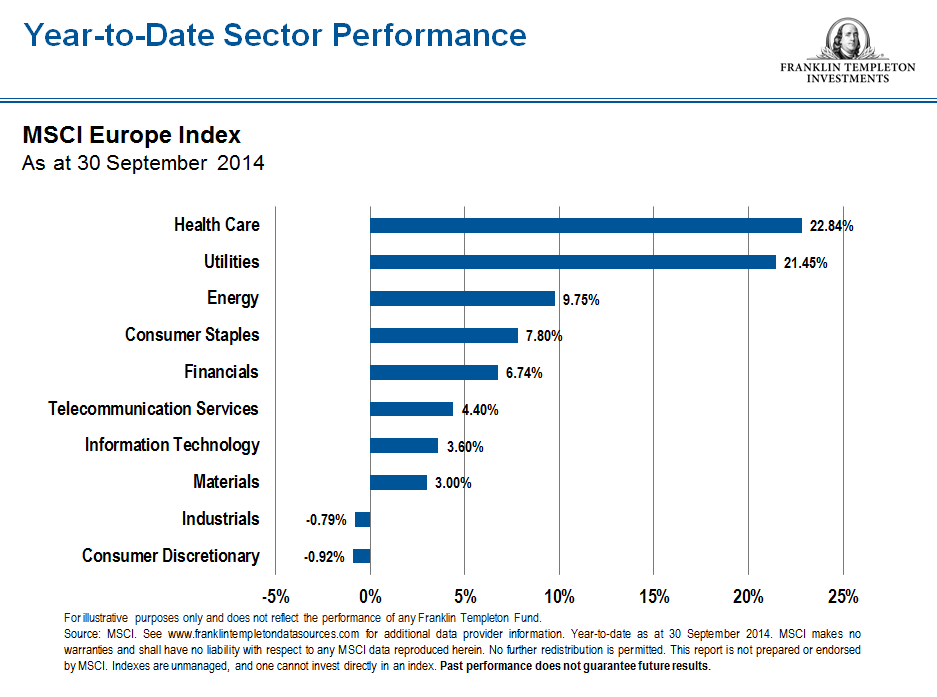 Even in weaker cyclical sectors, I believe the recent volatility creates an opportunity as the valuation discount to the more defensive sectors has gotten quite high.
I believe that in-depth fundamental research and prudent stock selection are the key elements to identifying those companies that will thrive once the turnaround comes.
To get insights from Franklin Templeton delivered to your inbox, subscribe to the Beyond Bulls & Bears blog.
For timely investing tidbits, follow us on Twitter @FTI_Global and on LinkedIn.
CFA® and Chartered Financial Analyst® are trademarks owned by CFA Institute.
The comments, opinions and analyses are the personal views expressed by the investment manager and are intended to be for informational purposes and general interest only and should not be construed as individual investment advice or a recommendation or solicitation to buy, sell or hold any security or to adopt any investment strategy. It does not constitute legal or tax advice. The information provided in this material is rendered as at publication date and may change without notice, and it is not intended as a complete analysis of every material fact regarding any country, region market or investment.
Data from third party sources may have been used in the preparation of this material and Franklin Templeton Investments ("FTI") has not independently verified, validated or audited such data. FTI accepts no liability whatsoever for any loss arising from use of this information, and reliance upon the comments, opinions and analyses in the material is at the sole discretion of the user. Products, services and information may not be available in all jurisdictions and are offered by FTI affiliates and/or their distributors as local laws and regulations permit. Please consult your own professional adviser for further information on availability of products and services in your jurisdiction.
What Are the Risks?
All investments involve risks, including possible loss of principal. The value of investments can go down as well as up, and investors may not get back the full amount invested. Stock prices fluctuate, sometimes rapidly and dramatically, due to factors affecting individual companies, particular industries or sectors, or general market conditions. Growth stock prices reflect projections of future earnings or revenues and can, therefore, fall dramatically if the company fails to meet those projections. Smaller, mid-sized and relatively new or unseasoned companies can be particularly sensitive to changing economic conditions, and their prospects for growth are less certain that those of larger, more established companies. Historically, these securities have experienced more price volatility than larger company stocks, especially over the short term. To the extent a portfolio focuses on particular countries, regions, industries, sectors or types of investments, from time to time, it may be subject to greater risks of adverse developments in such areas of focus than one that invests in a wider variety of countries, regions, industries, sectors or investments. Special risks are associated with foreign investing, including currency fluctuations, economic instability and political developments. Investments in developing markets involve heightened risks related to the same factors, in addition to those associated with their relatively small size, lesser liquidity and the potential lack of established legal, political, business and social frameworks to support securities markets.
---
1. Sources: Thomson Reuters (Markets) LLC: Datastream IBES Global Aggregates, Bank of America Merrill Lynch. See www.franklintempletondatasources.com for additional data provider information. For informational purposes only. Data refers to cumulative returns for the MSCI Europe Index for the 3 years ended 22 September 2014. Indexes are unmanaged, and one cannot invest directly in an index. Past performance does not guarantee future results.
2. Ibid. Data calculated for the 3 years ended 22 September 2014.
3. Sources: FactSet; MSCI. See www.franklintempletondatasources.com for additional data provider information. Data refers to MSCI Europe Index as at 30 June 2014. Indexes are unmanaged, and one cannot invest directly in an index. Past performance does not guarantee future results. Price-to-earnings ratio, or P/E ratio, is an equity valuation multiple defined as market price per share divided by annual earnings per share.