Long accustomed to receiving relatively higher (or at least respectable) bond yields by global standards, income-seeking Australian investors, who are among the highest savers in the developed world, have found themselves in a pickle as yields have slipped this year. Do they muddle through with what they consider paltry returns or do they give in to their adventurous spirit and search for greater rewards? Chris Siniakov and Andrew Canobi of Franklin Templeton Investments' Australian Fixed Income team caution investors about diving into unfamiliar fixed income waters. They also give an update on the surprisingly international appeal of the Australian bond market.
Chris Siniakov, Managing Director
Andrew Canobi, CFA®, Director
Australian Fixed Income
Franklin Templeton Investments
In recent years, Australian bonds have offered investors some of the highest yields in the developed world. A year ago, for example, the yield on the Australian 10-year bond was 4.33%, which was 50% higher than the 2.88% yield offered by the 10-year US Treasury note at that time.1 By mid-December of this year, however, the yield for 10-year Australian government bonds hovered near 2.89%, which is only 28% higher than the 2.25% yield offered by the 10-year US Treasury note.2
Over the last year, a handful of factors has contributed to the fall in Australian yields, including a slowdown in the Australian economy and strong demand from foreign investors, who own 70% of the nation's sovereign debt.3 In fact, the demand for Australian government bonds has narrowed the spread between US and Australian 10-year bonds by 33% since March 2014.4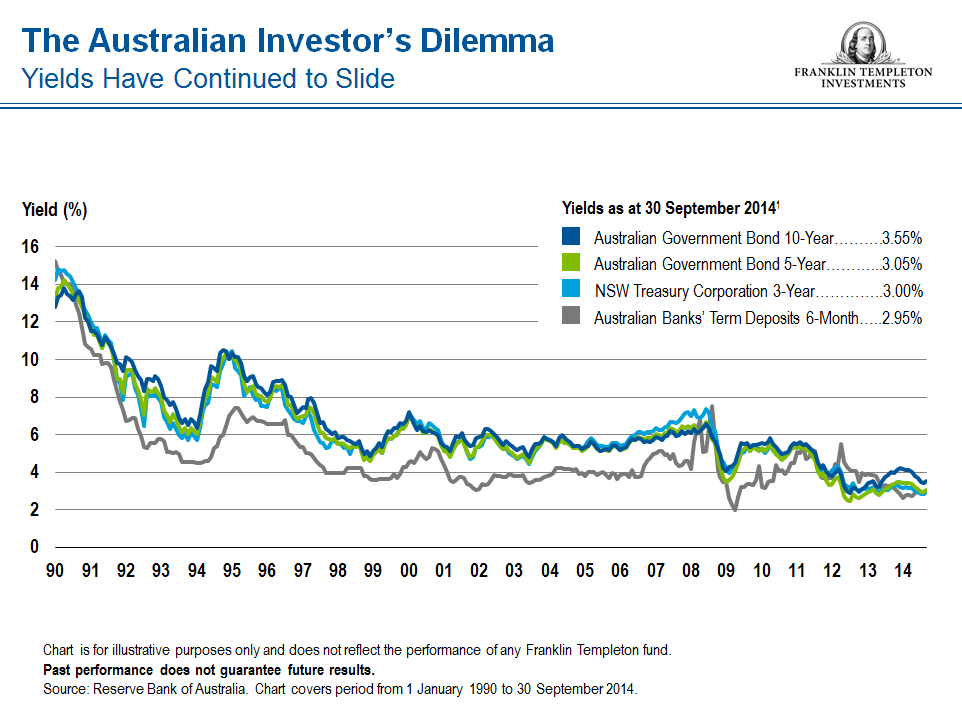 While current yields may sound appealing to fixed income investors in other parts of the world, they're considered low by Australian standards. Meanwhile, corporate bonds issued by familiar household names have generally risen in price. In response, we have found that some Australian investors are scrambling to find higher yields at reasonable prices, often turning to relatively risky investments, such as leveraged loans, to compensate for the yield they've lost in their traditional conservative bond portfolios.
We should mention that the the decline in yields has been positive for local fixed income returns, because bond prices increase as yields fall. But risks are rising as the US Federal Reserve looks to potentially increase interest rates, which could increase yields, but could also cause bond prices to fall, and potentially bring a flow-on effect to other developed markets, including Australia.
Instead of chasing yields or returns, bond investors, in our view, should pause and consider how to best construct an investment strategy with the goal of delivering optimal risk and returns to better complement their overall portfolios. More than ever, investors need to be careful of the risks in fixed income investing, particularly around duration,5 and be able to position nimbly to take advantage of the best opportunities available.
In our view, using a fundamental, research-driven approach may help investors manage the risks that come with fixed income instruments—especially in the current rate environment. As we see it, simply investing in different credit markets or extending durations will not deliver the desired outcomes.
Foreign Flavor
Over the years, Australia's bond market has become a destination for foreign issuers, particularly those from Europe and North America and, more recently, Asia and the emerging world. The market has evolved as it has grown and moved from being primarily domestically focused to being internationally diverse, as borrowers from around the world have increasingly drawn on Australia's large savings pool to raise capital. Foreign borrowers now represent a majority of the non-government credit in the domestic market.6
In 2001, Australian borrowers accounted for about 64% of all outstanding securities, compared with 36% foreign borrowers.7 By June 2014, the proportions had flipped, with the proportion of foreign borrowers in the market rising to 54%, compared with 46% for Australian issues.8 Foreign bond issuers are attracted to the Australian bond arena because it is considered a high-quality market in terms of its legal and operational aspects, and many companies want to diversify their overall currency exposure by raising funds in Australian dollars. In addition, Australia simply has more savers than borrowers domestically.
Australians are among the greatest savers in the developed world, saving 9.8% of their income, compared with 4.1% for US and 5.0% for Canadian households.9 The Australian superannuation pool, which is similar to a 401(k) retirement plan in the United States, totals AUD1.85 trillion10 and has more available capital to invest than there are corporations in Australia that want to raise money in the capital markets.
When they look outside their home market, Australian fixed income investors often gravitate towards more familiar names from the developed world. Investing in a large British telecommunications company or an American megabank, for example, is something that may be more in their comfort zone and easier for them to digest than, for example, a Chinese financial institution.
More recently, our research has led us to identify attractive opportunities—particularly among foreign companies from emerging countries. Many Australian investors are confounded about how to evaluate new fixed income opportunities from the emerging world. In our view, investors who want to invest in bonds issued by, for instance, a South Korean power company, need to have a deep understanding of the South Korean economy from a macro perspective, a clear insight into the company's credit strengths and weaknesses, and an awareness of the company's fair value in other global credit markets and how that compares to the pricing offered domestically.
Meet the Managers
Chris Siniakov and Andrew Canobi
Chris Siniakov and Andrew Canobi are not only co-portfolio managers, they're also good friends. Their close relationship is the result of 13 years working side by side at three different asset managers. They come from slightly different backgrounds across the fixed income sector: Siniakov is from the macro side and Canobi is from the credit side, but each says the other's perspective has made him a more well-rounded portfolio manager. Let's learn a little bit more about them.
[pm_bio align="left" width="100%"] [pm_headshot]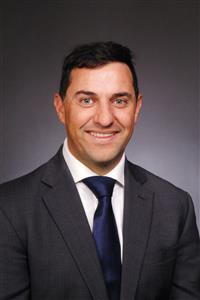 [/pm_headshot] [pm_title]Chris Siniakov[/pm_title] [pm_intro]
Education: Bachelor's degree in mathematics and statistics, Monash University, Melbourne; graduate diploma in banking and finance, Financial Services Institute of Australasia.
Hobbies: Golf has been one of my hobbies; it's something I've enjoyed for a long time. I'm time-poor now, as I've exchanged my golf game for being a taxi driver for my children, taking them from one activity to another. I'm also the official head coach of two basketball teams and the team manager of a soccer team.
On working 13 years alongside Andrew Canobi: We're strong partners in our professional career and have immense respect and trust for each other. That's important when you're trying to build a team and a business, and it's one of the great benefits of each of us having each other as their own right-hand person.
[/pm_intro] [/pm_bio]
[pm_bio align="left" width="100%"] [pm_headshot]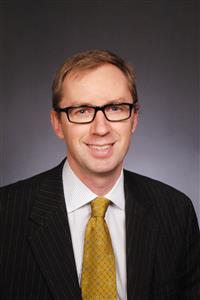 [/pm_headshot] [pm_title]Andrew Canobi[/pm_title] [pm_intro]
Education: Bachelor's degree from the University of Melbourne; graduate diploma from the University of Melbourne School of Business in commerce and industrial relations; graduate diploma in applied finance and investment, Securities Institute of Australia.
Hobbies: Between work and family commitments, it's not easy to find spare time. But I do enjoy music; I like playing guitar. My kids have become increasingly involved in music as well. And sport also takes up a lot of time. Being an amateur coach to my kids in cricket is something I enjoy doing.
On working 13 years alongside Chris Siniakov: When you work together with someone for a while, particularly in an investment team, two of the really important attributes you develop are trust and respect. Trust is very important because at the end of the day, the judgments and the decisions we make, and the responsibilities we share make a meaningful difference to client outcomes. The respect I have for Chris as an investment professional—and as a person as well—means that, in many ways, the whole becomes greater than the sum of its parts. The outcome we achieve as an investment team is far more as a team than we would achieve as individuals working in isolation.
[/pm_intro] [/pm_bio]
Bond Boomers
The Australian bond market attracts many foreign issuers and investors, but it doesn't entice a large percentage of its own residents. In fact, Australia is near the bottom of the list in the developed world when it comes to investing its pension assets in fixed income instruments. Australia's pension plan system has allocated 25% of its assets to fixed income instruments, compared with 45% in the United Kingdom and 40% in Canada.11
In our opinion, this is why: Australia doesn't have a history of fixed benefit pensions, unlike in parts of Europe and the United States, so Australian companies don't have a defined liability in terms of what an employee's overall payout will be. In other words, most Australians are on their own when choosing their investments for their retirement accounts. In response, Australian investors tend to take more of an "animal spirits" approach, which is a term used by economist John Maynard Keynes to describe investors whose investment choices are the result of confidence in the markets and not necessarily quantitative research. As a result, Australian investors typically turn to growth investments such as stocks and real estate instead of fixed income instruments.
We expect the spirited investment style that favors stocks over bonds may begin to subside as more of Australia's baby boomers approach retirement. As baby boomers move from the accumulation phase into the income phase of their retirement planning, we expect fixed income will ultimately become a more important part of their overall portfolios. The move could deliver a great boost to the Australian bond market, in our view. And, we also believe Australia's fixed income sector may grow at a more rapid rate than those in other parts of the world, where investors already hold a larger part of their portfolios in the asset class.
The comments, opinions and analyses are the personal views expressed by the investment managers and are intended to be for informational purposes and general interest only and should not be construed as individual investment advice or a recommendation or solicitation to buy, sell or hold any security or to adopt any investment strategy. It does not constitute legal or tax advice. The information provided in this material is rendered as at publication date and may change without notice, and it is not intended as a complete analysis of every material fact regarding any country, region, market or investment.
Data from third-party sources may have been used in the preparation of this material and Franklin Templeton Investments ("FTI") has not independently verified, validated or audited such data. FTI accepts no liability whatsoever for any loss arising from use of this information, and reliance upon the comments, opinions and analyses in the material is at the sole discretion of the user. Products, services and information may not be available in all jurisdictions and are offered by FTI affiliates and/or their distributors as local laws and regulations permit. Please consult your own professional adviser for further information on availability of products and services in your jurisdiction.
What Are the Risks?
All investments involve risk, including possible loss of principal. The value of investments can go down as well as up, and investors may not get back the full amount invested. Stock prices fluctuate, sometimes rapidly and dramatically, due to factors affecting individual companies, particular industries or sectors, or general market conditions. Changes in interest rates will affect the value of a portfolio and its yield. Bond prices generally move in the opposite direction of interest rates. Thus, as the prices of bonds in a portfolio adjust to a rise in interest rates, the portfolio's yield may decline. Floating-rate loans and high-yield corporate bonds are rated below investment grade and are subject to greater risk of default, which could result in loss of principal—a risk that may be heightened in a slowing economy. Special risks are associated with foreign investing, including currency fluctuations, economic instability and political developments. Investments in developing markets involve heightened risks related to the same factors, in addition to those associated with their smaller size and lesser liquidity.
Get more perspectives from Franklin Templeton Investments delivered to your inbox. Subscribe to the Beyond Bulls & Bears blog.
For timely investing tidbits, follow us on Twitter @FTI_Global and on LinkedIn.
CFA® and Chartered Financial Analyst® are trademarks owned by CFA Institute.