This post is also available in: Dutch French Italian German Spanish Polish
The European Central Bank Governing Council has held its last monthly meeting. From January 2015, the meetings, at which interest rate levels and other decisions affecting the eurozone's economic strategy are decided, will take place every six weeks. While this has provoked little comment from most market observers, David Zahn, head of European fixed income and portfolio manager, Franklin Templeton Fixed Income Group®, believes it is an important development, and one with potentially significant implications for investors.
David Zahn, CFA, FRM
Head of European Fixed Income
Senior Vice President, Portfolio Manager
Franklin Templeton Fixed Income Group®
The European Central Bank's (ECB's) decision to revamp the meeting cycle of its Governing Council so that its monetary policy decisions no longer take place monthly has interesting implications for investors—including potentially reducing the central bank's volatility, I believe.
Traditionally the ECB Governing Council, which includes governors of the national central banks of the 18 euro area countries as well as the ECB executive board, has met on the first Thursday of every month to decide and then communicate any changes to the eurozone central bank's monetary policy. But back in July 2014, it quietly unveiled a change to its schedule to adopt an approach more like the US Federal Reserve (Fed), and will now meet every six weeks.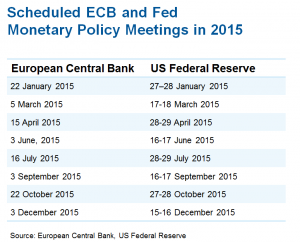 A similar proposal to extend the cycle of meetings of the Monetary Policy Committee (MPC) of the Bank of England (BoE) has also been put forward, but will require Parliamentary approval to go ahead and isn't likely to come into force before 2016. Still, it is interesting because in time that could mean there will be regular ECB, MPC and Fed policy decisions all within a week of one another.
In the short-term the closer proximity of ECB and Fed meetings is not necessarily so significant because the two central banks appear to be on divergent monetary policy paths, but in the longer term I believe it could mean that combined efforts for tightening or for cutting rates could be made much easier since there likely will not be timing lags of more than a week or so.
Investors need to be aware of these developments because they potentially affect how their investments behave, in my view. For instance with the longer ECB—and potentially MPC—meeting cycle there may not be quite as much volatility from the central banks because with a meeting only every six weeks there likely won't be the constant "run-up" one sees currently where no sooner has there been a meeting than commentators start looking to the next one and trying to anticipate the outcome.
I think the move may also change the central banks' approach to communicating with the market because they won't have that monthly platform to talk to market participants. Six weeks is not that long, but it might mean the central banks become more progressive. It is also likely to mean that the speeches of ECB board members will be scrutinised a lot more closely—similar to the speeches of Fed board members.
Of course, market observers already take some heed of those ECB board-member speeches, but they equally tend to think they can wait for the monthly ECB meeting to hear the official thinking from ECB President Mario Draghi.
I was also pleased to note the recent commitment from the BoE to provide further disclosure concerning MPC meetings. This includes giving the minutes out much more frequently and even sharing recordings of the meetings themselves after eight years, so we will be able to hear what was really said.
As I think the Fed has shown, having transparency can be quite useful in telegraphing central bank thinking to the market.
CFA® and Chartered Financial Analyst® are trademarks owned by CFA Institute.
To get insights from Franklin Templeton delivered to your inbox, subscribe to the Beyond Bulls & Bears blog.
For timely investing tidbits, follow us on Twitter @FTI_Global and on LinkedIn.
The comments, opinions and analyses are the personal views expressed by the investment manager and are intended to be for informational purposes and general interest only and should not be construed as individual investment advice or a recommendation or solicitation to buy, sell or hold any security or to adopt any investment strategy. It does not constitute legal or tax advice. The information provided in this material is rendered as at publication date and may change without notice and it is not intended as a complete analysis of every material fact regarding any country, region, market or investment.
Data from third-party sources may have been used in the preparation of this material and Franklin Templeton Investments ("FTI") has not independently verified, validated or audited such data. FTI accepts no liability whatsoever for any loss arising from use of this information and reliance upon the comments, opinions and analyses in the material is at the sole discretion of the user. Products, services and information may not be available in all jurisdictions and are offered by FTI affiliates and/or their distributors as local laws and regulations permit. Please consult your own professional adviser for further information on availability of products and services in your jurisdiction.
What Are the Risks?
All investments involve risks, including possible loss of principal. The value of investments can go down as well as up, and investors may not get back the full amount invested. Changes in interest rates will affect the value of a portfolio and its yield. Bond prices generally move in the opposite direction of interest rates. Thus, as the prices of bonds in a portfolio adjust to a rise in interest rates, the portfolio's yield may decline. Special risks are associated with foreign investing, including currency fluctuations, economic instability and political developments. Investments in developing markets involve heightened risks related to the same factors, in addition to those associated with their relatively small size and lesser liquidity.