This post is also available in: Dutch French German Spanish Polish
While Asia is a diverse continent in terms of both culture and development, many countries in the region have responded to recent economic headwinds similarly—by embarking on ambitious reform. Templeton Global Equity Group's Peter Wilmshurst and Joanne Wong look at some of the proposals on the table, and use their experience of travelling widely in the region, as well as detailed on-the-ground research from colleagues, to suggest that while their intentions may be clear, each individual country faces its own challenges in delivering favourable results.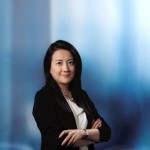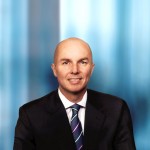 Peter Wilmshurst, CFA
Executive Vice President
Portfolio Manager
Research Analyst
Templeton Global Equity Group
Joanne Wong, CFA
Executive Vice President
Portfolio Manager
Research Analyst
Templeton Global Equity Group
In the search for a more sustainable economic growth model—one driven more by consumption and less by fixed asset investment—Chinese authorities have imposed a swathe of structural reforms; and they are by no means alone among their Asia-Pacific counterparts in following such a strategy.
For China in particular, we believe this effort will take time and the path will likely not be smooth. Consequently, we think slower GDP growth compared with years past is likely to continue.
The good news is that China's leaders seem to recognise the problems of overcapacity, overindebtedness in some sectors, a frothy property market and the declining economic productivity of credit creation. In contrast, Chinese authorities are trying to juggle reforms for both state-owned enterprises and banks, while providing support for growth at the same time, and these objectives are not always in sync. We expect periodic, targeted stimulus measures rather than wholesale easing as economic reform and restructuring take centre stage and China moves to rebalance its investment-centric economy.
If China does continue to reorient its economy away from infrastructure, we believe the country could benefit in the long term. The loosening of credit conditions by the People's Bank of China may, in our view, provide flexibility for structural reforms to be made without excessive economic disruption.
This relatively benign outcome, however, would depend on China's leadership making wise choices. The country's most influential legislative body, the National People's Congress, intends to address the issue of economic reform during its meeting this month.
Meanwhile, we believe earnings and valuation levels are likely to stay under pressure as economic growth slows and capital misallocation is purged from the system.
Given the pressured valuations, we have found selective opportunities in China, though the environment remains challenging given significant economic imbalances and a highly politicized business environment. Furthermore, we believe that overinvestment in infrastructure, corporate fixed assets and real estate represents real risks.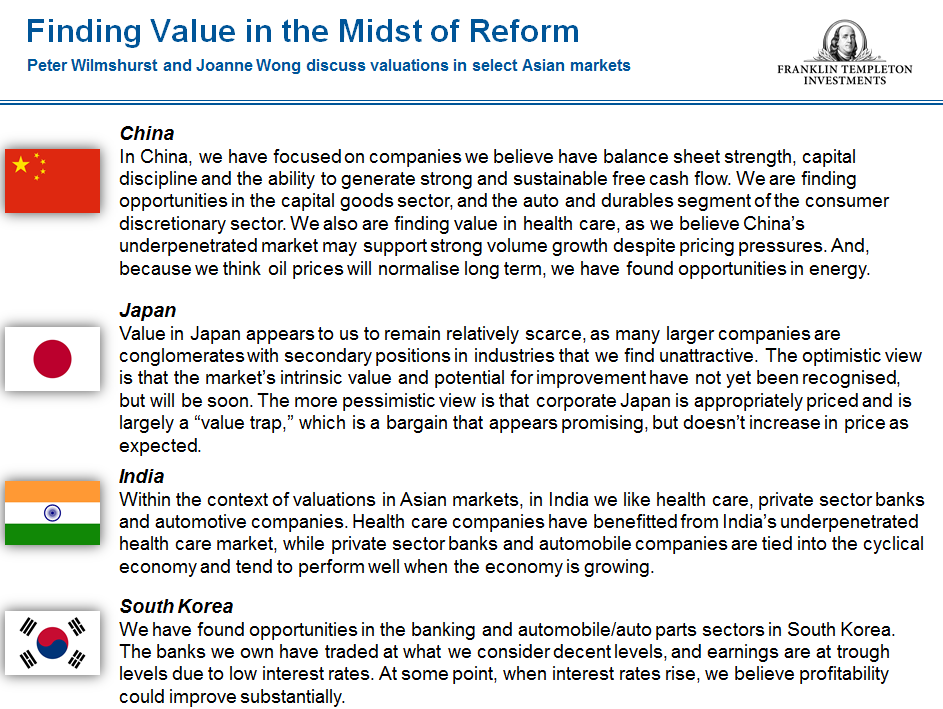 Abe's Arrows
We believe Japan's historic quantitative easing (QE) efforts have produced limited material benefits for the economy. Japan seems to have become dependent on QE to finance its debt and shows no signs of ending this policy. In our assessment, Japan's massive QE measures are likely to spread vast amounts of global liquidity this year, potentially benefitting several economies and financial markets around the globe.
QE and fiscal stimulus represent two of the three "arrows" of the Japanese government's plan to spur growth known as "Abenomics" after Prime Minister Shinzo Abe. While monetary and fiscal reforms are positive first steps towards helping Japan emerge from its economic doldrums, we think the third arrow—structural reforms of the government and corporations—may be just as important.
On the government side, proposed reforms include cutting the corporate tax rate, deregulating certain industries and expanding the workforce. One of the first attempts at deregulation came in February, when the government began relaxing agricultural rules to allow Japanese farmers to become more competitive. The first cut in the corporate tax rate will come in April, when the rate is expected to decrease by 2.5 percentage points.
We believe an increase in the number of people working in Japan is essential, given the country's demographics and debt load. Japan's population is shrinking, at the same time the country has one of the world's highest percentage of residents over the age of 65.1 That demographic profile has helped fuel the country's debt, as a dwindling number of working-age Japanese pay for health and social services for the country's aging population.2 In fact, Japan's debt equals 245% of its GDP, which is the highest percentage of debt to GDP in the world.3 Among the proposals floated to address these issues are encouraging more women to enter the workforce and increasing immigration.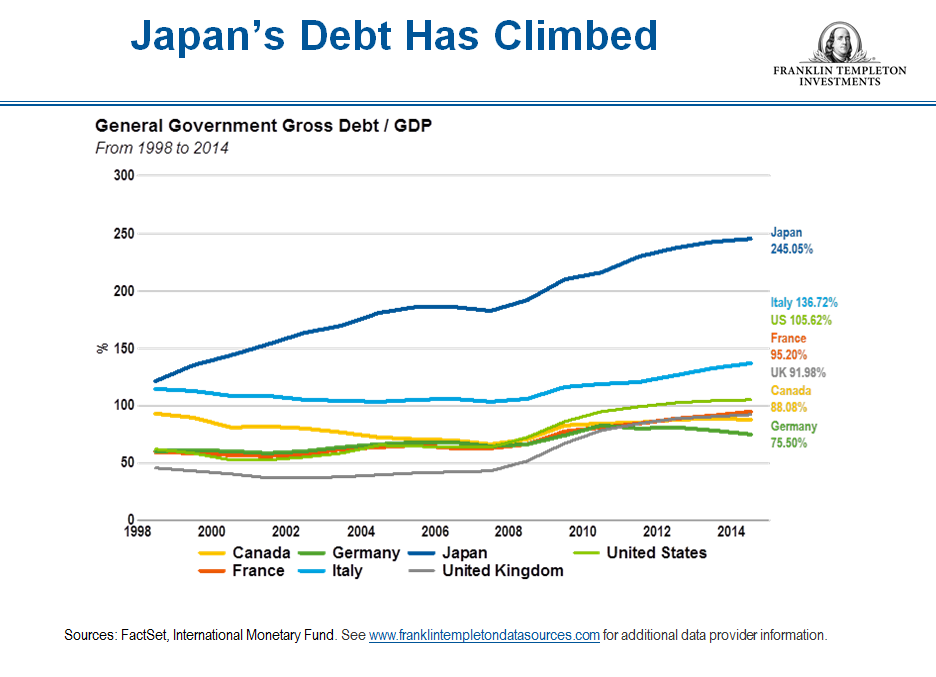 On the corporate side, we believe Japanese companies could look more attractive to investors if they were to improve their balance sheet management, and stop hoarding cash and participating in expensive merger and acquisition activity. Larger corporations also should, in our view, address their poor underlying profitability, which may involve shutting down money-losing subsidiaries and focusing on those with relevant technology.
India Rising
Asia's third-largest economy, India, is also undertaking structural reforms. Under Prime Minister Narendra Modi, the government has introduced inflation targeting, a policy to control inflation, which we believe should help lower interest rates and bring down the cost of capital. It has also set out ambitious goals that include building 100 new cities, improving infrastructure including the use of bullet trains and a project to reduce flooding by linking rivers through the use of canals and reservoirs, although implementation and financing remain key concerns. Longer term, we believe India needs to cut red tape, simplify labour regulations and improve the quality of its fiscal spending by rationalising subsidies and channelling resources towards capital formation and productive sectors.
An economic recovery is underway in India, helped by a decline in inflation and increased exports to keep up with rising demand, specifically from the United States.
Shareholders Benefit
In South Korea, a reform package that took effect this year has forced the country's largest conglomerates to spend up to 80% of their net income on dividends, domestic investment or employee salaries, or face a 10% tax on those profits. South Korea has been a market where dividend yields have lagged, and stock prices have sagged along with them. Companies have generated a lot of free cash flow, but shareholders have received very little of it back. Some companies have already announced share buybacks and higher dividend payouts, and, if the trend continues, we think stock prices of South Korean companies could rebound.
The comments, opinions and analyses are the personal views expressed by the investment managers and are intended to be for informational purposes and general interest only and should not be construed as individual investment advice or a recommendation or solicitation to buy, sell or hold any security or to adopt any investment strategy. It does not constitute legal or tax advice. The information provided in this material is rendered as at publication date and may change without notice, and it is not intended as a complete analysis of every material fact regarding any country, region market or investment.
Data from third party sources may have been used in the preparation of this material and Franklin Templeton Investments ("FTI") has not independently verified, validated or audited such data. FTI accepts no liability whatsoever for any loss arising from use of this information, and reliance upon the comments, opinions and analyses in the material is at the sole discretion of the user. Products, services and information may not be available in all jurisdictions and are offered by FTI affiliates and/or their distributors as local laws and regulations permit. Please consult your own professional advisor for further information on availability of products and services in your jurisdiction.
To get insights from Franklin Templeton delivered to your inbox, subscribe to the Beyond Bulls & Bears blog.
For timely investing tidbits, follow us on Twitter @FTI_Global and on LinkedIn.
CFA® and Chartered Financial Analyst® are trademarks owned by CFA Institute.
 What Are the Risks?
 All investments involve risks, including possible loss of principal. The value of investments can go down as well as up, and investors may not get back the full amount invested. Stock prices fluctuate, sometimes rapidly and dramatically, due to factors affecting individual companies, particular industries or sectors, or general market conditions. Special risks are associated with foreign investing, including currency fluctuations, economic instability and political developments. Investments in developing markets involve heightened risks related to the same factors, in addition to risks associated with these markets' smaller size, lesser liquidity and the potential lack of established legal, political, business and social frameworks to support securities markets.
---