This post is also available in: Dutch French German Spanish Polish
Much like a flower, a value opportunity sometimes takes longer than expected to blossom. So, as both an avid gardener and a stock picker, Philippe Brugere-Trelat knows a lot about patience. He learned the importance of being a methodical investor from value pioneers Max Heine and Michael Price during the early days of his career at Mutual Shares. Now an executive vice president and portfolio manager for Franklin Mutual Series®, Brugere-Trelat has had his patience tried through a variety of market conditions. In an interview with Beyond Bulls & Bears, Brugere-Trelat reflects on those economic ups and downs, and admits that whether in his yard planting trees or in the field visiting companies, he likes getting his hands dirty.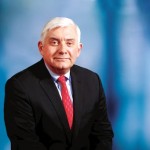 Philippe Brugere-Trelat
Executive Vice President
Portfolio Manager 
Franklin Mutual Series
Beyond Bulls & Bears: When did you first become interested in the mutual fund industry?
Philippe Brugere-Trelat: In 1984, I met Max Heine, the founder of Mutual Series, then called Mutual Shares, and Michael Price (who later became president and chairman of Mutual Series). I came from a French private-banking professional background, and was living in London at the time although I was eager to live and work in the United States. I met Michael through a mutual friend. Michael and Max, at that time, were not managing a great deal of money, maybe about $500 million, but they already had a terrific track record and a very good reputation. Both were very curious people. Max was always searching for new angles to discover value. At that time, they were looking at whether they could find investment opportunities in Europe that were similar to those they were finding in the United States. I showed up one day on their doorstep. Being French, having lived in London, with pretty good connections in the city of London— the rest is history.
Beyond Bulls & Bears: What did you learn from Max and Michael ?
That's easy. I learned absolutely everything from Max and Michael. I learned how to be contrarian, to be thorough, how to be patient, how to keep my emotions in check. I really learned everything about value investing from them. Max, sadly, passed away a few years after I joined the company, but when Michael took the mantle, it was the same thing. I had two wonderful professors.
Beyond Bulls & Bears: What defines your approach as a portfolio manager?
Philippe Brugere-Trelat: Value and stock-picking. Whether value is in vogue, whether it's popular or fashionable or not, at Mutual Series we've done only one thing—value—since 1949, when the company was still known as Mutual Shares. That's what we know, that's what I think we're good at, and that's what I practice every morning.
By value, I mean we look for stocks which we believe look cheap from, for example, a price-to-earnings1 standpoint. At the same time, we look for catalysts at the time of the investment decision which may reduce or eliminate that discount. It's easy in theory, but it's sometimes more difficult to achieve in practice.
Beyond Bulls & Bears: You have been quoted as saying that you aren't an activist investor, but that "it pays to be a little forthright with a portfolio." What did you mean by that?
Philippe Brugere-Trelat: Most of the time, we have very good relationships with the management of companies that we're invested in. We never invest in a company where we haven't met management. And once we're invested, one of the key parts of our investment process is to keep in close contact with the management of that company. As stock-pickers, we build a portfolio company story by company story. Contact with management is absolutely key in our process. Most of the time, we have an excellent relationship with management, because they know we are long-term investors. They know that we've done our homework, and that we're supposed to ask the hard questions.
When we think management is not doing what they should do in the interest of the shareholders, we're not shy. We let them know what we believe they should be doing. That can take a variety of forms, including public letters and proxy battles in order to change the management. That has happened not only in North America but also, more occasionally, in Europe, where we have been instrumental in pushing for better-quality management and more shareholder-friendly management.
Beyond Bulls & Bears: What is the toughest or most frustrating part of your job?
Philippe Brugere-Trelat: The toughest part, I would say, is to sell a holding. To me, it's much easier to buy a stock which is attractively valued than to sell one which has done well. Investors tend to fall in love with their positions, particularly those that do very well. But we try to be disciplined. We try to sell when our fair-value target has been reached and there's no particular reason to change it, but sometimes it's difficult. Selling is always much more difficult than buying.
The frustrating part of my job? Every day's a frustration! But every day also is a big excitement. The wonderful thing about the mutual fund business, the investing business, is that it's never the same. You learn something new every day. When the time comes that I'm no longer learning, I will realize that it's time for me to go. But I think it's the greatest job in the world. You meet smart people. You're on top of the world one day, you're at the bottom of the world another day, but it's always something new and exciting.
Beyond Bulls & Bears: What's the most challenging or memorable market period you have faced during your career in investment management?
Philippe Brugere-Trelat: I've been through a few. In 1987, when the stock market dropped some 20% in one day, and the world suddenly looked like it was coming to an end. What's interesting is that if you look at that period on a long-term chart, it was not a big deal. There have been many more crisis situations like that since. The Internet bubble in the late '90s was another. I also went through the Russian default in 1998 and, more recently, the US subprime mortgage crisis. Crises have taught me the virtue of patience. You have to take a step back, try not to get excited either way by selling or buying. If you wait for things to settle a little bit and for some clarity to come back, then you can start doing your job with a calmer, less emotionally driven mindset.
Beyond Bulls & Bears: Is there one piece of advice you've received during your career that you still rely on today?
Philippe Brugere-Trelat: Be patient. It's okay to be contrarian, as long as you have patience, and as long as your investors have patience too. I'm always reminded of John Maynard Keynes's saying that "Markets can remain irrational longer than you can remain solvent." But with our kind of strategy at Mutual Series and the kind of shareholders we have, I think we have good staying power. And I think that's the thing that's allowed us to go where it's complicated or unpopular and where we think real value opportunities abound.
Beyond Bulls & Bears: What are you interested in or involved with outside of work?
Philippe Brugere-Trelat: I like playing tennis. I also like to travel when I can, for pleasure, to discover new countries, new people and new ways of life. But if I had another job in another life, I think I'd like to be a landscape architect. I like designing gardens. I have a place out on Long Island, and I like putting my hands in the ground and planting. To me, that's great therapy. And, like investing, it requires patience to see things really bloom and grow.
The comments, opinions and analyses are the personal views expressed by the investment manager and are intended to be for informational purposes and general interest only and should not be construed as individual investment advice or a recommendation or solicitation to buy, sell or hold any security or to adopt any investment strategy. It does not constitute legal or tax advice. The information provided in this material is rendered as at publication date and may change without notice and it is not intended as a complete analysis of every material fact regarding any country, region, market or investment.
Data from third-party sources may have been used in the preparation of this material and Franklin Templeton Investments ("FTI") has not independently verified, validated or audited such data. FTI accepts no liability whatsoever for any loss arising from use of this information and reliance upon the comments, opinions and analyses in the material is at the sole discretion of the user. Products, services and information may not be available in all jurisdictions and are offered by FTI affiliates and/or their distributors as local laws and regulations permit. Please consult your own professional adviser for further information on availability of products and services in your jurisdiction.
Get more perspectives from Franklin Templeton Investments delivered to your inbox. Subscribe to the Beyond Bulls & Bears blog.
For timely investing tidbits, follow us on Twitter @FTI_Global and on LinkedIn.
What Are the Risks?
All investments involve risks, including possible loss of principal. The value of investments can go down as well as up, and investors may not get back the full amount invested. Stock prices fluctuate, sometimes rapidly and dramatically, due to factors affecting individual companies, particular industries or sectors, or general market conditions. Special risks are associated with foreign investing, including currency fluctuations, economic instability and political developments. Investments in emerging markets involve heightened risks related to the same factors in addition to those associated with these markets' smaller size, lesser liquidity and lack of established legal, political, business and social frameworks to support securities markets.