This post is also available in: Dutch French German Spanish Polish
Whether it's optimism returning to the eurozone or Australia facing the fallout of China's slowing growth rate, change is in the air in various markets across the globe. Professionals from Franklin Templeton Investments offered their analysis on the evolving global investment climate at our 2015 Asia Pacific Investor Forum: Investment Ideas for a Changing World, held last month in Sydney, Australia. Read some of their thoughts from the event below.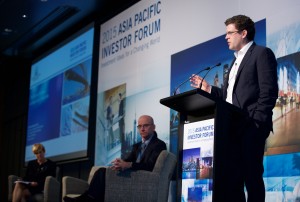 Dr. Michael Hasenstab, Executive Vice President, Chief Investment Officer, Portfolio Manager, Templeton Global Macro
On Greece and potential growth in the eurozone:
Greece has become an ongoing headline. Our view all along has been that one of three things is likely to happen to Greece: It will default on its debt, it will leave the eurozone, or it will be a permanent subsidy of the Germans. So far, the Germans have been subsidising them. That's wearing a little thin. So now we're looking at the other two scenarios, leaving the eurozone or a default. I don't know which will happen, but I have confidence that the financial system in Europe now is far more robust and can deal with either one of those outcomes. If Greece defaults, the banking system's liquidity—basically the ring fencing for the rest of the eurozone—is strong enough that I don't think Greece's default will be systemic. Some risk assets may sell off if Greece defaults or leaves the eurozone, but it's unlikely to be the systemic crisis that would've been a risk two or three or four years ago.
The more important story in Europe, we think, is the European Central Bank's quantitative easing (QE) programme. While QE has had some stimulative effect on investments, the most important outcome of QE so far, in my view, has been the decrease in value of the euro. The eurozone is highly geared towards exports. With the euro depreciation, German exports will likely pick up and, in turn, may increase investment and growth in the eurozone. The market right now seems pretty convinced the eurozone is such a mess that gross domestic product (GDP) growth could be less than 1% this year. We take a different view. Our expectation is that the eurozone will likely do better than that, but not because all of the region's problems will have been solved this year. Reforms are still needed in France and Italy, and fiscal and political integration hasn't happened yet. In the short term—and we think of short term as one year—there could be a positive surprise in eurozone growth. We think improvement will likely be seen first in German export data, with German industrial production data feeding in afterward.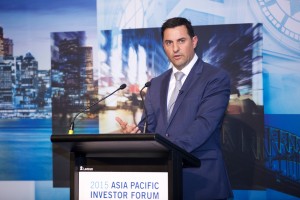 Chris Siniakov, Managing Director, Fixed Income, Franklin Templeton Investments Australia
On the effects of global trends on Australia's economy:
China's GDP growth rate has been slowing, as it transitions away from an investment-led economy to a balanced investment and consumption-led economy. That does not present a great scenario for Australia, which had a good run exporting commodities to China during the construction boom of the past 15 or so years. In response, the Reserve Bank of Australia has tried to boost the Australian economy by lowering interest rates and depressing the Australian dollar. The Reserve Bank's current benchmark rate of 2.25% translates to an average variable mortgage rate of about 5%, which is as low as many of us have seen in our lifetimes.
To date, the lower interest rates do not seem to have stimulated the domestic Australian economy. We think there's probably more work to be done by the Reserve Bank, and therefore, we project yields will continue to decline, as likely will the Australian dollar.
Other global factors have also affected the Australian market, particularly the QE programmes in Europe and Japan. The surplus liquidity generated by the QE plans is looking for a home, and yields in Australia remain relatively attractive. Even at 2%, Australian 10-year bond yields are higher than European rates, some of which are now negative. So we're seeing allocations into Australia continue as the global hunt for yield continues.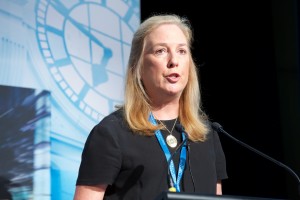 Cindy Sweeting, CFA, President, Templeton Investment Counsel, Director of Portfolio Management, Templeton Global Equity Group
On Japan's QE programme and a declining yen:
Japan continues to be a conundrum for investors, who have seen many "false dawns" in the country over the last 25 years. So the question always comes up: Is it different this time? In our view, Japan's massive QE programme and accompanying currency debasement is not a standalone solution for Japan's economic woes. Of the three so-called "arrows" of the Japanese government's plan to spur growth (known as "Abenomics" after Prime Minister Shinzo Abe) only monetary policy has been enacted. Fiscal reform and structural reform have not fully been implemented.
Certainly, a lower currency should help Japan's exports, but Japan is not an export-oriented economy anymore. Exports account for only about 16% of Japan's GDP.1 Today, Japan is a consumer-driven economy. A lower currency has boosted the prices of imports to a larger degree than it has helped exports. Rising prices are an additional tax on consumers' disposable income unless wages rise enough to offset those higher prices. Until this point, they haven't, and consumers' purchasing power has declined. The deterioration in purchasing power has contributed to the drawing down of Japan's savings. Maybe people still think that Japan is a high-savings economy, but it is not. In fact, the savings rate in Japan has turned negative, in part because a large percentage of the country is over age 65 and they're not saving anymore. The impact of an aging population, which has been sort of a slow-motion freefall that we've talked about for 20 or 30 years, has really started to bite.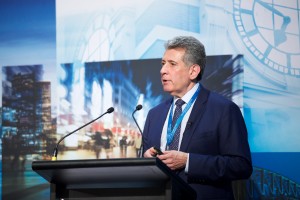 Michael Materasso, Senior Vice President, Co-Chair, Fixed Income Policy Committee, Franklin Templeton Fixed Income Group
On US interest rates and the business cycle:
If you looked at interest rates on US Treasuries in isolation, you would think that the United States was in very bad economic shape. How possibly could a 2-year Treasury note yield below 0.60%, a 10-year note yield less than 2% and a 30-year bond yield a little less than 2.50%?2 From a historical perspective, those low yields don't seem to make any sense given the positive US economic backdrop.
I think we are far enough into the current business cycle, which started when the recession officially ended in June 2009, for the US Federal Reserve (Fed) to move toward a more neutral monetary policy. In my opinion, a more neutral policy is a federal funds rate—the overnight rate at which a depository institution lends funds maintained at the Fed to another depository institution—of between 3% and 3.5%. And, most likely, rates would rise to that level gradually, probably in 18 months to two years.
If the Fed moves beyond a neutral policy and has to continue raising rates, that tightening phase could last an additional couple of years. So it's possible that this business cycle in the United States, which began in the middle of 2009, could run through 2019 or 2020. I think that's important because if the business cycle is to last that long, we have, relatively speaking, still a long way to go. In my view, it's important to determine when the business cycle could likely end because that's usually when disruption occurs.
The average length of a US economic expansion is about six years, but we feel this expansion could be elongated—perhaps lasting over 10 years—for a few reasons. Because of the massive destruction that occurred with the financial crisis of 2007–2009, we started this cycle with a clean slate. Banks wrote down or wrote off significant amounts of debt, and at the same time, raised significant amounts of capital. A tougher regulatory environment since then has forced banks to maintain healthier balance sheets. Consumers were in a similar situation. They reduced their debt, either by paying it down or defaulting. When the current cycle turns sour, it could be investors instead of banks who drive it. We also feel it will take time for inflationary pressures to rise.
We expect short-term interest rates to rise in the United States this year, but at the same time, we're not expecting a massive upward trajectory of the Treasury yield curve. We feel that growth, while above trend, will be accompanied by a gradual rise in core inflation, which is one of the things the Fed considers when determining interest rate increases. And an increase in global liquidity will probably cause foreign investors to continue to buy US securities, especially long-dated securities, because they offer significantly higher yields compared with their local markets. Those factors, coupled with a stable to strong dollar, should, in our view, keep a bit of a dampening effect on the rise in interest rates.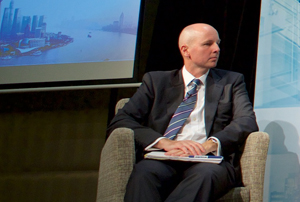 Peter Wilmshurst, CFA, Executive Vice President, Portfolio Manager, Research Analyst, Templeton Global Equity Group
On where his team is finding value opportunities in the global equity markets:
As value investors, we search for unloved stocks in unloved markets. Looking at it from a sector perspective, which is the way we tend to approach the world, we're finding value opportunities in three areas: financials, pharmaceuticals and energy.
Financials are no longer at the crisis-level valuations of a few years ago, as valuations have rebounded somewhat. But when you compare current valuations with very long-term averages, we still see a significant discount. Additionally, capital ratios have been rebuilt.
We've seen value in pharmaceuticals for the last five or six years, but the story's changed somewhat more recently. When the major pharmaceutical companies in the world were trading at 10 times earnings, we thought it was a convincing argument that we were in store for some rough times in the short term as many revenue- and profit-generating drugs went off patent, but that the shares were excessively discounted and that ultimately their profits would be resilient. The pharmaceuticals sector is now trading at 17 times earnings, as the industry has grown in recent years.3 Rising wealth leads to rising health care spending, and ageing populations around the world generally drive more health care spending.
The sector had gone through a tough period of new drug development amid a more stringent US Food and Drug Administration (FDA). Recently, however, we've seen an upswing in FDA approvals. Companies are now delivering new drugs to market that are meeting previously unmet needs, which could potentially mean much stronger revenue. We think there is still growth, so we think there is still value for shareholders.
We're also finding value in energy. Opportunities for us in the energy area are quite broad, although we've focused on the oil services segment. While the total rig count may be dropping, getting any new oil to the market is increasingly services intensive, and we think that's an opportunity for the sector at attractive valuations at present.
The comments, opinions and analyses are the personal views expressed by the investment managers and are intended to be for informational purposes and general interest only and should not be construed as individual investment advice or a recommendation or solicitation to buy, sell or hold any security or to adopt any investment strategy. It does not constitute legal or tax advice. The information provided in this material is rendered as at publication date and may change without notice, and it is not intended as a complete analysis of every material fact regarding any country, region, market or investment.
Data from third-party sources may have been used in the preparation of this material and Franklin Templeton Investments ("FTI") has not independently verified, validated or audited such data. FTI accepts no liability whatsoever for any loss arising from use of this information, and reliance upon the comments, opinions and analyses in the material is at the sole discretion of the user. Products, services and information may not be available in all jurisdictions and are offered by FTI affiliates and/or their distributors as local laws and regulations permit. Please consult your own professional adviser for further information on availability of products and services in your jurisdiction.
Get more perspectives from Franklin Templeton Investments delivered to your inbox. Subscribe to the Beyond Bulls & Bears blog.
For timely investing tidbits, follow us on Twitter @FTI_Global and on LinkedIn.
CFA® and Chartered Financial Analyst® are trademarks owned by CFA Institute.
What Are the Risks?
All investments involve risk, including possible loss of principal. The value of investments can go down as well as up, and investors may not get back the full amount invested. Stock prices fluctuate, sometimes rapidly and dramatically, due to factors affecting individual companies, particular industries or sectors, or general market conditions. Changes in interest rates will affect the value of a portfolio and its yield. Bond prices generally move in the opposite direction of interest rates. Thus, as the prices of bonds in a portfolio adjust to a rise in interest rates, the portfolio's yield may decline. Special risks are associated with foreign investing, including currency fluctuations, economic instability and political developments. Investments in developing markets involve heightened risks related to the same factors, in addition to those associated with their smaller size and lesser liquidity.