This post is also available in: Dutch French German Spanish Polish
Some experts say investing is more of an art than a science, and Heather Arnold, who earned degrees in both art and economics, would tend to agree. She says studying art has given her a better understanding of the world and has impelled her to consider all possibilities when making investment decisions. As director of research, research analyst and portfolio manager at Templeton Global Equity Group, Arnold has had many opportunities to assess, particularly in Europe, which is one of her areas of expertise. But, as a longtime disciple of the late Sir John Templeton, she doesn't take a broad-brushed approach to investing. Instead, she considers all the angles of a company before she decides to add it to her collection. Let's get to know more about Heather Arnold and her approach to investment management.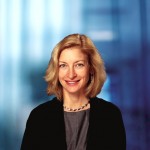 Heather Arnold, CFA
Director of Research, Research Analyst
Portfolio Manager
Templeton Global Equity Group
Beyond Bulls & Bears: When did you first become interested in the mutual fund industry?
Heather Arnold: My father sparked my interest while I was just in high school. He was a keen follower of companies and stocks, and liked to discuss them at the dinner table. I went with him to a Templeton shareholder meeting years before I worked for the company. Hundreds of people were packed in an auditorium to listen to Sir John Templeton. At the time, which was in the 1980s, the global economy and markets were in a tailspin. Sir John spoke with calm and sincere optimism about the tremendous potential he saw in the stocks he held in various countries around the world. He was incredibly inspiring about his company, investing, and the world. From then on, I was hooked.
Beyond Bulls & Bears: What defines your approach as a portfolio manager?
Heather Arnold: I am a strong believer in our Templeton value process: Buy a number of stocks at what we consider to be extremely low valuations, diversify as broadly as possible across sectors and countries, and then practice patience.
Beyond Bulls & Bears: What is the most challenging market you have faced during your career in investment management?
Heather Arnold: My most challenging period was during the tech bubble of the late 1990s. Weeks before the bubble burst, in February 2000, I was asked to speak at a conference sponsored by AIMR (Association for Investment Management and Research, now called CFA Institute) on the topic "Is Value Investing Dead?" Two growth managers spoke first and gave compelling arguments for why that was the case. The third speaker stood up to argue against the topic, but then folded, seemingly in defeat, in the middle of his presentation. When it was my turn to speak, I felt like the last person standing who would defend value investing, a process I still strongly believed in despite all evidence to the contrary at that time. Someone in the audience asked if I was the last card-carrying member of the Flat Earth Society. As they say, though, time heals all wounds.
Beyond Bulls & Bears: What piece of advice that you've received during your career still resonates?
Heather Arnold: To paraphrase the late Sir John Templeton: Keep it simple. Of course, he made that look a lot easier than it is.
Beyond Bulls & Bears: You have many years of experience investing in Europe, which has had its share of economic problems recently. What is your outlook for the region? In which sectors are you finding value opportunities today?
Heather Arnold: The economy appears to be picking up due to the combined stimulus of quantitative easing, a weaker euro and lower energy prices. We have seen promising structural reforms from some of the countries that had gotten into trouble during the sovereign debt crisis that started in 2009, and equally encouraging restructuring initiatives at the corporate level. Many European stocks are still trading at a discount to their peers in the rest of the world. We see potential opportunities across the board, but potentially standout values may still be found in select companies in the energy, financial and industrial sectors.
Beyond Bulls & Bears: Russia is one of the countries you cover for Templeton Global Equity Group. What do you think is the biggest misconception investors have about the country? What is your outlook for Russia?
Heather Arnold: We think Russia has tremendous potential, but at times seems to get in the way of its own development. That seems to be the case recently. There is, however, often a silver lining. Russian companies have been under tremendous pressure to preserve capital and improve returns to appease shareholders. Some Russian companies have even taken advantage of the recent crisis in Russia, resulting from sanctions tied to its involvement in Ukraine, to strengthen their corporate governance, which, in general, remains woefully below world standards. Longer term, if oil prices rebound (as we believe they ultimately will), and if Russia adheres fully enough to the ceasefire to get sanctions imposed by the United States and Europe lifted, Russian companies could recover swiftly and in a stronger competitive position than before.
Beyond Bulls & Bears: You received bachelor's degrees in both economics and art history. How does your knowledge of the art world inform your investing ideas?
Heather Arnold: The more you get out there, explore and see, the better your understanding will become of the world around you. To find the truly rewarding opportunities in markets and in life, it helps to cast a wide net and keep an open mind.
Beyond Bulls & Bears: Since you do have an art history degree, you must have visited many museums in your travels. Do you have a favorite, and why? 
Heather Arnold: The Tate Modern in London is located in an old power plant on the Thames, and is one of my favorites. I participated in a performance art project there during the London Olympics in 2012, and it feels like home to me. The Louisiana Museum of Modern Art outside Copenhagen has a fantastic collection in a beautiful setting, as does Storm King, a sculpture park on the Hudson River in New York state. And the Art Gallery of Ontario in my hometown of Toronto was transformed recently by Frank Gehry, and is now a world-class contender. As with stocks, why limit yourself to just one favorite?
Beyond Bulls & Bears: Did you ever consider a career in the art world?
Heather Arnold: My first job was with an art gallery in Toronto. I earned CD$9,000 a year and decided I would rather collect art than sell it.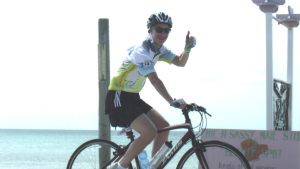 Beyond Bulls & Bears: What achievement are you most proud of?
Heather Arnold: Three weeks after moving to Nassau, I biked 50 miles in the charity Ride for Hope, which raises money for cancer treatment and patient care. I had not been on a bike in years and was delighted to find the old adage "it's just like riding a bike" applied to me.
Beyond Bulls & Bears: You are a director at College Ready Bahamas, which helps Bahamian students prepare for and apply to college. What was it about this organization's mission that interested you?
Heather Arnold: College Ready Bahamas helps prepare Bahamian high school students to write their SAT college admission exams. I am a firm believer in education and in exploring the world. College Ready helps local students do both through the college experience.
Beyond Bulls & Bears: What other activities or hobbies are you involved in outside of work?
Heather Arnold: Biking, kayaking, Pilates, wood carving, cooking and hanging out with my sons. Reading goes without saying.
Heather Arnold's comments, opinions and analyses are personal views and are intended to be for informational purposes and general interest only and should not be construed as individual investment advice or a recommendation or solicitation to buy, sell or hold any security or to adopt any investment strategy. It does not constitute legal or tax advice. The information provided in this material is rendered as at publication date and may change without notice, and it is not intended as a complete analysis of every material fact regarding any country, region, market or investment.
Data from third-party sources may have been used in the preparation of this material and Franklin Templeton Investments ("FTI") has not independently verified, validated or audited such data. FTI accepts no liability whatsoever for any loss arising from use of this information, and reliance upon the comments, opinions and analyses in the material is at the sole discretion of the user. Products, services and information may not be available in all jurisdictions and are offered by FTI affiliates and/or their distributors as local laws and regulations permit. Please consult your own professional adviser for further information on availability of products and services in your jurisdiction.
Get more perspectives from Franklin Templeton Investments delivered to your inbox. Subscribe to the Beyond Bulls & Bears blog.
For timely investing tidbits, follow us on Twitter @FTI_Global and on LinkedIn.
CFA® and Chartered Financial Analyst® are trademarks owned by CFA Institute.
What Are the Risks?
All investments involve risk, including possible loss of principal. The value of investments can go down as well as up, and investors may not get back the full amount invested. Stock prices fluctuate, sometimes rapidly and dramatically, due to factors affecting individual companies, particular industries or sectors, or general market conditions. Special risks are associated with foreign investing, including currency fluctuations, economic instability and political developments. Investments in developing markets involve heightened risks related to the same factors, in addition to those associated with their smaller size and lesser liquidity.