This post is also available in: Dutch French Italian German Polish
Whether it's anaemic growth rates or Greece's debt dilemma, Europe's economic problems have made headlines for months. What hasn't generated much comment, however, is a more irksome issue for investors—the disappointing profits reported by European companies. But Uwe Zoellner, head of Pan-European Equity, and portfolio manager, Franklin Local Asset Management in Frankfurt, believes recent moves by individual countries and the European Central Bank may have set the stage for a resurgence in earnings for European companies. He addressed Europe's profit predicament and gave a brief market update at Franklin Templeton's 2015 London Investment Conference earlier this month.
Uwe Zoellner, CFA
Head of Pan-European Equity
Portfolio Manager
Franklin Local Asset Management
While Europe's lacklustre economic growth rate has annoyed market watchers, corporate Europe's profitability problems have perhaps been an even greater frustration for investors. The weakness in corporate earnings has meant that investors in European companies have received much less in return for their invested capital, particularly when compared with investors in US companies.
European corporate earnings had been downgraded progressively for almost four years.1 That slump ended late last year when, after 45 months, European companies saw a very small upgrade in earnings.2 Market watchers were mostly excited to see the slight uptick, although many doubted the good news would last. I am not among them; I think the elements are in place to support European economies and companies, and spur a turnaround in corporate profits. And, in my view, companies don't need a stunning economic growth rate to see a profit recovery. European companies have lived through years of austerity and cost-cutting, so I believe a significant percentage of any increase in revenue could be applied to companies' bottom lines.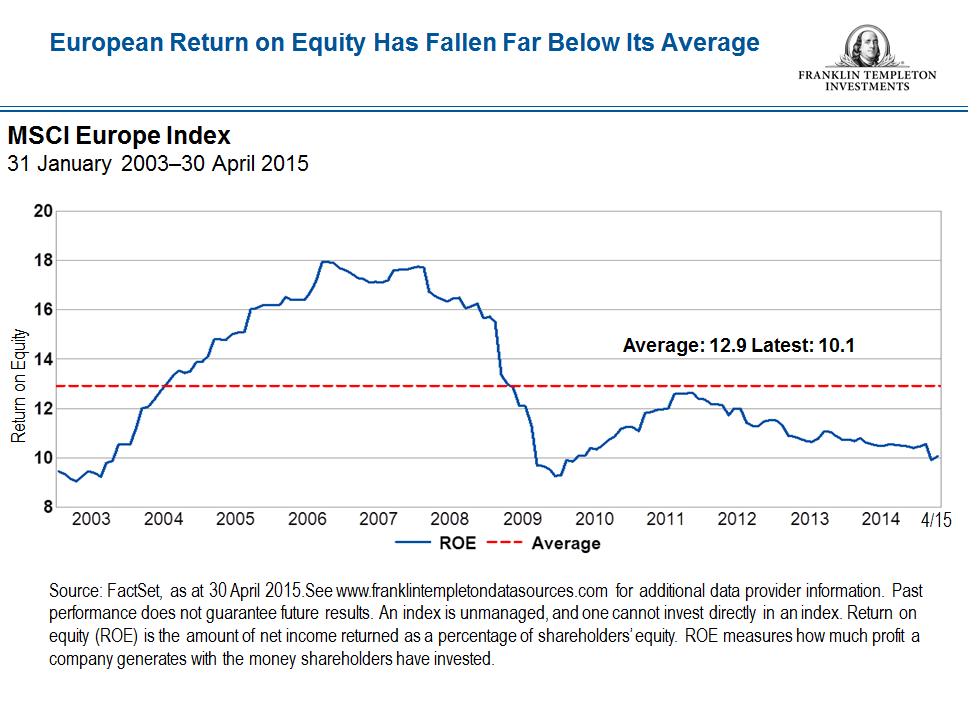 If things improve a bit, I think companies can potentially see double-digit earnings growth, even if the region's GDP increases by only 1.5%–2%. I believe last year's modest earnings upgrade is just the beginning, and next year it is likely we will not need a magnifying glass to see it.
Labour, Loans and a Lower Currency
I believe the positive earnings trend will continue due to a handful of macro factors including labour reforms, lower borrowing costs and, especially, the depreciated euro, which all could help companies grow their profits.
Many countries have worked hard to improve their labour efficiencies. Spain, for example, has reduced its labour costs significantly, which has helped increase the country's growth rate. We hope Spain's success will demonstrate to France and Italy that such reforms can work. That said, we're encouraged by the Italian government's enactment this year of the Jobs Act, which made it easier for companies to eliminate redundancies where necessary. Still, any reforms undertaken will not happen overnight. Europe is not a fast-moving region; any significant change will take time.
On the other hand, the targeted long-term refinancing operations (TLTRO) programme, designed to stimulate bank lending, has trickled down relatively quickly to the eurozone companies. The programme, which the European Central Bank (ECB) launched last year, allows banks to borrow money from the ECB for four years at extremely low interest rates to lend to borrowers. While borrowing rates in countries such as Germany have been relatively low for years, credit hadn't been readily available—or was quite expensive—in the eurozone's southern periphery countries. That lack of easily accessible credit had been an obstacle to growth for some time. And even if the TLTRO programme is not a tremendous success, as some critics fear, I believe the eurozone should see at least some benefit from it.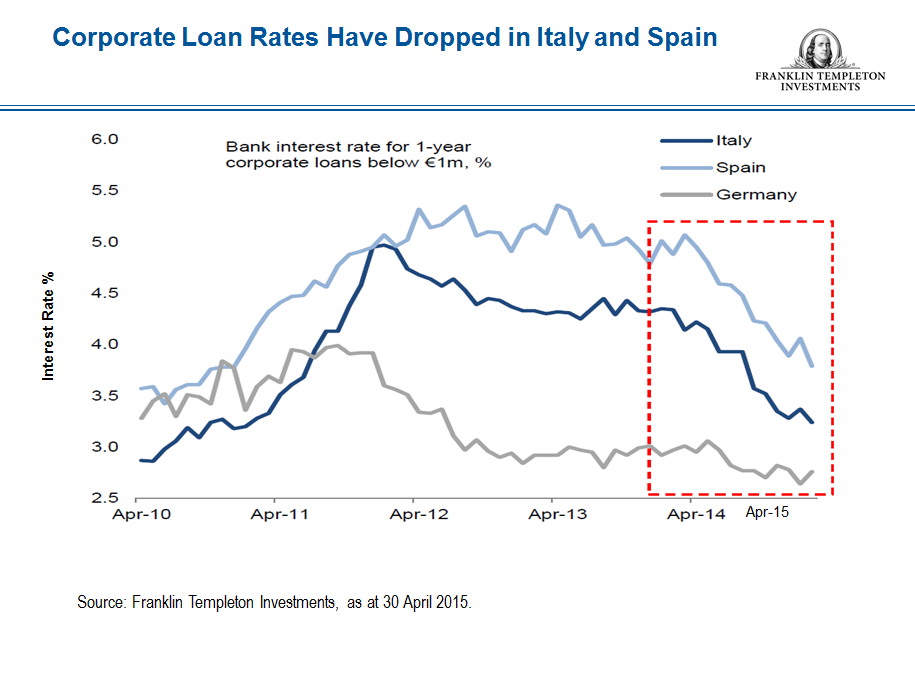 I'm most optimistic, however, about the positive effect of a weaker euro versus the US dollar. Some people may consider Germany the primary beneficiary of a weak currency, but I think the weakening euro has helped all the eurozone's exporting nations, including Italy, Belgium, the Netherlands and Luxembourg. And, if the region's exporting companies use a portion of their additional revenue for capital expenditures, we could see a multiplier effect in consumption as the increase in spending is absorbed into the local economies.
Equity Update
While earnings might not have picked up as we'd hoped, the European markets enjoyed a generally upward trend this year through the end of April, and we didn't see a great difference among sectors when it came to performance. That environment brought some challenges for active portfolio managers like us, because many investors preferred to buy a few macro themes or the market as a whole. In the last two months, however, as volatility has crept into the market, we have seen more differentiation emerge between sectors.
On a regional basis, we've found promising opportunities recently in the southern eurozone peripheral countries, particularly Spain and Italy. But we've struggled for quite a while to find favourable valuations in Germany. In the beginning of the year, we identified opportunities in the United Kingdom, because, in our view, the market had been overreacting to the uncertainties surrounding the country's general election in May.
When it comes to market capitalisation, we typically find a greater selection among mid-cap companies. Lately, however, we've noticed that many small-cap stocks had been neglected when the large wave of investment dollars hit Europe earlier this year. In turn, we have found more opportunities among small-cap stocks. We are very selective when it comes to small-cap stocks because it's not unusual to see strong price movements in that market segment.
Looking forward, I believe Europe's equity markets could potentially record double-digit growth levels in the next 12 months, as the region's economies continue to improve. But they may have a bumpy ride on the way there, especially this summer, while Greece's saga and other dramas play out.
To get insights from Franklin Templeton delivered to your inbox, subscribe to the Beyond Bulls & Bears blog.
For timely investing tidbits, follow us on Twitter @FTI_Global and on LinkedIn.
CFA® and Chartered Financial Analyst® are trademarks owned by CFA Institute.
The comments, opinions and analyses are the personal views expressed by the investment manager and are intended to be for informational purposes and general interest only and should not be construed as individual investment advice or a recommendation or solicitation to buy, sell or hold any security or to adopt any investment strategy. It does not constitute legal or tax advice. The information provided in this material is rendered as at publication date and may change without notice, and it is not intended as a complete analysis of every material fact regarding any country, region market or investment.
Data from third-party sources may have been used in the preparation of this material and Franklin Templeton Investments ("FTI") has not independently verified, validated or audited such data. FTI accepts no liability whatsoever for any loss arising from use of this information, and reliance upon the comments, opinions and analyses in the material is at the sole discretion of the user. Products, services and information may not be available in all jurisdictions and are offered by FTI affiliates and/or their distributors as local laws and regulations permit. Please consult your own professional adviser for further information on availability of products and services in your jurisdiction.
What Are the Risks?
All investments involve risks, including possible loss of principal. The value of investments can go down as well as up, and investors may not get back the full amount invested. Stock prices fluctuate, sometimes rapidly and dramatically, due to factors affecting individual companies, particular industries or sectors, or general market conditions. Growth stock prices reflect projections of future earnings or revenues and can, therefore, fall dramatically if the company fails to meet those projections. Smaller, mid-sized and relatively new or unseasoned companies can be particularly sensitive to changing economic conditions, and their prospects for growth are less certain that those of larger, more established companies. Historically, these securities have experienced more price volatility than larger company stocks, especially over the short term. To the extent a portfolio focuses on particular countries, regions, industries, sectors or types of investments, from time to time, it may be subject to greater risks of adverse developments in such areas of focus than one that invests in a wider variety of countries, regions, industries, sectors or investments. Special risks are associated with foreign investing, including currency fluctuations, economic instability and political developments.
---
1. Source: Factset, as at 30 November 2014. See www.franklintempletondatasources.com for additional information. Downgrade/upgrade information refers to one-month earnings momentum reported by companies comprising the MSCI Europe Index. Past performance does not guarantee future results. Indexes are unmanaged, and one cannot invest directly in an index.