This post is also available in: German
Malaysia's asset markets and its currency have been facing numerous challenges in recent months, driven by domestic political issues and headwinds on the external front. More surprisingly, the rating agency, Fitch, upgraded the country's sovereign outlook from a notably cautious guidance prior. With headline news continuing to drive market sentiment and perception of the country, it underscores the importance of analyzing the situation in the country from a global context and having investment specialists located in the local market conducting independent analysis to derive a rational view of the situation. Hanifah Hashim, executive director and head of Malaysia Fixed Income & Sukuk, provides her analysis of the country's economy based on her team's analysis from Kuala Lumpur.
Hanifah Hashim
Executive Director
Head of Malaysia Fixed Income & Sukuk
Of late, Malaysia has been facing challenges on the domestic front in addition to external headwinds. Headline news on domestic politics stemmed from the debt incurred by the government strategic development company, 1Malaysia Development Berhad (1MDB), and its potential risk posed to the economy has affected investors' confidence.1 Along with volatility in China's market, uncertainty in the eurozone, oil price weakness and the threat of an interest rate hike in the United States, exacerbated the already negative sentiment. Malaysia's market and its currency, the ringgit, continue to take a beating despite the upgrade of its sovereign outlook by Fitch on 30 June 2015. At its current rate, we believe the ringgit is not reflecting the strong underlying economic fundamentals and the currency slide has overshot on the downside due to the negative sentiment arising from these uncertainties.
Malaysia from a Global Context
The three main credit-rating agencies—Fitch, Moody's and Standard & Poor's (S&P)—assign ratings of A-, A3 and A- respectively to Malaysia, with a "stable" outlook by Fitch and Standard & Poor's, while Moody's retains its outlook at "positive." This coincides with our view that Malaysia's economic fundamentals remain stable. The Franklin Malaysia Fixed Income team in Kuala Lumpur has been conducting independent analysis using our proprietary research model, which is the main driver for our credit research. We also take into account the official guidance from external sources such as the International Monetary Fund (IMF), Economic Intelligence Unit, World Bank and the Malaysian government agencies. This underlies our investment approach of conducting independent analysis and collaboration with our broader Franklin Templeton fixed income team to get a better perspective on Malaysia in the context of global market dynamics.
On many key fronts, Malaysia appears to be comparable to other countries in the A-rated range of the credit spectrum, particularly in the projections of important macroeconomic indicators such as gross domestic product (GDP) growth, unemployment, inflation, debt-to-GDP rate and current account balance. When one compares these indicators with the similarly rated countries in the list below, it gives us a better context of how the country stacks up in terms of its economic fundamentals compared to its peers or neighboring countries.
We also examine advanced indicators from the World Bank that are utilized by agencies in their analysis. In particular, we look at measures of government effectiveness and regulatory quality, and see that Malaysia remains comparable to A-range peers in several areas and ahead of select A+ rated and developed nations. Notably, having never experienced a default or debt restructuring, Malaysia remains a country with a "pristine" sovereign debt record. This underscores the need for market observers and investors to read beyond the noise in the market, and either conduct their own research or examine that of independent local-market specialists.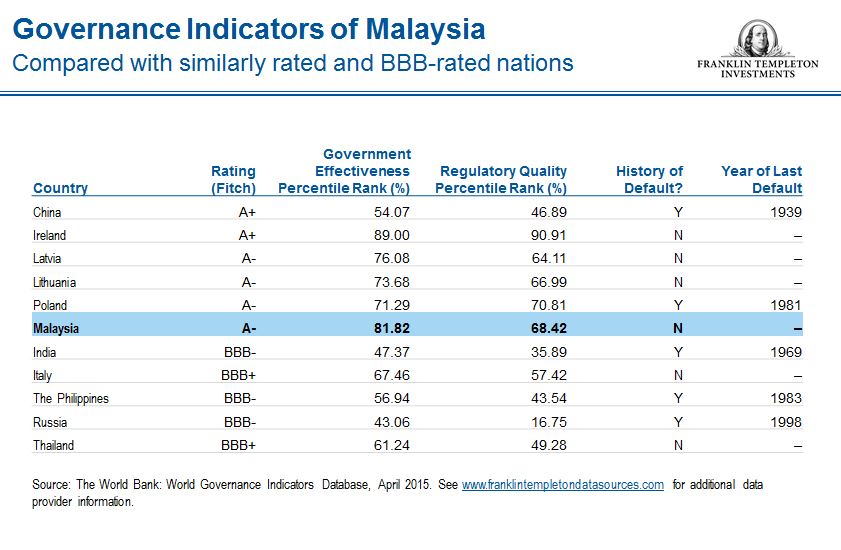 Our Approach to Sovereign Analysis and Views on Malaysia's Economic Outlook
As part of the country analysis process utilized by Franklin Templeton's Malaysia Fixed Income Team, we begin by looking at six main factors: 1) political stability, 2) economic activity, 3) the external sector, 4) the monetary sector, 5) fiscal balance and 6) debt dynamics. We apply various weightings to these factors, with economic activity and the monetary sector being the largest. This is part of the quantitative side of our research and analysis, and if our results yield the opinion that a given country's dynamics are weaker than widely published indicators, our outlook would be reflected accordingly. The weights allocated to each factor are the same for each country we assess, to ensure consistency in our analysis and facilitate peer comparisons.
As on-the-ground investment professionals, we take a holistic approach when conducting sovereign research. Our scoring is based on our proprietary search model and internal forecast of these variables though as mentioned, we do take into account the official guidance from the external sources. Regular tracking enables us to spot potential issues and adverse trends that may affect internal scores.
Based on our analysis, we believe Malaysia still remains stable although we recognize the country will be affected by issues emanating from the political front locally as well as weaknesses coming from the external front, such as the impact from lower oil prices, a potential rise in interest rates in the United States and a possible flight to safe havens due to the situation in the eurozone. The external environment is likely to remain challenging over the near to medium term, weighed down by volatility in China's market, which affects business sentiment, and could continue to put pressure on commodity prices. However, we expect Malaysia to remain resilient in macroeconomic terms: moderating but remaining positive in terms of GDP growth, with low inflation and a sustained positive current account balance despite a challenging environment. Although we see some potential for setbacks in GDP growth over the next year or two, we believe growth could pick up again by mid-2016. Malaysia's economic picture appears healthier over the longer term as the impact of oil prices and the country's fiscal deficit position could begin to narrow as planned.
Private consumption, an important metric in our analysis that often indicates the further development of a developing-market economy, is also set to remain healthy over this time horizon, in our view. Coupled with the government's support for domestic infrastructure development, we believe it will likely lead to positive developments such as job creation, increased quality of life and economic efficiency, which we believe can be sustained over the long term.
On the fiscal front, we note that our projections for non-performing loans are relatively stable over the medium term, with M2 monetary supply continuing to expand. Investors' concern surrounding the impact of alleged impropriety tied to 1MDB in the financial sector appears to be overdone, as stated by the Central Bank of Malaysia's governor, Tan Sri Dato' Sri Dr. Zeti Akhtar Aziz, who early this year stated that no individual entity will have a systemic implication to the overall financial system of the local economy.2
Additionally, Malaysia's fiscal deficit trend has been narrowing, from 7.0% of GDP in 2009 to 3.5% in 2014.3 Maintaining the initial fiscal deficit target of 3.0% of GDP in 2015 was a challenge, given the fall in oil prices, which declined more than 40% in the last year. However, the prudent economic policy reforms contained in the Economic Transformation Programme (ETP)—designed by the government to turn Malaysia into a high-income economy by 2020—helped buffer the impact of oil price weakness. These reforms included the removal of the fuel subsidy, the implementation of Malaysia's goods and services tax (GST) and other spending cuts. The government has since revised the fiscal deficit projection to a manageable target of 3.2% of GDP for 2015, and we believe the deficit trend will still be manageable—the fiscal deficit target of zero may be achieved by the year 2020.
Among other developments that we are closely watching are events in domestic politics, and the ensuing political risk that might arise. More importantly, the markets have not been paying much attention to the outcome of GST implementation; we think GST revenue could be far better than forecasted. In addition, the removal of the oil subsidy will likely have a positive impact on government revenue and moderate some of Malaysia's fiscal deficit challenges. In other words, we believe economic activity will remain healthy. Besides, lower fuel prices translate into lower inflation rates, which we believe should help buffer the impact of the implementation of GST.
Malaysia at Crossroads
From an economic standpoint, Malaysia finds itself at a crossroads. Investor sentiment has been very negative or fleeting at best, while investment specialists and other global observers offer differing views on the country's direction. Numerous uncertainties as mentioned above further obscure clarity of rational and fair analysis of the country's economic landscape. However, a lack of clear consensus on future events is common in the analysis of any country at any given time. This truism, we believe, reinforces the importance of leveraging the expertise and resources of on-the-ground local market specialists who can look past news headlines and concentrate on important economic fundamentals and proprietary analytical processes that can reveal information others may miss. The Franklin Templeton Malaysia Fixed Income team acknowledges the many challenges Malaysia faces economically and politically; however, we also believe the country will demonstrate its resilience in the years and months to come, especially over a long-term horizon.
The comments, opinions and analyses are the personal views expressed by the investment manager and are intended to be for informational purposes and general interest only and should not be construed as individual investment advice or a recommendation or solicitation to buy, sell or hold any security or to adopt any investment strategy. It does not constitute legal or tax advice. The information provided in this material is rendered as at publication date and may change without notice, and it is not intended as a complete analysis of every material fact regarding any country, region market or investment.
Data from third-party sources may have been used in the preparation of this material and Franklin Templeton Investments ("FTI") has not independently verified, validated or audited such data. FTI accepts no liability whatsoever for any loss arising from use of this information and reliance upon the comments, opinions and analyses in the material is at the sole discretion of the user. Products, services and information may not be available in all jurisdictions and are offered by FTI affiliates and/or their distributors as local laws and regulations permit. Please consult your own professional adviser for further information on availability of products and services in your jurisdiction.
To get insights from Franklin Templeton delivered to your inbox, subscribe to the Beyond Bulls & Bears blog.
For timely investing tidbits, follow us on Twitter @FTI_Global  and on LinkedIn.
What Are the Risks?
All investments involve risks, including possible loss of principal. The value of investments can go down as well as up, and investors may not get back the full amount invested. Bond prices generally move in the opposite direction of interest rates. Thus, as the prices of bonds in an investment portfolio adjust to a rise in interest rates, the value of the portfolio may decline. Special risks are associated with foreign investing, including currency fluctuations, economic instability and political developments. Investments in developing markets involve heightened risks related to the same factors, in addition to those associated with their relatively small size, lesser liquidity and lack of established legal, political, business and social frameworks to support securities markets. Such investments could experience significant price volatility in any given year.
1. Wholly owned by the Government of Malaysia, 1Malaysia Development Berhad (1MDB) is a strategic development company established to drive long-term economic development for the country.
2. Source: "Zeti: No one single entity will pose systemic risk," The Star publication, 28 January 2015.