In the wake of heightened volatility that has beset stock markets around the world, attention has turned to the small-cap sector, which in many jurisdictions has been less acutely hit than its mid- and large-cap peers.1 However, as Richard Bullas, vice president, portfolio manager and research analyst for the Franklin UK Equity Team explains, running a small-cap-focused strategy requires a very different set of skills and a lot more patience than a large-cap-centric approach. As he marks his third year steering Franklin UK Equity's small-cap strategy, he outlines the importance of kissing a lot of frogs, the joys of uncovering undiscovered bargains, and why some of the best value can be found at the smaller end of the small-cap sector.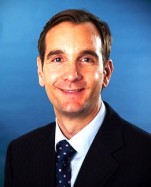 Richard Bullas
Vice President
Portfolio Manager and Research Analyst
Franklin UK Equity Team
Amidst the most recent bout of volatility, small-cap stocks, in many cases, have been relatively well insulated from the worst of the headwinds.
Mid- and large-cap companies have been buffeted by concerns about an emerging-market slowdown, European worries, uncertainty over interest-rate increases and, of course, the recent collapse in commodity prices. However, we have found that the impact of these factors on their smaller stock cousins—with their domestic skew and comparatively smaller overseas earnings power—has generally been much less pronounced.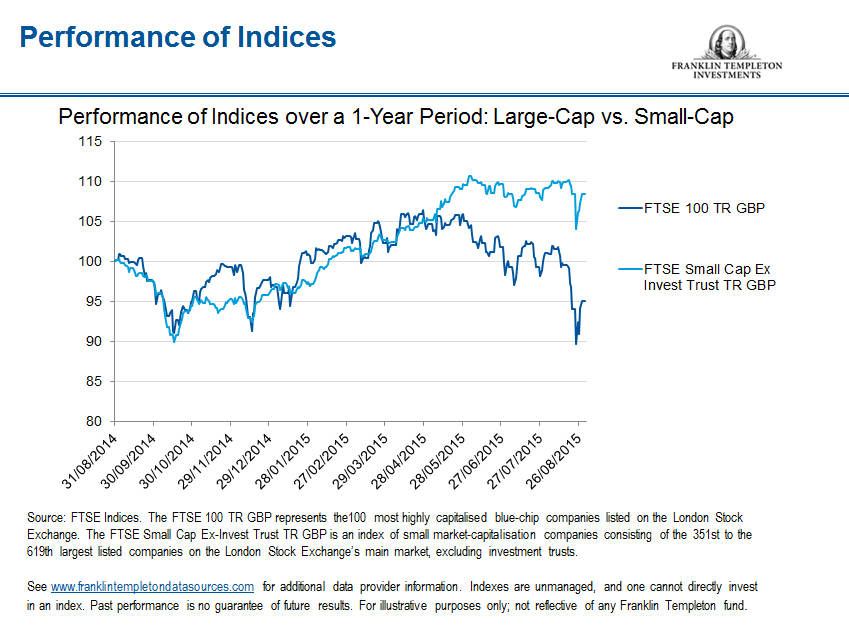 Those of us who ply our trade as investment managers within the small-cap sector aim to use increased volatility to our advantage. Notwithstanding macro influences, the Franklin UK Equity Team is focused on bottom-up value, and we are currently finding interesting areas of opportunity within the market. First, we are seeing what we believe to be some strong companies going through a more difficult trading period; this could be due to slowing global growth or an oil-price-related slowdown. In many cases, earnings forecasts are coming under pressure, but we believe there are instances when a potential subsequent derating, or reduction in valuation, could present an attractive entry point for long-term investors.
Second, we are also finding many opportunities at the smaller end of the small-cap sector, where valuations can reflect significant discounts to the wider market.
For the past three years, our small-cap approach has been focused on the genuinely small-cap space, which we define as those companies with market capitalisation of between £100 million and £1 billion. We know some small-cap portfolios can become quasi-mid-cap portfolios. In the United Kingdom, some small-cap benchmarks have a remit to invest in companies way up in the mid-cap-focused FTSE 250.2 Some ostensibly small-cap portfolios can include very large mid-caps with market capitalisations of £2 billion to £3 billion and above.
Whilst there are some multi-cap players and bigger funds looking for mid- to small-cap exposure, we find they tend to focus on the bigger names in the space. The very small end tends to get overlooked because it is a specialist area with fewer market participants operating there.
In our view, as you move down the market-cap spectrum, the market becomes more inefficient. Mispricing and misperceptions can create opportunity, and we try to find underappreciated businesses which we believe offer the opportunity for a potential rerating as they grow larger and become a target for the wider investment community.
Researching small-cap companies is very hands-on. You have to be proactive and be willing to spend time researching and analysing various businesses and industries. But that's the enjoyment of the job. Only by meeting executive management teams can one get to really understand their strategy, their entrepreneurial drive, and their vision of the business's future over the medium and longer term. I try to meet as many of these managers as I can, and do the necessary legwork to unearth potential investment opportunities. That can mean kicking lots of tyres and kissing a lot of frogs.
Outlook for 2016
Looking at the current UK small-cap landscape, we are cautiously optimistic. We think the fundamental backdrop and support for UK small caps is largely positive at the moment, and we feel that is likely to continue in 2016.
We're also broadly positive about the UK economy. We have a fairly healthy labour market and fairly low inflation. Real wages are on the rise, with low food inflation and low petrol prices for consumers, meaning more cash in their pockets and rising discretionary spend. Meanwhile, we continue to be in a low interest-rate environment, and we think the current heightened global uncertainty is likely to have deferred any immediate threat of a UK rate increase.
Even though we're not in a superior growth period, gross domestic product growth in the United Kingdom of 2%–2.5% over the next two to three years seems to us to be achievable. While not stellar growth, it is steady growth, and we think it should supply support and confidence for companies to invest and grow.
Meanwhile, small-cap valuations look to us to be attractive relative to the rest of the market, which is always a good starting point. Given the domestic bias to the earnings of smaller caps compared with larger caps, to us small caps seem to be more attractive as the global growth outlook faces numerous headwinds.
Furthermore, there may be greater scope for better earnings to come through. I expect to see greater progression on profit growth for small caps vis-a-vis the rest of the market, which could lend support to small caps as an asset class and a narrowing of the valuation discount.
There also seems to be a healthy merger and acquisition environment and equity markets appear willing to support deals. Many companies across the size spectrum are looking for growth—particularly acquisitive growth—to supplement muted organic growth. Small caps can offer rich pickings for larger companies. We think this environment is generally supportive of valuations.
Equally, the initial public offering pipeline looks fairly healthy, with new companies looking to come to the market. That provides new opportunities for investors.
While the backdrop seems to us to be fairly supportive for small-cap stocks in the United Kingdom, we as investment managers also have one eye on potential risks. One of these is the UK interest-rate tightening cycle. There remains a high degree of uncertainty around rates, but we remain of the view that uncertainty won't derail growth or the UK economy as a whole; any instability or volatility is likely to be down to investor sentiment, and we envisage a multi-year growth period for the UK economy.
In the meantime, the frog kissing and tyre kicking will continue.
Richard Bullas's comments, opinions and analyses are for informational purposes only and should not be considered individual investment advice or recommendations to invest in any security or to adopt any investment strategy. Because market and economic conditions are subject to rapid change, comments, opinions and analyses are rendered as of the date of the posting and may change without notice. The material is not intended as a complete analysis of every material fact regarding any country, region, market, industry, investment or strategy.
Get more perspectives from Franklin Templeton Investments delivered to your inbox. Subscribe to the Beyond Bulls & Bears blog.
For timely investing tidbits, follow us on Twitter @FTI_Global and on LinkedIn.
What Are the Risks?
All investments involve risk, including possible loss of principal. The value of investments can go down as well as up, and investors may not get back the full amount invested. Stock prices fluctuate, sometimes rapidly and dramatically, due to factors affecting individual companies, particular industries or sectors, or general market conditions. Special risks are associated with foreign investing, including currency fluctuations, economic instability and political developments. Smaller and newer companies can be particularly sensitive to changing economic conditions. Their growth prospects are less certain than those of larger, more established companies, and they can be volatile.
_______________________________________________________________
1. Source: FTSE Indexes, as at 26/8/2015. See www.franklintempletondatasources.com for additional data provider information. Indexes are unmanaged, and one cannot directly invest in an index. Past performance is no guarantee of future results.
2. The FTSE 250 Index is a capitalisation-weighted index consisting of the 101st to the 350th largest companies listed on the London Stock Exchange. Indexes are unmanaged, and one cannot invest directly in an index.