The decision to include mid-cap stocks in a diversified investment portfolio should be based on more than just size considerations, according to Paul Spencer, vice president and portfolio manager, Franklin UK Equity Team. He believes the range of industries and exposure encapsulated by mid-cap stocks in the United Kingdom make them an attractive place to look for bargains right now.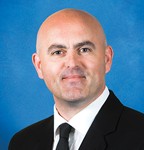 Paul Spencer
Vice President, Portfolio Manager
Franklin UK Equity Team
In the 10 years that I have overseen Franklin Templeton's UK mid-cap equity strategy, investors have often asked me why they should consider including mid caps in their portfolios. These days, my standard answer to that is: "Why would you not?"
While we recognise that past performance is not a guarantee of future results, UK mid caps, as represented by the FTSE 250, have outperformed the larger-capitalised stocks in the FTSE 100 in seven of the last 10 years.1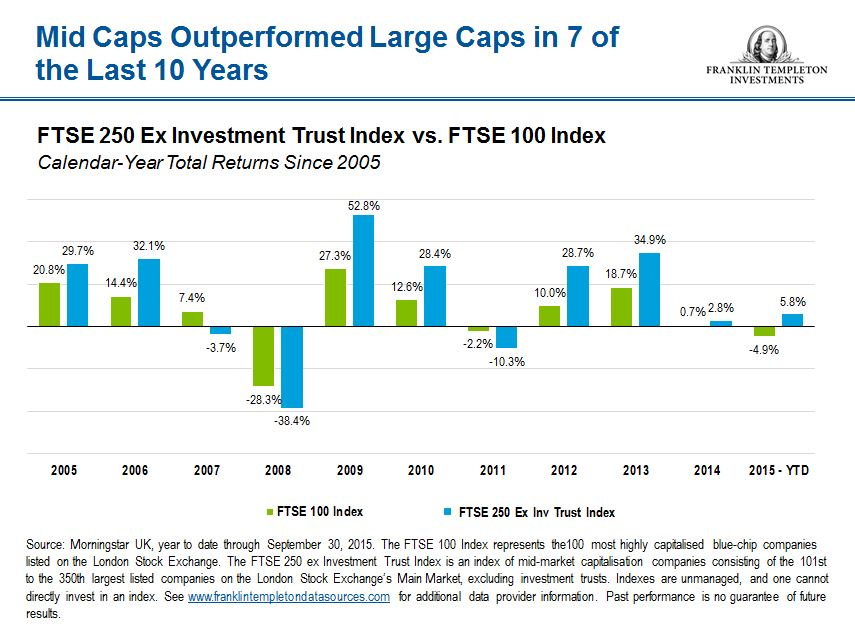 But more than that, we think structural issues underpinning UK mid caps should continue to make them an attractive consideration as part of a diversified investment portfolio. And importantly, it's not just about size.
Indeed, we believe the strong performance of UK mid caps in recent times is more a sector than a size issue. Because of that, and because of the significantly different geographic and end-market exposures that mid caps can offer, we reckon investors shouldn't be thinking in terms of "large caps versus mid caps," but rather considering them as complementary to each other.
In general, the more mature companies are, the bigger they become. So structurally, in many cases, this suggests mid-cap companies may be higher-growth businesses at an earlier stage of their cycle. Certain growth drivers may only be available to investors in the mid-cap market.
Mid-cap investing, for example, offers an alternative to the occasional concentrations of exposure that can come with large-cap investments. So while banking, oil and gas, pharmaceuticals, tobacco, life insurance and mining together account for 53% of the large-cap-focused FTSE 100 Index, they comprise just 6% of the FTSE 250 Index.2
On the other hand, there are about 30 discrete sectors represented in the FTSE 250 Index. For example, the Industry Classification Benchmark (ICB) heading "support services," which makes up around 12% of the FTSE 250 Index,3 encompasses businesses involved in outsourcing, packaging, building supplies, distribution and recruitment—all activities we would consider as discrete sectors. Similarly "financial services" would include insurance, real estate, wealth management, specialist lending and a few challenger banks. Under the "travel and leisure" umbrella are pubs, leisure, dining out, bus and rail, and gambling stocks.
The range of industries and exposures offered by mid-cap companies persuades us that this remains an attractive place to hunt out bargains, particularly at the moment. And there are a number of wider financial and economic factors at play that reinforce our convictions.
For example, with many balance sheets that appear to be in robust shape and private equity apparently awash with cash, we believe the mid-cap space is ripe for an acceleration in merger and acquisition (M&A) activity, which seems to have stalled in recent years.
We also think there's an attractive arbitrage between borrowing money and buying corporate earnings, which could provide further resources for corporate activity. If companies can borrow money at interest rates of 3% to 4% to buy companies with cash yields of around 6% to 7%, we believe there's quite a strong argument for more M&A activity.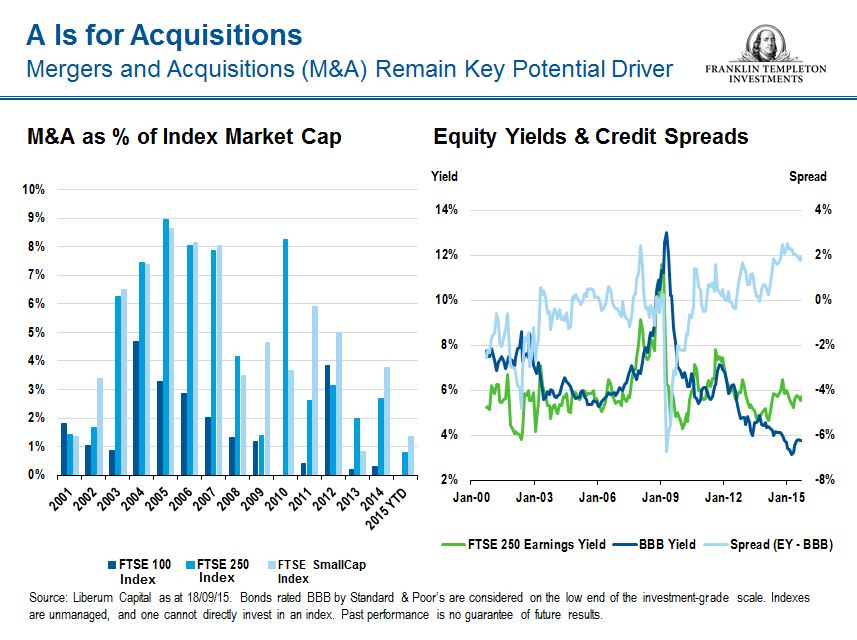 However, M&A might not be the only result of such debt-for-equity swaps however. We may also see an uptick in equity buybacks, which we reckon is an entirely legitimate use of cash for companies that are seeing fewer growth opportunities but which are still concerned about enhancing the value of their stock.
Back in 2007, share buybacks among FTSE 250 Index companies totalled nearly £6 billion. Since 2009, that number has been tracking at about £2 billion per annum. Meanwhile, many companies in the mid-cap space are now acknowledging that the capital base of their business is too strong, and are handing back stock to shareholders through buybacks or even special dividends. We think this is a very effective use of surplus capital that can enhance a stock's value.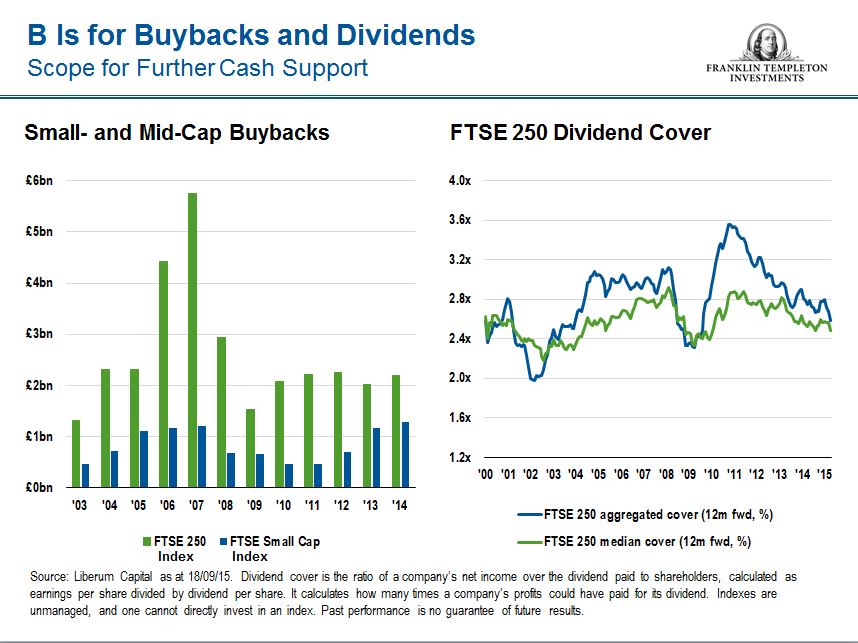 Domestic Focus
Currently, UK-listed mid-cap companies derive the majority of their profits from the United Kingdom but do see a significant share from other parts of the world.
We believe there are areas of the UK economy where the combination of lower energy costs, food deflation and higher wages should mean more money coming into discretionary spending. As a result, we  believe the background for UK stocks with retail exposure should be positive.
So, my question to investors is a clear one: Why wouldn't you invest in mid caps?
The comments, opinions and analyses are the personal views expressed by the investment manager and are intended to be for informational purposes and general interest only and should not be construed as individual investment advice or a recommendation or solicitation to buy, sell or hold any security or to adopt any investment strategy. It does not constitute legal or tax advice. The information provided in this material is rendered as at publication date and may change without notice and it is not intended as a complete analysis of every material fact regarding any country, region, market or investment.
Data from third-party sources may have been used in the preparation of this material and Franklin Templeton Investments ("FTI") has not independently verified, validated or audited such data. FTI accepts no liability whatsoever for any loss arising from use of this information and reliance upon the comments, opinions and analyses in the material is at the sole discretion of the user. Products, services and information may not be available in all jurisdictions and are offered by FTI affiliates and/or their distributors as local laws and regulations permit. Please consult your own professional adviser for further information on availability of products and services in your jurisdiction.
Get more perspectives from Franklin Templeton Investments delivered to your inbox. Subscribe to the Beyond Bulls & Bears blog.
For timely investing tidbits, follow us on Twitter @FTI_Global and on LinkedIn.
What Are the Risks?
All investments involve risk, including possible loss of principal. The value of investments can go down as well as up, and investors may not get back the full amount invested. Stock prices fluctuate, sometimes rapidly and dramatically, due to factors affecting individual companies, particular industries or sectors, or general market conditions. Special risks are associated with foreign investing, including currency fluctuations, economic instability and political developments.
______________________________________________________________
1. The FTSE 250 is a capitalisation-weighted index consisting of the 101st to the 350th largest companies listed on the London Stock Exchange. The FTSE 100 Index represents the100 most highly capitalised blue-chip companies listed on the London Stock Exchange. Indexes are unmanaged, and one cannot directly invest in an index.
2. Source: FTSE Indexes as at 31/08/2015. Indexes are unmanaged, and one cannot directly invest in an index.