This post is also available in: Chinese (Simplified) Dutch French Italian German Spanish Polish
I firmly believe that central banks need to stop agonising over equity markets and equity market performance. When the US Federal Reserve (Fed) chose not to raise interest rates at its September meeting, it cited equity market volatility as a factor in its decision. More recently, continuing stock market volatility has been at the root of market speculation that the European Central Bank (ECB) may decide to increase or extend its quantitative easing (QE) programme at its December meeting.
There are a number of reasons why the ECB might choose to take action in December—some of them set out by my colleague David Zahn—but I would urge the decision-makers not to let the equity market situation influence their actions. If equity markets in Europe or elsewhere fall, in my view, it should not be the ECB's problem.
Across the world we are seeing central bankers talking about the equity markets. In my opinion, they're changing people's perceptions and their comments are moving markets. If the central bankers stopped getting involved in discussions about the equity markets, perhaps stock-price movements would likely become a little more rational.
QE and other programmes the ECB has enacted have stimulated the region's economy through lower interest rates—allowing banks to lend money more cheaply to consumers and companies. And just the promise that a QE programme was in the cards helped drive down the value of the euro, which has benefitted exporters tremendously. So, certainly, QE has been beneficial.
Others may disagree, but at this point, no additional ECB action should be necessary as we have seen supportive factors already at work in the economy, including a drop in commodity prices and an improvement in consumer sentiment. In my view, the European economy is heading in the right direction. However, we have to accept that some investors remain spooked, and it is not unreasonable to believe the ECB will ultimately decide to add additional billions of euros to its asset purchases or extend the QE programme from its original September 2016 end date until January 2017, in an attempt to calm investors' nerves.
That said, at some point, we will also need to disengage from stimulus spending. If world economies can only survive if they are given cheap money—and tons of it—in my view it would mark the failure of the market economy. I believe in the market economy, and that the eurozone economy should be able to grow without mountains of stimulus.
Corporate Profits on the Rebound?
We are seeing signs of a return to growth in the eurozone economy, although its recovery from the 2007-2010 financial crisis has been the weakest economic comeback since the 1970s.1 It has been a very small, very slow recovery not just for the economy at large, but also for the region's companies—and for corporate earnings.
A rebound in corporate earnings has taken a long time because many eurozone countries underwent an extensive retrenching since the financial crisis. It takes time for such comprehensive adjustments to work their way through the economy. In the absence of any negative surprises, such as a prolonged downturn in global growth, we see no major reasons why earnings cannot potentially grow 8%–10% per annum in 2015 and 2016.2
Consumer confidence in the eurozone has generally improved this year due to a handful of factors, including lower unemployment throughout the region. One indicator that illustrates an uptick in confidence is new-car purchases—the ultimate discretionary expense. In Italy and Spain, which were hit hard by the fallout of the financial crisis, we have seen signs that new-car sales have been on the rise.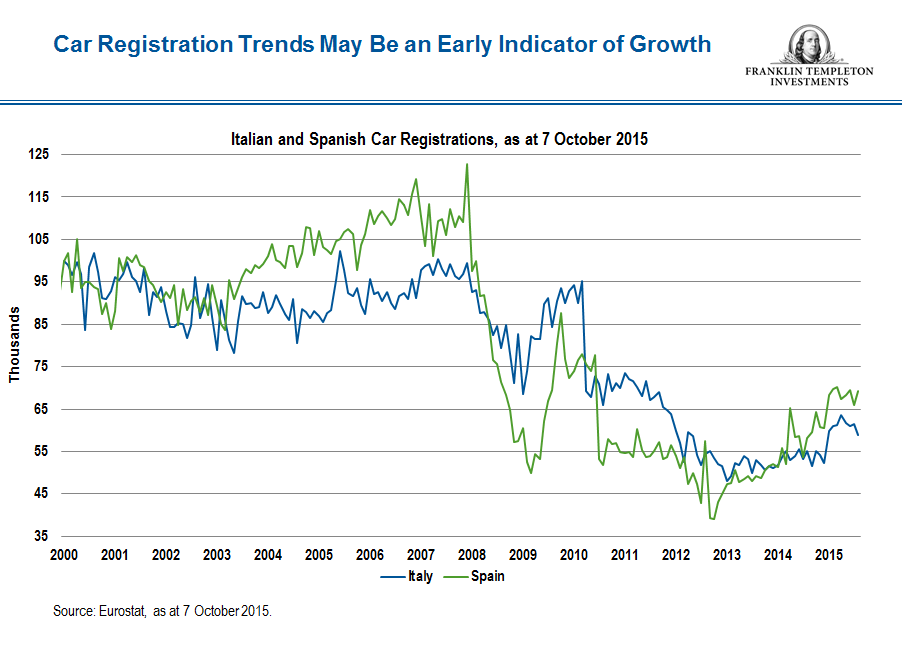 Furthermore, we believe any increase in sales could have an exponential effect on companies' bottom lines. Many eurozone companies are running with high operating leverage, meaning they are making fewer sales but maintaining higher profit margins. If consumer confidence drives sales higher as we might anticipate, those generous margins could translate into increased earnings.
A Rising Tide
Additionally, we expect corporate earnings to piggyback on an anticipated increase in the region's gross domestic product (GDP) this year and next. In 2014, the eurozone tallied a lackluster 0.8% growth rate,3 but we foresee that GDP could grow 1.5%–2%, both this year and next, thanks in part to a lower euro, which should drive exports, and lower oil prices, which should boost spending. History has shown that a jump in GDP—even the modest rise expected—may translate into significant earnings growth.
In the early 1990s, for example, 3.5% GDP growth—which admittedly would be a dream for the eurozone going forward—generated 35% earnings per share growth,4 which we believe is quite significant. So we do not think it is unrealistic to believe that a 2% GDP growth rate could trigger a double-digit earnings upswing.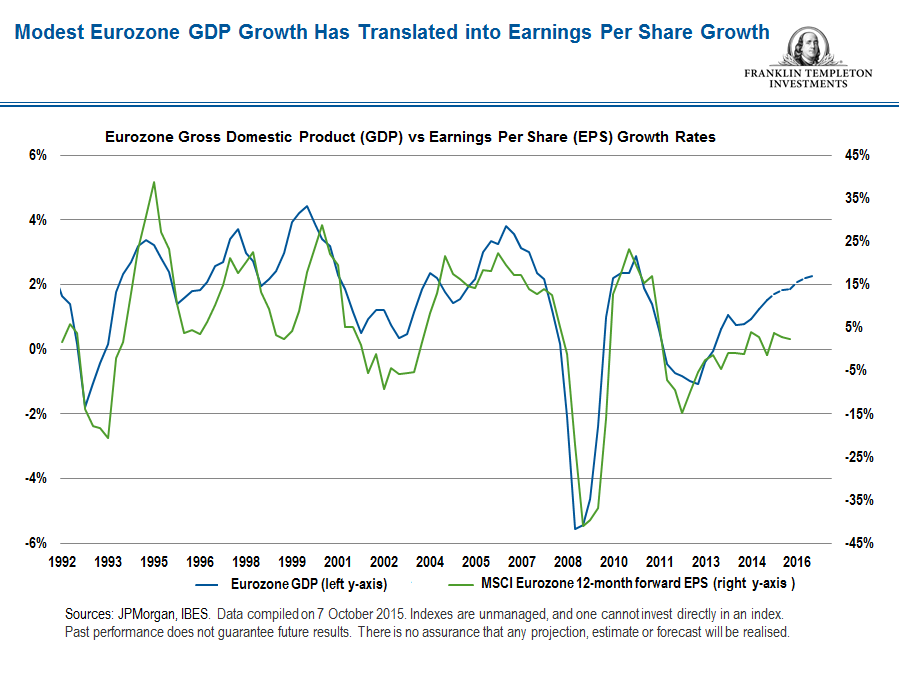 This relatively healthy GDP growth comes after years of austerity in many eurozone countries. Some nations in the periphery5 faced huge debt loads and employed tough, money-saving budget constraints to dig their way out. However, these restrictive fiscal policies also constrained economic growth in those countries. It was extremely painful, but necessary, in our view. We now see the structural primary balance (the budget before interest payments) is now positive in key countries in the eurozone. The peripheral countries are poised to have a surplus in 2015 and 2016.6 So fiscal issues have been addressed, which should be a positive factor for further economic growth.
Eurozone countries have also tackled structural reforms, particularly those targeting labour costs. Ireland and Spain, for example, cut their labour costs by more than 10% in the last five years.7 That means the goods these countries produce are some 10% cheaper than they had been before the financial crisis. Even Greece—the eurozone's problem child—managed to cut labour costs by 18%.8 Of course, this kind of reduction is painful for the working population, but, in our view, it helps to make corporations more competitive and should put them on a sounder financial footing over the long term.
No matter what central banks ultimately decide, we remain focused on uncovering long-term stock-picking opportunities in the region.
To get insights from Franklin Templeton delivered to your inbox, subscribe to the Beyond Bulls & Bears blog.
For timely investing tidbits, follow us on Twitter @FTI_Global and on LinkedIn.
CFA® and Chartered Financial Analyst® are trademarks owned by CFA Institute.
The comments, opinions and analyses are the personal views expressed by the investment manager and are intended to be for informational purposes and general interest only and should not be construed as individual investment advice or a recommendation or solicitation to buy, sell or hold any security or to adopt any investment strategy. It does not constitute legal or tax advice. The information provided in this material is rendered as at publication date and may change without notice, and it is not intended as a complete analysis of every material fact regarding any country, region market or investment.
Data from third-party sources may have been used in the preparation of this material and Franklin Templeton Investments ("FTI") has not independently verified, validated or audited such data. FTI accepts no liability whatsoever for any loss arising from use of this information, and reliance upon the comments, opinions and analyses in the material is at the sole discretion of the user. Products, services and information may not be available in all jurisdictions and are offered by FTI affiliates and/or their distributors as local laws and regulations permit. Please consult your own professional adviser for further information on availability of products and services in your jurisdiction.
What Are the Risks?
All investments involve risks, including possible loss of principal. The value of investments can go down as well as up, and investors may not get back the full amount invested. Stock prices fluctuate, sometimes rapidly and dramatically, due to factors affecting individual companies, particular industries or sectors, or general market conditions. To the extent a portfolio focuses on particular countries, regions, industries, sectors or types of investments, from time to time, it may be subject to greater risks of adverse developments in such areas of focus than one that invests in a wider variety of countries, regions, industries, sectors or investments. Special risks are associated with foreign investing, including currency fluctuations, economic instability and political developments.
______________________________________________
1. Sources: Thomson Datastream, UBS, based on the MSCI Europe Index, as at 7 October 2015. Indexes are unmanaged, and one cannot directly invest in an index. Past performance does not guarantee future results.
2. There is no assurance that any estimate or forecast will be realised.
3. Source: European Central Bank.
4. Sources: IBES, JPMorgan, as at 7 October 2015.
5. The periphery includes Portugal, Spain, Italy, Greece and Ireland.
6. Sources: European Commission, Morgan Stanley, 6 October 2015.
7. Ibid.
8. Ibid.