Although the end of 2015 could usher in some shifts in central bank policy across the world, as we look ahead into early 2016 we expect the market environment to offer "more of the same" (i.e., slow growth and low interest rates globally). Even if the US Federal Reserve (Fed) and Bank of England (BOE) begin to raise interest rates, we don't expect a rapid ramp up and we are hoping that some of the spill-over effects of extraordinarily accommodative monetary policies—including quantitative easing (QE)—in several other countries, coupled with the passing of time, will inject a little bit of pizzazz into equity markets this coming year. In particular, we're hoping to see a pickup in growth in parts of Europe that have been lagging, as well as in emerging market economies which may have disappointed investors in 2015.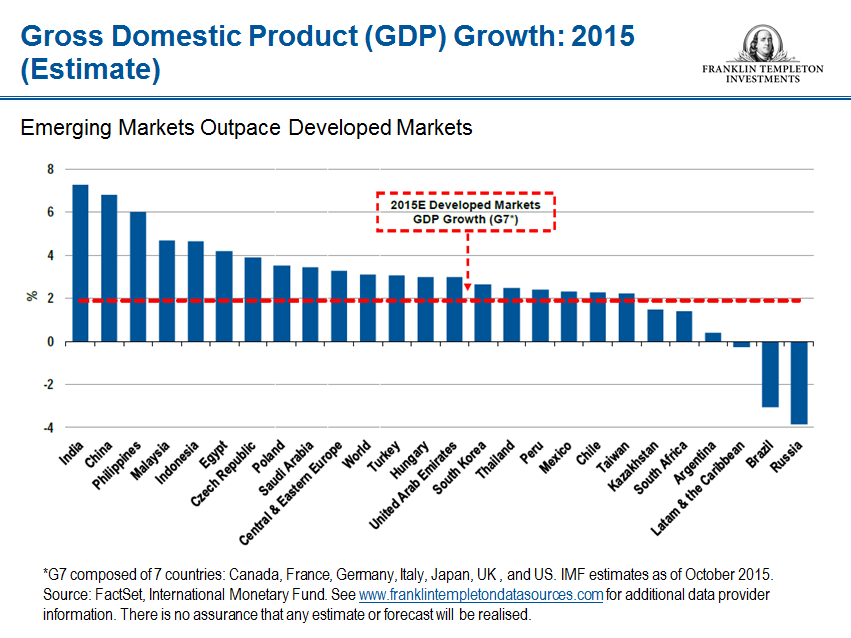 Disappointing economic growth in China and a recession in Brazil may have impacted companies that had exposure to these countries in 2015, likely dragging down profits. Even the UK Chancellor of the Exchequer, George Osborne, acknowledged in the Autumn Statement that emerging market debt remains a persistent problem, as does the economic weakness of the eurozone. But the story hasn't been the same across all emerging markets, or even all developed countries. Companies with the majority of their exposure to the United States and the United Kingdom have, in many cases, enjoyed a more positive year. We're hoping that in 2016 prior measures will begin to have a greater effect on the global economy, such as the eurozone QE programme, the still-low-interest-rate environment in many regions and the unprecedented monetary policy intervention in China.
It's clear to us that a number of economies across the globe are coming to terms with much slower gross domestic product (GDP) growth than experienced before the 2008-2009 financial crisis. We are not expecting to see a return to pre-crisis levels when global GDP growth was around 5%–6%, and forecasters, including the International Monetary Fund (IMF), expect global GDP growth of around 3.1% in 2016,1 with growth in emerging markets coming out above the average estimate and developed markets coming in a bit lower. As we go through 2016, we are hopeful that global growth will improve as some of the headwinds present in the past year could ease off.
In our view, the two main market headwinds of the past year—slowing Chinese growth and low oil prices—could turn around. While there's a chance that China's growth could slow down a bit further in 2016, any upside surprises in the current growth forecast could bring tailwinds for other economies and the global markets at large and may prove to be a positive to companies with such exposures. Meanwhile, it was not only energy companies that were caught off guard by the drop in oil prices that started in 2014. The overall uncertainty tied to the concerns about global growth had a negative influence on investor sentiment.
Now that we've become a bit more comfortable with a lower oil price environment, we think this aspect is not as likely to be a headwind in 2016 and could even prove to be a tailwind; lower prices free up consumer spending in other areas and oil-exporting countries are feeling more compelled to enact reforms and diversify their economies. The IMF has projected that the drop in oil prices may add about half a percentage point to global GDP growth in 2015–2016, albeit there could be other offsetting factors.2
One caveat to our general market optimism is that Europe has proven a particularly difficult market to turn around this year, as we were expecting to see a much better 2015 overall for the region. Even with reforms and low interest rates, Europe's policymakers had a difficult time steering their economies—which seem still to be recovering from the financial crisis several years ago—in the right direction.
What Happens When Rates Do Finally Rise?
A consensus has emerged among commentators that interest rates in both the United States and the United Kingdom are likely to rise imminently. However, the ECB recently announced during its hotly anticipated meeting (December 3) that the deposit rate for banks would be cut further, to -0.3%, alongside plans to extend its monthly bond buying programme to March 2017.
Inflation is almost non-existent in the United Kingdom, United States, eurozone and Japan. The Fed doesn't have an official inflation target, but the BOE has an inflation target of 2%, which has so far not been achieved. It's almost unprecedented for authorities to even contemplate raising interest rates in these countries when inflation is near zero.
Unless inflation figures dramatically and unexpectedly increase in the United Kingdom in the coming months, the BOE could end up raising interest rates at a time when its inflation target rate is at a full 200 basis points (2%) below where it needs to be. That would be almost unprecedented. On top of that, there are signs that UK growth is slowing as GDP is estimated to have increased 0.5% in the third quarter, compared to 0.7% in the previous quarter.3
More on Inflation Targeting
Inflation targeting only came into play in 1997, when the BOE was given independence to establish a target of 2% consumer price index (CPI) inflation. While the framework is in place to ensure price stability and low inflation, the current level of inflation at -0.1%4 means that growth has somewhat stagnated, and therefore marks the first of two things: an occasion where CPI has fallen on an annual basis for two consecutive months since the index was established in 1997, hence the potential of an unprecedented move by the BOE if it does hike interest rates.
We think when interest rates do start to rise in the United States and the United Kingdom, any increases will likely come through more slowly than in previous cycles and will likely peak at substantially lower levels than they have done in the past. If you look at the last upswing before the 2008-2009 financial crisis, UK interest rates reached 5%–6%.5 Before that tightening cycle, peaks had reached double digits.
Although we believe any rate rises will be implemented slowly, we recognise that even small increases could have quite an impact on equity markets, in part because of the high levels of leverage in many companies.
Still, we think global equity markets are likely to withstand this type of interest rate increase, which should in turn present a prime environment for stock pickers like ourselves.
Colin Morton's comments, opinions and analyses are for informational purposes only and should not be considered individual investment advice or recommendations to invest in any security or to adopt any investment strategy. Because market and economic conditions are subject to rapid change, comments, opinions and analyses are rendered as of the date of the posting and may change without notice. The material is not intended as a complete analysis of every material fact regarding any country, region, market, industry, investment or strategy.
Get more perspectives from Franklin Templeton Investments delivered to your inbox. Subscribe to the Beyond Bulls & Bears blog.
For timely investing tidbits, follow us on Twitter @FTI_Global and on LinkedIn.
What Are the Risks?
All investments involve risk, including possible loss of principal. The value of investments can go down as well as up, and investors may not get back the full amount invested. Stock prices fluctuate, sometimes rapidly and dramatically, due to factors affecting individual companies, particular industries or sectors, or general market conditions. Special risks are associated with foreign investing, including currency fluctuations, economic instability and political developments. Investments in developing markets involve heightened risks related to the same factors, in addition to those associated with their relatively small size and lesser liquidity.
_____________________________________________________________________________
1. Source: International Monetary Fund, World Economic Outlook, October 2015. There is no assurance that any estimate or forecast will be realised.
2. Source: IMF, "Global Implications of Lower Oil Prices," July 2015. There is no assurance that any estimate or forecast will be realised.
3. Source: Office for National Statistics, October 2015.
4. Source: Office for National Statistics, October 2015.