This post is also available in: Chinese (Simplified) Dutch French Italian German Polish
This year, investors have been plagued with uncertainty regarding monetary policy, and that uncertainly has no doubt contributed to volatility in the equity market. The US Federal Reserve (Fed) first started hinting more than a year ago that rising rates would be forthcoming, but it has been reluctant to pull the trigger—until now. Ultimately, we think rising US interest rates will be a "normalization" event off an unusually long period of easy monetary policy. The Fed's 25 basis-point increase in the federal funds rate at the December Federal Open Market Committee (FOMC) meeting was the first such hike since 2006, before the financial crisis hit. In our view, the central bank's historically accommodative monetary policy during the financial crisis of 2008-2009 amounted to an emergency response to emergency conditions. That emergency is now long past, so monetary policy needed to adjust. We think the Fed's move to raise interest rates confirms its confidence that the US economy and financial system are no longer in a vulnerable post-crisis state. To us as investors, that should be viewed positively.
We were a little disappointed when a dovish Fed did not take action at its last two meetings in September and October, primarily because we thought the longer the Fed remained on hold, the longer uncertainty would hamstring investors and corporations from making key decisions. And, all the "will they or won't they" speculation likely contributed to continued market volatility.
We recognize that rising interest rates may have some near-term negative consequences for interest-rate-sensitive equities such as utilities, banks and real estate investment trusts (REITs). Overall, however, we would expect many companies to successfully navigate a Fed rate-hike cycle, as the benefits from a continued US economic expansion and earnings gains outweigh the potentially negative implications. We would also point to language from the Fed accompanying its decision that suggests the pace of any future moves is likely to be gradual and measured. As we enter 2016, a key area of focus in the US economy is the robustness of job growth, with the national unemployment rate falling to 5% (often considered the "full employment" level) and wages rising at the fastest pace in roughly five years. Additionally, consumer spending—including auto and home sales—has been resilient and even strengthened in recent months.
No Reason to Panic
In our view, a small or gradual increase in interest rates is certainly no reason for investors to panic. Following previous periods of monetary policy tightening, US equities have not necessarily turned bearish. While historical precedent indicates that US equity markets have on average tended to experience some downward pressure in the initial months immediately following the commencement of a Fed rate-hike cycle, they have tended to rebound and reach higher levels over the six to 12 months following the first rate increase. Intuitively, it appears that the underlying economic strength that typically causes rate increases to become necessary coincides with a macroeconomic environment that is conducive to improving corporate earnings, and in turn, resilient share prices. As you can see in the charts below, on average, the return of the S&P 500 was essentially flat in the one-year period following the first Fed rate hike, or "liftoff," in a tightening cycle.1 However, returns then accelerated in the second and third years following liftoff, offering reason for longer-term investors to be optimistic. Additionally, during the two most recent periods of Fed tightening, 1999 and 2004, one-year returns were positive.2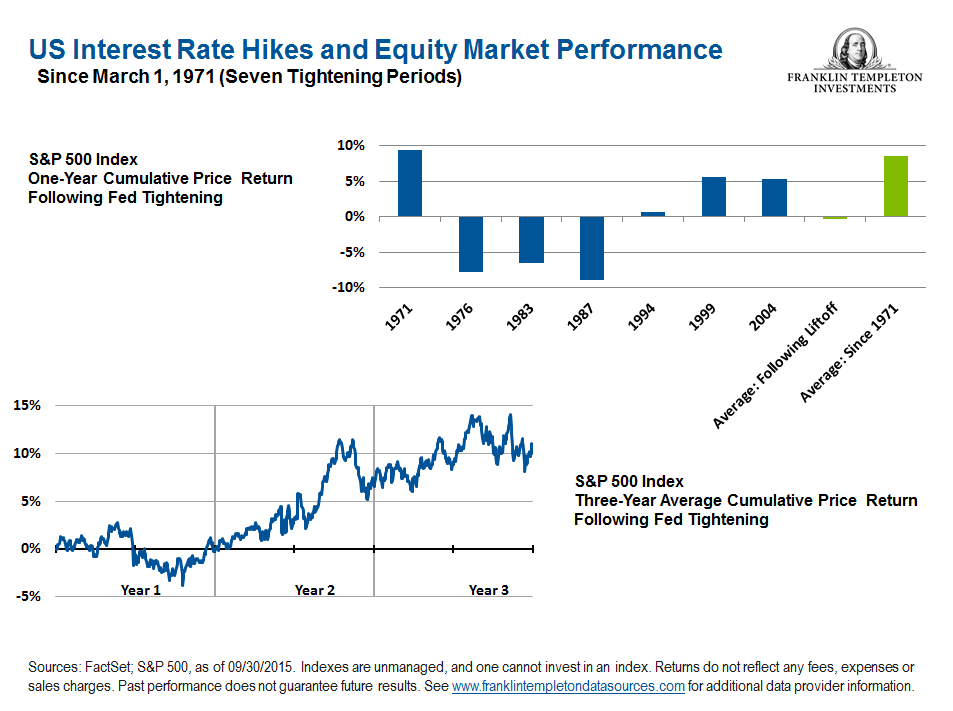 We would note that certain sectors have historically fared better in the face of tightening cycles, although past performance is no guarantee of future results. While technology sector performance was heavily skewed by the period following June 1999, performance of energy-oriented stocks was positive across the three tightening periods we analyzed since 1994. Additionally, oil prices were positive one year after liftoff in five of the six time periods we analyzed since 1974.3 
While the energy sector has certainly been in turmoil over the past year, we think it could be an opportune time to look for values in the sector and view energy as an area that could be ripe for improvement going forward in 2016. We particularly favor large, multinational, integrated oil companies that we believe possess strong balance sheets, diversified business models, the ability to reduce expenses and also potentially offer solid cash-flow generation and stable dividend yields.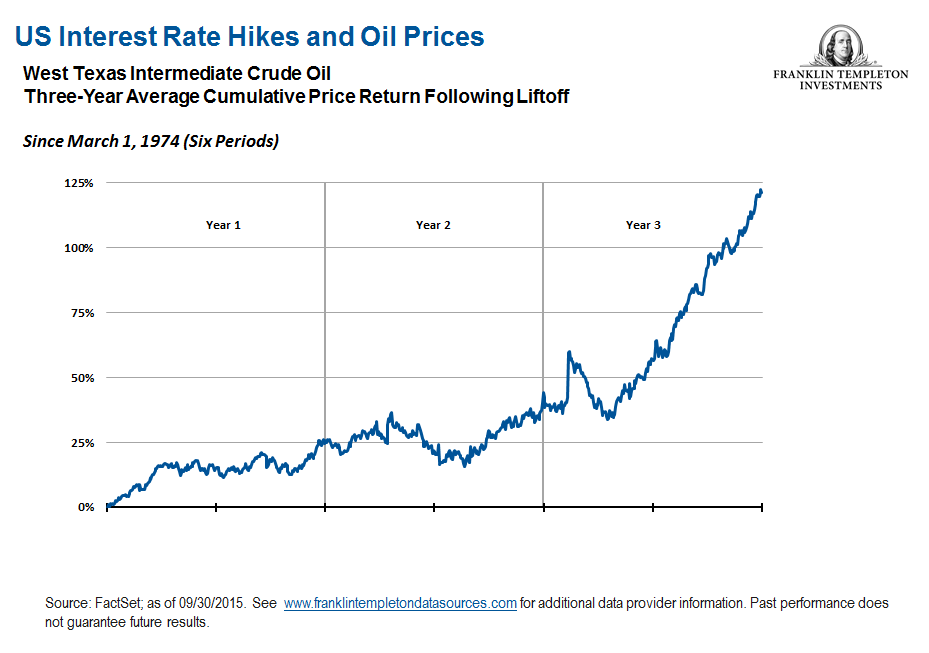 Outside of the energy sector, our team of analysts has identified investment opportunities across a number of sectors including information technology, industrials, consumer discretionary and health care (among others), which we believe are likely to exhibit solid performance potential should stock markets move higher amid the removal of some of the recent investor uncertainty.
We will, of course, continue to monitor Fed monetary policy in the short term, as well as the effects of long-term rates on the economy, risk appetite and premiums, inflation expectations and the supply/demand equation. An improving outlook and opportunity set for dividend-yielding equities across a widening array of companies and industries has helped drive our focus on equity market opportunities. We continue to seek out attractive buying opportunities that have resulted from short-term market declines and heightened levels of investor pessimism. We would also note that in contrast to the Fed, central banks outside the United States, including the European Central Bank, the People's Bank of China (PBOC) and the Bank of Japan, seem likely to remain in easing mode in the year ahead. This liquidity could continue to fuel equity markets globally and support global growth.
Advantages of Active Management 
When periods of volatility increase, the flexible approach of active management enables us to take advantage of potential market dislocations. The opportunity to add value tends to increase while navigating periods of extreme market stress, including but not limited to the global financial crisis, the eurozone debt crisis, inflationary environments and periods of rising interest rates, as well as periods of lesser volatility. For patient investors, we believe the potential currently exists to provide value not only in 2016, but in the years to come—no matter which direction interest rates are headed.
To get insights from Franklin Templeton delivered to your inbox, subscribe to the Beyond Bulls & Bears blog.
For timely investing tidbits, follow us on Twitter @FTI_Global and on LinkedIn.
The comments, opinions and analyses are the personal views expressed by the investment manager and are intended to be for informational purposes and general interest only and should not be construed as individual investment advice or a recommendation or solicitation to buy, sell or hold any security or to adopt any investment strategy. It does not constitute legal or tax advice. The information provided in this material is rendered as at publication date and may change without notice, and it is not intended as a complete analysis of every material fact regarding any country, region market or investment.
Data from third-party sources may have been used in the preparation of this material and Franklin Templeton Investments ("FTI") has not independently verified, validated or audited such data. FTI accepts no liability whatsoever for any loss arising from use of this information, and reliance upon the comments, opinions and analyses in the material is at the sole discretion of the user. Products, services and information may not be available in all jurisdictions and are offered by FTI affiliates and/or their distributors as local laws and regulations permit. Please consult your own professional adviser for further information on availability of products and services in your jurisdiction.
What Are the Risks?
All investments involve risks, including possible loss of principal. The value of investments can go down as well as up, and investors may not get back the full amount invested. Stock prices fluctuate, sometimes rapidly and dramatically, due to factors affecting individual companies, particular industries or sectors, or general market conditions.
_______________________________________________________
1. Sources: FactSet, S&P 500. Based on one-year average cumulative price return following Fed tightening since February 4, 1994. Indexes are unmanaged, and one cannot invest in an index. Returns do not reflect any fees, expenses or sales charges. Past performance does not guarantee future results. See www.franklintempletondatasources.com for additional data provider information.
2. Source: FactSet. Based on one-year average cumulative price return following Fed tightening since March 1, 1974.