In an environment where equities have been volatile and interest rates globally look to remain lower for longer, many investors are contemplating where to look for returns. Ben Russon, vice president and portfolio manager, UK Equity Team, Franklin Local Asset Management, thinks investors may need to manage their expectations this year, but also sees reasons to be optimistic about the UK market.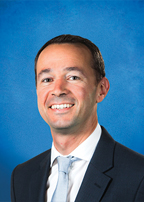 Ben Russon
Vice President, Portfolio Manager
UK Equity Team
Franklin Local Asset Management
Across the world, forecasts suggest economic growth and interest rates are likely to be structurally lower than they were before the 2008-2009 financial crisis. Unfortunately, this would suggest that equity returns are, in turn, likely to be structurally lower too. Given the current environment, we believe investors may need to maintain realistic expectations.
The International Monetary Fund (IMF) recently cut its global growth forecast1 for the third time in a year. That move came after Chinese growth stuttered over the summer of 2015, which precipitated stock market volatility not only in China but in markets globally. While the economic landscape may appear bleak, not every economic indicator is gloomy.
In the United Kingdom, consumer confidence is a beacon shining through the gloom, underpinned by the positive effects of falling oil prices on household bills, rising house prices, low unemployment and real wage growth in the face of near-zero inflation.  Recently, we have seen these factors come together to benefit UK-domestic cyclical stocks, and we expect these trends could remain supportive throughout the course of 2016.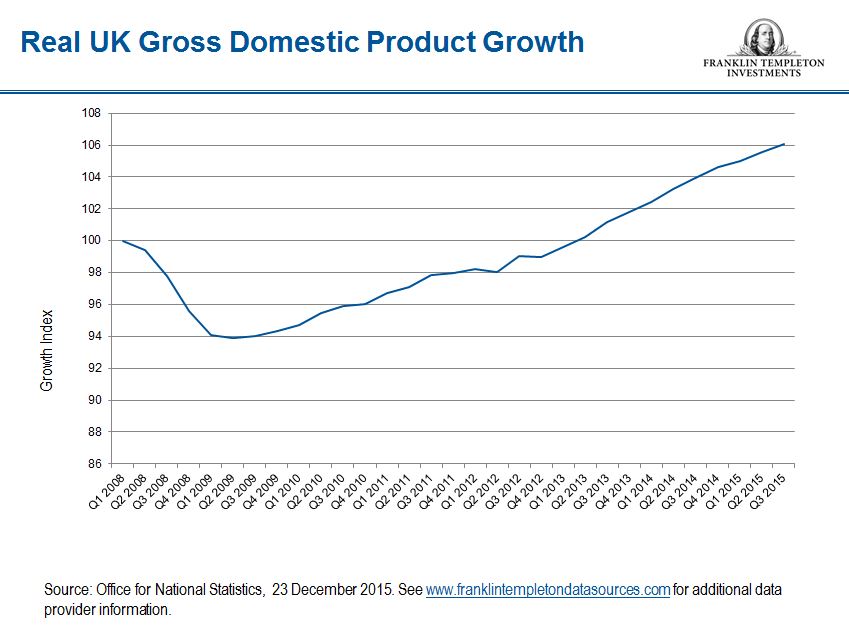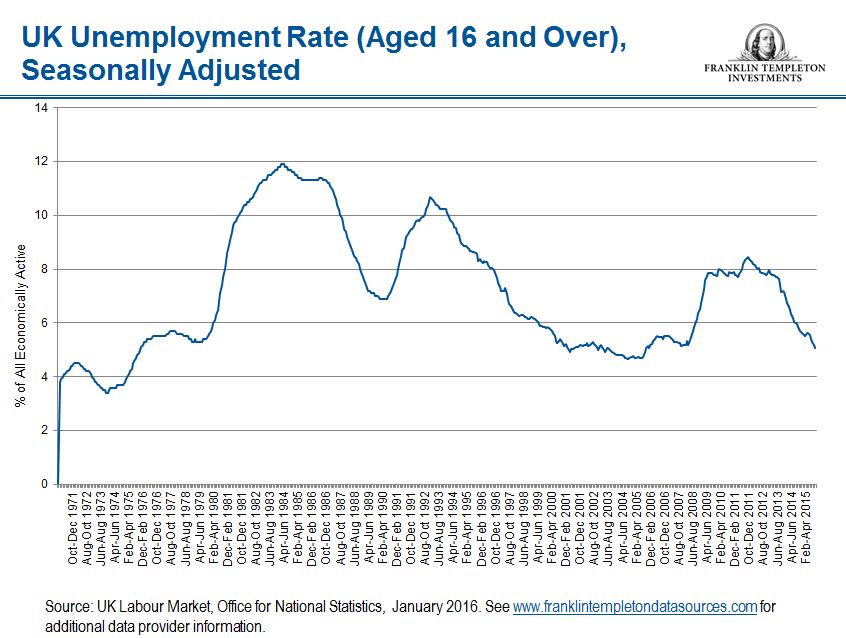 We felt that an interest rate increase in the United Kingdom was unlikely in the low-inflation environment that currently prevails, even before the dovish comments on January 19 from Bank of England (BOE) Governor Mark Carney.
Central bank interest rate increases are generally seen as a tool for controlling inflation when economic growth gains momentum. Yet many of the deflationary forces that necessitated quantitative easing (QE) programmes from the BOE and other central banks across the world continue to exert their influence. Because inflation remains well short of central bank targets, we believe interest rates will indeed likely remain lower for longer in the United Kingdom and some other developed economies, notwithstanding the US Federal Reserve's decision to raise interest rates by 25 basis points in December 2015. That means investors should be prepared for the possibility of lower equity market returns and more volatility than historic norms, and we think they may want to factor this into their approach to portfolio positioning. For investors willing to take a different approach, we believe there is potential for value creation, particularly when looking out over a longer time horizon.
Are Investors Prepared to Pay for Quality?
Our approach is to focus on what we perceive to be higher-quality companies with strong balance sheets that are able to grow revenue despite the economic malaise. In particular, we're looking for companies that have pricing power and can use their relative strength to drive their businesses forward. In a low-growth environment (such as what we're seeing now), a company with top-line growth of 3% to 6% is pretty rare. In recent years, we've seen companies with reliable, non-cyclical growth characteristics benefit from equity re-ratings, as investors have recognised and rewarded the potential power of compounding returns through time.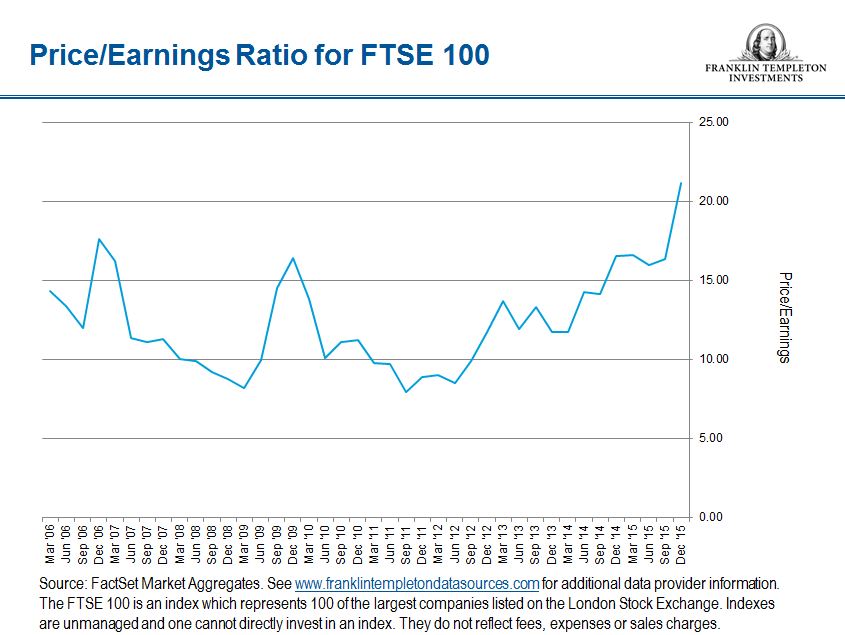 For investors like us, the critical question becomes what we are prepared to pay for a company with the sort of attributes we seek. But in this current environment with elevated valuations (by historical standards), a trade-off exists between earnings risk and valuation risk. These are the decisions that some investors will want to consider as they strive to produce acceptable returns.
The comments, opinions and analyses are the personal views expressed by the investment manager and are intended to be for informational purposes and general interest only and should not be construed as individual investment advice or a recommendation or solicitation to buy, sell or hold any security or to adopt any investment strategy. It does not constitute legal or tax advice. The information provided in this material is rendered as at publication date and may change without notice, and it is not intended as a complete analysis of every material fact regarding any country, region market or investment.
What Are the Risks?
All investments involve risks, including the possible loss of principal. The value of investments can go down as well as up, and investors may not get back the full amount invested. Stock prices fluctuate, sometimes rapidly and dramatically, due to factors affecting individual companies, particular industries or sectors, or general market conditions. Special risks are associated with foreign investing, including currency fluctuations, economic instability and political developments.
Data from third-party sources may have been used in the preparation of this material and Franklin Templeton Investments ("FTI") has not independently verified, validated or audited such data. FTI accepts no liability whatsoever for any loss arising from use of this information, and reliance upon the comments, opinions and analyses in the material is at the sole discretion of the user. Products, services and information may not be available in all jurisdictions and are offered by FTI affiliates and/or their distributors as local laws and regulations permit. Please consult your own professional adviser for further information on availability of products and services in your jurisdiction.
Get more perspectives from Franklin Templeton Investments delivered to your inbox. Subscribe to the Beyond Bulls & Bears blog.
For timely investing tidbits, follow us on Twitter @FTI_Global and on LinkedIn.
________________________________________________________________
1. Source: IMF World Economic Outlook Update, January 19, 2016.