The oil market's roller coaster ride in 2015, and the extreme volatility that has continued into 2016, have intensified global scrutiny on the commodity. Also under the microscope are the economies and stock markets of the MENA (Middle East and North Africa) region, whose fortunes are often perceived as being intertwined with oil prices. However, Franklin Templeton's MENA Local Asset Management team based in Dubai believes oil is just part of the story for investors considering the region. Mohieddine (Dino) Kronfol, chief investment officer, Franklin Templeton Global Sukuk and MENA, looks at some of the influences on oil prices. He also sets out why he thinks reform and policy packages have put the region on a more sustainable footing and urges investors to be guided by clear-headed analysis, rather than emotion. Meanwhile,  Bassel Khatoun, chief investment officer, MENA Equities, Franklin Local Asset Management, examines the impact of low oil prices on MENA markets and says it is the non-oil-focused areas of the region that present some attractive opportunities.
Why Forecasting Oil Prices Is So Difficult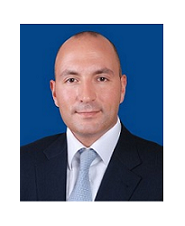 Mohieddine (Dino) Kronfol
Chief Investment Officer, Franklin Templeton Global Sukuk and MENA Fixed Income Strategies
Our analysis clearly shows that the global oil market was oversupplied in 2014 and 2015, and that precipitated the dramatic fall in the price of oil over the last 18 months. The exact extent of the oversupply is very difficult to ascertain with certainty because the supply and demand numbers from global reporting agencies are estimates. Our analysis of the available information puts the oversupply at around 1.5 million to 2 million barrels per day, or about 2% of global production. It's sobering to think that just 2% excess supply can trigger such a massive correction.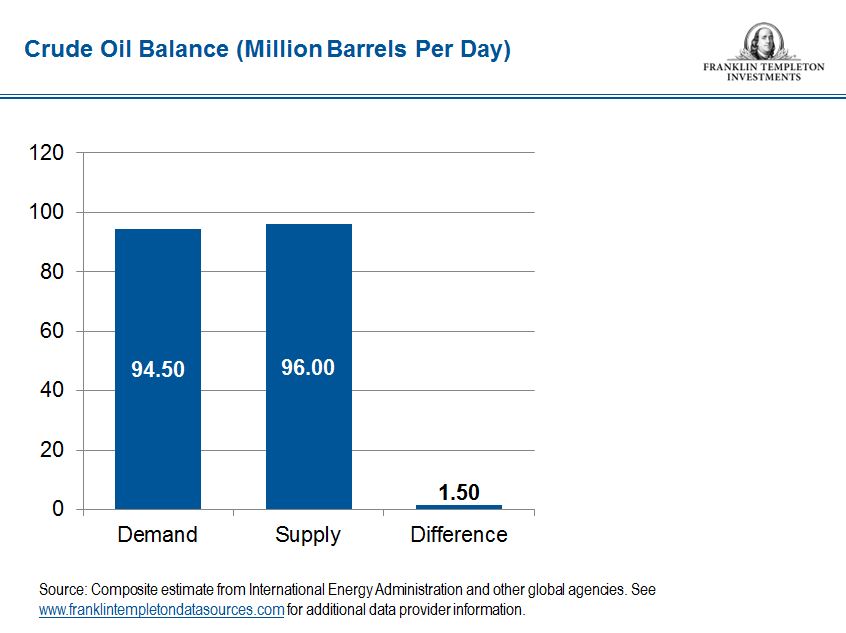 Given that the margin of error in these production estimates is probably greater than the current reported excess supply in the market, oil price predictions are largely futile in our eyes.
This time last year, many forecasters had predicted oil prices would be much higher than they are today. While most forecasters see oil rebounding from current levels by the end of the year (a recent Bloomberg survey put US West Texas Intermediate crude oil at US$46 per barrel by the end of 2016 and Brent crude at US$481), some marketwatchers believe oil prices will remain depressed and could even fall further.
Notwithstanding our scepticism about the reliability of market predictions, we don't believe the current low price levels are sustainable, and we wouldn't be surprised to see oil rising to US$60 barrel in the second half of this year.
We've identified 11 factors that we think could influence the price of oil, as noted in the chart below.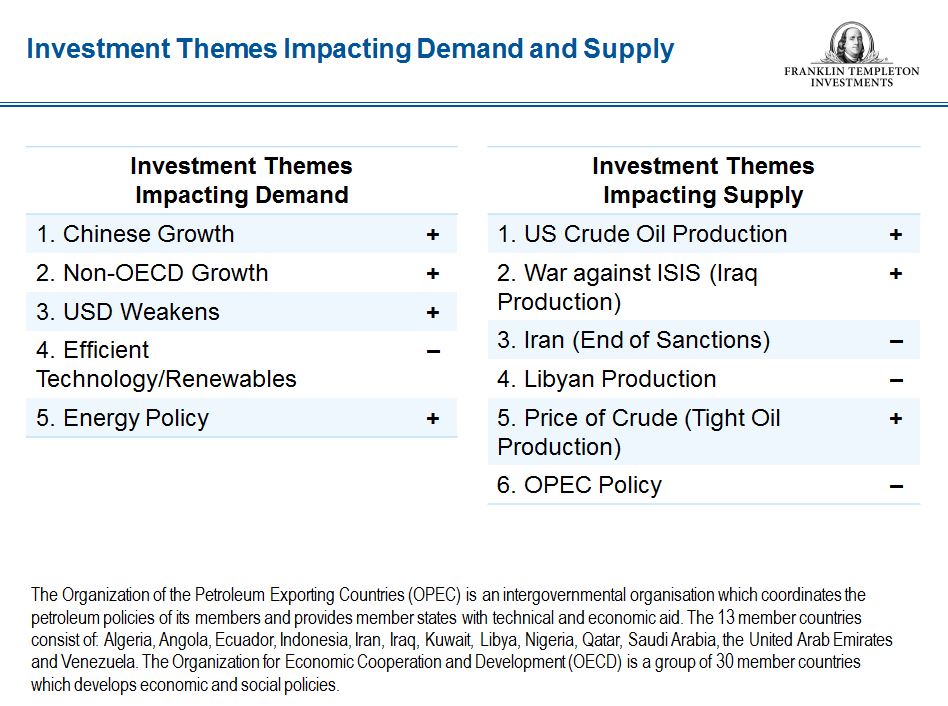 Of these 11 factors, four are negative, with Organization of the Petroleum Exporting Countries (OPEC)2 policy possibly representing the most significant factor. Chinese growth is likely to be the most relevant theme impacting demand in our view, because of that market's size. China imports nearly 7 million barrels of oil per day3, and in 2014 the country surpassed the United States as the largest importer of crude oil.
There's little doubt in our minds that last year's oil price drop was heavily influenced by the decision of OPEC—and in particular Saudi Arabia—to act to protect its market share. The rationale of OPEC's strategy is based on the belief that so-called "easy money" stemming from the policy of low interest rates and quantitative easing in notable developed economies had funded too much high-cost production. In particular, we believe some OPEC members felt that the upsurge in energy production in the United States as well as in Russia and other former members of the Soviet Union, was coming at the expense of OPEC market share.
OPEC members probably felt that producing additional oil would impact not only prices in the short term, but also the solvency of high-cost producers and the capital expenditure (capex) programmes of their traditional and non-traditional rivals. The aim, most observers seem to believe, is to maintain OPEC market share above 30%.
In our view, the jury is still out on whether the strategy will be successful. We see signs that some things are going in OPEC's favour and pressure is mounting across the entire energy complex. US rig counts have dropped4 and US shale production has been trending lower,5 while US oil industry capex was down 30% down in 2015 and expected to drop another 20% in 2016.6 We think these have significant implications for future supply.
From our perspective, if oil prices remain near US$30–US$40 per barrel this year, it will continue to have a significant impact on many producers, confirming our belief that current prices are probably unsustainable and likely to rise.
We believe emotion may have gripped the markets and driven prices lower, and the aforementioned factors may be having a larger impact on oil supply than the market suspects. So, we believe a recovery should be in the cards, and likely sooner rather than later.
When OPEC announced its policy—designed to protect market share—its members appeared confident they could afford several years of transition. They have financial buffers in place. These included low levels of debt—unique in the world today—with reserves in excess of 200% of gross domestic product (GDP) in some countries. In many cases, there's also substantial scope for subsidy reform and fiscal consolidation efforts.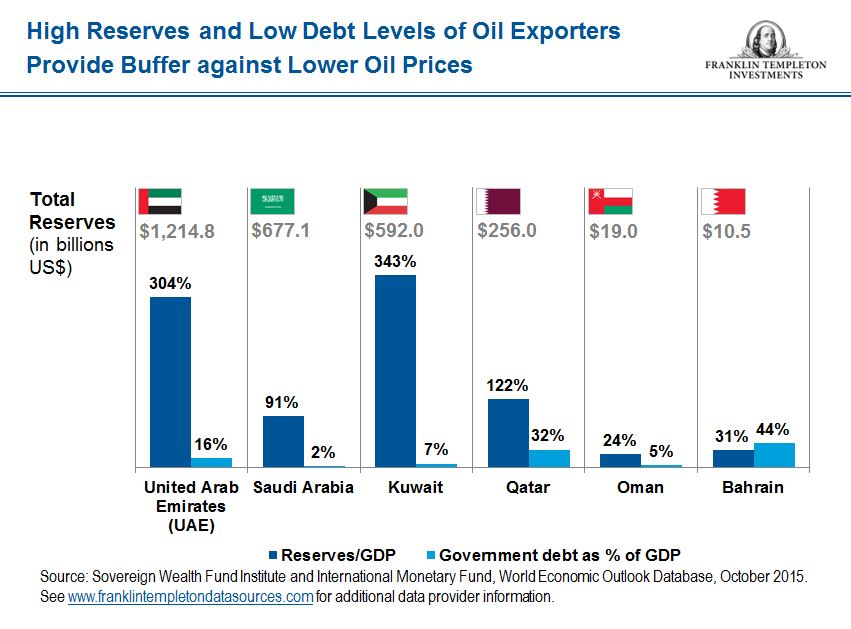 While policy initiatives had been frequently discussed, implementation was generally subdued or poor. However, there's arguably been more change in the past six months than in the past six years. As a consequence, we see significant financial market liberalisation and capital market growth among Gulf Cooperation Council (GCC) members.7 For example, following the opening of the Saudi equity market to foreign investors last year, there was fuel and subsidy reform, the introduction of new taxes (including a planned value-added tax in 2017) and, most importantly, continued spending on key infrastructure projects.
All of these things, we believe, put the region on a more sustainable footing and should keep the debt and credit metrics of regional sovereigns comfortably in the investment-grade category, with a fairly limited impact on growth.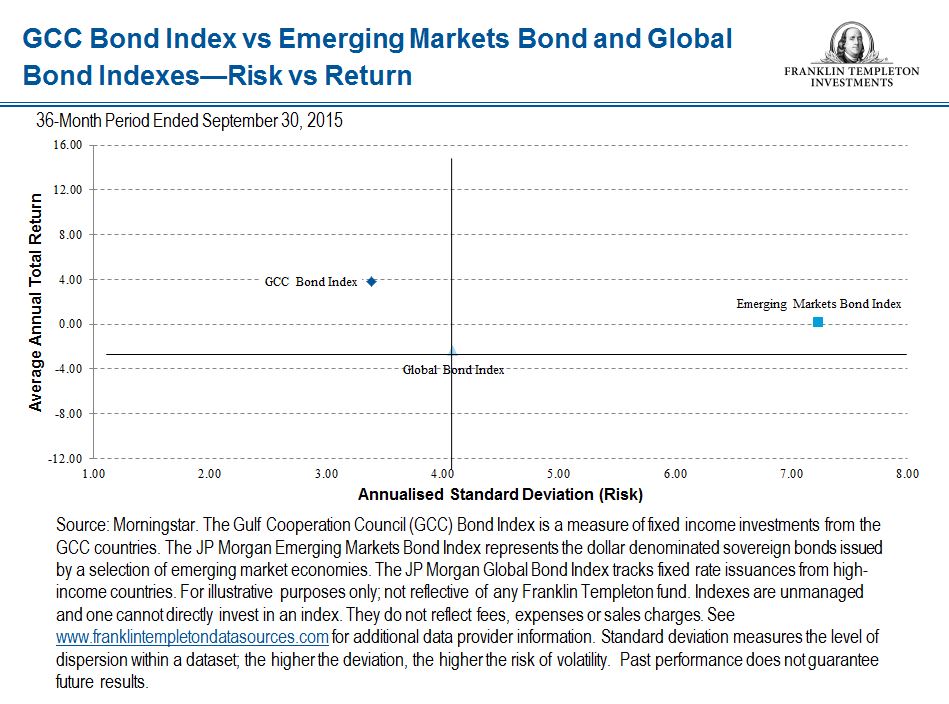 While past performance doesn't guarantee future results, if we look at the recent past, the dramatic 70% drop in oil prices didn't prevent GCC bonds from delivering a positive performance in 2015. The performance was entirely consistent with the region's history of producing competitive returns,8 generally with less volatility than emerging market debt and low correlations to major asset classes. (See chart above.) We think these attractive characteristics should persist because fundamentals remain strong, duration is limited and issuance is largely denominated in US dollars.
While regional creditworthiness may be on a declining trajectory, we feel the markets have far outpaced the fundamentals, and view current valuations as a genuine opportunity to accumulate credits that can see through the next few years of potentially lower oil prices. We view current pessimism as an opportunity to position our portfolios for the time being, and we believe more positive fundamentals will reassert themselves.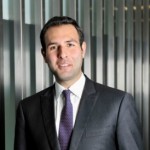 Bassel Khatoun
Chief Investment Officer, MENA Equities
Franklin Local Asset Management – MENA
As a major producer of oil whose members hold considerable sway within the OPEC, the GCC is no stranger to oil price volatility. The GCC has a history of dealing with this volatility conservatively, creating financial buffers in boom times to manage the sort of difficult oil price environments we find ourselves in today.
Our analysis suggests GCC regional economies have the resources to contend with lower oil prices for some time. Their vast resources, low debt levels and subsidy reform positions mean these economies compare pretty favourably with other commodity-exporting nations.
Despite lower oil prices, we believe the region's growth outlook has not been entirely compromised, in particular as it relates to non-oil sectors. Moreover, given substantially lower valuations, we feel MENA equities may present an attractive long-term investment opportunity.
We think it is a misconception that the MENA economy is entirely dependent on oil. In fact, the region comprises 11 diverse countries with differing economic drivers. While a wide-range of political, cultural and economic ties bind these countries, oil is a significant driver of GDP in only six countries in the region (all of them in the GCC). These GCC countries are home to 30% of the world's proven oil reserves9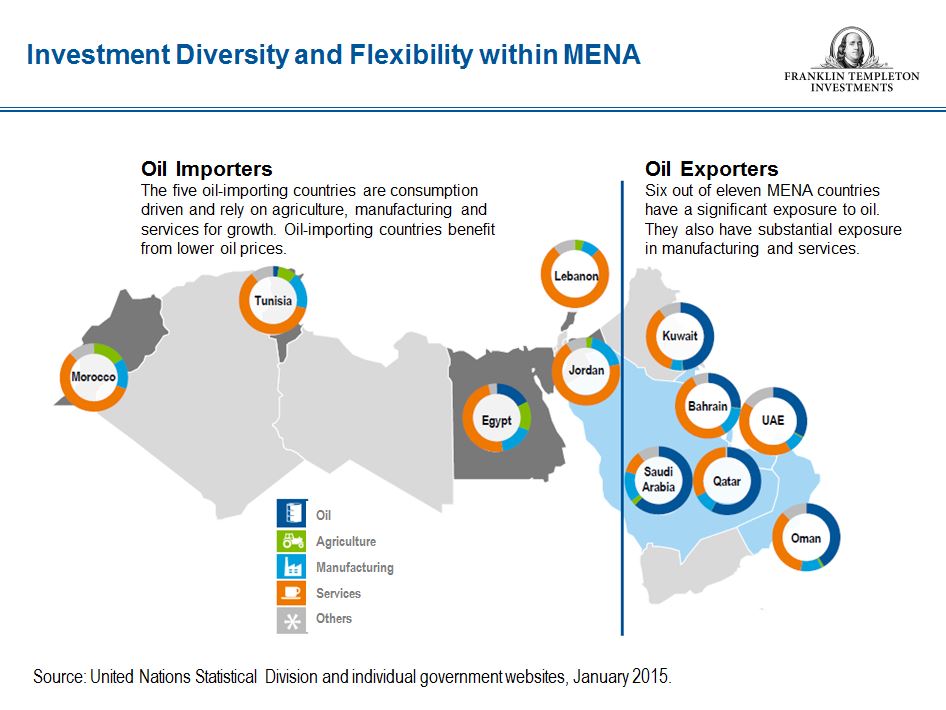 On the other hand, the other five countries of the MENA region are oil-importing countries. These economies are consumption-driven and rely on industry, agriculture and services for growth. They actually stand to potentially benefit from low oil prices. The diversity within the region gives us, as investors, extraordinary flexibility to shift our investments depending on the commodity cycle and our risk appetite.
Even the oil-exporting countries have made huge efforts to diversify their economies away from oil dependency. A closer look at the latest International Monetary Fund (IMF) projections for 2016 suggests real GDP (inflation-adjusted) growth of only 1.4% in the oil sector compared with 3.8% in the non-oil sector.10 As regional equity investors, we are finding the most interesting opportunities in the non-oil sector. Some of the key aspects of this non-oil growth include Qatar's massive infrastructure spending, the need for affordable housing in Saudi Arabia and the United Arab Emirates' (UAE's) continued growth as a tourist destination, trade hub and financial centre.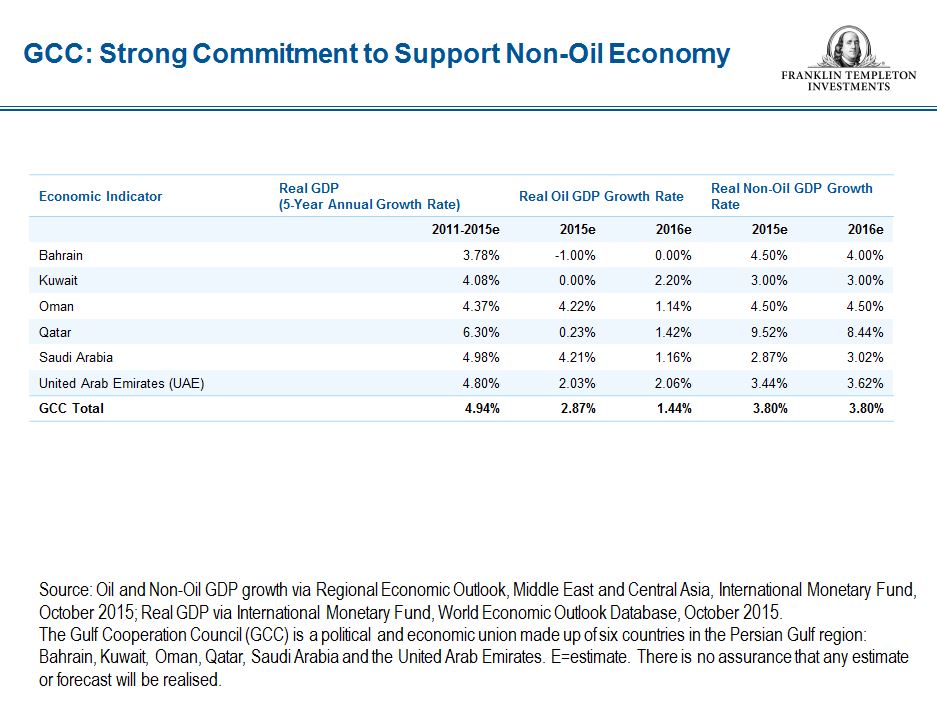 Looking at equity markets in the MENA region, the generally poor performance in 2015 was largely in line with other emerging markets. The intensified pullback in MENA equities in early 2016, however, has meant that valuations have come down quite substantially; many stocks now seem to be pricing in negligible growth, which we think is neither realistic nor likely. Importantly, energy-related stocks and sectors comprise less than 2% of the stock market11
Meanwhile, we think regional equity markets have already priced in a lot of negativity. At the end of 2015, a number of MENA stocks we track were trading at a substantial discount to historical valuation levels and below their emerging-market peers despite stronger fundamentals and higher dividend yields. Currencies in many MENA markets are also pegged to the US dollar, which stands in contrast to many other emerging markets whose currencies and markets could be negatively impacted by US dollar strength.
The comments, opinions and analyses presented herein are for informational purposes only and should not be considered individual investment advice or recommendations to invest in any security or to adopt any investment strategy. Because market and economic conditions are subject to rapid change, comments, opinions and analyses are rendered as of the date of the posting and may change without notice. The material is not intended as a complete analysis of every material fact regarding any country, region, market, industry, investment or strategy.
Data from third-party sources may have been used in the preparation of this material and Franklin Templeton Investments ("FTI") has not independently verified, validated or audited such data. FTI accepts no liability whatsoever for any loss arising from use of this information, and reliance upon the comments, opinions and analyses in the material is at the sole discretion of the user. Products, services and information may not be available in all jurisdictions and are offered by FTI affiliates and/or their distributors as local laws and regulations permit. Please consult your own professional adviser for further information on availability of products and services in your jurisdiction.
To get insights from Franklin Templeton delivered to your inbox, subscribe to the Beyond Bulls & Bears blog.
For timely investing tidbits, follow us on Twitter @FTI_Global  and on LinkedIn.
What Are the Risks?
All investments involve risks, including possible loss of principal. The value of investments can go down as well as up, and investors may not get back the full amount invested. Bond prices generally move in the opposite direction of interest rates. Thus, as the prices of bonds in an investment portfolio adjust to a rise in interest rates, the value of the portfolio may decline. Stock prices fluctuate, sometimes rapidly and dramatically, due to factors affecting individual companies, particular industries or sectors, or general market conditions. Special risks are associated with foreign investing, including currency fluctuations, economic instability and political developments. Investments in developing markets, of which frontier markets are a subset, involve heightened risks related to the same factors, in addition to those associated with their relatively small size, lesser liquidity and lack of established legal, political, business and social frameworks to support securities markets. Such investments could experience significant price volatility in any given year. Investments in the energy sector involve special risks, including increased susceptibility to adverse economic and regulatory developments affecting the sector.
__________________________________________________________________
1. Source: Bloomberg, "Oil Prices Could Jump 50% by the End of 2016," February 2, 2016.
2. The Organization of the Petroleum Exporting Countries (OPEC) includes 13 member countries: Algeria, Angola, Ecuador, Indonesia, Iran, Iraq, Kuwait, Libya, Nigeria, Qatar, Saudi Arabia, the United Arab Emirates and Venezuela.
3. Source: Bloomberg, General Administration of Customs; People's Republic of China.
4. Source: US Energy Information Administration, January 2016.
5. Source: US Energy Information Administration, January 2016.
6. Source: Moody's Investor Services, January 2016.
7. The Gulf Cooperation Council (GCC) is a political and economic union made up of six countries in the Persian Gulf region: Bahrain, Kuwait, Oman, Qatar, Saudi Arabia and the United Arab Emirates.
8. Source: Morningstar; GCC Bonds are represented by the Citigroup MENA Broad Bond GCC Issuers (USD) Index. Indexes are unmanaged and one cannot directly invest in an index.
9. Source: BP Statistical Review of World Energy, June 2013.
10. Source: Oil and Non-Oil GDP growth via Regional Economic Outlook, Middle East and Central Asia, International Monetary Fund, October 2015; Real GDP via International Monetary Fund, World Economic Outlook Database, October 2015. There is no assurance that any projection or forecast will be realised.
11. Source: Bloomberg, as at January 2016. Sector weights based on constituents of S&P Pan Arab Large Mid Cap KSA capped 30% Index. Indexes are unmanaged and one cannot directly invest in an index.