At its meeting earlier this month, the Reserve Bank of Australia (RBA) decided to keep its benchmark lending rate at an all-time low of 2% for the 10th consecutive time. As the year progresses, we believe the RBA could likely reach or break its record of 17 monthly meetings in a row without a rate change. (The record was set in 1995-1996, when the benchmark cash rate stood at 7.50%.) We believe the RBA doesn't feel the need to act on its easing bias because the Australian economy remains reasonably healthy, albeit at a pace of growth that is at the lower end of what policymakers would like to see.
That said, we acknowledge there are downside risks to the Australian economy that could eventually lead the central bank to lower interest rates—something the RBA has also opined. These threats include increasing spillover effects from a softer Chinese economy, and potentially weaker inflation and employment at home. At the moment, however, we consider these issues risks rather than expected outcomes.
The RBA may eventually decide to lower rates to tamp down the value of the Australian dollar. The RBA may feel an appreciating currency impedes the country's international competitiveness, particularly since Australia is in the process of transitioning from a commodity-dependent economy to one more reliant on the services sector, including tourism, education and financials. However, the RBA is currently unlikely to regard the recent rise in the dollar as inconsistent with its objectives.
Relatively High Yields
The health of Australia's domestic economy, along with RBA policy, has determined the direction of the country's government bond yields. By Australian standards, government bond yields are extremely low at the moment. Compare, for example, today's 2.41% yield on a 10-year government bond to a yield of more than 4% offered at the end of 2014.
The current 2.41% yield, however, looks quite attractive when stacked against many other developed countries' 10-year government bonds, as you can see in the chart below. Extremely accommodative monetary policy has driven 10-year yields down to 0.10% in the eurozone and -0.09% in Japan.1  And in the United States, where the US Federal Reserve is still abiding by what we feel to be excessively accommodative policy given the country's generally positive economic circumstances, the 10-year Treasury yield stands at 1.72%. Relatively higher yields have lured bond buyers to the Australian market, but we believe it's important to remember that the Australian dollar historically has been a fairly volatile currency, and global investors have understandably looked for a premium to compensate them for this risk. These forces have conspired to keep the Australian bond market at the higher end of valuations relative to what we think long-term value should be. If the global search for yield continues to lead investors to Australia, the country's bonds could remain somewhat expensive.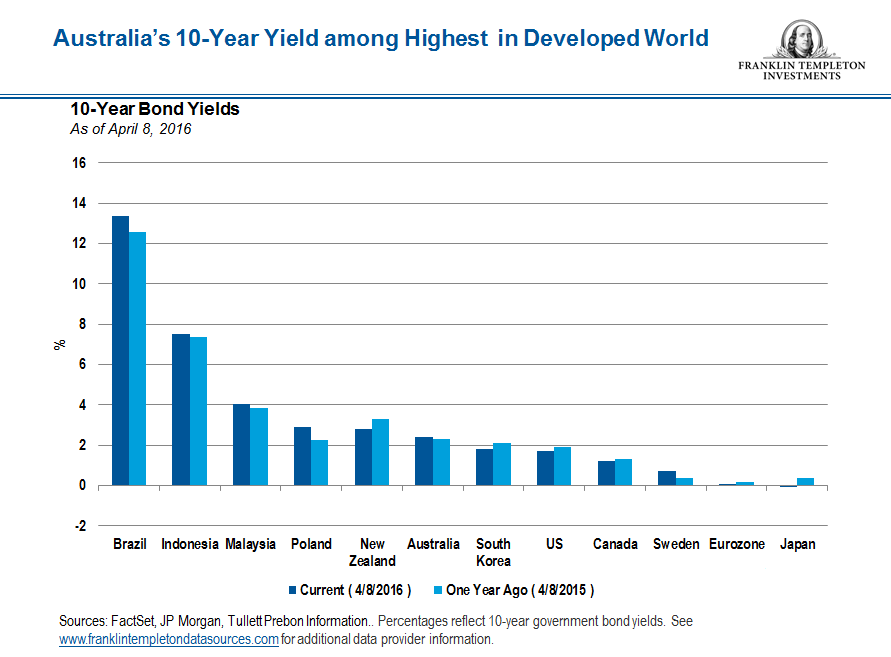 We believe global yields will likely move higher, and are not persuaded by arguments that yields will stay at these very low levels, or even lower, for any sustained period. We acknowledge that yields may not move as high as they may have in previous cycles, but we think global economic risks are more skewed towards a move higher than lower in the near term.
Seeking Value
Opportunities can still be found even in the current low-yield environment. We believe high-quality corporate bonds still offer good value, particularly in utilities, high-quality commercial real estate and some segments of the banking sector, which we consider to be strong defensive sectors that offer compelling yields.
We also are looking at the attractiveness of some government bond yields in a relative sense to other government bond yields. Rather than just buying government bonds as a long-only strategy, we are looking at the relative difference between markets. We believe this is still a compelling opportunity, particularly in an environment where there is global divergence in monetary policies.
In our view, strategies that track an index may face considerable challenges in the period ahead. With interest rates at very low levels, and with the sensitivity of interest rates—what we call duration2—being at near-record high levels, there are risks to those strategies. If we move to a period where interest rates are moving higher, passive investors and those bond funds taking a more benchmark aware investment approach could incur significant capital losses; however, there are different ways of investing in bonds. Taking an absolute return approach to investing means we favor being very highly selective in the choice of securities. We also believe managing interest-rate risk is important and we focus carefully on yield securities that we believe can offer appropriate potential returns for the risk incurred.
Hear more from Andrew Canobi about current Australian economic conditions in this brief video below:
The comments, opinions and analyses are the personal views expressed by the investment manager and are intended to be for informational purposes and general interest only and should not be construed as individual investment advice or a recommendation or solicitation to buy, sell or hold any security or to adopt any investment strategy. It does not constitute legal or tax advice. The information provided in this material is rendered as at publication date and may change without notice, and it is not intended as a complete analysis of every material fact regarding any country, region, market or investment.
Data from third-party sources may have been used in the preparation of this material and Franklin Templeton Investments ("FTI") has not independently verified, validated or audited such data. FTI accepts no liability whatsoever for any loss arising from use of this information, and reliance upon the comments, opinions and analyses in the material is at the sole discretion of the user. Products, services and information may not be available in all jurisdictions and are offered by FTI affiliates and/or their distributors as local laws and regulations permit. Please consult your own professional adviser for further information on availability of products and services in your jurisdiction.
Get more perspectives from Franklin Templeton Investments delivered to your inbox. Subscribe to the Beyond Bulls & Bears blog.
For timely investing tidbits, follow us on Twitter @FTI_Global and on LinkedIn.
CFA® and Chartered Financial Analyst® are trademarks owned by CFA Institute.
What Are the Risks?
All investments involve risk, including possible loss of principal. The value of investments can go down as well as up, and investors may not get back the full amount invested. Changes in interest rates will affect the value of a portfolio and its yield. Bond prices generally move in the opposite direction of interest rates. Thus, as the prices of bonds in a portfolio adjust to a rise in interest rates, the portfolio's yield may decline. Special risks are associated with foreign investing, including currency fluctuations, economic instability and political developments.
________________________________________
1. Sources: FactSet, JP Morgan, Tullett Prebon Information. See www.franklintempletondatasources.com for additional data provider information.
2. Duration represents a measure of the sensitivity of the price (the value of principal) of a fixed income investment to a change in interest rates. Duration is expressed as a number of years.