This post is also available in: Spanish Polish
Economic Review: Grappling with Recession
In our view, the sharp deterioration of the Brazilian economy is a result of a mix of unorthodox macroeconomic policies that have been in place since 2008 but intensified in 2011, the first year of President Dilma Rousseff's mandate. The policies included a strong increase in government spending and subsidized credit through public banks, a freeze on gasoline and electricity prices in order to curb inflation and large fiscal transfers that accentuated economic imbalances and led to a decline in Brazil's gross domestic product (GDP).
Since 2014, Brazil's economy has been experiencing a deep recession led by a decline in domestic demand; the labor market has deteriorated sharply and the gross debt has increased substantially. Despite weak economic activity, inflation has remained high due to a sharp exchange-rate devaluation, and an increase in regulated prices and price rigidity. The charts below illustrate this scenario.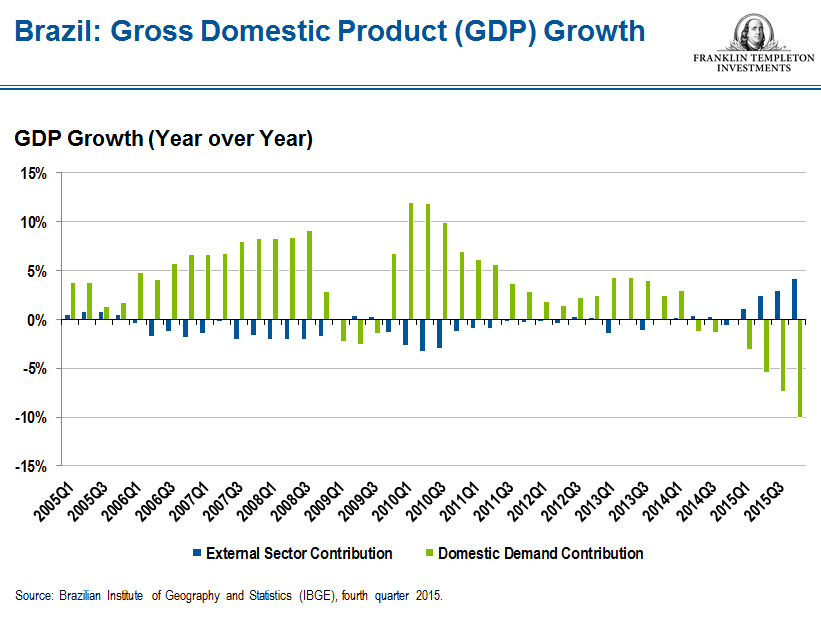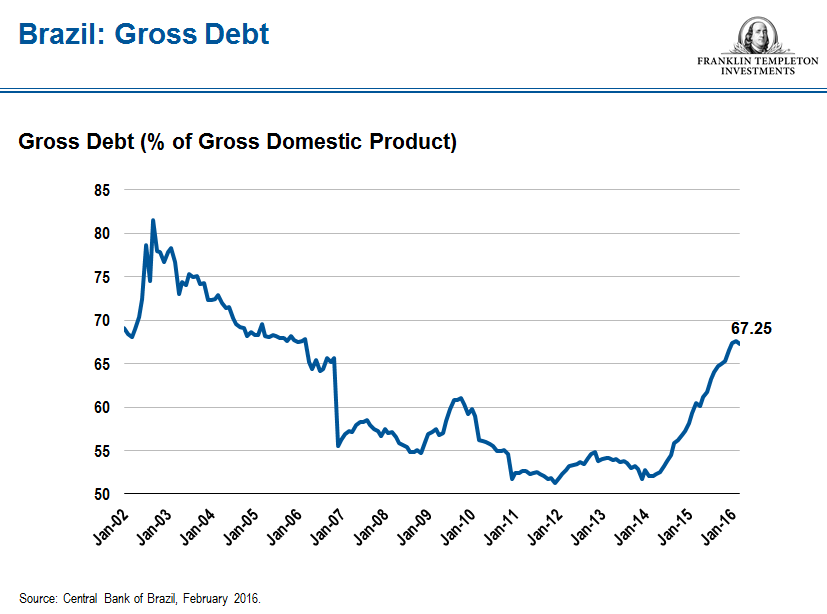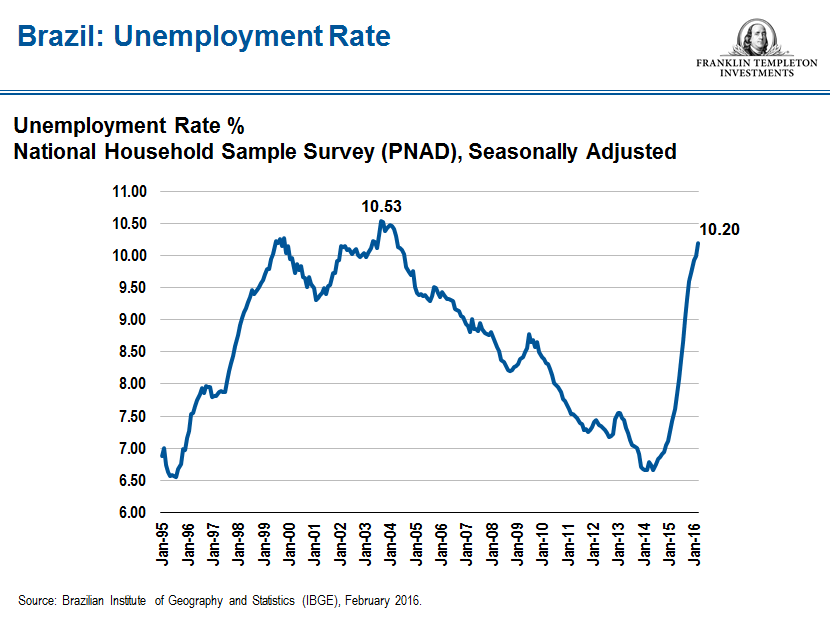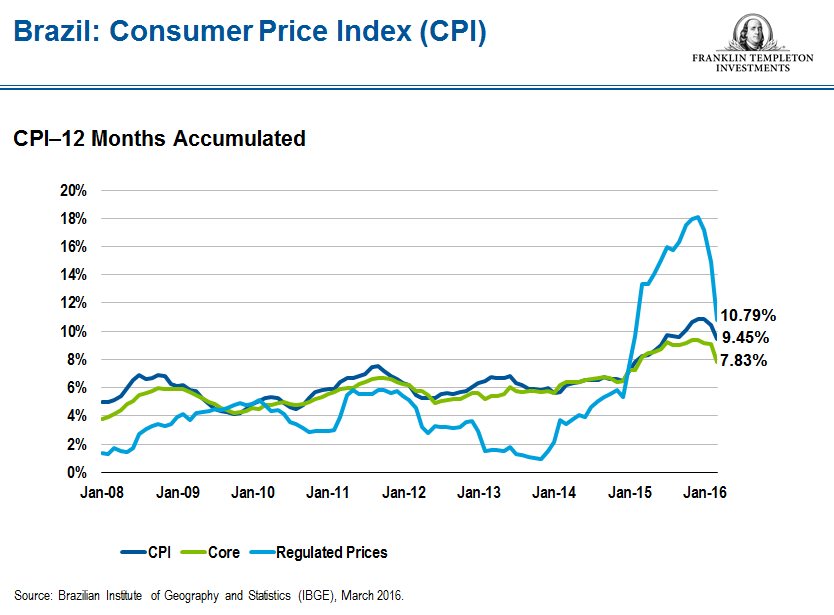 Political Unrest Picks Up
Brazil's economic situation has exacerbated political unrest, which culminated with the start of President Rousseff's impeachment process in April. Domestic asset prices reacted positively after the increased likelihood of the president being removed from power, with a reduction in risk aversion and exchange-rate appreciation.
The lower house of the National Congress of Brazil voted to advance the petition to impeach President Rousseff to the Senate, which is likely to be approved by the simple majority needed to continue the proceedings. This, in turn, would force President Rousseff to step down temporarily for up to 180 days, pending a trial in the Senate that would decide whether she should be permanently removed from office.
Challenges and Needed Reforms
At the time of this writing, there seems to be a high probability that Vice President Michel Temer will assume the presidency by mid-May. The markets are already focusing on his likely choices for a new cabinet (the press is already discussing several market-friendly names) and if he will build the needed political support to implement the necessary reforms, which have been generally well identified.
In our view, the first and most important challenge for a new administration in Brazil is related to fiscal policy. Our base-case scenario for the gross debt-to-GDP trajectory has continually worsened. In the absence of cyclical and structural fiscal changes and reform measures, we believe the level could likely remain above 85% over the next decade, or could even assume an explosive trajectory.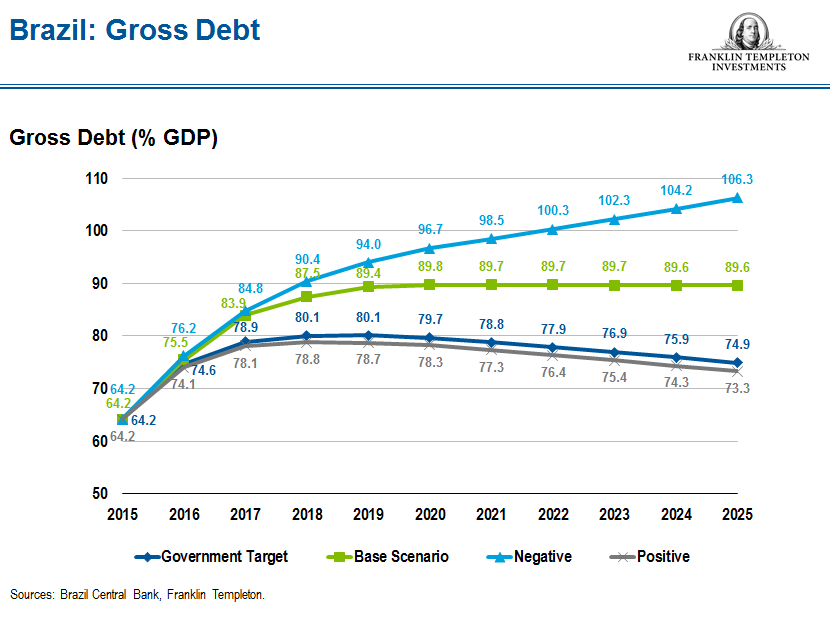 Given projections of an increasing deficit for the next few years, we think a comprehensive reform of Brazil's pension system is necessary. This reform won't be easy to approve because it's not popular; we believe the retirement age should be increased to 65 (today it's 52–54 years, on average) and there should be a decoupling of benefit readjustments from minimum wage increases. However, such reform would likely have a positive impact on investors' confidence as well as on asset prices.
In our view, it's also critical that additional fiscal measures, such as spending cuts and some tax increases, be implemented throughout this year. The fiscal consolidation would likely bring back confidence and the economy could start growing again in 2017–2018.
Furthermore, structural reforms would contribute to an improving scenario and bring even more optimism back to the economy. Central bank autonomy, reformulation of state-owned banks' policies, and labor and political reforms are among the main areas of discussion.
We see clear consensus among observers that reforms have to be done in Brazil, but there is only mild optimism about the political will to adopt even a very conservative reform effort. Thus, Brazil's "new government" coalition (assuming a presidential impeachment) will have the hard task of building the necessary political bridges and dialogue at a time of strong general distaste for the political class among the public. Assuming Vice President Temer takes over as president, his new administration will have to clearly communicate its strategy to gain the support of Brazil's people and get the Congress to approve the necessary reforms.
However, it is important to highlight that we believe Michel Temer is an extremely skilled politician and knows what has to be done in order to bring confidence back. He is a member of the largest party in Congress (PMDB) and can build the necessary political ties. Also, Brazilian institutions are working well and have been transparent, as we have seen at the "Car Wash Operation" investigations or at recent Supreme Court decisions. Strong and transparent institutions are necessary to implement reforms and make real changes. That's why we believe that while it won't be easy, there is a way forward for Brazil and great potential investment opportunities in the country.
The comments, opinions and analyses presented herein are for informational purposes only and should not be considered individual investment advice or recommendations to invest in any security or to adopt any investment strategy. Because market and economic conditions are subject to rapid change, comments, opinions and analyses are rendered as of the date of the posting and may change without notice. The material is not intended as a complete analysis of every material fact regarding any country, region, market, industry, investment or strategy.
Data from third-party sources may have been used in the preparation of this material and Franklin Templeton Investments ("FTI") has not independently verified, validated or audited such data. FTI accepts no liability whatsoever for any loss arising from use of this information, and reliance upon the comments, opinions and analyses in the material is at the sole discretion of the user. Products, services and information may not be available in all jurisdictions and are offered by FTI affiliates and/or their distributors as local laws and regulations permit. Please consult your own professional adviser for further information on availability of products and services in your jurisdiction.
To get insights from Franklin Templeton delivered to your inbox, subscribe to the Beyond Bulls & Bears blog.
For timely investing tidbits, follow us on Twitter @FTI_Global  and on LinkedIn.
What Are the Risks?
All investments involve risks, including possible loss of principal. The value of investments can go down as well as up, and investors may not get back the full amount invested. Changes in interest rates will affect the value of a portfolio and its yield. Bond prices generally move in the opposite direction of interest rates. Thus, as the prices of bonds in a portfolio adjust to a rise in interest rates, the portfolio's yield may decline. Special risks are associated with foreign investing, including currency fluctuations, economic instability and political developments. Investments in developing markets involve heightened risks related to the same factors, in addition to those associated with their relatively small size and lesser liquidity.