This post is also available in: Dutch French Italian German Polish
In the first of a regular series, "Thin Slicing the Markets," Matthias Hoppe, senior vice president and portfolio manager, Franklin Templeton Solutions, describes why investors might consider a defensive posture in their portfolios in light of what he sees as some problematic headwinds in the United States.
A Blessing Indeed? US$19 Trillion and Counting
Alexander Hamilton, were he alive today, would likely be dismayed at the enormous wall of debt his country has amassed in the years since his passing.
What began as a mere US$19,608.81 in 1789 (a loan in fact borrowed by Mr. Hamilton as first Secretary of the Treasury) is now a behemoth $19 trillion … that's $19,000,000,000,000, roughly $58,000 due from every man, woman and child in the United States today.
To better conceptualise the enormity of this liability, consider the following hypothetical: if one were to neatly stack $19 trillion in one-dollar bills, the pile would reach a height of 2,075,175 km—six times the distance between the earth and the moon.
Adding insult to presumed posthumous injury, economists often invoke Hamilton's name in defending this glut of liability (I guess selectively choosing to ignore the bit about "not excessive").
The ratio of nonfinancial debt in the United States (debt consisting of household, business, and federal and state government liabilities) to gross domestic product (GDP) rose to a record 248% in 2015, up from the previous record of 245% set in 2009. Total debt (including financial) increased by approximately $2 trillion last year, $1.4 trillion above the gain in nominal GDP.
Thus the ratio of total debt-to-GDP closed 2015 at 370%, well above the 250%–300% level typically defined by academics as the level at which debt no longer enhances productivity but instead impedes it.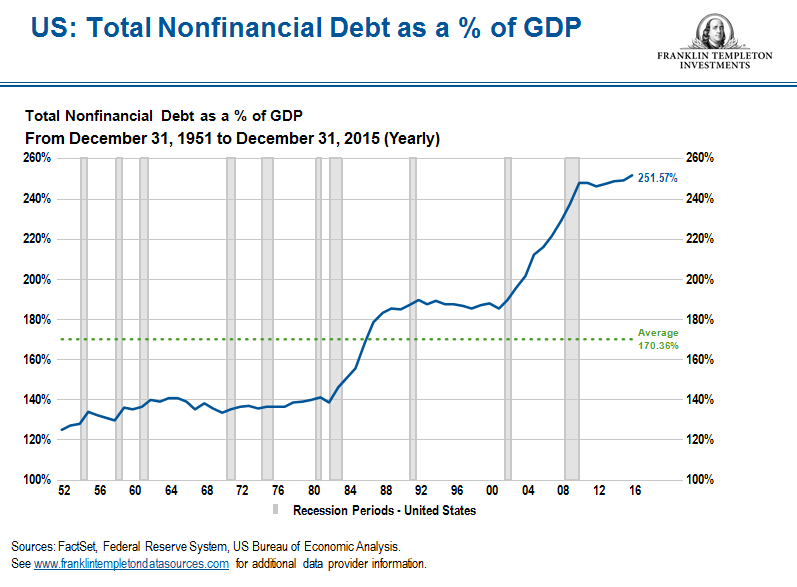 Additional food for thought; economist Van R. Hoisington recently wrote that in the 45 years leading up to 2000 it took roughly $1.70 of debt to generate $1.00 of GDP in the United States. Since then, however, it has taken on average $3.30 of debt to generate the same $1.00 of GDP. The increase suggests that while Americans (and American corporations) continue to lever everything but their kitchen sinks on their collective balance sheets, the return for each dollar borrowed is rapidly diminishing.
Clearly this massive burden—a liability facing both the United States and developed markets globally—is a problem. In addition to impacting GDP, debt significantly affects corporate fundamentals. I expect this headwind to persist.
Remember that all debt implicitly represents a shift from future spending to present spending. So what does this say for future spending?
The bottom line is that my analysis—and my instincts—tell me things are not terrific from a US growth standpoint. Given this debt/earnings headwind, in addition to other less-than-encouraging factors, I think investor portfolios should be positioned accordingly.
Our strategy on the equity side has been largely defensive, employing tactics we believe should bolster total return if markets flounder, but maintaining beta1 exposure should markets rally. We are not suggesting investors abandon ship on US, Japanese and European equity exposure; but mustering the lifeboats and furling the mainsails is probably a prudent choice.
The comments, opinions and analyses presented herein are for informational purposes only and should not be considered individual investment advice or recommendations to invest in any security or to adopt any investment strategy. Because market and economic conditions are subject to rapid change, comments, opinions and analyses are rendered as of the date of the posting and may change without notice. The material is not intended as a complete analysis of every material fact regarding any country, region, market, industry, investment or strategy.
Data from third-party sources may have been used in the preparation of this material and Franklin Templeton Investments ("FTI") has not independently verified, validated or audited such data. FTI accepts no liability whatsoever for any loss arising from use of this information, and reliance upon the comments, opinions and analyses in the material is at the sole discretion of the user. Products, services and information may not be available in all jurisdictions and are offered by FTI affiliates and/or their distributors as local laws and regulations permit. Please consult your own professional adviser for further information on availability of products and services in your jurisdiction.
To get insights from Franklin Templeton delivered to your inbox, subscribe to the Beyond Bulls & Bears blog.
For timely investing tidbits, follow us on Twitter @FTI_Global  and on LinkedIn.
What Are the Risks?
All investments involve risks, including possible loss of principal. The value of investments can go down as well as up, and investors may not get back the full amount invested. Stock prices fluctuate, sometimes rapidly and dramatically, due to factors affecting individual companies, particular industries or sectors, or general market conditions.
___________________________________________________________
1. Beta refers to a measure of the magnitude of a portfolio's past share-price fluctuations in relation to the ups and downs of the overall market (or appropriate market index). The market (or index) is assigned a beta of 1.00, so a portfolio with a beta of 1.20 would have seen its share price rise or fall by 12% when the overall market rose or fell by 10%.