This post is also available in: Chinese (Simplified) French Italian German Spanish Polish
After discussing what he described as an "enormous wall" of US debt in a previous issue of 'Thin Slicing* the Markets,' Matthias Hoppe, senior vice president and portfolio manager, Franklin Templeton Solutions, now examines what he considers the lack of progress the rest of the world has made in deleveraging after the Global Financial Crisis.
We hear all the time that countries have been focused on shedding their debt. But, in reality, where is the deleveraging? Perhaps we could argue that Ireland has delevered, and I guess Greece has also, but it appears the majority of countries have not really deflated their debt bubbles at all since the Global Financial Crisis of 2008-2009—indeed many have, in fact, added to their burden. I mentioned this several months ago in relation to the US debt overhang, but think it's worth taking a look at where things stand globally as well.
If we consider non-financial debt to gross domestic product (GDP) on a global basis, we can see that 2008 started at a little over 200%, and today that figure has risen to roughly 230%. So from a global perspective, there's been no deleveraging at all. On the contrary, most countries have increased the burden.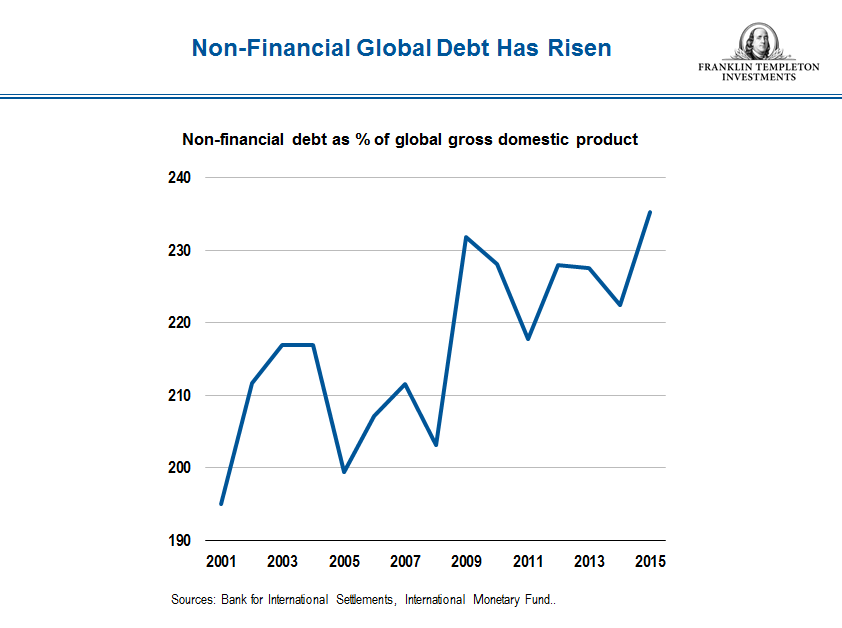 Of course, there have been some haircuts and the absolute growth in the stock of debt has decelerated. But we need to remember that we are talking about debt-to-income ratios. So it is not just the outstanding debt but the denominator, or global income, which is also significant. Given that global growth (i.e., global GDP growth) has materially slowed, the debt-to-GDP ratio continues to rise. It should be clarified that this increase has largely been driven by governments and their easing initiatives following the Global Financial Crisis of 2008-2009, whereas private sector debt-to-GDP ratios have remained generally static.
While private households have generally delevered, overall debt levels remain stubbornly high and, in my view, are acting as dead weight on economic activity. Fortunately, debt-servicing costs have at the same time remained historically low (thanks to the central bankers of the world). But this cannot be sustained forever, can it?
Another important piece of this debt discussion is, of course, China. It could be argued that a significant player in helping the world muddle through the Great Recession post-2008—beyond the TARPs and the QEs1—was China and its massive credit stimulus. From 2008 through 2014, the debt-to-GDP ratio in China increased by almost 90%.
Today, China's total debt-to-GDP ratio is essentially where Greece was three years ago. Roughly 80% of this is from the corporate sector; however, many corporations in China are state-sponsored enterprises, so much of this leverage could be considered government debt as well.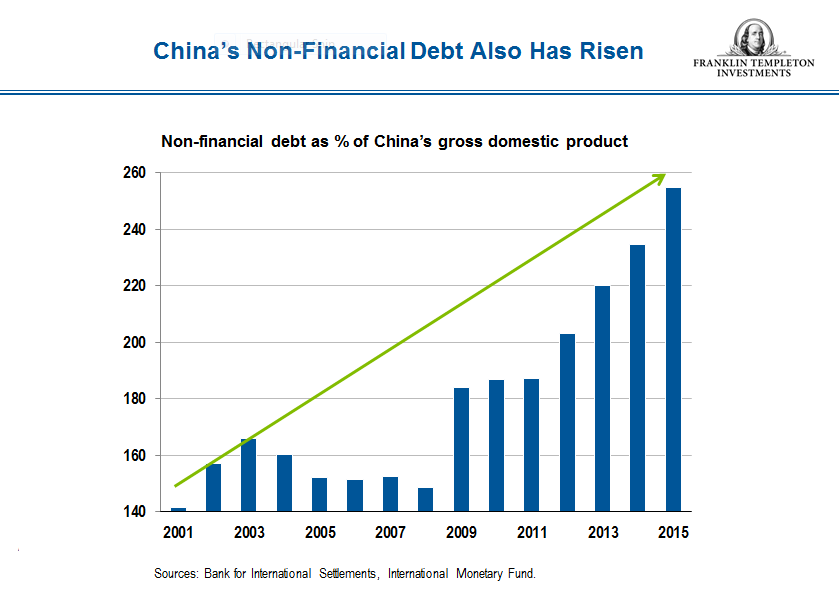 So what does this really mean for China? For perspective, the high debt ratio is, among other things, a consequence of the high savings rate coupled with financial intermediation by Chinese banks. Chinese households are generally net savers; in fact, household debt in China is lower than in most Asian countries. Thailand, for example, has household debt-to-GDP that is about twice that of China.2
On the other hand, China's corporate sector is a net borrower. So what we see are household savings being transferred to corporate balance sheets as loans. This should presumably be a good thing, as one person's savings are another person's debt. This mechanism is expected to accelerate the pace of economic development by funneling resources to the most profitable investments. Unfortunately, China today has reached a point where increased debt is not efficiently being translated into the same growth rates it had experienced in the past. From 2004–2007, one renminbi of additional debt generated one renminbi in incremental GDP.3 Today, China needs about three renminbi of incremental debt to generate one renminbi of incremental GDP.4 As I see it, this seems to be the real problem.
The comments, opinions and analyses are the personal views expressed by the investment manager and are intended to be for informational purposes and general interest only and should not be construed as individual investment advice or a recommendation or solicitation to buy, sell or hold any security or to adopt any investment strategy. It does not constitute legal or tax advice. The information provided in this material is rendered as at publication date and may change without notice, and it is not intended as a complete analysis of every material fact regarding any country, region market or investment.
Data from third-party sources may have been used in the preparation of this material and Franklin Templeton Investments ("FTI") has not independently verified, validated or audited such data. FTI accepts no liability whatsoever for any loss arising from use of this information and reliance upon the comments, opinions and analyses in the material is at the sole discretion of the user. Products, services and information may not be available in all jurisdictions and are offered by FTI affiliates and/or their distributors as local laws and regulations permit. Please consult your own professional adviser for further information on availability of products and services in your jurisdiction.
Get more perspectives from Franklin Templeton Investments delivered to your inbox. Subscribe to the Beyond Bulls & Bears blog.
For timely investing tidbits, follow us on Twitter @FTI_Global and on LinkedIn.
What Are the Risks?
All investments involve risks, including possible loss of principal. The value of investments can go down as well as up, and investors may not get back the full amount invested. Investments in foreign securities involve special risks including currency fluctuations, economic instability and political developments. Investments in emerging markets, of which frontier markets are a subset, involve heightened risks related to the same factors, in addition to those associated with these markets' smaller size, lesser liquidity and lack of established legal, political, business and social frameworks to support securities markets.
______________________________________________
1. TARP refers to the US government's Troubled Asset Relief Program, signed into law by President George Bush in 2008, which was enacted to help stabilize the US financial system, restart economic growth, and prevent avoidable foreclosures. QE, short for "quantitative easing," refers to monetary policy in which a central bank seeks to lower interest rates and increase the money supply by purchasing government securities or other securities from the market.
2. Source: Bank for International Settlements, accessed through Thomson Reuters Datastream. Data is through December 31, 2015.
3. Source: HSBC, from report dated April 21, 2016.