It had been a tumultuous year for small- and mid-capitalisation (small- and mid-cap) stocks even before the United Kingdom's vote in June to leave the European Union (EU). Volatility, reflected in investors' preference for larger, more traditional defensive assets, intensified after the Brexit vote, but we think the sell-off has contributed to a valuation gap that could present opportunities in the small-cap space.
Understandably, companies across the capitalisation spectrum have taken their time to evaluate the likely implications of the Brexit vote. Most remain in cautionary mode, but in general, for the majority of companies at the small-cap end, we believe it's been business as usual. It's likely that a long and bumpy road lies ahead until the culmination of Brexit, but I'm not getting the impression from the management of companies I encounter that they are putting spending or hiring plans on hold just yet.
While we remain wary of complacency, the resilience shown by small-cap stock market performance in July and August has been impressive. In general, I think it's important not to underestimate the entrepreneurial flair of small-cap business managers.
Many of the executives and finance directors of these companies have steered their businesses through periods of market volatility in the past, such as the global financial crisis of 2008-2009. They can be a resilient breed, and many have proved themselves capable of acting quickly and decisively when they think necessary.
Within the small-cap universe, we continue to find opportunities across a number of sectors and can see good value, especially towards the smaller end of the market cap spectrum. We've already seen stocks in some sectors hit hard in the aftermath of the Brexit vote rebound somewhat from their nadir, including those in the areas of industrial, manufacturing and technology that, in our view, shouldn't be directly impacted by the decision.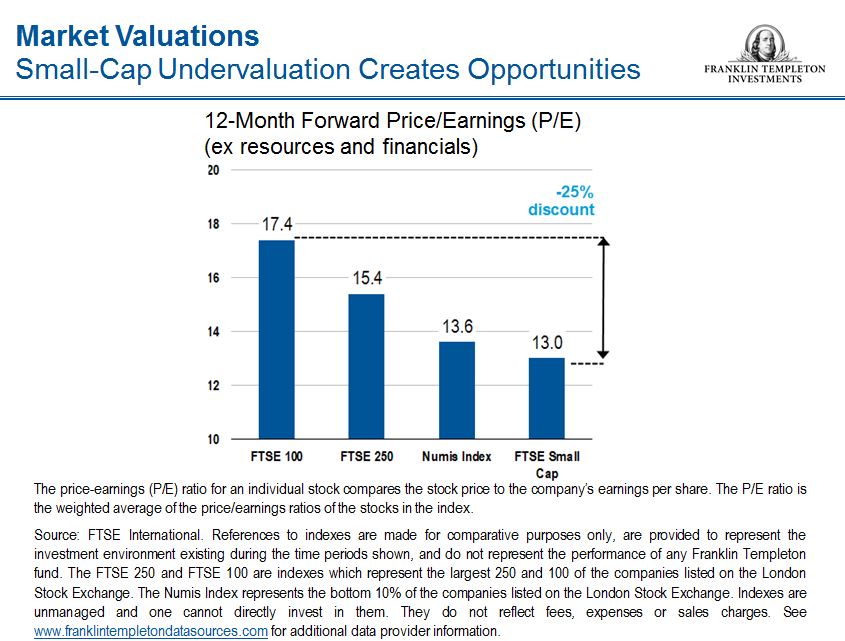 In our view, valuations remain the biggest positive for small caps. We've seen a year of small-cap underperformance that has been characterised by an upward rerating of the biggest companies within the UK market.
So we're now in a position where we believe small-cap stocks offer pretty good value relative to the wider market. It's fair to say there remain question marks over the direction of earnings for those companies with more of a domestic exposure at the moment—earnings downgrades have increased across the market in a number of sectors since economic growth forecasts have been reduced, and we wouldn't be surprised to see a more uncertainty emerge for many companies in the short-term—but we think the longer-term picture is much rosier.
By my calculations, the valuation gap is the widest I've seen since the early 2000s. We don't expect that to change overnight, but as people become more comfortable with the economic and political situation and as the vision for a post-Brexit United Kingdom becomes clearer, we think confidence should return.
One development that could potentially act as a catalyst to the upward rerating of UK small-cap pricing is an uptick in merger-and-acquisition (M&A) activity. The small-cap arena is traditionally a rich hunting ground for those pursuing M&A, and I'm a bit surprised we've not seen more activity recently.
Given the current low cost of debt financing and a subdued growth environment, I think market conditions would now seem conducive to a pick-up in M&A interest. The missing ingredient is confidence, but we're already starting to see evidence of more activity in the pipeline. Given the relative currency strengths, I'd expect heightened interest from potential buyers in the United States and Japan.
We're also starting to hear anecdotal evidence of pent-up demand from companies looking to list on the London Stock Exchange. August is generally a quiet month for that sort of activity, but we're getting the sense that corporate brokers are getting busier, and we wouldn't be surprised to see the initial public offering market spring back into life in the remaining months of the year, which could present some interesting new investment opportunities.
The comments, opinions and analyses are for informational purposes only and should not be considered individual investment advice or recommendations to invest in any security or to adopt any investment strategy. Because market and economic conditions are subject to rapid change, comments, opinions and analyses are rendered as of the date of the posting and may change without notice. The material is not intended as a complete analysis of every material fact regarding any country, region, market, industry, investment or strategy.
Get more perspectives from Franklin Templeton Investments delivered to your inbox. Subscribe to the Beyond Bulls & Bears blog.
For timely investing tidbits, follow us on Twitter @FTI_Global and on LinkedIn.
What Are the Risks?
All investments involve risk, including possible loss of principal. The value of investments can go down as well as up, and investors may not get back the full amount invested. Stock prices fluctuate, sometimes rapidly and dramatically, due to factors affecting individual companies, particular industries or sectors, or general market conditions. Special risks are associated with foreign investing, including currency fluctuations, economic instability and political developments. Smaller and newer companies can be particularly sensitive to changing economic conditions. Their growth prospects are less certain than those of larger, more established companies, and they can be volatile.