This post is also available in: Chinese (Simplified) Dutch French German Spanish Polish
Many observers may have attributed the volatility experienced in emerging markets immediately after the US presidential election to Donald Trump's unexpected victory. In India, we take a different view. We believe that even if Trump were to enact some of his more protectionist policies, it would likely have little effect on India, which is not a major exporter of manufactured products to the United States. On the other hand, the election coincided with a decision by Indian Prime Minister Narendra Modi to demonetise all 500 and 1000 denomination banknotes, which has contributed to the sell-off. In our view, while this decision may lead to poor quarterly corporate performance in the short term, Modi's bold and revolutionary move will likely have a lasting effect on the Indian economy; we expect a reduction in tax evasion and the circulation of black money—that has not been declared for tax purposes—is likely boost economic efficiency and gross domestic product (GDP) growth. The move, theoretically, could even strengthen the case for investing in long-term debt.
India, by some measures, is the largest and most diverse equity market in the world. Despite global headwinds and geopolitical tension continuing to impact emerging markets, we believe India has certain characteristics that make it stand out from other emerging markets. The Indian economy has come to a turning point—a growing middle class, structural changes and a projected GDP growth rate of 7.4% for 2017 have helped the country withstand external shocks.1
In the past, we believed an inefficient tax structure, regulations and inadequate infrastructures held back India's economy. More recently, structural reforms such as the Goods and Services Tax Bill (GST) have cleared a number of bottlenecks in the economy and should be key to supporting India's productivity, in our view. The comprehensive GST bill overhauls the existing indirect tax system and levies tax at every stage when a good or a service is bought, removing the need for manufacturers and traders to include taxes as a part of their cost of production. As a result, we expect a higher rate of output and employment from the implementation of the GST. Additionally, the tax overhaul in India should, in our view, improve corporate profitability and help promote foreign direct investment, which in turn may spur more job creation. While this is a step in the right direction, we think India has much more to offer.
India is home to 5,835 listed companies, ahead of the United States, Japan, China and Australia individually.2 China, typically used as a point of comparison due its similar path of GDP growth, has just 2,827 domestically listed companies.3 More importantly, the Indian equity market may offer investors some opportunities not generally available in other emerging markets.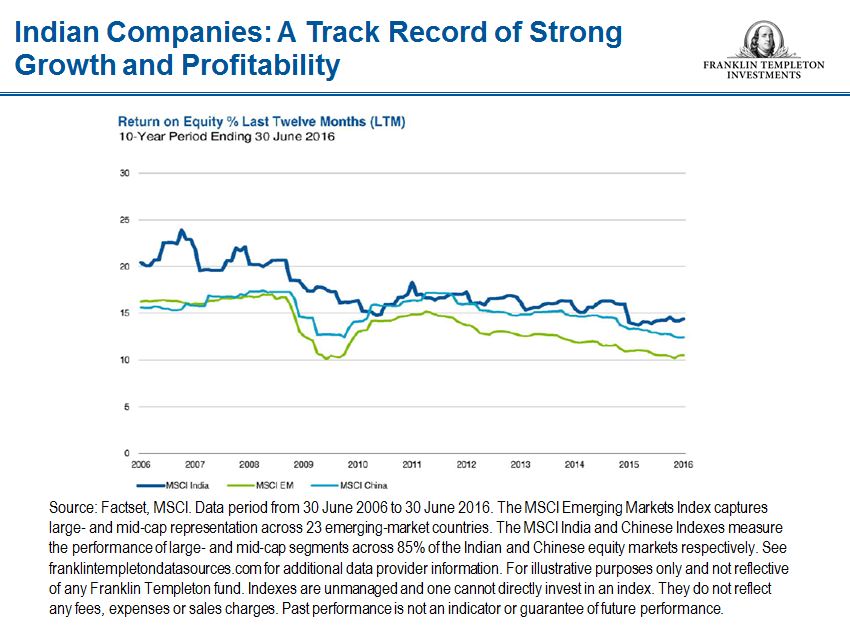 Some emerging markets can be overly focused on specific sectors, for example, technology in Taiwan and South Korea or energy in Saudi Arabia. The sheer number of companies available for investment in India presents investors with a potentially deeper pool of investment opportunities across all the sectors. I have found that Indian companies tend to follow long-term trends rather than cyclical ones. In many cases, this has provided an additional way of combating global headwinds, which today include the effects of the Brexit referendum vote—the United Kingdom's withdrawal from the European Union—the US election and ongoing tensions in the Middle East.
Technology has opened doors for the financial sector in India. After all major banks were nationalised in 1969, government-owned lenders dominated the banking sector. The government embarked on a liberalisation movement in the 1990s and licensed a small number of private banks. Since the liberalisation, privately owned banks have emerged and grown faster than public-sector banks amid research and development efforts in technology, services, products and branch networks—and we believe these privately owned banks could increase significantly in size over the next 10 years. It's not all about the financial sector, however. The number of companies within the pharmaceutical, manufacturing, construction and automobile sectors has also increased as a result of India's growing middle class.
The past few decades have brought about a shift in the types of jobs available in India—from low-paying agricultural jobs to higher-paying manufacturing and service jobs. Given the increase in disposable income, we believe consumer demand will drive company earnings growth as well as the Indian economy. The breadth of opportunity presented by India's equity market gives this emerging-market economy the chance to write another chapter, and this time, we think it won't just be about growth.
The comments, opinions and analyses are the personal views expressed by the investment manager and are intended to be for informational purposes and general interest only and should not be construed as individual investment advice or a recommendation or solicitation to buy, sell or hold any security or to adopt any investment strategy. It does not constitute legal or tax advice. The information provided in this material is rendered as at publication date and may change without notice, and it is not intended as a complete analysis of every material fact regarding any country, region market or investment.
Data from third-party sources may have been used in the preparation of this material and Franklin Templeton Investments ("FTI") has not independently verified, validated or audited such data. FTI accepts no liability whatsoever for any loss arising from use of this information, and reliance upon the comments, opinions and analyses in the material is at the sole discretion of the user. Products, services and information may not be available in all jurisdictions and are offered by FTI affiliates and/or their distributors as local laws and regulations permit. Please consult your own professional adviser for further information on availability of products and services in your jurisdiction.
Get more perspectives from Franklin Templeton Investments delivered to your inbox. Subscribe to the Beyond Bulls & Bears blog.
For timely investing tidbits, follow us on Twitter @FTI_Global and on LinkedIn.
What Are the Risks?
All investments involve risks, including possible loss of principal. Stock prices fluctuate, sometimes rapidly and dramatically, due to factors affecting individual companies, particular industries or sectors, or general market conditions. Special risks are associated with foreign investing, including currency fluctuations, economic instability and political developments. Investments in emerging markets involve heightened risks related to the same factors, in addition to those associated with these markets' smaller size, lesser liquidity and lack of established legal, political, business and social frameworks to support securities markets.
_____________________________________________
1. Source: International Monetary Fund, World Economic Outlook, July 2016. There is no assurance that any estimate or forecast will be realised.
2. Source: World Bank, 2015. World Federation of Exchanges Database.
3. Ibid.