At times, financial markets have the ability to cast aside fundamentals and valuation, allowing sentiment to drive prices. Indeed, during the last few months of 2016, the euphoria in markets was reflective of a period of heightened positive sentiment. While this appears to have been driven primarily by Donald Trump's victory in the US presidential election, the impact has been felt globally and is a reminder of why we focus on the Australian economy and local markets through a global lens.
Global markets have latched onto the idea that President-elect Trump could implement stimulatory policies such as tax reform, new trade agreements and infrastructure spending. These expectations come with considerable uncertainty in terms of which policies will be approved and implemented, as well as their size and timing.
As 2017 begins, we believe it is important to remember that the great optimism for this year and beyond has already been brought forward into current market prices. The stage could be set for disappointment, in our view, once it becomes apparent these high expectations likely will not be met.
In Australia, despite gross domestic product (GDP) data showing the country's economy struggling with a negative growth rate in 2016's third quarter—and annual growth in 2016 of only 1.8%—10-year government bond yields have spiked by over 100 basis points from September lows and now sit at around 2.77%.1 The dominant driver of this rapid repricing of the Australian bond market has been expectations of US reflation.
While there can be some volatility in Australian economic data, we are surprised by how dismissive the domestic market has been recently, essentially disavowing the most recent growth data. Weather-related distortions which dragged down growth in the third quarter will likely reverse, but we see clear weakness across some of the most important sectors in the economy. This is also evident in other economic data we monitor such as building approvals and retail sales. Australia has enjoyed both a commodities/mining boom and a real estate/construction boom in the last 10 years. Both of these appear to have peaked and will likely no longer drive the exceptional growth in living standards that people have come to assume are normal. With debt levels high after these booms, we believe the Australian economy is more vulnerable to shocks than ever before.
Looking ahead, the primary areas of concern we have for the underlying Australian economy centre around subdued domestic demand, a labour market with material excess slack, elevated household debt levels and, hence, a lack of any real inflation pressures.
Excess Slack in the Labour Market
In our view, the real softness in Australia's domestic demand may be explained by a labour market that continues to exhibit significant amounts of excess slack. As at November, the unemployment rate in Australia was 5.7%2 versus the low-5% region, which is considered full employment. We consider not only the headline unemployment rate but also broader measures of labour market health such as underemployment, which has remained near its weakest levels for some time.
The overall rate of employment growth in Australia has been declining steadily through 2016 to the current low annual rate of 0.7%.3 This rate of job growth is well below our estimates of the growth rate required to keep the level of unemployment from rising and, hence, we expect to see further upward pressure on labour market slack.
Record-Low Wage Growth
The weak labour market has translated to weak income growth for households, which ultimately restrains consumption. According to the Australian Bureau of Statistics, wage growth is at record low levels in Australia. This trend is likely to have negative consequences for household consumption growth but to date its effects have been dampened by Australian consumers opting to run down their savings and increase debt levels instead of decreasing their spending.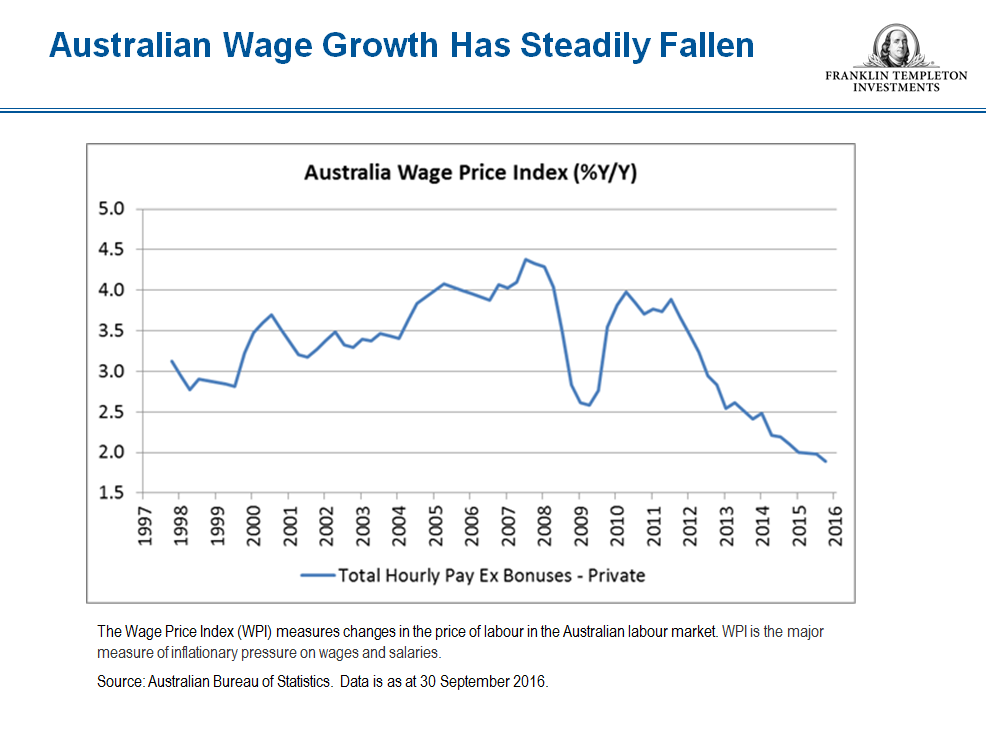 … Along with Record-High Household Debt Levels
Australians enjoy competing on the global stage, but in our view the country's record level of household debt is not an achievement worthy of celebration. According to the Bank for International Settlements (BIS), Australia's household debt level as a percentage of GDP has increased over the past 25 years to above 120%, well above a group of advanced economies at around 76%.4 In fact, only three countries out of those the BIS considers advanced are above the 100% level.
A pivotal driver of rising debt levels has been surging real estate prices, a phenomenon that we believe cannot be sustained. As Australians have borrowed more to invest in relatively unproductive assets, the country's debt levels have surged well ahead of GDP.
So long as mortgage rates remain low, debt servicing appears to be manageable for Australian households. However, the major banks in Australia have come across some tighter funding conditions in recent months as increasing competition for quality funding sources and the cost of meeting regulatory requirements have led to rising funding costs. The banks' reaction? They have immediately dropped their payout rate on term deposits and passed through their higher costs to residential mortgage holders through an "unofficial" round of rate increases. We will be following this development going forward.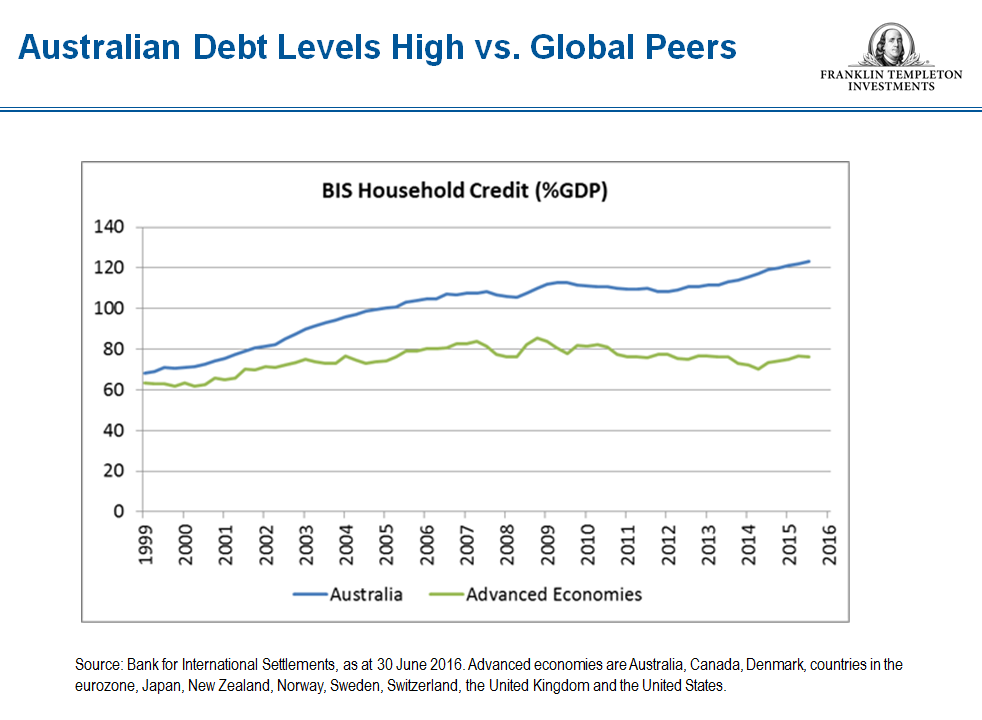 No Real Inflation Pressure
While Australians may wish for a pay rise to help maintain their debt service burden, the spare capacity evident in the labour market will likely keep any wage growth mild, in our view. This should see rates of core inflation remain relatively low for some time.
More broadly than wages, inflation is expected to remain manageable for the foreseeable future. The Reserve Bank of Australia highlights that the entry of overseas discount retailers has driven competitive price pressures. This competition has helped to offset the effect of the higher cost of imported goods owing to the significant depreciation of the exchange rate since 2013. These competitive pressures are expected to grow after recent announcements from new offshore entrants, including an American e-commerce giant and a German global discount supermarket chain.
A drop in rental prices or a deceleration in rental prices has been a driver of recent disinflation. Initially the primary driver of lower rent growth was the weak economic activity in Perth. More recently rent growth has run head-on into a wall of new housing supply, particularly apartments. The rapid growth in the supply of houses over the coming years is expected to extend the period of rent disinflation.
Fuel prices have increased as global oil prices have moved higher. However, if the price increase is sustained it will add to headline inflation, but the effects will likely not be severe enough to counteract the factors discussed previously, and we believe the underlying inflation rate should remain moderate. More broadly, the structural drivers of gargantuan debt levels, ageing demographics and global overcapacity add further headwinds against rising inflation.
Higher Yields Present Opportunity for Investors in 2017
Since the fundamental determinants of bond yields—economic activity and inflation—are expected to be muted this year, the recent rise in Australian government bond yields presents an opportunity for investors, especially in the short end of the bond curve, which is typically more closely linked to underlying economic fundamentals and central bank monetary policy.
Indeed, given the recent move higher in term bond yields away from a potentially stable (or possibly lower) Australian cash rate, we favour an absolute return-focused fixed income strategy over term deposits.
Additionally, investment-grade corporate bonds offer a healthy pick-up in yield over government bond alternatives as financial market conditions remain favourable, which typically helps to keep overall default rates relatively low. Our security watch-list of preferred new candidates for our portfolio remains active, and we anticipate judiciously adding quality new issuers to the portfolio at the right price in 2017.
The comments, opinions and analyses are the personal views expressed by the investment managers and are intended to be for informational purposes and general interest only and should not be construed as individual investment advice or a recommendation or solicitation to buy, sell or hold any security or to adopt any investment strategy. It does not constitute legal or tax advice. The information provided in this material is rendered as at publication date and may change without notice, and it is not intended as a complete analysis of every material fact regarding any country, region, market or investment.
Data from third-party sources may have been used in the preparation of this material and Franklin Templeton Investments ("FTI") has not independently verified, validated or audited such data. FTI accepts no liability whatsoever for any loss arising from use of this information, and reliance upon the comments, opinions and analyses in the material is at the sole discretion of the user. Products, services and information may not be available in all jurisdictions and are offered by FTI affiliates and/or their distributors as local laws and regulations permit. Please consult your own professional adviser for further information on availability of products and services in your jurisdiction.
Get more perspectives from Franklin Templeton Investments delivered to your inbox. Subscribe to the Beyond Bulls & Bears blog.
For timely investing tidbits, follow us on Twitter @FTI_Global and on LinkedIn.
CFA® and Chartered Financial Analyst® are trademarks owned by CFA Institute.
What Are the Risks?
All investments involve risk, including possible loss of principal. The value of investments can go down as well as up, and investors may not get back the full amount invested. Changes in interest rates will affect the value of a portfolio and its yield. Bond prices generally move in the opposite direction of interest rates. Thus, as the prices of bonds in a portfolio adjust to a rise in interest rates, the portfolio's yield may decline. Special risks are associated with foreign investing, including currency fluctuations, economic instability and political developments.
___________________________________________________
1. Source: Bloomberg, as at 3 January 2017. See www.franklintempletondatasources.com for additional data provider information.
2. Source: Australian Bureau of Statistics, 15 December 2016. Data is as at 30 November 2016.
4. Source: Bank for International Settlements, as at 30 June 2016. Advanced economies are: Australia, Canada, Denmark, countries in the eurozone, Japan, New Zealand, Norway, Sweden, Switzerland, the United Kingdom and the United States.