This post is also available in: Dutch French Italian German Spanish Polish
After a year in which political surprises dominated headlines across the globe, we believe conditions are lining up for a positive year for European equities—and not before time.
Recent experience suggests that equity markets in general have a problem pricing in political events. However, we believe politics does not drive equity markets over the long-term; rather, it provides a short-term opportunity to take advantage of longer-term trends.
As value investors, we try to stay focused on a longer-term investment horizon and use volatility as an opportunity to look for undervalued companies.
A Positive Macro Environment
A devalued euro, momentum in the credit cycle and the winding down of austerity across the continent are all considered generally positive for European equities.
More important for the asset class in 2017, we believe, is the prospect of higher inflation, which now seems likely to be coming down the pike. Inflation, in our view, should be positive for European earnings.
Traditionally, inflation has tended to lag movements in energy and commodity prices by approximately three to four months. By September last year, the price of oil had recovered from its historic lows, moving back up to around US$50 per barrel. The effect of that price increase is now showing up in the inflation figures, suggesting to us that Europe could be moving from a 1%-to-2% inflation environment to perhaps a 3%-to-4% inflation environment.
Why Does This Matter For European Earnings?
The stubborn gap between US and European earnings has failed to close over several years. European earnings currently remain 60% below some peaks during the 2008/2009 period, while US earnings are 10% above levels of eight or nine years ago.2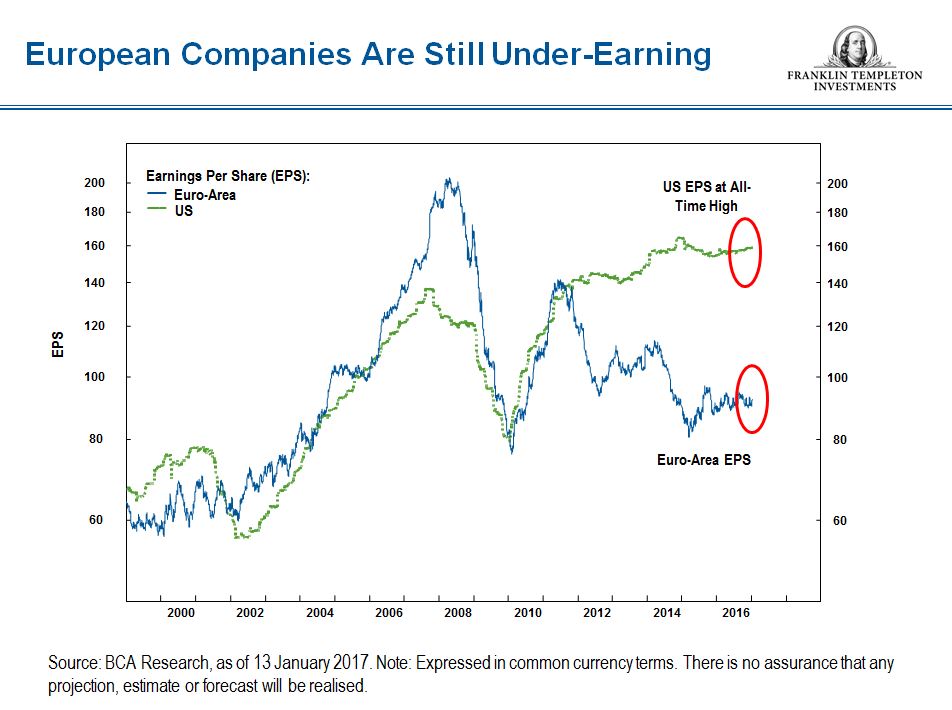 Observers have cited a number of possible reasons for this discrepancy, including a claim that the sort of monetary policy that the European Central Bank is pursuing cannot work effectively without fiscal unification.
Another suggestion is the positive earnings impact of share buybacks in the United States, where the tax regime has traditionally been supportive of such measures.
In our view, the overwhelming reason that European earnings continue to lag their US peers is that profit margins in Europe have not yet recovered in the way that one might hope.
It may be easy for observers to say that European labour markets are not as competitive as their US counterpart and can't respond as nimbly to lower demand. However, we don't think that is the case; labour costs in Europe have been very competitive, in our view.3
Instead, we think the underlying issue is pricing.
European companies tend to be price-takers. When inflation falls, European firms tend to cut prices to compete with their US and Asian peers. When inflation rises again, European companies tend to raise their prices.
Therefore, once European companies respond to rising inflation, we'd expect a closure of the earnings spread with the United States.
Inflation: Good for Europe, Good for Value Investors
We've been in a deflationary world the last eight to nine years. As a contrarian investor during that time, we've taken an interest in companies that fare well when there's no inflation. Conversely, as inflation turns upwards, we believe for a rerating of industrials, financials, and oil and gas stocks in Europe.
And as we survey the landscape for European equities, it's that rerating story that seems to us to offer an opportunity for long-term returns.
The comments, opinions and analyses expressed herein are for informational purposes only and should not be considered individual investment advice or recommendations to invest in any security or to adopt any investment strategy. Because market and economic conditions are subject to rapid change, comments, opinions and analyses are rendered as of the date of the posting and may change without notice. The material is not intended as a complete analysis of every material fact regarding any country, region, market, industry, investment or strategy.
To get insights from Franklin Templeton delivered to your inbox, subscribe to the Beyond Bulls & Bears blog.
For timely investing tidbits, follow us on Twitter @FTI_Global and on LinkedIn.
What Are the Risks?
All investments involve risks, including possible loss of principal. The value of investments can go down as well as up, and investors may not get back the full amount invested. Stock prices fluctuate, sometimes rapidly and dramatically, due to factors affecting individual companies, particular industries or sectors, or general market conditions. Value securities may not increase in price as anticipated, or may decline further in value. To the extent a portfolio focuses on particular countries, regions, industries, sectors or types of investment from time to time, it may be subject to greater risks of adverse developments in such areas of focus than a portfolio that invests in a wider variety of countries, regions, industries, sectors or investments. Special risks are associated with foreign investing, including currency fluctuations, economic instability and political developments.
1. Source: International Energy Agency Oil Market Report, 2016 data and 2017 projection. There is no assurance that any estimate, forecast or projection will be realised.
2. Source: FactSet. Europe and the United States, are defined by MSCI Europe Index and MSCI USA Index, respectively. MSCI makes no warranties and shall have no liability with respect to any MSCI data reproduced herein. No further redistribution or use is permitted. This report is not prepared or endorsed by MSCI. See www.franklintempletondatasources.com for additional data provider information. All data as at 31 December 2016. Past performance is not an indicator or a guarantee of future performance. Indices are unmanaged and one cannot directly invest in them. They do not include any fees, expenses or sales charges.
3. Eurostat, December 2016.