Unlike most other developed economies, Australia has traditionally relied on commodities—particularly iron ore—to support its growth. This reliance meant Australian resources companies benefitted from China's decades-long building boom—then suffered when China's construction growth rate slowed in 2014–2015, bringing commodity prices down with it.
When the Chinese government took measures to stimulate growth in late 2016, commodity prices rebounded strongly. Base metals prices (in Australian dollar terms) increased 23% in 2016—and climbed 17% in the fourth quarter alone.1
We believe these stimulatory measures may continue in the lead-up to the National Congress of the Chinese Communist Party late in 2017, but debt levels in the Chinese economy have continued to increase, and we believe rising debt will need to be addressed.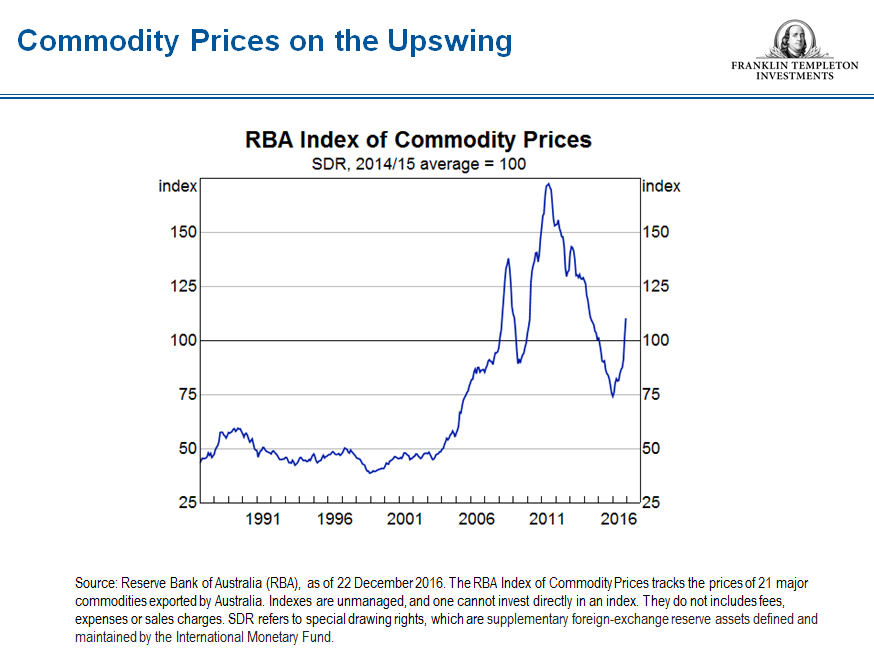 The recent comeback in commodity prices also has supported the Australian dollar and improved the terms of trade internationally. In turn, we'd expect to see stronger commodity prices feed through into increased tax revenues to boost the federal government's budget and eat into the budget deficit.
Let's turn to other sectors: Although we expect the unwinding of the excessive valuations of interest-rate sensitive and long-duration assets (such as real estate investment trusts and infrastructure and utility stocks) and earnings-certainty premiums2 (such as health care stocks), we expect these stock clusters to underperform the broader Australian market this year.
Geopolitical gyrations
Volatility will likely remain a feature given a longer-term global trend of rising interest rates, a new direction for geopolitics and trade protectionism, and key elections in the Netherlands, France and Germany.
We believe the change of administration in the United States could well presage significant political and economic change. The most obvious risk to Australia is trade protectionism.
Winding back global trade would diminish economic growth for the world as a whole, in our view, regardless of the impact it had in any particular country. We believe the proposed appointments to President Donald Trump's administration increase the chance of his foreshadowed policies being implemented.
There is a risk that China's reaction to new US trade policies could exacerbate the tenuous relationship between the two countries, potentially spilling from trade issues into military tension in the South China Sea. Australia is heavily reliant on trade with China, so the country could be vulnerable to political tensions.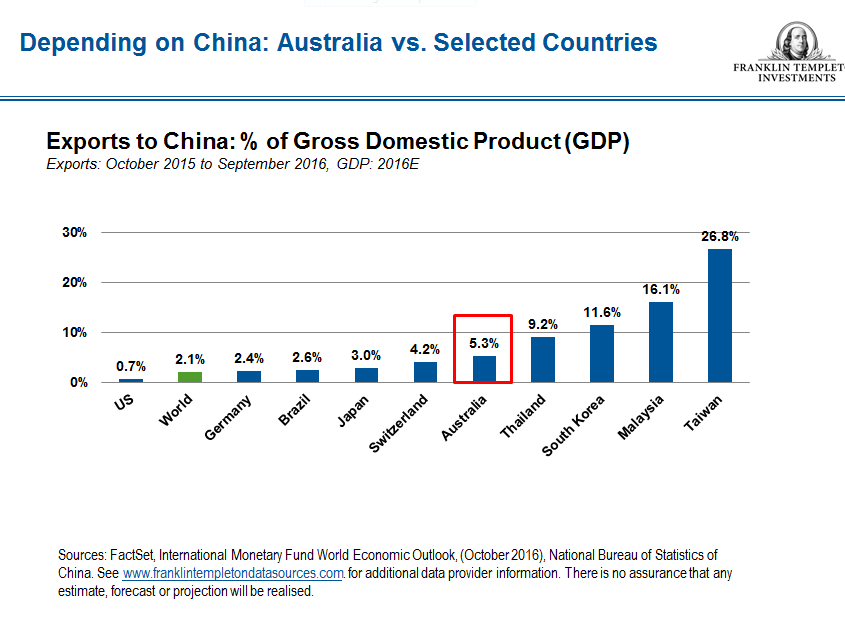 The outlook for US fiscal policy is a further source of uncertainty. It is difficult for us to see how taxes could be cut and military spending increased without an increase in the US budget deficit. US unemployment is already at a relatively low level, so fiscal stimulus would likely lift inflation to above 2%. Against this backdrop, the Federal Reserve Bank is likely to continue increasing interest rates, and long-term bond yields could also increase.
Australian and US bonds tend to be strongly correlated, and we believe the recent rise in US yields could have further to run. We believe it appropriate to be cautious about Australian property trusts and other securities that have a high correlation with bond prices.
Banks and other financial stocks, conversely, could benefit from modestly higher bond rates. We believe the increase in capital ratios that bank regulators now require would likely be achieved through retained earnings and dividend reinvestment. In the longer term, return on equity is likely to gradually fall, but we believe this possibility is taken into account in the current pricing of bank shares. Accordingly, we remain constructive on the banking sector right now.
We expect Australian consumer demand to remain stable without being buoyant. But since much of the listed industrials sector has little correlation with retail demand, our strategy in the industrials sector is much more dependent on our bottom-up fundamental valuations of individual companies in the sector.
To get insights from Franklin Templeton delivered to your inbox, subscribe to the Beyond Bulls & Bears blog.
For timely investing tidbits, follow us on Twitter @FTI_Global and on LinkedIn.
The comments, opinions and analyses are the personal views expressed by the investment manager and are intended to be for informational purposes and general interest only and should not be construed as individual investment advice or a recommendation or solicitation to buy, sell or hold any security or to adopt any investment strategy. It does not constitute legal or tax advice. The information provided in this material is rendered as at publication date and may change without notice, and it is not intended as a complete analysis of every material fact regarding any country, region market or investment.
Data from third-party sources may have been used in the preparation of this material and Franklin Templeton Investments ("FTI") has not independently verified, validated or audited such data. FTI accepts no liability whatsoever for any loss arising from use of this information, and reliance upon the comments, opinions and analyses in the material is at the sole discretion of the user. Products, services and information may not be available in all jurisdictions and are offered by FTI affiliates and/or their distributors as local laws and regulations permit. Please consult your own professional adviser for further information on availability of products and services in your jurisdiction.
What Are the Risks?
All investments involve risks, including possible loss of principal. The value of investments can go down as well as up, and investors may not get back the full amount invested. Stock prices fluctuate, sometimes rapidly and dramatically, due to factors affecting individual companies, particular industries or sectors, or general market conditions. To the extent a portfolio focuses on particular countries, regions, industries, sectors or types of investments, from time to time, it may be subject to greater risks of adverse developments in such areas of focus than one that invests in a wider variety of countries, regions, industries, sectors or investments. Special risks are associated with foreign investing, including currency fluctuations, economic instability and political developments.
___________________________________________
1. Source: The RBA Index of Commodity Prices, Reserve Bank of Australia. The index tracks the prices of 21 major commodities exported by Australia. Indexes are unmanaged, and one may not invest directly in an index. They do not include fees, expenses and sales charges.
2. Some stocks have a premium included in their stock prices based on their historical track records and investors' expectations that the company will continue to have stable and predictable earnings.