This post is also available in: Dutch French German Polish
At the halfway point of the year, we've several significant European political events behind us, but we think politics are likely to remain a focus for investors eyeing European opportunities. Over the next couple of months we can expect National Assembly elections in France, a general election in Germany, and the resumption of Brexit negotiations after a snap election in the United Kingdom on June 8.
At the same time, recent political developments in Spain, Italy and Greece are likely remain on investors' radars, but I don't think any of these developments will radically change the overall "European project".
French Election
Market response to the election of Emmanuel Macron as French president last month was muted, but he will need to build support in the country's National Assembly to drive through his manifesto.
This month's parliamentary elections, in which Macron's En Marche party is fielding many candidates, should provide some indication of how much momentum the new president actually has.
In our view, the Macron presidency will likely face some difficulties in the road ahead as French economic fundamentals continue to deteriorate.
Two major economic concerns in France—high debt-to-gross domestic product (GDP) ratio and high current account deficit—continue to weigh on investors' minds. Macron has said he is committed to  meeting the European Union (EU) rule of maintaining France's deficit below 3% of gross domestic product (GDP), which currently sits just above the EU target.
However, this sits uncomfortably with his ambitions to simultaneously cut public spending and boost security spending, in order to increase the number of police officers. So, we believe it will be difficult for the new government to address these issues meaningfully, and therefore we currently don't see value in French government bonds.
German Poll on the Horizon
Meanwhile, anticipation is building for Germany's general election, due to take place on September 24.
The perceived challenge to Chancellor Angela Merkel's supremacy appears to have eased recently, but we still expect questions over immigration and labour market issues to remain centre-stage as the campaign hots up.
Although there are no national elections planned in Spain this year, the reappointment of Pedro Sanchez as leader of the country's Socialist Party has drawn some attention.
Sanchez was only ousted as party leader eight months ago, and some commentators have suggested political stability in Spain could potentially be undermined as concerns over the new Socialist Party leader could deepen a legislative impasse and ultimately trigger early elections.
Fixed Income Outlook
Meanwhile, we see more opportunity in sovereign bonds at the moment. We believe having flexibility should be advantageous in the current marketplace, where things are being driven so much by the political environment, as well as European Central Bank (ECB) policy.
The political uncertainty should present investors with the opportunity to chase some very different returns depending on which government bonds they own or don't own.
Specifically, the divergence between bond yields of some eurozone countries should bring potential opportunities for investors willing to be flexible in the way they move in and out of areas where they don't see value.
High-yield bonds in comparison are relatively fully valued, in our opinion. The same sentiment can also be applied to investment-grade credit.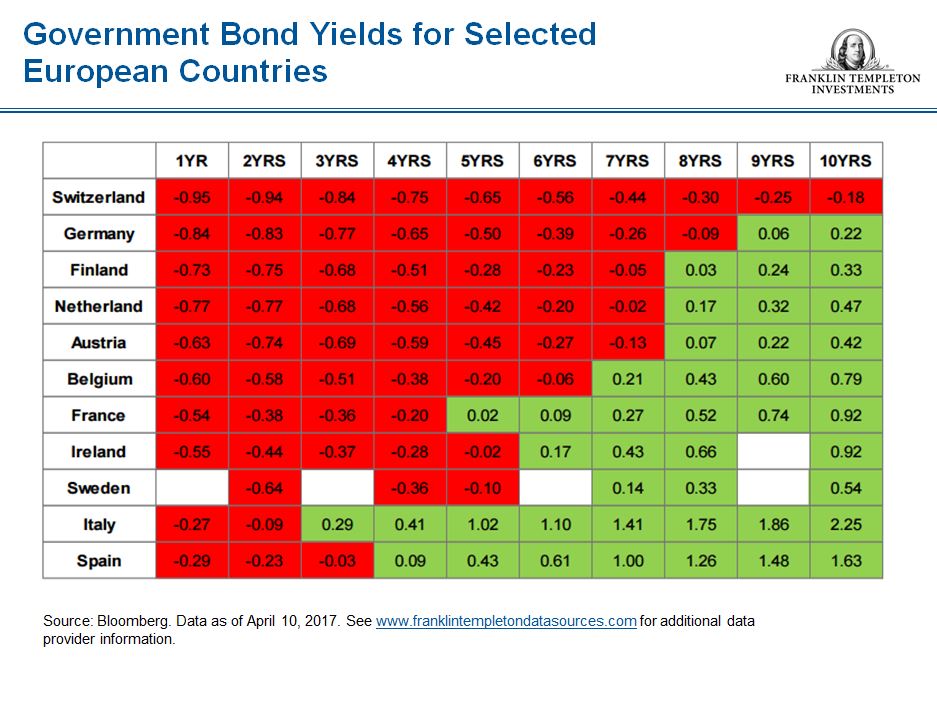 Brexit: A Look Ahead
UK voters will cast their ballots on June 8, in a snap election that will decide whether the Conservative party will gain the backing needed to strengthen UK Prime Minister Theresa May's hand in Brexit negotiations.
We expect Brexit negotiations with Europe to throw up some difficult decisions for the UK administration, particularly when it comes to securing Parliamentary approval for the final deal, which is expected in two years' time.
A negotiated Brexit settlement between the United Kingdom and the EU would be in the best interests for both parties, in our view, but we think UK gilts could probably do quite well on the back of a hard Brexit—if the United Kingdom severed all economic ties to the EU.
At current levels, we consider sterling to be undervalued against the euro, and because the exchange rate is so politically driven, it would be difficult to predict how the currency fluctuates in the weeks and months ahead—we don't see many opportunities in European currencies at the moment.
So, with quite a few European events coming up and the possibility of some knock-on effects, we like to think of the eurozone sovereign bond space as a flexible option to consider.
The comments, opinions and analyses expressed herein are for informational purposes only and should not be considered individual investment advice or recommendations to invest in any security or to adopt any investment strategy. Because market and economic conditions are subject to rapid change, comments, opinions and analyses are rendered as of the date of the posting and may change without notice. The material is not intended as a complete analysis of every material fact regarding any country, region, market, industry, investment or strategy.
Data from third-party sources may have been used in the preparation of this material and Franklin Templeton Investments ("FTI") has not independently verified, validated or audited such data. FTI accepts no liability whatsoever for any loss arising from use of this information and reliance upon the comments, opinions and analyses in the material is at the sole discretion of the user. Products, services and information may not be available in all jurisdictions and are offered by FTI affiliates and/or their distributors as local laws and regulations permit. Please consult your own professional adviser for further information on availability of products and services in your jurisdiction.
Get more perspectives from Franklin Templeton Investments delivered to your inbox. Subscribe to the Beyond Bulls & Bears blog.
For timely investment updates, follow us on Twitter @FTI_Global and on LinkedIn.
CFA® and Chartered Financial Analyst® are trademarks owned by CFA Institute.
What Are the Risks?
All investments involve risks, including possible loss of principal. The value of investments can go down as well as up, and investors may not get back the full amount invested. Bond prices generally move in the opposite direction of interest rates. Thus, as prices of bonds in an investment portfolio adjust to a rise in interest rates, the value of the portfolio may decline. Investments in foreign securities involve special risks including currency fluctuations, economic instability and political developments.