This post is also available in: Italian German Polish
Ten years ago, the world was standing on the brink of the Global Financial Crisis. US stocks, as measured by the S&P 500 Index, hit record highs in October 2007 before falling by more than 50% over the next 17 months.1
Most investors experienced some financial pain during that time, but some fled both stocks and bonds and went entirely into cash because they couldn't stand watching their investments plummet. Unfortunately, many of those investors made the wrong move at the wrong time—selling near the market bottom and missing out on the rebound that occurred in 2009.
These days, there is no shortage of market commentators suggesting that investors should sell stocks and bonds before another possible market crash. And some investors may listen to their advice, believing they can reach their investment goals by buying and selling stocks and bonds at exactly the right time.
We believe it's difficult for any investor to time the market. We prefer to take a more disciplined approach to investing by sticking with a set mix of global stocks and bonds, rebalancing from quarter to quarter, regardless of market conditions.
Building a Diversified Portfolio
To build a diversified portfolio, an investor generally would select a mix of global stocks and bonds based on his or her individual goals, risk tolerance and investment timeline.2 The chart below highlights how those broad asset classes have moved in different directions over the past 20 years.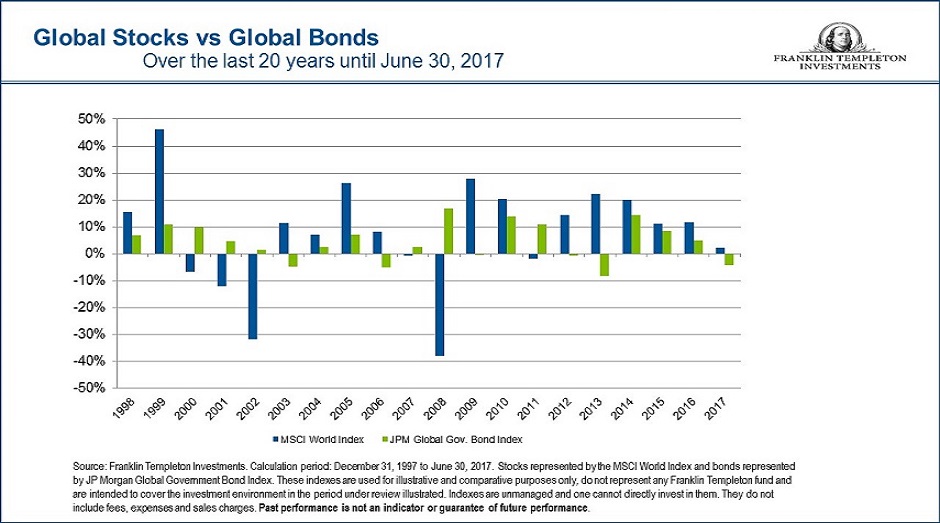 With that in mind, we believe it's important to find stocks and bonds that historically haven't moved in the same direction at the same time, e.g., non-correlated. That way, one's overall portfolio has the potential to grow, even if some of the investments in it are declining.
On the equity side, we emphasize selecting investments across:
the market capitalization spectrum (small-cap stocks tend to have greater risk-return profiles than larger, more established companies);
industries (cyclical industries can be more sensitive during downturns than non-cyclical industries); and
geographic regions (emerging market stocks can offer more growth potential and greater volatility, compared to those in more developed economies).
When it comes to fixed income, we believe it makes sense to have some exposure to global bonds, and diversify outside of one's home country. In addition, global bonds don't tend to move in the same direction as stocks, particularly during periods of uncertainty. Although past performance is no guarantee of future performance, global bonds rose 10.9% in 2008 and outperformed equites broadly that year.3
Maintaining a Diversified Portfolio with Quarterly Rebalancing
Investments can fluctuate from season to season and during periods of market turmoil. That's why we monitor our portfolios regularly, and typically rebalance our stock and bond holdings four times a year to return those positions to our targeted mix. When rebalancing, we combine the expertise of multiple portfolio managers, each with their unique investment style. We believe this strategy can reduce portfolio volatility over the long term, compared to less frequent rebalancing.
That being said, some investors may feel they are missing out on potential returns when stocks or bonds rise above their set allocation levels during bull markets and their strategy calls for paring them back by rebalancing. During those times, we believe it's important to remember that investing isn't purely about returns; it's also important to maintain a portfolio with the appropriate risk level for one's long-term investment goals—not putting too many eggs in one basket, so to speak. Here is where a financial advisor can help to take the emotion out of investment decision making, and help an investor stick to their plan.
Most importantly, we believe a disciplined investment process takes the emotional element out of investing. In our view, that can lead to a better outcome than simply following the crowd and selling indiscriminately during times of crisis.
Here's a fun behavioral finance video on the concept of "herding" that explains in a more colorful way why following the crowd can be a bad idea.
The comments, opinions and analyses expressed herein are for informational purposes only and should not be considered individual investment advice or recommendations to invest in any security or to adopt any investment strategy. Because market and economic conditions are subject to rapid change, comments, opinions and analyses are rendered as of the date of the posting and may change without notice. The material is not intended as a complete analysis of every material fact regarding any country, region, market, industry, investment or strategy.
Data from third-party sources may have been used in the preparation of this material and Franklin Templeton Investments ("FTI") has not independently verified, validated or audited such data. FTI accepts no liability whatsoever for any loss arising from use of this information and reliance upon the comments, opinions and analyses in the material is at the sole discretion of the user. Products, services and information may not be available in all jurisdictions and are offered by FTI affiliates and/or their distributors as local laws and regulations permit. Please consult your own professional adviser for further information on availability of products and services in your jurisdiction.
CFA® and Chartered Financial Analyst® are trademarks owned by CFA Institute.
To get insights from Franklin Templeton delivered to your inbox, subscribe to the Beyond Bulls & Bears blog.
For timely investing tidbits, follow us on Twitter @FTI_Global and on LinkedIn.
What Are the Risks?
All investments involve risks, including possible loss of principal. The value of investments can go down as well as up, and investors may not get back the full amount invested. Stock prices fluctuate, sometimes rapidly and dramatically, due to factors affecting individual companies, particular industries or sectors, or general market conditions. Bond prices generally move in the opposite direction of interest rates. Thus, as prices of bonds in an investment portfolio adjust to a rise in interest rates, the value of a portfolio may decline. Foreign securities risks include currency fluctuations, and economic and political. Investing in companies engaged in mergers, reorganizations, consolidations or liquidations involves special risks, as well as in lower-rated bonds, which entail higher credit risk. Investments in the securities issued by corporations, governments, and public-law entities in different nations and denominated in different currencies involve certain risks.
_________________________________________________________________________________
1. Source: S&P Dow Jones Indices. Indexes are unmanaged and one cannot directly invest in them. They do not include fees, expenses or sales charges. Past performance is not an indicator or guarantee of future performance. Additional data provider information available at www.franklintempletondatasources.com.
2. Diversification does not guarantee profits or protect against risk of loss.
3. Global bonds represented by the Citigroup World Government Bond Index. Global stocks represented by the MSCI World Index. Indexes are unmanaged and one cannot invest directly in them. They do not include fees, expenses or sales charges. Past performance is not an indicator or guarantee of future performance.