This post is also available in: French Italian German
The macroeconomic backdrop for hedge-fund strategies hasn't been ideal for a number of years. Now, we think this may be changing. Monetary policy looks to be shifting in some countries, currencies are becoming more volatile and geopolitical risks have intensified of late. We think these fundamental elements could drive hedge-fund strategies' alpha1 and open up new opportunities for investors in this space.
We'd like to debunk a myth that all hedge-fund strategies are super-charged and high-octane. We would argue hedge-fund strategies are actually meant to be dull, with low volatility. But hedge-fund strategies can also provide diversification and long-term capital growth potential.2
In our view, low interest rates are often an overlooked factor in regard to hedge-fund strategy performance. Now, as US interest rates are making slow but steady strides upward from historic lows, we think certain hedge-fund strategies may be finding new opportunities to show their mettle.
If the US Federal Reserve (Fed) continues to raise interest rates this year and next, we think it could cultivate an environment for certain hedge-fund strategies to flourish. Rising interest rates have historically been associated with lower cross-asset correlations, creating more alpha opportunities for hedge funds.
Additionally, rising interest rates have typically led to future periods of above-average alpha, as represented by the Hedge Fund Research Index Fund Weighted Composite Index (HFRIFWI)3.
The illustration below shows a positive correlation between alpha and interest rates. The average level of alpha rose to the highest level at 14.07% during the measured period, where the US 10-year Treasury yield stood at 7.05%.4 Based on what we've seen in the past, we think hedge-fund managers could have the opportunity to capture that alpha, or outperformance, as US interest rates continue to rise.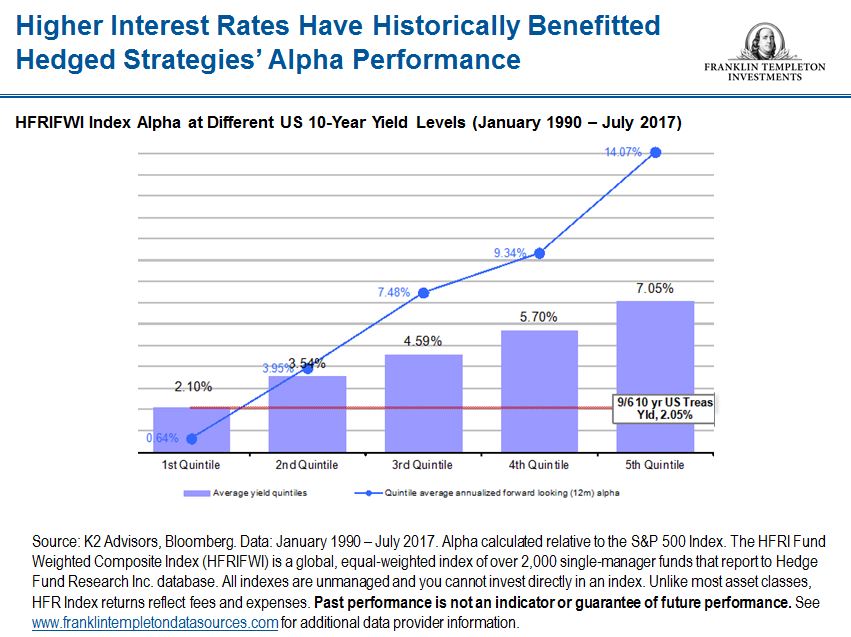 Global geopolitical risk is another element that we believe should drive a change in the landscape for hedge-fund strategies. On the back of recent geopolitical tensions, major currency spreads have widened, and historically wider spreads have benefitted hedged strategies' alpha. This is particularly noticeable within the Group of Seven (G7)5 economies, since they coordinate and attempt to manage major exchange rates in a way that leaves their currencies closely linked.
As a result, we might not yet be in the golden era for hedge-fund strategies—the most-ideal environment for managers to capture alpha—but we could be approaching the silver era, where favourable opportunities are starting to appear.
Factors Influencing the Capture of Alpha
Interest Rates: Higher interest rates have historically benefitted and supported alpha in hedged strategies. When interest rates are low, there's little incentive for companies to clean up balance sheets and restructure debt.
Large G7 Currency Movements: Hedge-fund managers may benefit from increased currency volatility via spread and pairs trades, as well as from greater price dispersion in securities globally.
Wide Variances in Equity Sector Price-Earnings (P/E) Ratios: The wider the gap, the bigger the opportunity for managers to potentially benefit from equity sectors that show a below-average P/E ratio6, which indicates that a sector may be undervalued, or conversely from above-average sector P/E ratios, which may indicate inflated value.
Allocating Towards Market Themes
Not all hedge strategies will fare equally as conditions change. We expect the event-driven hedge-fund space, for example, may face headwinds as central banks globally begin to normalize interest rates. Event-driven hedge funds often seek to profit from merger-and-acquisition (M&A) corporate activity, which could be diminished as interest rates rise.
Global macro strategies, however, may benefit from rising rates. The global- macro space has seen an increase in trading volume over the last two months, and we anticipate this trend will continue.
To conclude, we've seen evidence that the current market landscape could become a nurturing environment for certain hedge-fund strategies, but we're only just at the beginning and believe more opportunities could crop up during this silver era.
For timely investing tidbits, follow us on Twitter @FTI_Global and on LinkedIn.
The comments, opinions and analyses are the personal views expressed by the investment managers and are intended to be for informational purposes and general interest only and should not be construed as individual investment advice or a recommendation or solicitation to buy, sell or hold any security or to adopt any investment strategy. It does not constitute legal or tax advice. The information provided in this material is rendered as at publication date and may change without notice and it is not intended as a complete analysis of every material fact regarding any country, region market or investment.
Data from third-party sources may have been used in the preparation of this material and Franklin Templeton Investments ("FTI") has not independently verified, validated or audited such data. FTI accepts no liability whatsoever for any loss arising from use of this information, and reliance upon the comments, opinions and analyses in the material is at the sole discretion of the user. Products, services and information may not be available in all jurisdictions and are offered by FTI affiliates and/or their distributors as local laws and regulations permit. Please consult your own professional adviser for further information on availability of products and services in your jurisdiction.
What Are the Risks?
All investments involve risks, including possible loss of principal. The value of investments can go down as well as up, and investors may not get back the full amount invested. The identification of attractive investment opportunities is difficult and involves a significant degree of uncertainty and there is no assurance any such alternative investment strategies will be successful. It is always possible that any trade could generate a loss if the manager's expectations do not come to pass. An investment in these strategies is subject to various risks, such as those market risks common to entities investing in all types of securities, including market volatility.
Hedge-strategy outlooks are determined relative to other hedge strategies and do not represent an opinion regarding absolute expected future performance or risk of any strategy or sub-strategy. Conviction sentiment is determined by the K2 Advisors' Research group based on a variety of factors deemed relevant to the analyst(s) covering the strategy or sub-strategy and may change from time to time in the analyst's sole discretion.
1. Alpha is a risk-adjusted measure of the value that a portfolio manager adds to or subtracts from a fund's return.
2. Diversification does not guarantee profit or protect against risk of loss.
3. Alpha calculated relative to the S&P 500 Index. The HFRI Fund Weighted Composite Index (HFRIFWI) is a global, equal-weighted index of over 2,000 single-manager funds that report to Hedge Fund Research Inc. Database. All indexes are unmanaged and you cannot invest directly in an index. Unlike most asset classes, HFR Index returns reflect fees and expenses. Past performance is not an indicator or guarantee of future performance.
4. Alpha is calculated against the S&P 500 index.
5. The Group of Seven is a group consisting of Canada, France, Germany, Italy, Japan, the United Kingdom and the United States.
6. The P/E ratio for an individual stock compares the stock price to the company's earnings per share.