This post is also available in: French Italian German Spanish Polish
In general, looking across Europe as a whole, we don't see much on the horizon to derail our solid fundamental outlook.
Still, because some of these fundamentals—for example, industrial production (IP) and purchasing managers index (PMI) data—are doing so well, it may be hard to see significant improvements this year. On the other hand, we don't see any reason to think they'd slow down.
We think the corporate earnings environment should continue to improve, and that's where we'd be looking to see attractive year-on-year comparisons.
Potential Upside in European Earnings
Europe is only five or six quarters into its earnings recovery since the global financial crisis. That puts it three or four years behind the United States. So our analysis suggests plenty of upside potential in European corporate earnings.
Provided political risks remain low, we reckon it's likely earnings in Europe will continue to improve.
In time, that should lead to withdrawal of quantitative easing (QE) or at least some form of quantitative tightening. Ultimately, we should see some kind of eurozone interest rate hike, possibly even in 2019.
The composition of European equity markets tends to be skewed towards financials and energy, which tend to be more inflation/bond-sensitive and yield-sensitive companies.
From a sector perspective, energy, materials and financials make up more than a third of the MSCI Europe Index.2 Many of these companies tend do well when inflation is rising and bond yields are rising because typically inflation nudges up commodity prices and financial companies tend to profit when the yield curve steepens.
So, a rising interest-rate environment should be positive for European earnings.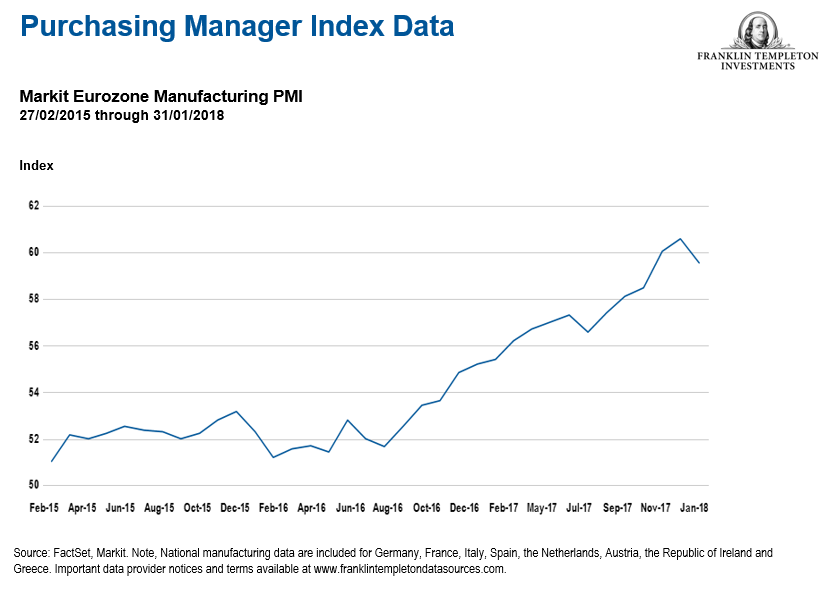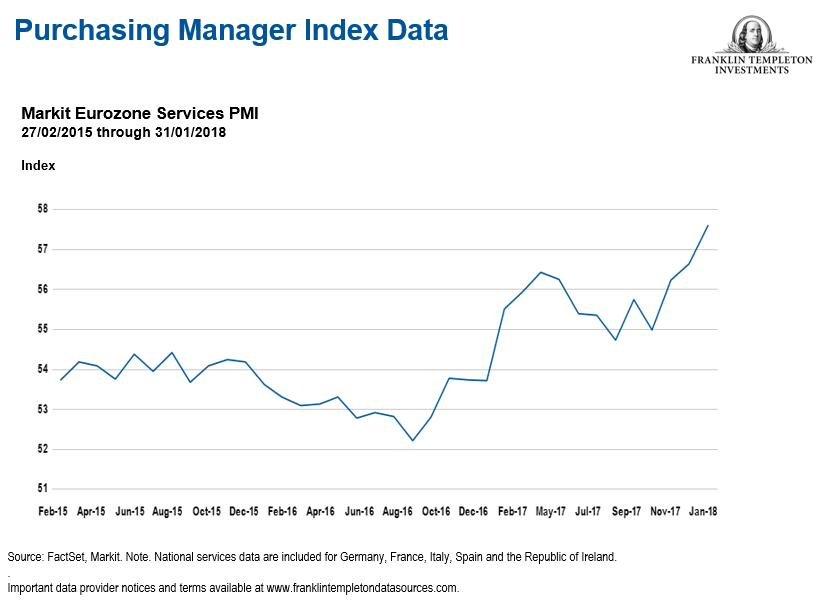 Operating Leverage is a Positive
On the other hand, we don't expect European earnings to hit the highs of 10 years ago, because there is no longer the leverage in the banking system.
Conversely, there is a lot of operating leverage on the corporate side. Thanks to labour reforms in Spain, France and Germany (earlier in the decade), the cost base of European companies is much more flexible. That should mean these companies have a greater potential capacity to grow earnings through increased profitability.
Significantly, that kind of leverage is not on company balance sheets but is on their profit-and-loss (P&L) accounts. Instead of putting further debt in the banking system and within the corporate world, we believe the upside is that profits will come from lower cost bases and perhaps from charging higher prices.
The US industrial base went through similar changes in the early 2000s and came out much more competitive. Europe is only just starting to go through this.
France and Eastern Europe Offer Potential Opportunities
French President Emmanuel Macron's reform agenda, which encompasses not just labour practices but tax as well, should present some interesting ideas. As investors we're looking there for opportunities that others in the market are not grasping.
Eastern Europe may prove to be an area of opportunity in the medium term. Recently we've found equities in that region to be very expensive. Corporate governance risks and political risks are higher than elsewhere in Europe, but valuations are higher so we believe it doesn't really make sense to find ideas there; you can find equivalents in core Europe.
However, we expect the United Kingdom's departure from the European Union (EU) to leave a considerable hole in the trading bloc's budget, some of which will fall on eastern European member states to fill.
If that were to start to leave budgets in the likes of Poland, the Czech Republic, Hungary or even Austria feeling a little stretched, their equity markets could devalue a little bit. Certainly we'd consider that an opportunity to look for some bargains.
Further out, we're looking at how to play some of the more domestically focused stocks in the United Kingdom.
One consideration at the front of our minds is: "At what point do domestic UK stocks start to look cheap?"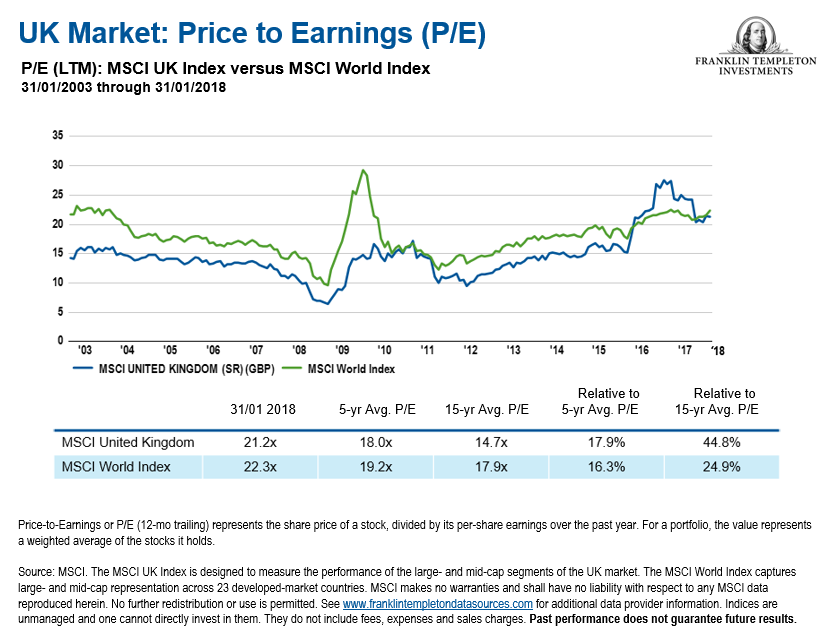 Echoes of the Past
I liken the current attitude to Brexit in the United Kingdom to the situation in 2008-2009 when most capital expenditure and corporate investment was put on hold.
It's similar today: Until people know what the post-Brexit rules are, they are postponing investment, hiring and capital-expenditure decisions.
But the supply shock stemming from those decisions has yet to work its way through the economy and we don't yet know what the implications of that shock will be on demand. The valuations of many UK domestic stocks are starting to reflect that pessimism. We think prices should eventually revert to the mean; the main question is timing.
So, we're aware that it could soon be the moment to find some bargains among domestic UK equities.
The comments, opinions and analyses expressed herein are for informational purposes only and should not be considered individual investment advice or recommendations to invest in any security or to adopt any investment strategy. Because market and economic conditions are subject to rapid change, comments, opinions and analyses are rendered as of the date of the posting and may change without notice. The material is not intended as a complete analysis of every material fact regarding any country, region, market, industry, investment or strategy.
Data from third-party sources may have been used in the preparation of this material and Franklin Templeton Investments ("FTI") has not independently verified, validated or audited such data. FTI accepts no liability whatsoever for any loss arising from use of this information and reliance upon the comments, opinions and analyses in the material is at the sole discretion of the user. Products, services and information may not be available in all jurisdictions and are offered by FTI affiliates and/or their distributors as local laws and regulations permit. Please consult your own professional adviser for further information on availability of products and services in your jurisdiction.
To get insights from Franklin Templeton delivered to your inbox, subscribe to the Beyond Bulls & Bears blog.
For timely investing tidbits, follow us on Twitter @FTI_Global and on LinkedIn.
What Are the Risks?
All investments involve risks, including possible loss of principal. The value of investments can go down as well as up, and investors may not get back the full amount invested. Stock prices fluctuate, sometimes rapidly and dramatically, due to factors affecting individual companies, particular industries or sectors, or general market conditions. Value securities may not increase in price as anticipated, or may decline further in value. To the extent a portfolio focuses on particular countries, regions, industries, sectors or types of investment from time to time, it may be subject to greater risks of adverse developments in such areas of focus than a portfolio that invests in a wider variety of countries, regions, industries, sectors or investments. Special risks are associated with foreign investing, including currency fluctuations, economic instability and political developments.
___________________
1.The MSCI Europe Index captures large- and mid-cap representation across 15 developed markets countries in Europe. Indexes are unmanaged and one cannot directly invest in them. They do not include fees, expenses or sales charges.