This post is also available in: Chinese (Simplified) Dutch French German Polish
Despite a recent pick up in volatility and signs that European economic gross domestic product growth may be softening in the first quarter of 20181 after a strong 2017, we believe European small- and mid-cap equities remain a compelling investment across market and economic cycles.
Not only have small- and mid-cap stocks historically outperformed their larger counterparts (as seen in the chart below), investors willing to do bottom-up fundamental stock research in what we consider an under-covered area of the market can potentially find overlooked opportunities.
Small Caps Outperform Large Caps
Over the past decade, European small- to mid-cap stocks have generally outperformed large-cap stocks, as seen in the chart below comparing the MSCI Europe Small- and Mid-Cap (SMID) Index versus the MSCI Europe Index. We view small-cap stocks as those with market capitalisations of less than  €8 billion.
We see a number of reasons for this historical outperformance. Small and mid-cap companies are in many cases in the earlier stages of their development, growing faster than more mature large-cap companies. For example, international competition means small- and mid-cap companies tend to be more flexible when it comes to adapting to changes within their industries.
Small- and mid-cap companies may also be focused on a single product or service, which can make them attractive acquisition targets for larger firms looking to further diversify, or for those firms looking to build greater scale.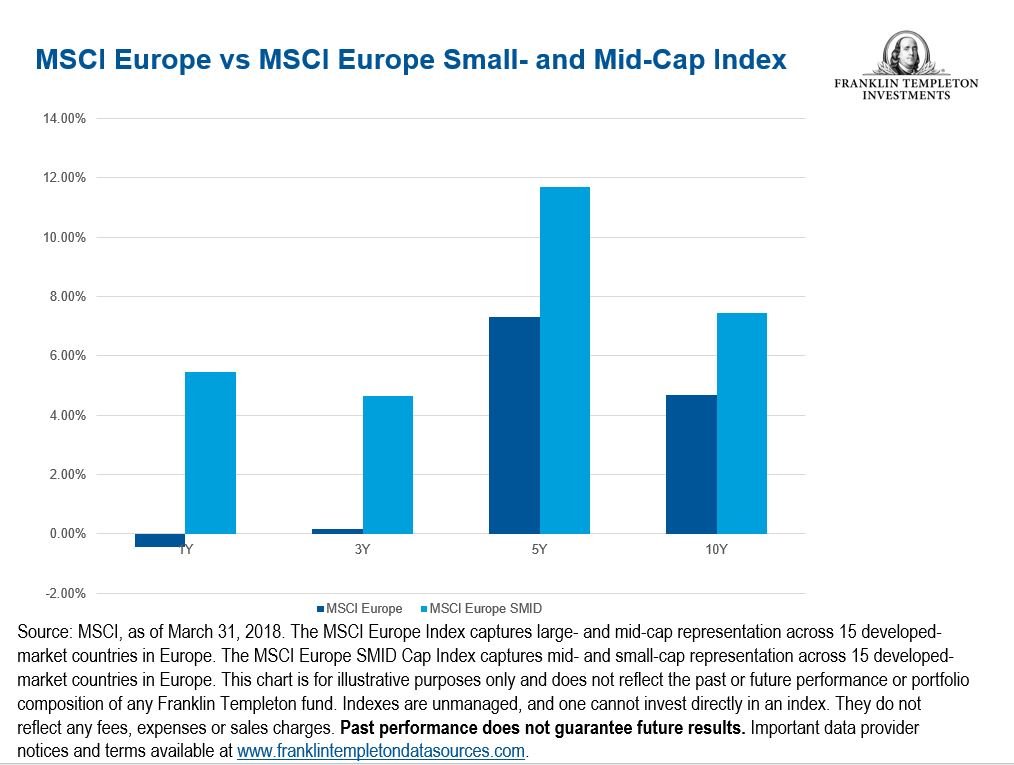 Opportunities in an Under-Researched Area
We estimate there are nearly 1,300 constituents in the European mid- and small-cap universe, but it remains an under-covered area. The number of sell-side analysts following smaller companies is significantly lower than the number following larger companies.
We think this disparity could become more pronounced over time as research budgets continue to be slashed at the big investment banks, and as regulatory changes further pressure research operations in these banks.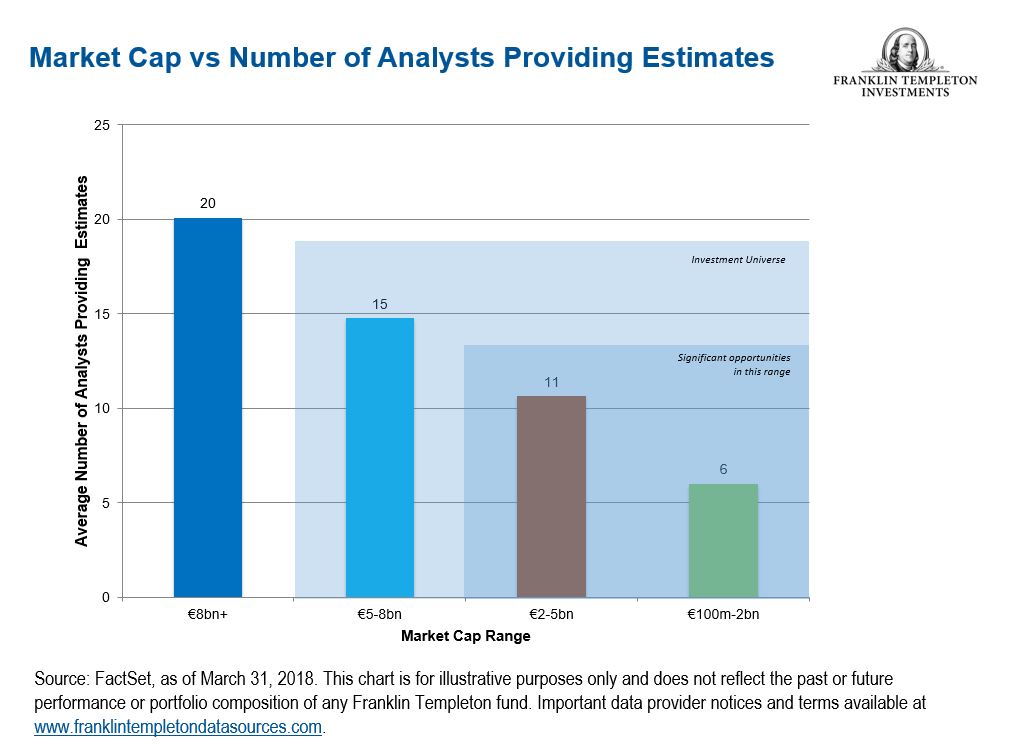 With more limited coverage, we believe there are greater inefficiencies in the small-cap areas of the market that bottom-up, fundamental investors can potentially exploit. Equities may be mispriced relative to their underlying earnings and cash flow and that should lead to greater stockpicking opportunities.
In our research, we focus on what we see as quality companies with strong competitive advantages that are trading at valuations we consider attractive. Shares of these companies may be in areas of the market that are out of favour with the broader market in the short term, or where the market may not be familiar with this investment story.
We've seen some cyclical stocks in the manufacturing industry benefit from the effects of stronger investor confidence in an improving economic environment. Likewise, we have also seen a number of UK industrial companies benefit alongside the UK economic recovery despite continued Brexit-related uncertainty. And as economic growth in Europe may be softening, we have been looking for potential opportunities in companies that provide steady growth across economic cycles in the consumer staples sector.
In a potentially more uncertain market environment characterised by higher volatility and rising interest rates, we believe that in-depth stock analysis can uncover overlooked or unfairly punished European small-cap investments that can potentially form part of our longer-term vision.
Data from third-party sources may have been used in the preparation of this material and Franklin Templeton Investments ("FTI") has not independently verified, validated or audited such data. FTI accepts no liability whatsoever for any loss arising from use of this information, and reliance upon the comments, opinions and analyses in the material is at the sole discretion of the user. Products, services and information may not be available in all jurisdictions and are offered by FTI affiliates and/or their distributors as local laws and regulations permit. Please consult your own professional adviser for further information on availability of products and services in your jurisdiction.
The comments, opinions and analyses expressed herein are for informational purposes only and should not be considered individual investment advice or recommendations to invest in any security or to adopt any investment strategy. Because market and economic conditions are subject to rapid change, comments, opinions and analyses are rendered as of the date of the posting and may change without notice. The material is not intended as a complete analysis of every material fact regarding any country, region, market, industry, investment or strategy.
Get more perspectives from Franklin Templeton Investments delivered to your inbox. Subscribe to the Beyond Bulls & Bears blog.
For timely investment updates, follow us on Twitter @FTI_Global and on LinkedIn.
What Are the Risks?
All investments involve risk, including possible loss of principal. The value of investments can go down as well as up, and investors may not get back the full amount invested. Stock prices fluctuate, sometimes rapidly and dramatically, due to factors affecting individual companies, particular industries or sectors, or general market conditions. Special risks are associated with foreign investing, including currency fluctuations, economic instability and political developments. Smaller and newer companies can be particularly sensitive to changing economic conditions. Their growth prospects are less certain than those of larger, more established companies, and they can be volatile.
________________________________________
1. Eurostat, May 2018.