This post is also available in: Chinese (Simplified) French Italian German
At its June monetary policy meeting, the Federal Reserve (Fed) raised its benchmark interest rate, the fed funds rate, by 25 basis points to a range of 1.75% to 2.00%. The Fed also released updated forecasts in terms of monetary policy and economic projections. The market seems to be taking the Fed's latest move and guidance in stride.
The Fed is now forecasting four interest-rate hikes this year. At the March meeting, the projection was for three rate hikes. We would not put too much emphasis on this, as the consensus of Fed policymakers was largely the same. The Fed's "dot plot" showed eight individuals expected four or more quarter-point rate hikes over the course of 2018, just one more than in March. Accordingly, one less individual saw three or fewer hikes.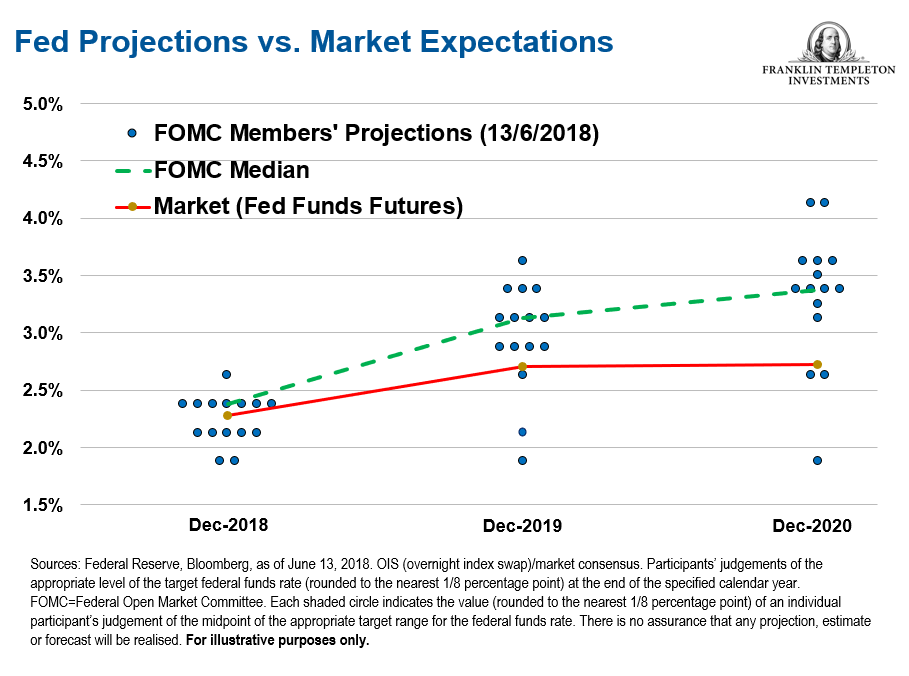 While the headlines are likely to focus on this increased number of rate hikes, to us, it's not all that important whether the Fed raises rates three times this year or four. We are more focused on the pace of change and the terminal rate—where the Fed will stop raising rates—and in the amount of time it takes to get there. To us, the pace of policy tightening remains measured, and modest.
The Fed kept its estimation of the "neutral" rate—the rate at which the economy is thought to be in balance—at 2.9%.
Fed Chairman Jerome Powell also announced that a press conference would be held after every monetary policy meeting starting next year, instead of every other monetary policy meeting as is currently the case. We see this as giving the Fed more flexibility, and not necessarily a sign that the central bank will be more or less aggressive in its actions.
Economic Projections Reflect Healthy Fundamentals
The Fed, which updates its economic projections each quarter, continued to see improving US economic fundamentals.
The Ageing Economic Cycle
The United States is nine years into its current economic cycle and has only seen one other cycle as long as 10 years since World War II. While there are some concerns about its age, there are few economists predicting a recession in the near term. Some are even moving their projections for an economic downturn out as much as three years. Assuming the economic expansion continues another two or three years would clearly be historic. So the longevity of our current cycle is certainly something to consider. It's possible the cycle could start to turn before the Fed reaches what it sees today as the terminal rate.
Of course, at some point the party will come to an end. But for now, we think the Fed can remain gradual in its pace of rate hikes. We also see longer-term interest rates moving up gradually.
The Treasury yield curve has been flattening, which is also something to watch. If it inverts and short-term debt instruments start yielding higher rates than long-term debt instruments, we will likely see a lot of buzz about a pending recession. We don't see a yield curve inversion as likely—at least not anytime soon—but it's worth noting that there are non-market forces that could have a suppressing influence on the long end of the curve, the 10-year Treasury.
Quantitative easing (QE) is still occurring in Europe and Japan, and that does impact the US market and perhaps push the yield lower than what it might otherwise be if QE was not taking place. So, in the current environment, we think the "predictive power" of the inverted yield curve may not be the same as perhaps it has been historically.
Our overall takeaway on the US economy is that underlying fundamentals remain solid. We have had good economic growth, strong employment and low inflation. With interest rates still reasonably low—even with the rate hikes this year—balance sheets at the corporate and consumer level remain healthy. We've seen net worth rise to more than US$100 trillion1 in the first quarter—that's good news.
Wage growth hasn't reflected tightness in the labour market, which has been a bit of a quandary even Fed Chairman James Powell acknowledged. While puzzling, our take is that it's certainly curious, but it's not new, and probably won't change suddenly. The factors that have been suppressing wages seem likely to continue, whether its globalisation, technological innovation, demographics or something else.
We also emphasise that the markets are not smooth, which is why you need to have a longer-term view. We may see rates jump up amid a given piece of news on any given day, but you have to sit back and look at what's going on in the economy. We continue to focus on not getting wrapped up in the short-term noise.
When asked at the post-meeting press conference why the Fed was raising rates, Powell said the US economy is "in great shape." We think that sums things up pretty well.
The comments, opinions and analyses are the personal views expressed by the investment managers and are intended to be for informational purposes and general interest only and should not be construed as individual investment advice or a recommendation or solicitation to buy, sell or hold any security or to adopt any investment strategy. It does not constitute legal or tax advice. The information provided in this material is rendered as at publication date and may change without notice, and it is not intended as a complete analysis of every material fact regarding any country, region market or investment.
Data from third-party sources may have been used in the preparation of this material and Franklin Templeton Investments ("FTI") has not independently verified, validated or audited such data. FTI accepts no liability whatsoever for any loss arising from use of this information, and reliance upon the comments, opinions and analyses in the material is at the sole discretion of the user. Products, services and information may not be available in all jurisdictions and are offered by FTI affiliates and/or their distributors as local laws and regulations permit. Please consult your own professional adviser for further information on availability of products and services in your jurisdiction.
 CFA® and Chartered Financial Analyst® are trademarks owned by CFA Institute.
Get more perspectives from Franklin Templeton Investments delivered to your inbox. Subscribe to the Beyond Bulls & Bears blog.
For timely investing tidbits, follow us on Twitter @FTI_Global and on LinkedIn.
What Are the Risks?
All investments involve risks, including possible loss of principal. The value of investments can go down as well as up, and investors may not get back the full amount invested. Bond prices generally move in the opposite direction of interest rates. Thus, as prices of bonds in an investment portfolio adjust to a rise in interest rates, the value of the portfolio may decline. Special risks are associated with foreign investing, including currency fluctuations, economic instability and political developments. Investments in emerging markets involve heightened risks related to the same factors, in addition to those associated with these markets' smaller size, lesser liquidity and lack of established legal, political, business and social frameworks to support securities markets.
__________________________________________________
1. Source US Federal Reserve.