This post is also available in: German
Beyond Bulls & Bears: How did you get into the investment management business?
Katrina Dudley: A few years after college, I was doing tax and valuation advisory work in Ernst & Young's office in New York City, while working towards my MBA from New York University's Stern School of Business. I used my MBA as a launch pad to get into investment management.
Early on my new path, I heard Mutual Series was looking for an industrials analyst. I knew of Franklin Templeton's great reputation. As I went through the interview process and came to understand the investment philosophy, I knew this was the place where I wanted to be.
When I was hired in 2002, I was five months pregnant with my first child. Franklin Mutual Series invested in me, knowing I would need some time off relatively quickly and that I would be going through a significant life change. I think it says a lot about the long-term view we take on everything here.
Beyond Bulls & Bears: What defines your approach as a portfolio manager, and where are you finding investment opportunities at the moment?
Katrina Dudley: At Mutual Series, our portfolio managers act and think like owners of a business, which means we take a long-term perspective on companies and their prospects. As a result, we don't get caught up in short-term fads. Instead, we remain focused on understanding structural complexities across markets that others might miss.
We also have a long history of actively advocating for our shareholders. Some people call that activism; I call it good stewardship. It's not the type of activism that puts you on the front page of major financial publications, but rather the active engagement we have with management teams about their lines of business, strategic priorities and capital allocation decisions. We have tough conversations with executive teams and boards of directors to ensure shareholders' best interests are being served.
We are disciplined investors who approach ever-changing markets with open minds, seeking to uncover value wherever it exists. We are finding opportunities across various sectors where we have an opportunity to roll up our sleeves, do the work and find companies with an attractive risk-to-reward ratio.
Beyond Bulls & Bears: What has been the most challenging market you've faced in your career?
Katrina Dudley: As my focus as a portfolio manager is Europe, the stop-and-start environment that we have seen in Europe over the past decade has been a challenge. Unlike the US equity market, which has seen a steady rise since the financial crisis of 2007–2008, the European markets came out of that crisis only to face a series of other challenges―including the Greek debt crisis and more recently the rise in populism and Brexit. These factors have weighed on equity markets, and consumer and investor sentiment.
At Mutual Series, we have been value investors for more than six decades. Although growth has significantly outperformed value over the past decade as an investment style, I continue to be confident in our approach and our focus on risk-to-reward.
Beyond Bulls & Bears: What is the toughest part of your job?
Katrina Dudley: I'm an optimist, so let's start with the best part of the job―every day is different. When I arrive at the office, I know that I'll be reading research, talking to analysts both within our team and at other brokerage houses, and talking to management teams at companies we are investing in. However, you never know what is going to happen in the market on any given day.
For example, we recently had a situation where I had met with a company's chief executive officer and two of its division heads after they released a profit warning. I had spent a ton of time looking at the company's stock and after all that work, the investment just didn't fit with our risk-reward criteria. It was disappointing. But then a few months later, the company had a second profit warning. The street's and the company's numbers came in much closer to our estimates and with the fall in the stock price, we were able to buy shares at attractive levels.
Beyond Bulls & Bears: What achievement are you most proud of?
Katrina Dudley: For many years, I have actively encouraged women to enter the field of asset management. I've informally mentored many of them, spoken at women's events and supported our "Girls Who Invest" interns at Franklin Templeton.
A few years ago, a group of female industrial investors and I formed a group called the Iron Skirts, a small group of women with extensive experience investing in public and private companies. We have spent much of our careers focused on companies in the industrials and materials sectors and related subsectors.
We originally formed the group to provide support and networking opportunities to the members. Over time we broadened our discussions to include executives in finance and industry, with a focus on senior and rising female executives.
The Iron Skirts believe that women, and diversity in general, add tremendous value to organizations. The representation of women in executive ranks and on boards is low across industries. The industrials and materials sectors have amongst the lowest representation of women in these positions. We want to help change the statistics.
Beyond Bulls & Bears: What else are you interested in or involved with outside of work?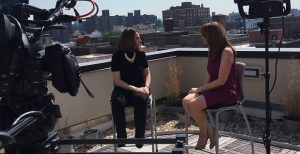 Katrina Dudley: I am also actively involved with a charity called The Children's Village that provides support and services to vulnerable families and children in our community to help keep families together. Recently I filmed a TV pilot at one of our newest projects, an affordable housing development in Harlem focusing on the work the organization does, balancing a career and family life as well as why I believe it is important to teach my four children how to give back.
The comments, opinions and analyses expressed herein are for informational purposes only and should not be considered individual investment advice or recommendations to invest in any security or to adopt any investment strategy. Because market and economic conditions are subject to rapid change, comments, opinions and analyses are rendered as of the date of the posting and may change without notice. The material is not intended as a complete analysis of every material fact regarding any country, region, market, industry, investment or strategy.
Data from third-party sources may have been used in the preparation of this material and Franklin Templeton Investments ("FTI") has not independently verified, validated or audited such data. FTI accepts no liability whatsoever for any loss arising from use of this information and reliance upon the comments, opinions and analyses in the material is at the sole discretion of the user. Products, services and information may not be available in all jurisdictions and are offered by FTI affiliates and/or their distributors as local laws and regulations permit. Please consult your own professional adviser for further information on availability of products and services in your jurisdiction.
Get more perspectives from Franklin Templeton Investments delivered to your inbox. Subscribe to the Beyond Bulls & Bears blog.
For timely investing tidbits, follow us on Twitter @FTI_Global and on LinkedIn.
CFA® and Chartered Financial Analyst® are trademarks owned by CFA Institute.
What Are the Risks?
All investments involve risks, including possible loss of principal. The value of investments can go down as well as up, and investors may not get back the full amount invested. Stock prices fluctuate, sometimes rapidly and dramatically, due to factors affecting individual companies, particular industries or sectors or general market conditions. Value securities may not increase in price as anticipated or may decline further in value Investments in foreign securities involve special risks including currency fluctuations, and economic and political uncertainties.