This post is also available in: Italian German
In our last article, we introduced the main participants involved in both the primary and secondary market trading of exchange-traded funds (ETFs).
We drew the distinction between the roles of a market maker and an authorised participant and illustrated how primary market transactions are executed in Europe.
This article will build on that knowledge to address a question that we occasionally field: "How would the failure or departure from the market of one of these participants affect ETF liquidity?"
In doing so, we hope to add some context and correct a number of unfounded concerns.
Two themes that we occasionally encounter in meetings with clients are:
Concerns that ETFs will cause the next downturn; or that ETFs create and exacerbate volatility.
Questions about the risk of market participants failing, withdrawing or stepping away from the market under stressed market conditions.
Before we delve into these issues in detail, it's worth reminding ourselves that the global ETF market represents approximately 10% of the global open-ended fund universe.1
While we have seen exponential growth in global ETF assets over recent years, the sector is still very much a junior sibling to the significantly larger mutual fund universe.
Appreciating this relative position should help put in context the accusation that the influence of ETFs on the wider market is a case of "the tail wagging the dog".
Do ETFs Exacerbate Volatility?
Volatility is a function of investor flows. Ultimately the decision to direct an investment resides with the end-investor.
The vehicle used to express this decision can vary: from participating in mutual funds or ETFs to buying/selling the underlying stocks or bonds directly. And investors will experience different levels of transparency, depending on their choice of vehicle.
For example, executing a decision via a mutual fund will typically result in an end-of-day trade.
An investor using an ETF will have full transparency on pricing throughout the trading day, in effect gaining access to democratised price discovery and ultimately volatility.
The ETF's intra-day flexibility has allowed end investors the same executable transparency that until now has only been the preserve of market participants for fund investments.
So, in our analysis, far from being a source of increased volatility, ETFs actually democratise volatility and allow investors to see how risk is changing throughout the day.
What Happens if an ETF Market Participant Withdraws or Fails?
Let's quickly remind ourselves of the role of an authorised participant in the ETF ecosystem. If you need more detail, check out my previous article.
Authorised participants (AP) act as an intermediary between buyers and sellers of ETF shares. An AP has authority to trade in the primary market, facilitating creation and redemptions directly with the ETF issuer/asset manager.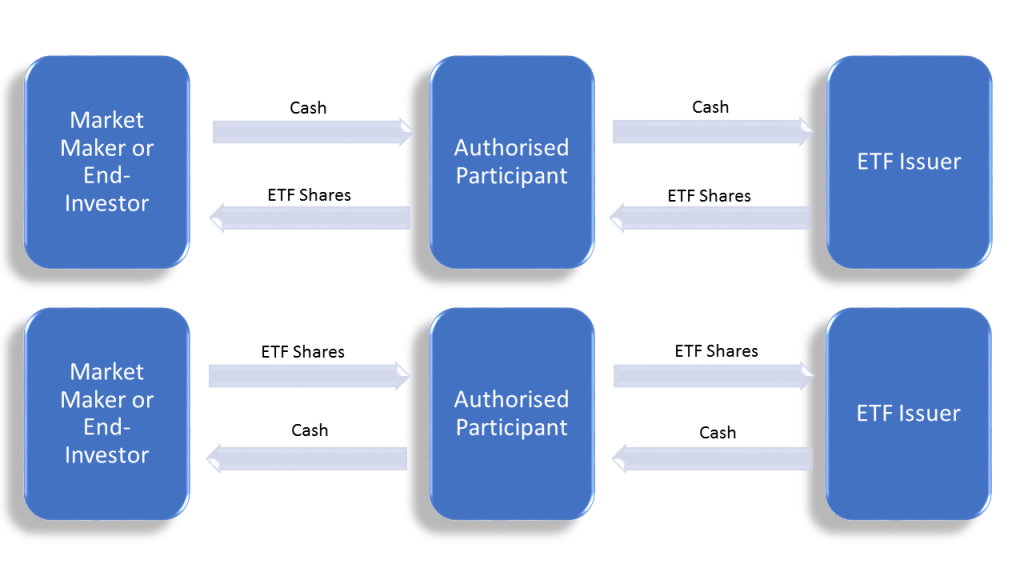 Authorised participants are financial institutions, typically household banking and stock broking organisations already fulfilling both primary and secondary market trading in all listed securities for mutual funds, ETFs and ultimately single stock/bond activity.
So if we're considering the implications for the ETF market of an authorised participant failing or withdrawing, we should also look at the other roles these organisations fulfil in the wider investment universe.
In all instances, these companies participate in the market because there is an economic benefit to incentivise involvement. There is no more obligation for an authorised participant to act as an intermediary in the trading of mutual funds or individual stocks than there is for ETFs.
Execution commission and arbitrage opportunities are often considered benefits for facilitating primary and secondary market transactions. Indeed, both execution commissions and arbitrage opportunities provide incentives for primary market ETF trades. As a result, the ETF ecosystem features a number of authorised participants. Most ETF managers employ a multiple authorised participant model, effectively diversifying their reliance on one intermediary.
Therefore, if one—or even more than one—participant should step away, others should remain to provide a solution ensuring market liquidity.
But what if there were to be a more systemic issue that meant there were no market participants to facilitate primary market trading in ETFs?
Given that most of these players also underpin the wider trading in stocks and bonds globally, their reluctance or inability to trade would likely have wider implications, not just for the 5% of the market made up by ETFs, but for the other 95% too.
That's scarcely a case of the tail wagging the dog.
View Jason Xavier's previous articles here.
To get insights from Franklin Templeton delivered to your inbox, subscribe to the Beyond Bulls & Bears blog.
For timely investing tidbits, follow us on Twitter @FTI_Global  and on LinkedIn.
The comments, opinions and analyses are the personal views expressed by the investment managers and are intended to be for informational purposes and general interest only and should not be construed as individual investment advice or a recommendation or solicitation to buy, sell or hold any security or to adopt any investment strategy. It does not constitute legal or tax advice. The information provided in this material is rendered as at publication date and may change without notice and it is not intended as a complete analysis of every material fact regarding any country, region market or investment.
Data from third-party sources may have been used in the preparation of this material and Franklin Templeton Investments ("FTI") has not independently verified, validated or audited such data. FTI accepts no liability whatsoever for any loss arising from use of this information, and reliance upon the comments, opinions and analyses in the material is at the sole discretion of the user. Products, services and information may not be available in all jurisdictions and are offered by FTI affiliates and/or their distributors as local laws and regulations permit. Please consult your own professional adviser for further information on availability of products and services in your jurisdiction.
What Are the Risks?
All investments involve risks, including possible loss of principal. The value of investments can go down as well as up, and investors may not get back the full amount invested. Brokerage commissions and ETF expenses will reduce returns. ETF shares may be bought or sold throughout the day at their market price on the exchange on which they are listed. ETFs trade like stocks, fluctuate in market value and may trade above or below the ETF's net asset value. However, there can be no guarantee that an active trading market for ETF shares will be developed or maintained or that their listing will continue or remain unchanged. While the shares of ETFs are tradable on secondary markets, they may not readily trade in all market conditions and may trade at significant discounts in periods of market stress.
1. Source: Investment Company Institute: Worldwide Regulated Open-End Fund Assets and Flows. Third Quarter 2018. December, 2019