This post is also available in: Italian
Six months into the pandemic-driven disruption of our lives and the economy, we have learned a lot; but, in many ways, we face greater economic uncertainty than we did back in March.
Since June, activity data have shown that the US economy can still stage a strong rebound. Non-farm payrolls surprised on the upside for two consecutive months, bringing back nearly 7.5 million jobs. Weekly jobless claims dropped sharply, retail sales bounced and consumer sentiment recovered in June. High-frequency indicators like the Google mobility index and OpenTable reservations confirmed a brisk rebound in activity.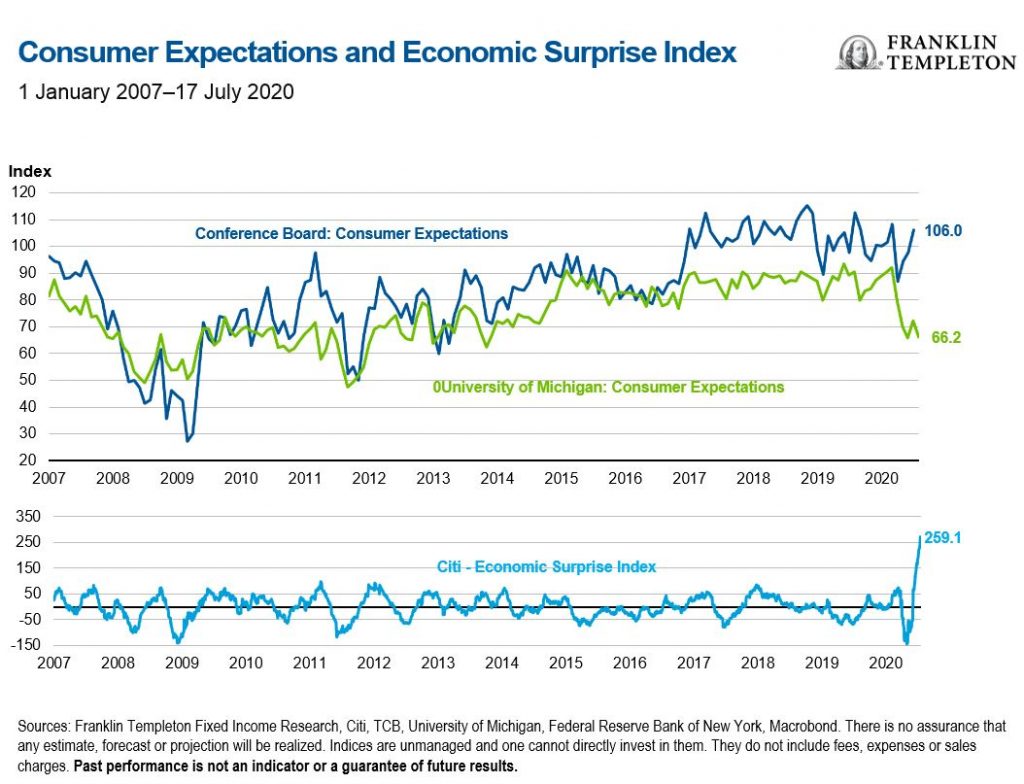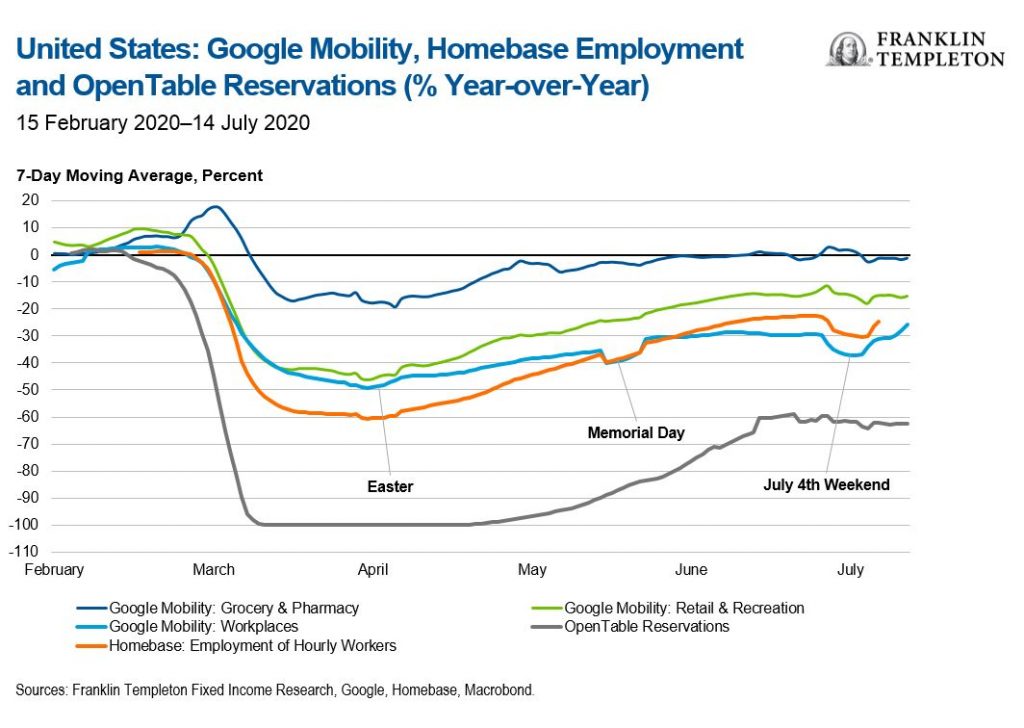 New COVID-19 cases have also risen again, however. This in part reflects more testing, but the positivity rate—the share of new tests that turn out positive—has also risen. The good news is that compared to the first wave of contagion, fewer of those infected appear to need hospitalisation and intensive care, and hospital stays seem to be shorter. This is in part because less-vulnerable people account for a larger share of the new cases (many are younger), and partly because hospitals have gotten better at treating COVID-19 patients.
This second wave of contagion, however, threatens to derail the economic recovery. California has already re-instituted a full lockdown, ordering counties to close most indoor activities, and other states have halted or reversed the easing of restrictions. A preliminary reading of the July Michigan consumer confidence index shows a drop after two months of recovery.
Going forward I see three "known unknowns" that will determine how the recovery unfolds:
Progress toward a vaccine: a few front-runners have already emerged, and a government-private sector collaboration (ambitiously dubbed "Operation Warp Speed") has accelerated the usual timeline of development and production. A vaccine under development by AstraZeneca and Oxford University has just been shown to successfully trigger an immune response, and AstraZeneca says it could manufacture billions of doses; parallel efforts by US biotech firm Moderna and by a team of Pfizer and Germany's BioNTech are in relatively advanced stages. Experts believe a vaccine might be ready in 12–18 months.
Policy decisions: whether different US states and counties will go back into a full lockdown or try to implement a more targeted strategy, now that we have a better understanding of how the virus spreads and how different segments of the population are more or less at risk.
People's behaviour: how quickly and under what conditions people are willing to go back to their former activities and spending and working habits.
These three factors are, of course, inter-related. People's behaviour is influenced by policy restrictions, benefits and incentives. In turn, policymakers' decisions are impacted by the degree to which people are afraid of contagion, eager to go back to work or shopping, and are ready to comply with safety recommendations. Additionally, progress towards a vaccine will impact both policy decisions and individuals' attitudes.
To get a deeper insight into these dynamics, we are launching a new Franklin Templeton–Gallup Economics of Recovery Study in collaboration with Gallup.
We will conduct a monthly survey to assess a wide range of behavioural and economic factors, including under what conditions people would be ready to go back to their previous spending habits and patterns of behaviour; to what extent they support the reopening of specific activities; how they have been impacted by the virus in their everyday behaviour and economic prospects.
We will combine the results of this large-scale survey with high-frequency activity data to better understand how economic activity will respond in the coming months, what the "new normal" will look like once the situation stabilises, and the short-term and long-term implications for financial markets and investment strategies.
While much of the existing analysis and discussion centers on the dynamics of the pandemic itself—too often with a narrow focus on the number of new cases—the attitudes of individuals play an equally important role in the economic recovery, if not even more decisive.
And, people's attitudes don't just depend on the dynamics of the virus: In a recent study, Gallup Chief Economist Jonathan Rothwell and Professor Christos Makridis of Arizona State University find that political affiliation is the primary driver of people's response to the pandemic: the extent to which they are worried about the virus and willing to go back to work or to shop, depends largely on whether they identify as Democrats or Republicans. This is somewhat discouraging, and our research will track whether political affiliation continues to play a dominant role, or whether better information on health care and economic developments will carry an increasing weight.
A V-shaped recovery could still happen; so could a new great depression. The stakes are higher than ever, and so is the uncertainty we face. The unprecedented nature of this economic disruption has made the traditional gauges of economic developments woefully inadequate. So, together with Gallup, we're rolling up our sleeves to find out what's happening and what lies ahead.
Our first results will be in soon—stay tuned for the highlights and some new analysis.
What Are the Risks?
All investments involve risks, including possible loss of principal. The value of investments can go down as well as up, and investors may not get back the full amount invested. 
Important Legal Information
This material is intended to be of general interest only and should not be construed as individual investment advice or a recommendation or solicitation to buy, sell or hold any security or to adopt any investment strategy. It does not constitute legal or tax advice.
The views expressed are those of the investment manager and the comments, opinions and analyses are rendered as at publication date and may change without notice. The information provided in this material is not intended as a complete analysis of every material fact regarding any country, region or market.
The companies and/or case studies shown herein are used solely for illustrative purposes; any investment may or may not be currently held by any portfolio advised by Franklin Templeton. Past performance does not guarantee future results.
Data from third party sources may have been used in the preparation of this material and Franklin Templeton ("FT") has not independently verified, validated or audited such data. FT accepts no liability whatsoever for any loss arising from use of this information and reliance upon the comments opinions and analyses in the material is at the sole discretion of the user.
Products, services and information may not be available in all jurisdictions and are offered outside the U.S. by other FT affiliates and/or their distributors as local laws and regulation permits. Please consult your own financial professional or Franklin Templeton institutional contact for further information on availability of products and services in your jurisdiction.
Issued in the U.S. by Franklin Templeton Distributors, Inc., One Franklin Parkway, San Mateo, California 94403-1906, (800) DIAL BEN/342-5236, franklintempleton.com – Franklin Templeton Distributors, Inc. is the principal distributor of Franklin Templeton Investments' U.S. registered products, which are not FDIC insured; may lose value; and are not bank guaranteed and are available only in jurisdictions where an offer or solicitation of such products is permitted under applicable laws and regulation.
For timely investing tidbits, follow us on Twitter @FTI_Global and on LinkedIn.