This post is also available in: French Italian German Spanish
The second pulse of our Franklin Templeton-Gallup Economics of Recovery Study brings important confirmations of our first results, as well as some powerful new insights:
Household confidence seems to have found a floor, but Americans maintain a cautious attitude: three-quarters of those who can save plan to keep accumulating savings over the next six months, and less than one-third already intend to spend more on basic goods and services.
Our second pulse also shows that development of an effective vaccine or treatment would have the greatest impact on people's willingness to fully resume normal spending habits, while even a marked decline in local new cases and fatalities would have a smaller impact on confidence.
Most Americans, across party lines, support a new round of government financial support; but we find no evidence that larger enhanced unemployment benefits would discourage work, as a majority of people would prefer the greater long-term security of employment.
Our latest results highlight three encouraging signs that household confidence has at least found a floor:
Americans' willingness to engage in a range of activities has remained stable between July and August. The July resurgence in new cases does not seem to have caused a sustained retrenchment in activity, which bodes well given that new cases have returned on a declining path over the course of August.
Mask wearing has continued to increase across the country, continuing a trend that Gallup data identified since April–May, with only marginal differences between Republicans and Democrats.
Perhaps relatedly, a rising share of Americans feel confident that they can protect themselves from COVID-19 while out in public—though the share is still no higher than one-third.
At the same time, a strong majority of Americans support continued government help. Over 80% of Democrats as well as 64% of Republicans and 66% of Independents are in favour of another one-time Economic Impact Payment, with a majority across party lines favouring a payment of US$900 or more. This strong level of support likely reflects recognition that the economy still faces a major but temporary difficulty.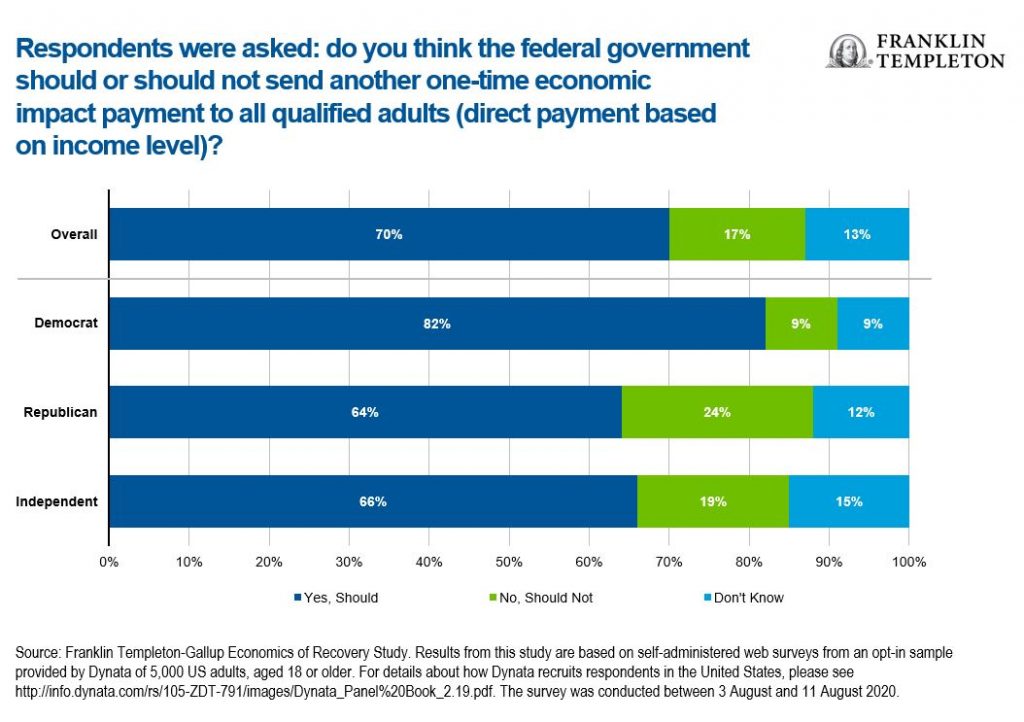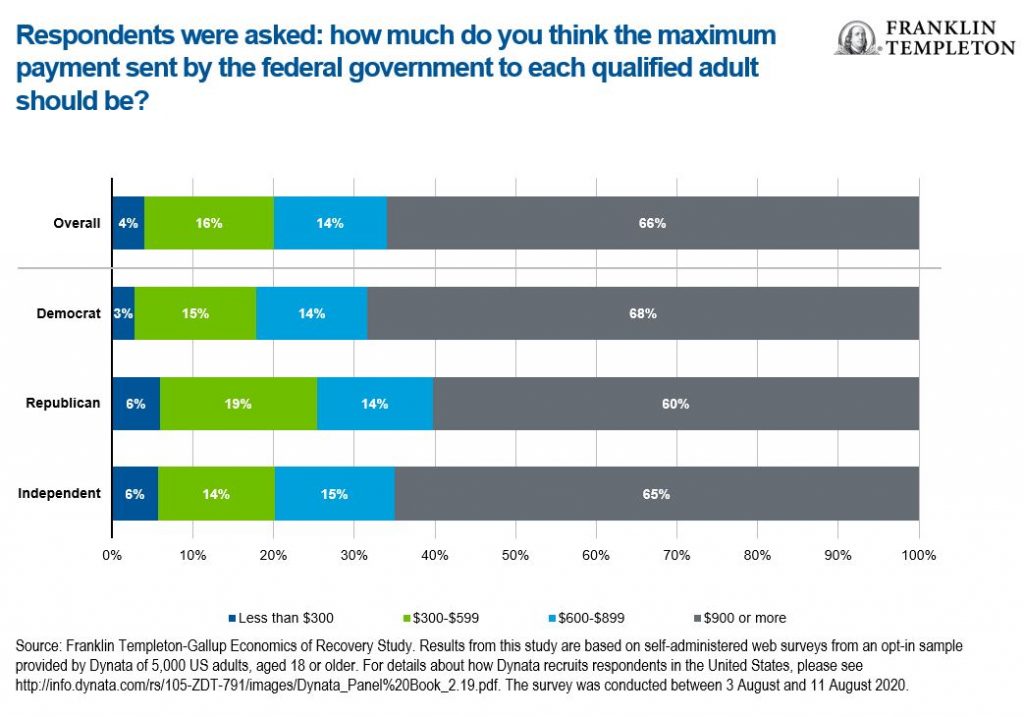 Our results also show no evidence that continued government support in the form of enhanced unemployment benefits would slow the return of people to work; most workers rationally prefer the greater long-term security of employment to temporary government support, even if the latter exceeds their regular wage income.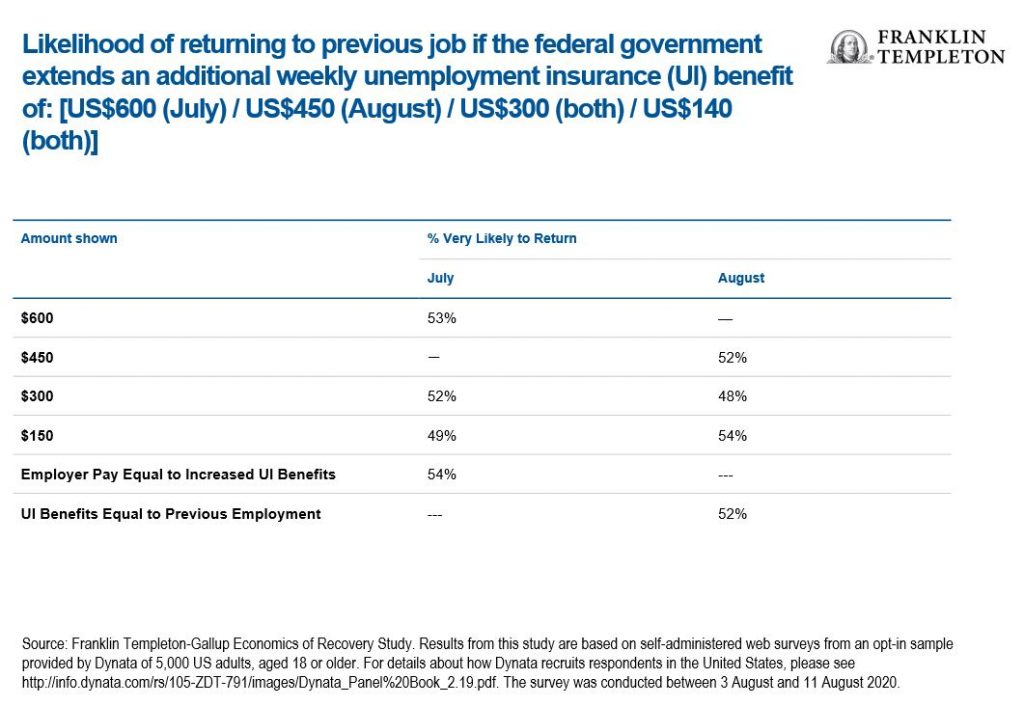 On spending, most Americans maintain a cautious attitude. Amongst those who are currently able to save money, as many as three-quarters plan to keep increasing savings over the next six months, and less than one-third intend to spend more on basic goods and services. Even fewer are thinking of allocating cash to less-essential expenditures like travel or holidays (just over one in 10). At the same time, only one in 10 respondents plan to pay down debt. Additional income is mostly being set aside as dry powder, presumably for when the virus and economic uncertainty will have cleared; this could provide a precious buffer and allow for an eventual faster rebound in spending. Americans, it would seem, are saving for sunnier days.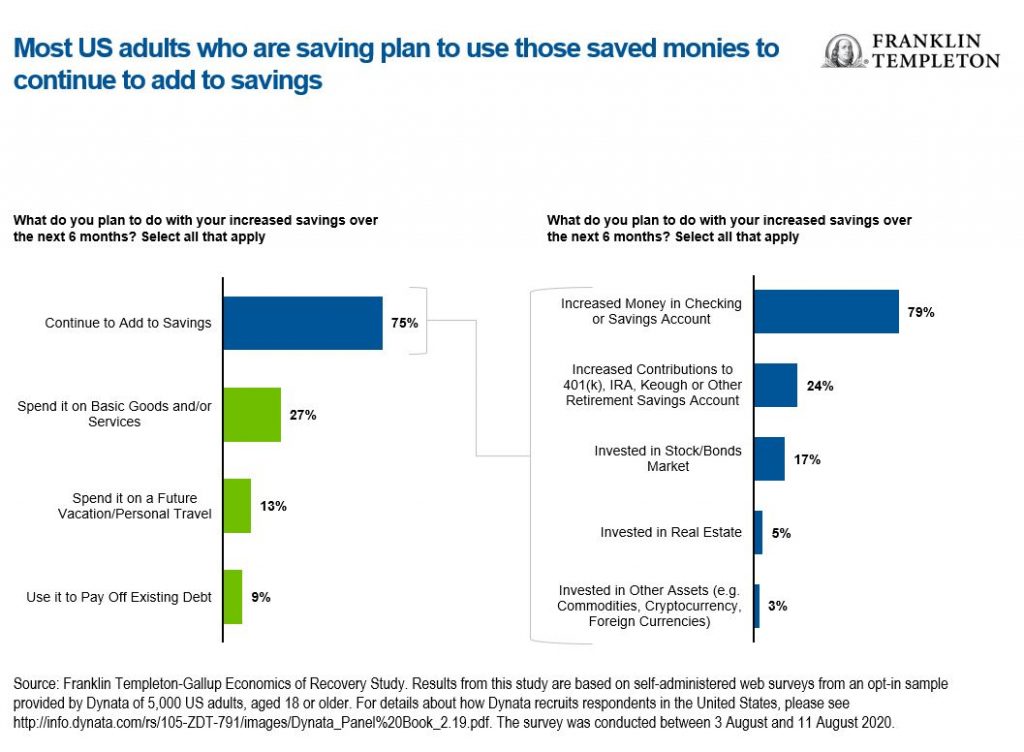 The recovery in retail spending seen in June–July shows that when restrictions on business activity can be relaxed, household demand still has the potential to rekindle economic growth. To bring spending levels fully back to normal, however, will require restoring Americans' confidence that the pandemic is under sufficient control. Our latest results show that development of an effective vaccine would impact the willingness to return to normal spending patterns for 71% of Americans; the corresponding figure for an effective treatment is also very high at 64%. By comparison, a major and protracted improvement in local COVID-19 numbers (less than 10 new cases and no new deaths for 14 days) would have a major impact on only one-quarter of respondents.
The fact that most people would give little weight to even a very convincing local containment of contagion echoes our finding that local conditions have very limited impact on perceptions of risk—the extent to which respondents overestimate the share of young people in total COVID-19 fatalities varies by less than two percentage points across the main US regions. Support for reopening schools, restaurants, businesses and places of worship also appears uniformly low across regions, though it is especially low in the West of the country.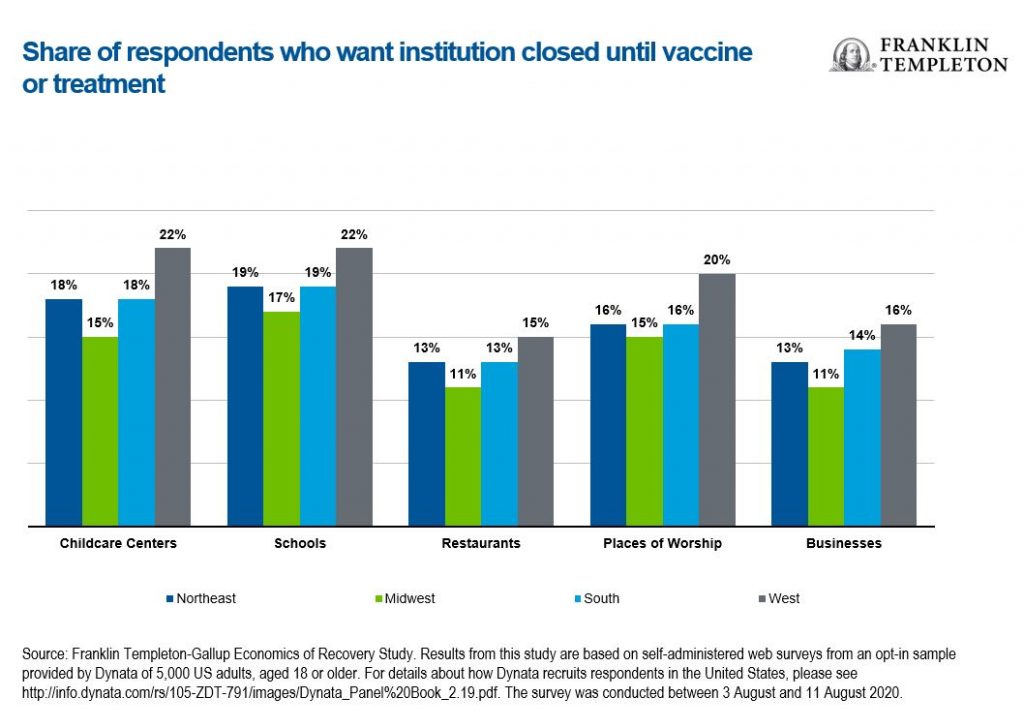 By contrast, our second pulse of results confirms that political affiliation continues to play a primary role in determining perception of COVID-19 risk; individual characteristics and even the prevalence of the virus in one's area are much less relevant. Amongst Democrats, 35% are very worried they might contract COVID-19, compared to 19% of Republicans and 23% of Independents, and 41% of Democrats are very worried they would suffer serious health consequences if they contracted COVID-19, compared to 22% of Republicans and 28% of Independents.
And, as we had found in our first pulse, Americans still tend to greatly overestimate the risk of death from COVID-19 for younger people, while underestimating the risk for older cohorts. This divergence between people's perception of COVID-19 risk and the actual mortality statistics carries significant economic consequences—those who are more worried about contagion are also less likely to engage in economic activity and to support the reopening of schools and businesses. Our latest poll shows that only those Americans who believe that the pandemic situation is "getting a lot better" are significantly more willing to engage in non-essential activities like using public transport, booking a hotel, or going to a restaurant, gym or hair salon.
Our second pulse of results therefore confirm that providing people with better factual information on COVID-19 risks could endow them with a better basis for decision-making, and facilitate the recovery in confidence and economic activity.
People should of course be urged to take precautions and adopt responsible behaviour to slow the spread of the virus—our finding that mask-wearing keeps increasing across the country and already exceeds 90% is encouraging in this respect. But making the resumption of normal spending patterns dependent on a perception of zero risk might represent excessive caution—and an unrealistically high bar. Better and factual information, together with a sustained decline in new cases, could help accelerate the full normalisation of economic activity.
What Are the Risks?
All investments involve risks, including possible loss of principal. The value of investments can go down as well as up, and investors may not get back the full amount invested.
Important Legal Information
This material is intended to be of general interest only and should not be construed as individual investment advice or a recommendation or solicitation to buy, sell or hold any security or to adopt any investment strategy. It does not constitute legal or tax advice.
The views expressed are those of the investment manager and the comments, opinions and analyses are rendered as at publication date and may change without notice. The information provided in this material is not intended as a complete analysis of every material fact regarding any country, region or market. All investments involve risks, including possible loss of principal.
Data from third party sources may have been used in the preparation of this material and Franklin Templeton ("FT") has not independently verified, validated or audited such data. FT accepts no liability whatsoever for any loss arising from use of this information and reliance upon the comments opinions and analyses in the material is at the sole discretion of the user. ​
Products, services and information may not be available in all jurisdictions and are offered outside the U.S. by other FT affiliates and/or their distributors as local laws and regulation permits. Please consult your own financial professional or Franklin Templeton institutional contact for further information on availability of products and services in your jurisdiction.​
Issued in the U.S. by Franklin Templeton Distributors, Inc., One Franklin Parkway, San Mateo, California 94403-1906, (800) DIAL BEN/342-5236, franklintempleton.com – Franklin Templeton Distributors, Inc. is the principal distributor of Franklin Templeton U.S. registered products, which are not FDIC insured; may lose value; and are not bank guaranteed and are available only in jurisdictions where an offer or solicitation of such products is permitted under applicable laws and regulation.