This post is also available in: Chinese (Simplified) Dutch French German Spanish Polish
In our latest US 2020 Election Investment Pulse, hear more from Wendy and Evan's conversation with our Head of Equities Stephen Dover.
A Bit of Background
As of November, the COVID-19 pandemic continues to spread across the globe. Even though we now have drugs to manage patients more effectively, and social distancing and face masks have proven to be useful measures for curbing infection rates, these measures alone will not be sufficient to end the pandemic. Instead, we believe an effective and safe vaccine is the best solution to prevent infections and help the global population achieve herd immunity in the safest way possible.
Not surprisingly, given the importance of a COVID-19 vaccine, many biopharma companies around the world have mobilised to join the effort. According to the World Health Organization, there are currently more than 200 vaccine candidates in development, including 47 candidate vaccines currently in clinical evaluation.1
A Look at Early Vaccine Candidate Results
Several vaccine candidates are now in late-stage clinical development, with Phase 3 efficacy and safety data expected in the coming months. Earlier this week, US drug maker Pfizer and German drug maker BioNTech announced initial efficacy and safety results for their mRNA-based vaccine candidate BNT162b2. As of the first interim analysis, the vaccine was found to be more than 90% effective in preventing SARS-CoV-2 infection. In our view, these initial results look very promising—a >90% protection rate is very robust for any vaccine and is well above the US Food and Drug Administration (FDA) efficacy bar of 50%. Furthermore, there were no serious safety concerns reported as of the interim analysis. As the study continues, these efficacy and safety results could change over time, but we believe these interim results are suggestive of a highly effective vaccine with an acceptable safety profile.
Assuming the ongoing safety analysis remains favourable, Pfizer plans to file for Emergency Use Authorization (EUA) with the FDA by the third week of November. If approved, that EUA would allow certain groups, such as frontline workers and high-risk populations, to receive the non-FDA approved COVID-19 vaccine as early as December 2020. Full FDA approval, which is necessary for broad distribution of the vaccine, would likely follow in early- or mid-2021. Overall, Pfizer/BioNTech's remarkable progress represents a major step forward in the battle against COVID-19.
Analyzing COVID-19 Vaccine Approaches
So what does Pfizer/BioNTech's early COVID-19 vaccine results mean for other vaccines in development? In our view, it can be difficult to make an apples-to-apples comparison between the vaccines, especially since these vaccines are based on a variety of platforms that work in different ways, as the chart below shows.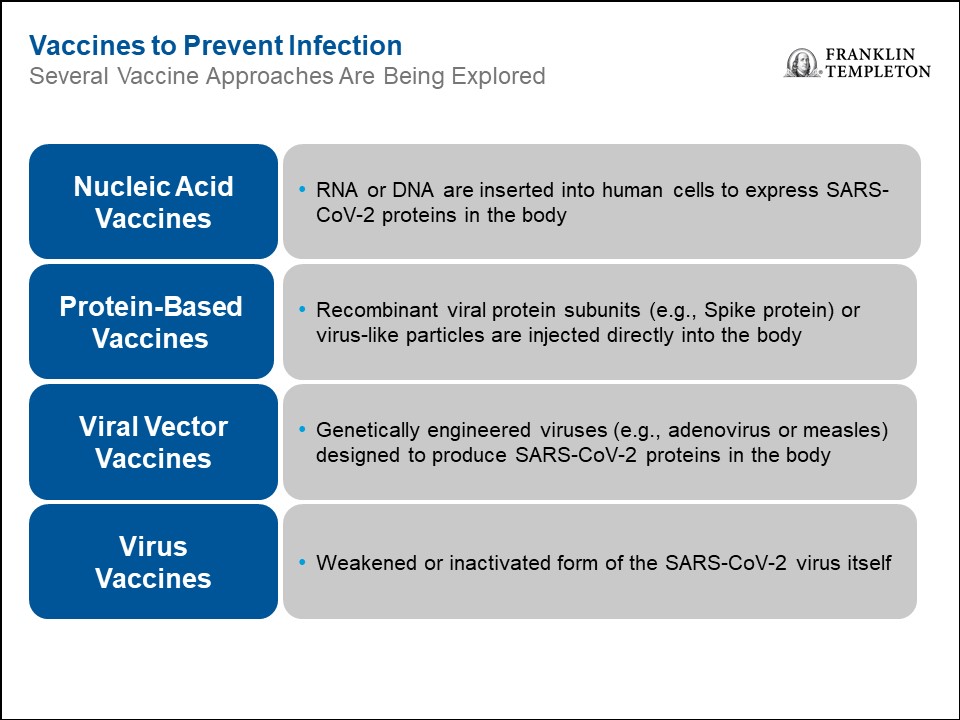 The Pfizer/BioNTech results provided two key learnings to the rest of the vaccine field: 1) the results validate the mRNA approach, as this was the first mRNA-based vaccine shown to be protective, and 2) targeting the SARS-CoV-2 spike protein is effective. The latter is especially important, as most of the vaccines in development also target the spike protein. For this reason, we are optimistic that the other vaccines in development, including other mRNA-based and protein-based vaccines, will demonstrate efficacy in the same range as Pfizer/BioNTech's vaccine. From our standpoint, the more vaccines we have, the better, as it would increase the supply of doses available. In addition, these vaccines could have slightly different efficacy/safety profiles, especially across various subpopulations. For example, many vaccines work less well in the elderly, and for this reason different formulations are sometimes necessary for this subpopulation. For all of these reasons, having multiple vaccines available would be highly beneficial.
The Roadmap for Returning to Normal
Assuming we have at least one safe and effective vaccine, the natural question is: how do we vaccinate the global population? In our view, certain steps should be taken now to deal with the manufacturing and distribution challenges ahead.
Although a COVID-19 vaccine has yet to be approved by the FDA, we see the need for investment to scale up manufacturing now to minimise bottleneck issues and ensure that we can meet the domestic and global demand for a vaccine. We see potential supply chain challenges in making, transporting and administering these doses, considering there is already a shortage of medical glass vials and syringes. For some of these vaccines, cold-chain storage is necessary for storage and transportation, which could be an issue in developing countries.
We strongly believe global coordination is necessary to ensure broad access to a COVID-19 vaccine. Depending on how many of the current vaccine candidates end up succeeding, supply will be limited for at least a year, if not longer. Certain developed countries have already secured contracts with vaccine developers to purchase most of the doses expected to be in production over the next year. Unless manufacturing capacity can somehow be expanded next year, other countries will have to wait for a vaccine, and the pandemic will likely persist in developing countries.
Although countries will likely turn inward and focus on their own citizens first, we must remember that this is a global public health crisis that will turn into a long-lasting global economic crisis if we do not work on a coordinated response.
Important Legal Information
This material is intended to be of general interest only and should not be construed as individual investment advice or a recommendation or solicitation to buy, sell or hold any security or to adopt any investment strategy. It does not constitute legal or tax advice.
The views expressed are those of the investment manager and the comments, opinions and analyses are rendered as of publication date and may change without notice. The information provided in this material is not intended as a complete analysis of every material fact regarding any country, region or market.
Data from third party sources may have been used in the preparation of this material and Franklin Templeton ("FT") has not independently verified, validated or audited such data. FT accepts no liability whatsoever for any loss arising from use of this information and reliance upon the comments, opinions and analyses in the material is at the sole discretion of the user.
Products, services and information may not be available in all jurisdictions and are offered outside the U.S. by other FT affiliates and/or their distributors as local laws and regulation permits. Please consult your own investment professional or Franklin Templeton institutional contact for further information on availability of products and services in your jurisdiction.
Issued in the U.S. by Franklin Templeton Distributors, Inc., One Franklin Parkway, San Mateo, California 94403-1906, (800) DIAL BEN/342-5236, franklintempleton.com—Franklin Templeton Distributors, Inc. is the principal distributor of Franklin Templeton's U.S. registered products, which are not FDIC insured; may lose value; and are not bank guaranteed and are available only in jurisdictions where an offer or solicitation of such products is permitted under applicable laws and regulation.
What Are the Risks?
All investments involve risk, including possible loss of principal. The value of investments can go down as well as up, and investors may not get back the full amount invested. Stock prices fluctuate, sometimes rapidly and dramatically, due to factors affecting individual companies, particular industries or sectors, or general market conditions. Investments in fast-growing industries, including the technology and health care sectors (which have historically been volatile) could result in increased price fluctuation, especially over the short term, due to the rapid pace of product change and development and changes in government regulation of companies emphasizing scientific or technological advancement or regulatory approval for new drugs and medical instruments. Biotechnology companies often are small and/or relatively new. Smaller companies can be particularly sensitive to changes in economic conditions and have less certain growth prospects than larger, more established companies and can be volatile, especially over the short term.
1. Source: World Health Organization, November 3, 2020.