Now that the United States is in the latter stages of its rate-hiking and economic cycle, and from a total portfolio perspective, we believe investment-grade (IG) corporate credit is well positioned to allow investors to play both offense and defense. Given the very low probability of default for IG issuers, this higher-quality fixed income sector can possibly serve as a more defensive position in an investor's overall portfolio while delivering material income.
Yields are currently higher than the asset class has offered in well over a decade, and approximately 2% higher than the average yield investors have been able to capture since 2010. "Investment grade" refers to a corporate bond that has a credit agency rating of Baa3/BBB- or better, and therefore, lower risk of default than non-investment grade.
IG Bond Yields Are at Their Highest Level Since the Global Financial Crisis (right click to enlarge chart)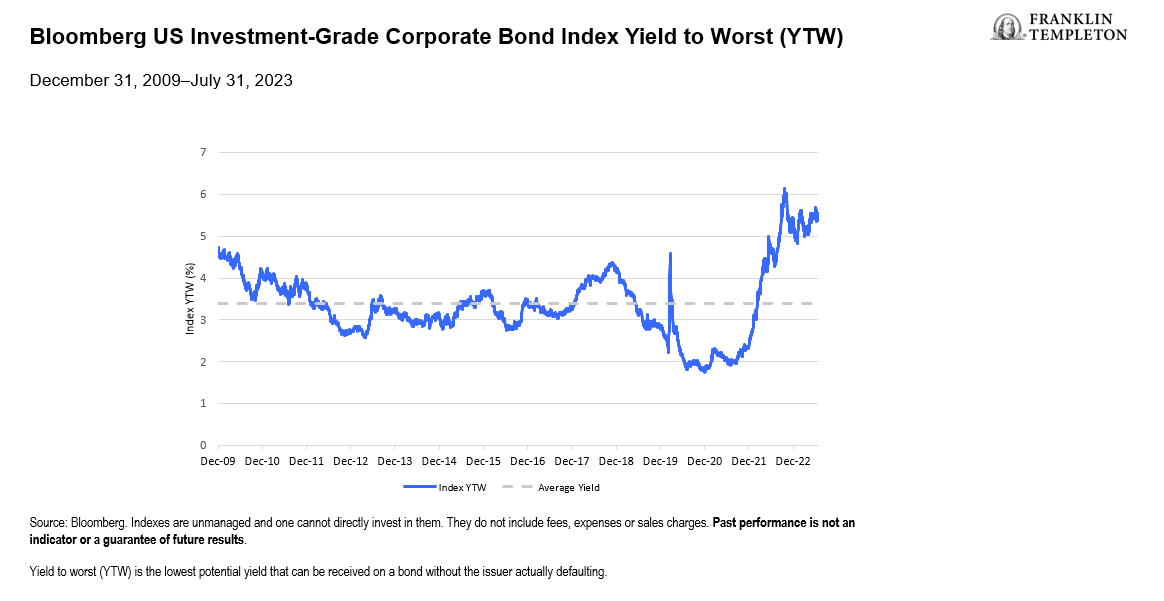 In certain regards, investment-grade corporate credit can also be employed as an offensive tactic within investment portfolios. Currently, US investment-grade corporate yields are higher than the S&P 500 Index earnings yield, a rare phenomenon over the previous 10 years.1 The asset class also has the potential to benefit from certain tailwinds, including potential further tightening in credit spreads supported by positive underlying corporate fundamentals, and eventually falling interest rates if the Federal Reserve shifts monetary policy from restrictive to more accommodative levels. This may allow investors to play offense within the total portfolio context, while still serving the foundational role of high-quality fixed income in delivering diversification and risk mitigation relative to assets with higher historical volatility.
While our view is that the total yield that investors can realize remains attractive (a technical positive that should help further drive demand for the asset class), we generally favor moving up in credit quality and being selective, preferring issuers in more non-cyclical, defensive sectors that are  well positioned to exhibit resilience in the face of macroeconomic headwinds.
We have conviction that our investment approach can provide value to clients in the current market environment. Portfolio construction is a key element, with the goal of helping clients to structurally control risk, enhance income and mitigate downside. In the type of market conditions we are currently experiencing, we would also reiterate our belief that active management provides value, and fundamental, bottom-up credit research is the most effective way to avoid negative credit events and achieve outperformance.
WHAT ARE THE RISKS?
All investments involve risks, including possible loss of principal.
Fixed income securities involve interest rate, credit, inflation and reinvestment risks, and possible loss of principal. As interest rates rise, the value of fixed income securities falls. Low-rated, high-yield bonds are subject to greater price volatility, illiquidity and possibility of default.
Changes in the credit rating of a bond, or in the credit rating or financial strength of a bond's issuer, insurer or guarantor, may affect the bond's value.
Active management does not ensure gains or protect against market declines.
IMPORTANT LEGAL INFORMATION
This material is intended to be of general interest only and should not be construed as individual investment advice or a recommendation or solicitation to buy, sell or hold any security or to adopt any investment strategy. It does not constitute legal or tax advice.
The views expressed are those of the investment manager and the comments, opinions and analyses are rendered as at publication date and may change without notice. The information provided in this material is not intended as a complete analysis of every material fact regarding any country, region or market. All investments involve risks, including possible loss of principal.
Data from third party sources may have been used in the preparation of this material and Franklin Templeton ("FT") has not independently verified, validated or audited such data. FT accepts no liability whatsoever for any loss arising from use of this information and reliance upon the comments opinions and analyses in the material is at the sole discretion of the user.
Products, services and information may not be available in all jurisdictions and are offered outside the U.S. by other FT affiliates and/or their distributors as local laws and regulation permits. Please consult your own financial professional or Franklin Templeton institutional contact for further information on availability of products and services in your jurisdiction.
CFA® and Chartered Financial Analyst® are trademarks owned by CFA Institute.
__________________
1. Source: Bloomberg. As of July 29, 2023.